Mitchell Flint
Kansas City, Missouri
Combat Record
WWII: Nakajima C6N Saiun "Myrt" (in F4U-4)
Story
Mitchell Flint, a former F4U-4 Corsair pilot in the US Navy, first arrived in Israel on June 11 and began his Israeli flying career in Czechoslovakia on July 8 with two flights in an an Avia C-2B1 (a Czechoslovakian version of the Arado Ar 96, serial number EV 28). The Avia S-199 familiarization course at Ceske Budejovice, Czechoslovakia, lasted all of July. Leo Nomis took the course at the same time, and described Flint as follows:
Flint has exceptionally white skin and he looks too young to have been in the war.... At first I don't think he is a Jew but he is. (Nomis and Cull 1998)
Nomis also described the course:
Flint is having problems with the two-seater. He and Bilek (a Czechoslovakian trainer) take off ahead of me....

The rain falls intermittently for two days and the fighters have to be grounded. We ride into Budejovice the first evening.... I go with Flint to a cafe in the square and we have dinner. The beer is strong and afterwards we go to another place and there is a violinist and no one speaks English. Flint leans across the table so that his face is close to mine. He says that he is afraid of the goddam Messerschmitts....

At the end of the week the skies are clear again.... Lichter (George Lichter, Machal trainer) sends Flint to Bilek for more dual instruction in the two-seater....

Lichter and Flint accompany me to where the path turns onto the perimeter, when I leave for Prague (a stop on the way to Israel) that evening. They are staying on at Budejovice for another week because so far Flint had proved particularly ungifted in handling the obstinate traits of the Messerschmitts. (Cull et al 1994)
Nomis made Israel by the very end of July and Flint followed soon after, in early August. His log shows ten flights in S-199s from July 21-29 for a total of 6.7 hours on the type, dual-seaters included.
Flint's first two flights in Israel came in the S-199 marked D-122, Aug. 15. The first flight appears to have been a search for a lost aircraft. The second flight is noted as "attempted interception of plane" but it is unknown whether that was practice or action. Each flight lasted 1.2 hours.
On Aug. 17, Flint took up D-108 for an hour of formation flying. Perhaps this was part of an exhibition for Prime Minister Ben-Gurion's visit to Netanya, perhaps not. Flint spent another uneventful hour aloft in D-119 two days later, in an aborted convoy escort.
Flint took a heavy toll of the 101's planes the next couple of days. After an hour in D-117 on Aug. 20, Flint had to make a wheels up landing. The next day, after 0.8 hours in D-108, he cracked up on landing.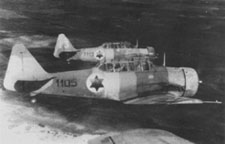 After this second accident, Flint was sent to 35 Flight where he flew C-64A Norseman bomber-transports and AT-6 Harvard dive-bombers (SNJs in USN parlance) for the duration of the war. See the picture of Harvard 1105 to the left? Between December 22 and January 7, Flint flew that plane 15 times of which six were bombing missions. His most exciting sortie took place late December in a 35 Flight Harvard. While dive-bombing of Egyptian forces, a 50-kg bomb hung up on its rack and Flint couldn't shake it loose. He landed safely and after leaving the cockpit he went to grab the bomb, which came off in his grasp. Its likely that Harvard 1105 was the culprit with the malfunctioning bomb-release mechanism. Flint also flew Harvard 1102 to bomb Beit Daras on Jan. 3, his only other bombing mission. I wouldn't be surprised if Flint was flying 1105 in the picture at left.
Flint spent February and March 1949 primarily in a Rapide, with occasional forays in a Piper Cub and an Auster. On Apr. 8, he returned to the 101 to fly the tamer Spitfires - which Flint described as "a lady's plane" (pers. comm.) because it handled so easily - and Mustangs. He flew a slew of Spitfires (numbers 12, 16, 17, and 22-28), including Spitfire 26 in the first Independence Day celebration, and Mustang 41.
Flint left Israel on July 13, 1949, celebrated Bastille Day in Paris, and went home. After a Navy career, he's now a lawyer in Hollywood.

Click the badge to return to the squadron roster