I attended with Children Two and Three. Child Two had a blast. Child Three left the park and waited in the minivan.
Photos are starting to show up Flickr. You can see me in this one. I have my back turned to the interviewee, right in front of her – I have short hair and the worn black leather jacket. You can see Child Two's arm in there, too, but more of her shows up as a purple flowered blur to the left in this photo.
Bonus update:
Here's a decent pic of all three of us. Child Three is trailing me with his camouflage pillow ready to strike. Child Two has her back turned to this camera, too. l look like I'm about to bop somebody.
And there's a video in which I appear to do nothing more than softly beat on my daughter's head. Alex (in the New York Yankees cap) gets a face full of pillow almost halfway in.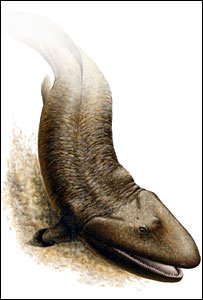 I have nothing about writing today, but work proceeds on the new "Sheep's End". I also have some of Alex and Lisa's work to mull over.
As a one-time future scientist, current journalist, and really just a guy who thinks he knows best, I was drawn to two science stories this week. Let's start with the good science.
What makes evolutionary biology a science? It's what makes anything a science: predictive power. Physics predicts a ball caught in the Earth's gravitational field will drop toward the Earth's center of mass. Chemistry predicts that under specific conditions of temperature and pressure, water at its triple point will exist as three states of matter.
Evolutionary science is harder to understand, because much of its predictive power can only apply in thought experiments based on the conclusions already in hand. Once in a while, however, nature provides a field test – for example, the last 100 years worth of discovery of whale ancestry, completely unknown when Charles Darwin postulated the origin of species.
A recent paleontological discovery qualifies as a brilliant piece of science, not only for the actual fossil, but for how it was discovered.
Paleontologists knew fish with robust fins existed in sediments dated to 385 million years ago (MYA). They also know of creatures with unquestionably terrestrial limbs dated to 365 MYA. What they didn't have was a fossil from that 20-million-year gap that displayed a "hand" form between the two morphologies.
Enter science. Edward Daeschler and Neil Shubin knew that Ellesmere Island had outcrops that geologists date to 375 MYA in age. They also knew that geological science puts this region in the tropics of the time. The formations on Ellesmere had not yet been explored for fossils.
Daeschler and Shubin decided to look in the formation for fossils of that age. If the geology that dated the rocks and predicted a warm climate held true, then, they predicted, they would find fossils of the proper age and morphology to help bridge that 20-million-year gap. If their scientific analysis of the rock or evolutionary theory itself were wrong, well, they'd find a horse or a person or a pterodactyl in the formation they went to study.
As Nature and the BBC report, they found what they were looking for. Welcome to our world, Tiktaalik roseae.
Now, the bad decisions…. CNN reported Monday on an outbreak of mumps in Iowa. Mumps, you ask? Aren't children vaccinated against mumps?
They should be. The vaccine for mumps is part of the standard MMR shots each child should receive. Should receive. Parents are free to refuse or omit vaccinations. Of the 245 Iowans to contract mumps in the recent outbreak, 66% (168) had taken the two MMR vaccinations required for immunization. Another 14% (34) had received only one MMR vaccine (insufficient for immunization) and 20% (43) had not been vaccinated at all. Iowa normally reports five cases of mumps per year.
If Iowa is an average state, MMR vaccination rate hovers around 91%. Let's call Iowa's population 2.9 million. Of the 91% of that 2.9 million who had proper MMR shots, 168 got the disease, for an infection rate of 0.00637%. The unvaccinated 9% caught the disease at a rate of 0.0295%.
Those are both small numbers, but keep in mind that the Iowa mumps outbreak was confined to a small subset of the population. The rate of infection for the improperly or not-at-all vaccinated is 4.6 times higher than it is for the properly vaccinated.
There's no cure for mumps once you catch it, and if you do, you stand a chance of becoming infertile or losing your hearing.
If you're concerned about thiomerosal and its mercury, be aware that the only vaccine that still contains thiomerosal is the influenza vaccine.
Get your kids vaccinated, OK?
Yesterday, I had a good day. I slammed out six pages of the new beginning to "Sheep's End". I need to refine them and weave them and their implications into the rest of the script, but I went to bed with the feeling that I'd accomplished something. That's an important feeling. It's the lack of that feeling that played a large part in my decision to leave grad school.
Today, I wake up, answer the overnight e-mail, read the paper, and sit to work. A half-hour later, Child Two calls me from school. Today is her class seder and she didn't bring her required seder plate. She needs it by 2:15 in the afternoon.
The school note that she needed that stuff for today is on the fridge. I spend more than two hours boiling eggs, gathering ingredients and making charoset. (The charoset needs to be nut-free for school, so I used a dollop of tahini instead. I don't recommend that substitution as the tahini adds a touch of bitterness, which is unpleasant in taste and ceremonial meaning. I sweetened it to acceptability with brown sugar.)
I had to go shopping for some of the items, and then drop the package off for her at school. The operation consumed three hours of my day in total.
So I sit here, back home, at 1:00. I have some assignments to correct, which should take an hour. I have to leave to pick up the kids at 3:30. Tonight, I play hockey.
I get 120 minutes to work today, figure 90 minutes after I write this blog entry.
I'm not a sprint writer. I'm a marathoner. I can't sit and write in half-hour bursts. I need to get in the mood and let it go, for hours at a time. I'm feeling stressed, put upon. It's manifesting as a roiling sickening in the pit of my stomach.
And outside, it's snowing. It was 20 degrees (Centigrade) Friday, and today it's snowing. The snow is melting, not accumulating, but still…. Welcome to spring in Montreal.
Bonus first rule of Pillow Fight Club:
It is to talk about Pillow Fight Club (but privately).
London had hundreds of people bashing each other with pillows outside St. Paul's. San Francisco had thousands of people in Golden Gate Park bashing each other with pillows on Valentine's Day. For more information on Pillow Fight Club, check out Wikipedia.
For more information on Montreal's impending flash-mob pillow fight, e-mail me for time and place. I think I'll bring the kids.
I love when I look up from my keyboard and realize that I've been teaching, or ranting, in e-mail or forum/blog comments. If I get going, it usually translates well into a post on 101.
What follows is an elaboration on what I posted to fellow baseball aficionado Ken Levine's blog this morning, on baseball predictions.
NL EAST
The NL East is a tight division. Philly has the best team on the field, but has no bench, although Dellucci will help. The team may suffer at 3B. The Philly starters are mostly young and talented. The Braves are also solid. There's no hole to be seen. The Mets need a middle infield that can contribute more than speed, and the back of the rotation is shoddy, and would be even with Heilman starting. I'll go with the Braves.
NL CENTRAL
Houston has the hitting, but needs Clemens for the team to squeak its way into the playoffs. The Astro starters are Oswalt and Pettitte and then forget it, although the bullpen is a good one. Chicago has adequate pitching even without Prior and Woods, and any innings those two can contribute only help. The Cubs line-up is solid, especially with Walker as the primary man at 2B. If Dusty Baker can avoid using his weak bench too much, I smell a pennant. Milwaukee is a dark horse, but pople overrate their starting pitching. St Louis will struggle to dominate ther division, but will be near the top. The Cardinals are in decline. Aaron Miles, Sidney Ponson, and Larry Bigbie do not a pennant make. I'm going to pick the Cubs for the NL Central.
NL WEST
The Giants just plain stink. Two thirds of the outfield won't last the season as senility and/or rage sets in, and then primary back-up Finley will join the others in the home. Todd Linden will be starting by October, and that's not a plus. The Giants don't have even an average first-baseman. Todd Greene is the fresh young face. Jason Schmidt is the only decent pitcher on the team. Noah Lowry is slightly above average. Matt Morris is a nice pick-up, in 2001. The Rockies still haven't figured out what that earthen bump between home and second base is. I want to like the Padres as the best of a bad lot, but I can't pick a team that's relying on Vinny Castilla, Mike Cameron, and Shawn Estes to improve. The Dodgers need another outfielder, or a rejuvenated Jose Cruz Jr., but for now they are the best of a bad lot in the west.
AL EAST
The Blue Jays are better, but they're not better enough to top both the Yanks and Sox. The two traditional powers will spend another summer banging heads. Damon and Millar are great characters, but their skills are replaceable. The Yanks have Chacon in the rotation and Bubba Crosby is the top bat on the bench. I'll take the Red Sox, who are again solid, top to bottom.
AL CENTRAL
The AL Central is stacked. You could pick any of the big three (Cleveland, Minnesota, Chicago) and make a case. I'll go with the White Sox on a gut feeling that Thome will have a big year. I like their pitching more than the Indians', too.
AL WEST
The Rangers are the sexy pick, but they are doomed by half their starters in a close division. The Angels have too many guys with good fantasy stats and poor baseball contributions. I have to go with the A's. They nearly took the division last year, and they cut out the deawood and improved at all weak points for this year. Offensively, they don't have room for a bat like Bobby Kielty's. (The Cubs or Dodgers could use him.) Pitching-wise, the A's led the league in ERA last year and are better this year. They… could… go… all… the… way!
I spent the hours between 8:00 p.m. and 1:30 a.m. at CFCF studios (Montreal's CTV affiliate) last night. I had my laptop and stacks of notes, for this was the annual fantasy baseball draft of the Irrational League.
The ten teams in the league draft only NL players, 15 position players and ten pitchers, along with four reserves. Scoring is 4×4, for those that know the jargon.
We met at CFCF because several media types manage teams. From CFCF, we have Frank Cavallaro and Randy Tieman. Jeremy Zafran from 940 News is league commissioner. CJAD's Rick Moffat also participates, allegedly – he's an absentee landlord most of the time. Some owners live out of town: Darryl Henry from Toronto's EZ Rock, for example.
So once a year, we spend six hours at CFCF and the non-locals join us on MSN chat. We kibbitz, we trashtalk, and we all make fun of Frank. It's a blast. Frank deserves it. He calls three times a week with ridiculous trade offers, and some owners succumb to the pressure.
I won the league in 2004 with a powerhouse team. Frank finished second that year. Last year, I was seventh, and Frank was last. Both years were successes – as long as I finish higher than Frank, a season is a success. I think that's a consensus. We all won last year.
Our league mandates four keepers. I went into last night with Carlos Beltran, Miguel Cabrera, Lance Berkman (go Owls!), and Andruw Jones. Good hitting for sure, but only second-best among the teams. Eight of the other teams kept pitchers.
As is my usual weakness, I overdrafted pitching. I don't think I have quite enough power despite my keeper boost, and speed is adequate for middle of the pack. I have far and away the best starting pitching, but the relief is shaky with the two weakest closers in the league and no back-up.
I have much positional flexibility to compensate for injuries, and several outfielders and middle infielders who may be primed for bigger years than expected, like Corey Hart or Victor Diaz.
Here's what I'm starting with:
C Brian McCann ATL (the best catcher in the league, I think, and chosen fifth or sixth in the position)
C Miguel Olivo FLA (always nice to get two starting catchers)
1B Lance Berkman HOU
2B Todd Walker CHI (a late pick; no one knew he was annointed the Cubs' starter)
SS Edgar Renteria ATL
3B Miguel Cabrera FLA
CI Scott Hatteberg CIN (a rebound year would be nice)
MI Luis A. Gonzalez COL
OF Carlos Beltran NYM (a better year is expected)
OF Andruw Jones ATL (I'll settle for 40 HRs)
OF Eric Byrnes ARI
OF Cory Sullivan COL
OF Brad Hawpe COL (a monster of a man who could explode for 30+ HRs)
UT Anderson Hernandez NYM (let's hope he swipes some bags with painless batting average)
UT Corey Hart MIL (great potential)
SP John Smoltz ATL (my first pick)
SP Ben Sheets MIL
SP Odalis Perez LAD
SP Brad Penny LAD
SP Greg Maddux CHI (amazing how far he fell in the draft)
SP Woody Williams (I'm hoping he'll throw some relief this week and quallify as a reliever)
RP Chris Reitsma (sketchy saves)
RP David Weathers (sketchier saves)
RP Matt Wise (solid ability, if few wins or saves)
RP Joey Eischen (my last pick)
My reserves:
2B Kaz Matsui NYM
OF Victor Diaz NYM
OF Jeff DaVanon ARI
SS Damian Jackson WAS
It's not easy deciding who gets to play each week among my reserves. Until somebody wins a full-time job, it will be tough to rotate folks in and out of the lineup each week. And are the steals and power languishing in my reserves more valuable than Scott Hatteberg's mediocre contributions? Hard to say at this point, but Hatteberg at least plays every day, so he's in.
Bonus advice from the "Ask Webs" consumer column:
If you put a Kingston USB memory stick through the laundry cycle, it will still work. Plus, it comes out nice and shiny.