Mystery Man has a gem of a find:
I am told that when Edgar Bronfman Jr. gained ownership of Universal Studios, he got into some odd marketing campaign practices, and (God knows why but) he actually commissioned Matt Stone and Trey Parker to make an EMPLOYEE ORIENTATION VIDEO that would enlighten everyone on how things were going to change under new management.

Needless to say, Bronfman didn't like it, so they scrapped the video.

I, on the other hand, was ROLLING.
That could be the funniest thing I've seen since "Borat".
Bonus character count:
Closing in on 60,000 characters (and 10,000 words).
101 Squadron records for the period before August 1948 are spotty, and one of the riddles has been which Avia S-199 Lionel Bloch, a South African volunteer, was flying when he perished near Quneitra, Syria on July 10, 1948.
Bloch chased a Syrian AT-6 (a Harvard for our Commonwealth friends, although this particular one had indeed once been a USAAF AT-6) over the Golan Heights. The agent of his demise has never been proven. All that's known for sure is that Bloch died and so did the Syrian tailgunner.
Did the Syrian tailgunner shoot him down? Did Bloch shoot his own propeller off (that was a nasty fault of the S-199s)? Did Bloch survive the landing to be killed on the ground?
Syria handed Bloch's body over to Israel in 1949, but the IDF buried him as an unidentified soldier. Only in 1994, after DNA testing of the remains and of Bloch's brother, was the body identified. The IDF reburied Bloch with full military honours in Tel Aviv's Nachalat Yitzchak military cemetery, where Modi Alon rests as well.
For decades, historians have assumed that Bloch was flying aircraft serial number D-107. So did I, until Alex Yofe showed me a photo taken in December 1948 of the scavenged wreck of D-107. That photo will be in our upcoming book.
Able to eliminate D-107, I scrutinized all my squadron documents. I have the answer. I can prove beyond reasonable doubt which aircraft Bloch was flying. You'll have to buy the book to find out which.
Bonus information:
Elvi and Child One will be leaving on a one-week road trip to D.C. tomorrow.
Just another brief note here. I'm extremely busy not doing all the work I have to get done.
I received an e-mail yesterday that was the first reply to an e-mail I'd sent in June 2004 – with apologies, of course.
I'd asked the webmaster of Tel Aviv in Focus if he knew whether or not the Yarden Hotel on Ben Yehuda Street was still standing. The hotel served as quarters for air force personnel in 1948. I also asked him to snap a photo of the place if it did still exist.
Today, I got this: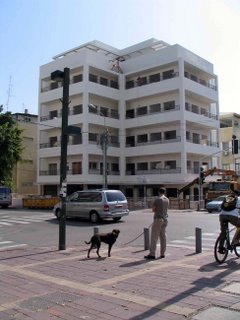 It looks familiar, but I don't know why. I can't find an old photo of the building in any of my books. I'm not sure if this is the correct building or not. Maybe Lou can tell….
UPDATE:
What do ya know? I had sent Mr. Webmaster this: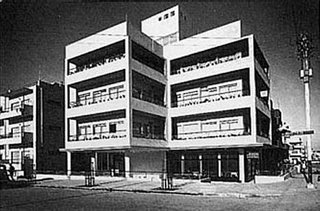 It's on the corner of Ben Yehuda and what is now Ben Gurion Street (formerly Keren Kayemet Street).
I passed 40,000 characters written specifically for the book today – and that's mostly photo captions. I have a pre-written backlog of much more, from my Web site primarily, to go in the body text.
I have other work I need to do, like Reader's Digest research I've essentially ignored since December. I found out I now have a deadline for that; it will be published in July.
So I just spent a half day fiddling with Last.fm's tools, building a list of currently played music, which you can see in the right sidebar of you scroll down. I'm not happy with the colours, but Last.fm won't let you customize the palette.
Bonus thought on "300":
I suppose more people know that "300" was based on a comic book than know it was based on a real battle.