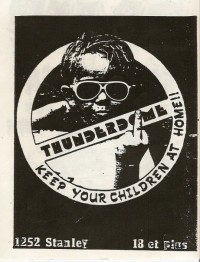 Thunderdome was an underground club in Montreal during the late '80s and early '90s. It was two floors connected by a huge spiral staircase in a cage. It had theme nights. It was one of a kind.
One of my most popular – and earliest – blog posts mentioned Thunderdome.
Well, the club is going to live again for a night.
A Sphinx/Thunderdome revival will take place Saturday, August 28 at Club La Boom – the former premises of Thunderdome at 1254 Stanley.
I doubt the Thundedome crowd will rip out the chic, cookie-cutter look of La Boom and replace it with the steel poles, murals, and Flintstones car we all loved, but the music will certainly revert to '80s New Wave and Alternative. Andre Legatos, Will Chase, and others will spin tunes.
Tickets are on sale in advance for $12 a head. Yeah, that's $12 more than the 'Dome used to charge, but we all have jobs now. (Well, most of us do.) Tickets at the door will cost $20.
Bonus baseball:
My fantasy team mired in doldrums. After leading the league in homers earlier in the year, my team has suffered a massive power outage. With some luck, my pick-up of Rick Ankiel will with that. Last month, I said my team will fall no lower than third in steals. I was wrong.
My pitching is doing well but has no wins to show for it. I may move up in saves if Drew Storen can wrest the closer job in Washington from his competitors, and if Aaron Heilman can grab that role (again) in Arizona.
.271 batting average (2nd in a group of three somewhat ahead of the others)
143 HR (tied 6th but only three homers out of fourth)
634 RBI (2nd)
102 SB (4th)
4.00 ERA (6th)
1.28 WHIP (3rd)
51 wins (tied 7th)
32 saves (7th and four saves out of fifth)
My team has dropped from second place to fifth, but I'm only five points out of second.
4 Responses to "Thunderdome resurrected"