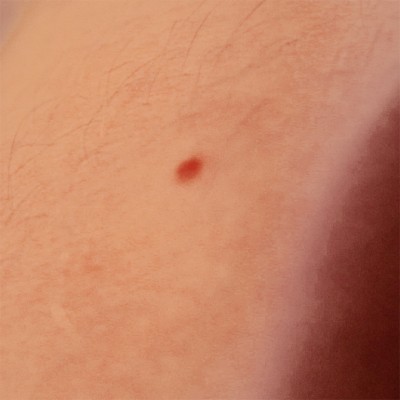 As Child Two lay down in a bed tonight, she felt a painful bite on her thigh and another on her bum. That was the ouch. She popped up out of bed and saw an insect where she had lain. She whacked it to produce the smush. The photos here show the crime and the accused.
I got to look at the thigh bite and I accepted the maimed but still living beast.
A bug bites you in bed and the first thing you think is bed bug. Bug is the correct technical term, referring to suborder Heteroptera. This was definitely a bug of some sort.
The mangled bug was about a quarter-inch long. It really does sort of look like a bed bug. That would be my initial hypothesis, but bed bug bites are painless. No one in the house has had any bites on them until last night. The bites resembled wasp stings, each having a swollen area with a red dot in the middle.
I started to consider improbable scenarios, like Child Two had crushed a bed bug but had been bitten or stung by something else. I ruled out spider bites, which almost always have two marks from the two fangs. Besides, Montreal doesn't have any spiders known for their bite.
The only thing that seemed to make sense was that we have bedbugs that don't affect any of us, and that Child Two had rolled on an invisible wasp. I took a flashlight and inspected the bed but found nothing. I wasn't ready to accept the two-culprit hypothesis so I hit the Internet.


My research led me to kissing bugs, which stab people with their sucking mouths and drink blood. There is a resemblance there, but they are larger than my mystery beast and have wings, which mine does not. Also, the closest kissing bugs live on the southern US. Their bites are also painless.
At some point, I learned that juvenile bugs (instars) do not have wings. Aha! Unfortunately, photographers focus on adult forms. An image search was no help. C'mon, folks – take some pictures of the kids, too! I also learned that assassin bugs can painfully stab with their mouths of upset. Aha aha! I confirmed my suspicions when I found Pest Control Canada's insect identification service. Scroll down to case 1657, which a retired entomologist identified as "an immature assassin bug". Look at the photo. It's not quite the same bug as ours, but the resemblance is there.
I spent time trying to identify the species, but I can't. I'm just glad it's not a bed bug.
Bonus surrender:
The idiots overwhelm me. I can't keep up with them. There are too many to list in Roadrageous. I'd be doing nothing else with my time. I've had to give it up.
Our big Thunderdome reunion took place Saturday night on the old premises now called Club La Boom.
You could tell the rooms were the same shape as Thunderdome's, but the initial bar area was all white and well-lit. It felt like it belonged in "Clockwork Orange", but that didn't stop us from meeting old friends and drinking.
The larger dance room opened at 10 p.m. to the music we know and love. Depeche Mode, the Cult, the Cure, Nitzer Ebb, New Order… we heard it all. This room was properly black, with bars a little too chic. The room was vaguely familiar but not quite right. Where did the spiral staircase go? Where were the cages and poles to hang to? I told my friend Barnes that it felt like it feels when you see your grandmother dressed as a whore.
Regardless, we danced and we drank. We met old friends. Actually, everyone we spent time with with an exception or two was someone we'd first met at the Dome but have since stayed in touch. There was only one person I was friends with 20 years ago whom I hadn't seen since I moved to (and came back from) California.
We danced all night. Elvi and I didn't drink all night – but some of our friends did. At least two hit on her as we left at 3:20 a.m., but good-naturedly.
It was a great time. As Patrick said, it made us all feel like 20 again. I can't yet find any photos of the event online, not even on Facebook.
There was one fly in the ointment, however. I had played softball for two hours in the afternoon. I stunk up the place, but I hadn't played in a decade. I had sore hips afterward, as I usually do, and a sore right knee that I attributed to aggravating the cartilage tear or whatever inside it.
The night of dancing did not help my knee at all. It is stiff today and has a fairly constant dull ache. If I put my right foot on the floor and use my body weight to flex my knee, there's no pain. If I stand upright and try to flex my knee so as to pull my right foot up off the floor, it hurts like a mother. I don't think that's cartilage. I probably damaged a tendon running from my thigh and inserting on my tibia.
I put on a brace left over from when I strained the MCL in my left knee. The compression of the brace removes the dull ache and reminds me not to do anything stupid. I'm going to give it a few days to feel better and if it doesn't, it's time to see the doctor.
Bonus entertainment:
Today we went to a mud wrestling event staged to raise funds for Haiti and Pakistan. What a blast. Front row seats meant we got speckled with mud (actually pottery clay).
I saw more of Kai Nagata than I've ever seen of any current or ex-student.
Elvi and I have spent the last few months considering a cultural education for our kids. Specifically, we want to teach them the culture our generation gleaned from film. We want them to see movies that explain where we come from, that explain where our sayings come from.
To this end, we've built a list of movies that we are renting for our children to watch. The criteria for the list is cultural significance, to us. That doesn't mean good movies, or any genre of film. We've discarded many great films because they have no impact on our culture.
Take "Annie Hall", for example. It is a great movie. It has that famous lobster scene. If we lived in New York City, it would probably make our list. But neither Elvi nor I make any reference to it in our lives, and neither does any of the media we're exposed to. It's simply not relevant enough. You could make the same argument against "All That Jazz" – unquestionably a fine film but who refers to it these days?
On the other hand, who gets through a day without telling someone, "That's why I'm going to kill you last."?
Here's our list of approved cinematic cultural phenomena:
2001, a Space Odyssey
Airplane!, Airplane II: The Sequel
Alien
Apocalypse Now
Babe
Back to School
The Bad News Bears
Blazing Saddles
The Blues Brothers
Caddyshack
Casablanca
Commando
Conan the Barbarian
Crocodile Dundee
Deliverance
Die Hard
Dirty Dancing
Dr. Strangelove
E.T.: The Extra-Terrestrial
Ferris Bueller's Day Off
Ghostbusters
The Godfather
The Good, the Bad and the Ugly
History of the World: Part I
Jaws
A League of Their Own
Lethal Weapon
Mad Max 2: The Road Warrior
Major League
Monty Python and the Holy Grail
Monty Python's The Meaning of Life
The Pink Panther series
Planes, Trains & Automobiles
The Princess Bride
Raiders of the Lost Ark
Risky Business
Robocop
Rocky
Slap Shot
Star Wars, The Empire Strikes Back, Return of the Jedi
Taxi Driver
Terminator
This Is Spinal Tap
The Treasure of the Sierra Madre
When Harry Met Sally
The Wizard of Oz
Young Frankenstein
Here are films that didn't make the cut:
An American Werewolf in London
Annie Hall
Big
The Breakfast Club
Dead Poets Society
The Exorcist
Indiana Jones and the Last Crusade
Indiana Jones and the Temple of Doom
Jerry Maguire
Life of Brian
Meatballs
Pretty in Pink
Pretty Woman
Pulp Fiction
Stripes
Top Gun
Trading Places
I guess this post is begging for comments. I also guess it won't get many.
(I'm proud of the pseudo-Regency Blackadderesque title.)
Last Monday, the Gazette had on page A3 a story that featured Child Three, and the large photo that accompanied the story also featured Child Three.
That's great and all, but something occurred me. No one asked us to sign a release for his picture.
We in the journalism department are keenly aware of Aubry v. Éditions Vice-Versa inc., in which the Supreme Court of Canada ruled that a person's right to privacy outweighs a photographer's freedom of expression.
What brought the case to court was a photographer who took a photo of a 17-year-old girl sitting on the street. The paper published the photo and the girl sued.
The Supreme Court decided that no one can publish a photo featuring a person unless you get the subject's permission.
There are some exceptions. You may freely publish photos: of a subject who attend a public event such as a parade, demonstration, or sporting event where there is no expectation of privacy; of a subject who appears as incidental background; of a subject who is unidentifiable; of if the photograph is of the public interest.
How do I know all this? I said we in the journalism department are keen. We tell our students to always obtain permission to use a subject's photo. We provide them with a boilerplate release form they can and should use.
None of these aforementioned exceptions apply to the photo of my son and the other children. I e-mailed Bryanna Bradley, the photographer, to ask whether she obtained permission to use the kids' image from the camp. I asked if there was even a release signed at all.
Bryanna ducked my questions and told me to write Marcos Townsend, the Gazette's acting photo editor, so I did. Here's his informative reply, reprinted with permission (the barely visible bold highlights are mine):
Thank you for your the opportunity to answer your questions. Newspapers operate a little differently than commercial photographers who do require written consent in the form of a model release. Having a person tell us their name is considered sufficient consent for their photo to be published. In the case of a minor, we seek out the parent or if they are part of a group/school – as was the case with your son – we leave it to that group/school to sort out permission (as they would get permission for any other activity the child might be involved with while in their care). I am told the children had been asked beforehand to ask their parents if there would be any problem with their photos being published and there were no objections.

If you have the opportunity, please do pass on to your students that the courts do not require us to have a written release – circumstance or the person's name usually indicates that we had publication permission. As a matter of courtesy, we always try to let people know why we are photographing them, but please understand why we rely on organizers to sort out permission for groups.

I hope I've been able to answer the crux of your question.
Interesting, and sensible. Maybe we journalism keeners are acting on the side of caution, and I wonder if that is a service to our students.
A friend of mine runs a gardening club and I've volunteered to help her by designing her publicity flyers.
The first one (the paler one) was adequate: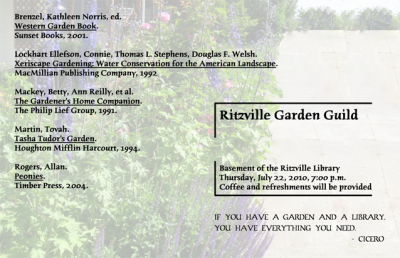 The poster for her second meeting was orgasmic, if I say so myself: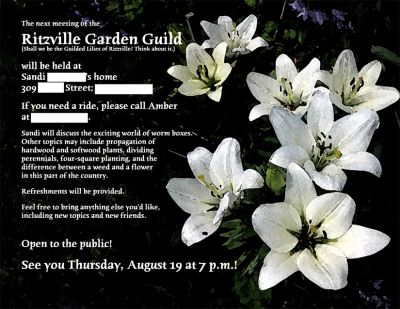 Click for a larger version.
Maybe I should look for freelance design jobs, but with no real experience, I may have trouble selling myself.
Nevertheless, if you like what you see and you want to hire someone reasonably skilled who will work for below market price, feel free to contact me or leave a comment here.
Here's a last, simpler but elegant design of mine, for a business-card pass that allows a guest access to an open bar: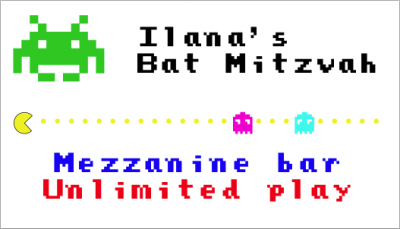 Bonus applause:
Kudos to the traffic police of New Delhi, who have adopted the same principles that fuel Roadrageous to ticket scofflaws. They ticket violators based on photos submitted by the public.
Bonus bonus:
Late breaking news! My daughter wants mt to pimp this URL for a contest she's entering. Superdad flies again!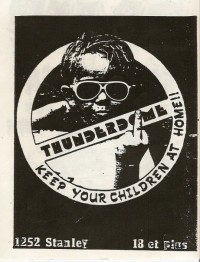 Thunderdome was an underground club in Montreal during the late '80s and early '90s. It was two floors connected by a huge spiral staircase in a cage. It had theme nights. It was one of a kind.
One of my most popular – and earliest – blog posts mentioned Thunderdome.
Well, the club is going to live again for a night.
A Sphinx/Thunderdome revival will take place Saturday, August 28 at Club La Boom – the former premises of Thunderdome at 1254 Stanley.
I doubt the Thundedome crowd will rip out the chic, cookie-cutter look of La Boom and replace it with the steel poles, murals, and Flintstones car we all loved, but the music will certainly revert to '80s New Wave and Alternative. Andre Legatos, Will Chase, and others will spin tunes.
Tickets are on sale in advance for $12 a head. Yeah, that's $12 more than the 'Dome used to charge, but we all have jobs now. (Well, most of us do.) Tickets at the door will cost $20.
Bonus baseball:
My fantasy team mired in doldrums. After leading the league in homers earlier in the year, my team has suffered a massive power outage. With some luck, my pick-up of Rick Ankiel will with that. Last month, I said my team will fall no lower than third in steals. I was wrong.
My pitching is doing well but has no wins to show for it. I may move up in saves if Drew Storen can wrest the closer job in Washington from his competitors, and if Aaron Heilman can grab that role (again) in Arizona.
.271 batting average (2nd in a group of three somewhat ahead of the others)
143 HR (tied 6th but only three homers out of fourth)
634 RBI (2nd)
102 SB (4th)
4.00 ERA (6th)
1.28 WHIP (3rd)
51 wins (tied 7th)
32 saves (7th and four saves out of fifth)
My team has dropped from second place to fifth, but I'm only five points out of second.
Every once in a while, one of my former students will update me on his or life after journalism school.
I received one this week from a student who passed through our department's graduate diploma program.
With permission, here it is.
Hey, how you been? I'm working here in sweltering Toronto. I have a job for now… at this contest show. I'm also doing a bit of producing work for radio which means I can die a happy lady.

Part of this my work for the contest show is using a crapload of Excel. Your tip sheets for this program are so useful.

On the contest show, we totally use basic HTML in the blogging software we use. Because it's such a shitty, not user-friendly program, we often have to go in and look at the HTML to figure out what's wrong.

Cheers
Letters like that make the struggle to engage my students in what at the time can seem tedious, pointless work worth getting through.
Bonus travels:
I spent four hours in the Bahamas yesterday. I arrived from Montreal, bought something to make for supper, booked a ticket for West Palm Beach, and left without my supper.
I took with a bag of spekulaas cookies, my only food of the day.
Why? That's still a tale in the making.
I wrote an article on baseball uniforms yesterday and to do that, I studied the official uniform rules of Major League Baseball, Little League, and another youth baseball organization called USSSA Baseball.
Little League bases its rules on the rules of Major League Baseball. As a result, both groups require in their Rules 1.11 that "all players on a team shall wear uniforms identical in color, trim and style, and all players uniforms shall include minimal six-inch numbers on their backs." Little League omits the number size and requires an official Little League patch on the left arm or, in sleeveless uniforms, on the left breast.
Both forbid ragged, frayed, or slit sleeves, and detail that sleeve length may vary between team members but that each player must sport two sleeves of the same length. If a player wears an undershirt visible beneath his uniform top, it needs to be a solid color and all teammates must wear the same color. No player may wear a white, long-sleeved
undershirt although any other color is allowed. No part of a uniform can resemble a baseball.
Aside from some rules on jewelry, shoes, and pitchers not distracting batters, that's about it. Notice anything missing?
That's right: pants. And caps. There is nothing in the rules that requires a team to wear pants. While there is a rule that says all members of a team must wear identical uniforms, an entire team can go without pants and remain within the rules. The same goes for caps. If the entire team goes hatless or all wear berets, it's within official uniform rules.
This explains the monstrous shorts the White Sox wore for three games in 1976. Note also in the photo the shirts, which were uniformly worn untucked.
Now, don't try this in USSSA leagues. The USSSA specifically mandates that players wear pants and caps. Spoilsports.
After completing a comprehensive two-hour tour of Charlottetown, PEI, we went looking for a game of Bohnanza to offer as a gift to our hosts.
Between the two gaming stores in Charlottetown, one had the fan edition of the game, which we bought along with Monty Python Fluxx. As we were leaving, I spotted a tempting box: the Dungeons & Dragons Roleplaying Game Starter Set. The price was $20.
Elvi and I met because of a AD&D campaign we joined, and we played for six years, until our young spawn became too numerous and antsy to allow us the hours required for a session. When we quit, the AD&D world was in its second edition; our collection of books, modules, and knickknacks filled a bookcase.
Since then, AD&D has reverted its name to D&D and upgraded its mechanics to fourth edition, an entirely new system – and the one in this boxed set, with characters and adventure ready to go. I had to buy it. Once I bought it, the family and our hosts had a plan for rainy days.
Our impromptu group has had so much fun playing this that we've wasted a few sunny afternoons, too. Our girls love the game. Child One is a precocious halfling rogue and Child Two uncharacteristically chose a dour dwarf fighter. They are really getting into the game, and have created elaborate backstories for their characters. (Child Three enjoys it but the game is a little slow for him. He and Elvi are teaming to play a dragonborne paladin)
As a DM, I have to say that this edition is much easier to play and manage after adjusting to the new rules. The rest of the group had never played before but Elvi was little bit amusing as it took her longer than me to adjust to the new rules, like the fact that Magic Missile no longer hits automatically.
I've downloaded some free low-level modules, and maybe we'll get the full-fledged rule books. I'm not sure I like the plethora of player character races, but meddling can wait a while. For now, it's great to have found an activity a family of geeks of varying interests can enjoy together.
No, not my thoughts. I'm on vacation in mosquito-infested western PEI. But I have run across some tidbits to interest those of us contemplating journalism as a living or hobby.
MarketWatch reveals that although newspapers' online readership is growing, ad revenue is dropping, at least for the major publishers. Part of the reason, MarketWatch notes, is the current economy, which is a buyer's market in ad sales.
I love this quote from Matt Wise, CEO of a Chicago-based ad network and someone who does indeed want to drive down ad prices. Nevertheless:
There's an erroneous expectation that newspapers should be able to take their print product, place it online, and once again command those huge CPMs…. They still complain that, "The stuff we put online isn't worth as much as what we put out offline." And the reality is, the offline stuff isn't worth that much either. It was just overpriced before.
More practically, the article discusses advertisers who want to target their ads not willy-nilly, but to select audiences. If you wanted to charge advertisers more than they would spend for Google Ads, you'd better provide better results.
Bonus video:
So to help you polish your fiction career, watch this on creativity. Yeah, it's a TED talk: