I skipped a June update because I had little to relate. The situation was essentially the same as May. This month, though, there is movement afoot!
In June I picked up Drew Storen in the hope that Matt Capps's rough patch would lead him to lose his closer job, but that never happened. Storen has provided a month of good stats in relief but no saves.
At the time, I had to decide between him and Aaron Heilman, who seemed to be a possibility for saves In Arizona. Since then, Heilman has indeed become the closer there. I chose wrong. Somehow, though, Heilman went unselected in our monthly update draft and I was able to snag him at the second-to-last position. That's right, I've climbed to second place. Here's how it breaks down:
.268 batting average (3rd and in a huge clump of five vying for second place)
106 HR (4th)
469 RBI (2nd)
81 SB (2nd and will fall no lower than 3rd)
4.07 ERA (6th up from 10th)
1.26 WHIP (2nd up from 7th)
40 wins (6th)
20 saves (tied 8th)
It's a pitching year. Only one team has a batting average over .270. With my crappy pitchers on the disabled list, my team has a WHIP of 1.16 and an ERA of 3.21 over the last 28 days.
Heilman alone will get me 2.5 additional points. I'm in second, 14 points behind the runaway leader and five points up on the third-place team.
Bonus real baseball:
Child Three has one of the nicest line-drive swings in the league. Incredibly, he's only made four outs at the plate so far this season and only two of those were strikeouts. He's speedy, he fields adequately, and he has no arm. As Uncle Jeff observed, he's like his dad.
I still don't have a cell phone but I do have an iPod Touch that goes with me everywhere. What a boon to aging minds!
Apple released the latest software update for iPhones and iPod Touches (iPods Touch?) this week, called iOS 4. The update brings new functionality to the devices, including multitasking (running more than one app at a times), the iBook reader, and app folders.
I decided to update my second-generation iPod Touch last night. It took a lot longer than I expected.
Previous updates have been painless, like a long sync. My download of iOS 4 went smoothly, but something interrupted the installation. That was my first clue that the process had gone wrong. iTunes gave me a host of error messages that told me my songs could not be found. iTunes itself played the songs well enough so I knew it was an iPod problem.
The rest of the iPod seemed to be in shape. The apps were there and iOS 4 was in place. The problem I tried to open some apps and not all were working. I tried again, and again it stopped in the middle and warned me of the errors.
I took a bold step and tried to restore the iPod, which resets it to pristine condition. . The restore function erases all data and reinstalls all apps, music, and what have you. You lose passwords and accounts and game scores, but that's not a big deal. The big deal was that the restore did not fix anything.
At that point, I noticed that Last.fm's Audioscrobbler had been trying to scrobble (i.e. record for posterity) the songs I'd played on my iPod since the last sync. I figured that was interrupting the installation so I closed Audioscrobbler, and synced yet again. The apps were working but iTunes told me there was no room left on the iPod for more than 24 songs. Looking at the capacity diagram of my beloved Zapp Brannigan (my iPod's name), I noticed that 5.89 MB of the alleged 8 MB total (which for some reason is only 6.83 MB) was taken up by Other data. That's why there was no room for songs. (Huge chunks of Other data is normal for jailbroken devices, but mine's regulation.)
I have no idea what that other data was, but my only hope was to try to restore the iPod again, this time without Audioscrobbler's interference. I wasn't hopeful that this would work, since other than being full, the iPod was now working perfectly – but work it did. Finally by 3:30 a.m., I had a properly functional iPod Touch.
I can't prove it, but it sure seems like Audioscrobbler screwed with the installation. Reports here and there online reveal some problems with iOS 4 installations elsewhere.
The irony? After all this consternation, I discovered that second-generation iPod Touches only benefit from iOS4's mail threading and and app folders. The rest of the advances don't work.
Bonus "Futurama" review:
No, not by me. Tim Surette of TV.com says everything I want to, so why repeat it? My brief note after watching the shows was that it has promise and a lot more nudity. To my pleasure, the new episodes match my taste much better than the DVD movies did.
Canadians are out of luck, but the American Comedy Central has broadcast the new "Futurama".
Those of us who know how to torrent will be watching the first two new episodes in about a minute and a half.
Let's hope the return to a strict half-hour format has freshened the series, which took a step back with the "movies".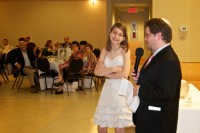 That was the big news this week. She did a marvelous job Saturday, everything was as good as it possibly could be (save the absence of the ordered sushi and bagels at the luncheon), and everyone went home happy, even me.
I got to play DJ at the evening party, which was a blast. The best part of my weekend, however, was my Torah reading and later speech.
I sang Numbers 20:22-24, in which God tells Moses and Aaron that they won't enter Israel because they beat a rock. Oh, that God….
Here's my speech. The standard font colour is what I had written before hand. I had to make some edits between the ceremony and my presentation; those are in black. I've edited out the names.
Inspired by the haftorah Ilana would sing this morning and the midrash she wrote, when I went to bed last night I vowed to sacrifice the first thing I saw this morning.

Fortunately, it was a bagel.

I'm surprised to be here. Many fathers think that, I'm sure. They think how time passes so quickly and their kids grow up and they're amazed to be standing up here for their child's bar or bat mitzvah.

Not me. I'm surprised that I was even invited to be here.

See, for the first two years of her life, Child Two was her mother's child. All I had to do was hold her and she'd start to wail. This shocked me since I had gotten along so well with Child One, as she was known then, Child Two's older sister.

Eventually, Child Two grew to be fond of me. We would make sure that she gave me a daily hug and I would get her to regularly clean my toes – which was my sneaky way of getting a free foot massage and, well, clean toes.

Once she grew up a bit and wised up, the toe-cleaning stopped – which is a shame because I have a hard time reaching my toes. Despite all that abuse, she still invited me here.

Child Two's wisdom continued to accumulate and she became a great student. Teachers tell us she's a perfect student, but I don't see one-hundreds on every single one of her tests, so I'm skeptical. I try to teach my kids critical thinking that way.

I also try to teach my kids to duck behind cover to avoid incoming fire, be it candies or any other projectile. I'm successful at that, apparently.

Now, this next paragraph I wrote before I knew I'd wow you all with my Torah singing and outshine Child Two up on the bimah. For that, I have to thank Divvy for training me. She did a great job, eh?

I was going to say, "As if my attitude weren't enough to bar me from this occasion, did you hear me singing? Would you let me do that at your kid's ceremony?"

Yet here I am, and I have to say, Child Two, that in my own little way, I'm proud of you.

I'm also proud of my wife Elvi, whose superhuman effort made this weekend all it's turning out to be. Without her, not only would we not have Ilana and her siblings to bring us so much joy, but personally I myself might instead be living in a large cardboard box.

There are many more people to thank, and I'll let Elvi have the microphone and continue on our behalves.
I received many compliments on the speech but no jobs. Maybe I should try to get DJ work.
You learn a lot about yourself when you clean out your computer parts and cable drawer. I learned:
I collect a heck of a lot of phone cables.
Also Cat 5 cable.
I'm finally giving up on ADB connectors.
Except for one USB to ADB wire and the mouse for the Fat Mac in the basement.
I can't yet bring myself to toss the 3.5″ external floppy drive.
I can get rid of the SonicWall router/firewall now that I've found its power adapter.
I have six eight archived internal hard drives to look through.
And one external hard drive.
Maybe I did have Elvi's flashlight headband… or maybe it just re-appeared on her desk.
I can bring myself to toss the bulk of my destroyed and still beloved Thrustmaster FCS joystick (but I kept the pots and springs).
I have the strength to throw out my non-functioning expensive headphones instead of waiting for the day I'll never fix them, in order to avoid new clutter.
Bonus job news:
Upon resubmitting my clip in the – ugh – traditional MS Word .doc format, I was hired by that publisher (I use that term loosely) I wrote about. The folks there accepted my first assignment without edits. Until I get into the swing of it, it's only paying about $10 an hour but I should be able to at least double that with experience. I still have more lucrative irons in the fire.
I finally bought a Firewire 400 to 800 adapter so I can start to move my videotape to digital media. I started with my oldest unconverted tape because were I to begin with the most recent, I probably would neglect the older footage forever.
The following clips show the last period of last year's Hockey Montreal Western Division final. Every player you see in that game is a lot better now. It's amazing to watch these kids improve by leaps and bounds year after year.





Bonus video:
OK, I couldn't let that last comment go by without evidence. Here's a video almost exactly a year later of mostly the same kids, now in Atom, playing an informal scrimmage after the season ended this past March.


Here's what happened. I forget the exact dates, but trust me on the sequence of events.
I knew that around February/March, the Department of Journalism releases the list of summer courses that part-timers may apply to teach. (It used to be the Journalism Department, but its official name has changed. I'm not sure when.)
I hadn't heard anything and something prompted me to e-mail the department. "Oh," replied the assistant, "the application deadline was last Friday. I e-mailed everyone the course list weeks ago."
I complained that I didn't receive that e-mail, but the assistant insisted she had sent it to me. I was pissed – still am. See, these courses aren't posted anywhere, neither in the department nor online. The only way to learn about them is to be on the mailing list.
I sent off a complaint to the head of the department. Here's the reply I got:
I asked S. to look into this, as we followed the procedure we always do – i.e., e-mailing the postings to all part-timers and those who have expressed interest in teaching a course. S. confirmed for me that, for some reason, the postings were not sent to you, but your name and e-mail address are in the directory that she drew those addresses from. She doesn't understand what happened, but obviously it was some kind of error.

S. also checked with our HR people to see if anything can be done. Given that the contracts have already been awarded, we were told it was too late to correct the error.

I don't know what to tell you, other than sorry.
That little mistake cost me two courses and about $14,000 in income. To quote "Idiocracy": Ow, my balls! But this gets better.
The department furthermore decided that it need to hire a Limited Term Appointment (LTA) for the coming year but instead of opening that to an application process, it appointed someone. Someone who was not me. That may have cost me a chance at a section of JOUR 202 in the fall. To quote Brian Collins: Boom goes the dynamite!
Once all this was said and done, the department decided to cancel JOUR 319 for next year. JOUR 319 is the computer-assisted-reporting course I've taught for a decade. I've run out of pithy ways to plaster over my rage and disappointment.
At least I managed to snag one graduate course to teach next year in the winter term (January to April), so we'll still be able to afford to eat Kraft Dinner.
But I'm looking for work. The freelance market sucks, at least it does for me. My clips are stale and I don't have new ones. Things are so bad, I applied to a distributor of online articles: the sorts of pieces you see at eHow and elsewhere.
I sent in my application Sunday and Monday afternoon they wrote back: "After careful review of your resume and writing sample, we are unable to offer you writing assignments at this time."
Great. I wanted to know what they felt was so unsatisfactory so I looked on the site for an e-mail address but only found a contact form. I went ahead and used that and to my surprise I got an e-mail reply today.
Thank you for your inquiry. It appears that your writing sample was in .txt format, making it impossible for us to read. Please send another sample in PDF or Word Doc format.
You have to laugh, if only to keep from crying.
I sent them a Word version of my clip. We'll see what happens, there and everywhere else I've applied.
I saw my GP last week and in addition to discussing and dealing with my fatigue, I also had some joint complaints.
For about two years, my right knee has been locking up once in a while. It only happens once a month or so, but has become more frequent, and the knee is stiffer. I can feel something medial to my kneecap (i.e. on the thigh side) grind when I bend the knee. That spot is sore once in a while.
My other complaint is my temporomandibular joints (TMJ). Once in a while, they suddenly get so sore that I can barely chew, even something as soft as a sandwich. The TMJs occasionally pop, like a knuckle crack, but that's been going on for as long as I can remember.
Consensus is that my knee has a cartilage tear or possibly a loose body. My jaw – who knows. The doc sent my for X-rays, which you can see below.
The knee images are fantastic. You can make out the muscles in my thigh. The TMJ images are less clear, but should let you play doctor on the Internet anyway.
Note that the X-ray of my right jaw is flipped so that it matches the left side in orientation.
I bought a cell phone for the first time more than a month ago. I've never had one – I still don't, since this one was for Elvi.
Our California arrangement expired and we finally needed to shop for a local plan. Canada has just about the most expensive mobile phone service in the world and we weren't happy with our options. We spotted an ad for Public Mobile, an upcoming service that offers unlimited talk and texting for a flat $40 total (no service fees) and no contract required.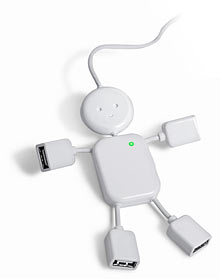 You might expect something like that in your part of the world but here in Canada, that's an extraordinary deal.
Because we signed up early, the company also offered us lifetime unlimited long distance in Canada and the US for an extra $5 a month (that offer is still in effect – tell 'em I sent ya). The only downside to Public Mobile is that you have to buy a phone and, unlike the money-sucking mobile service companies, it doesn't provide phones for free. I bought the most basic phone for $70.
We were all set for the roll-out of the service on May 15 but for undisclosed reasons, Public Mobile has pushed back the Montreal launch until June 26. To placate customers, the company is offering two free weeks of mobile service plus a $75 gift certificate for hardware. Not bad, but we'd rather have the phone working now.
In other tech purchase, we found these USB man four-port hubs on sale (see at left) for $3 apiece so we bought two, and shipping was reasonable.
Bonus world premiere:
Allow me to introduce Roadrageous. Yes, it's what you think it is. I just couldn't hold back any longer.
I was up late. It was one of those nights you check Facebook before going to sleep, find a nifty link, and keep surfing for hours. One page I visited presented fights between animals and men. The picture comes from there.
At some point during the night, Elvi asked why I punched her in the throat. I told her I was having a dream in which I was fighting a bear and I punched it in the throat. I don't think I made clear the manner of the combat. See the image….
I took Crash to the vet today. His Horner's syndrome has nearly cleared up, which rules out a tumour as the cause. Other than that, and a benign basal-cell skin tumour on his head, he's healthier than a 12-year-old dog has any right to be.
While I was paying for that news, a young couple hopped out of a cab outside the picture windows and rushed in. The man had a cardinal in his hands. It was chirping and not well. For one, the man had picked it up off the grass in a park. For another, it was dripping clear mucus from its beak.
The vet is really only a dog and cat place, but the staff were as concerned about the bird as there were incapable of caring for it. I volunteered to take the thing to the small animal vet a few blocks away.
Cynic that I am, I figured there was nothing to be done. When I was a boy, I found a struggling pigeon. I called a vet to ask what to do and was told that the pigeon had probably been poisoned by the city. I don't think anyone poisons cardinals, but this one was struggling.
I got 50 feet along the sidewalk before it spasmed in the small cardboard box and died.
Bonus offspring news:
Child Two won a Principal's Academic Excellence Award at a ceremony at her high school yesterday. Way to go!
And Child One worked as assistant costumer on a short film Sunday and Monday. She detested my waking her for the 5:00 a.m. call time, but by all accounts she did well. The head costumer said she'd hire Child One for paying jobs in the future.