Some words during the second intermission….
Skunked: Guess who got intimate with a skunk's bodily fluids again last night? A family member put Crash out around 10:00 p.m. and forgot to bring him back in. He got hit after midnight. I was peeved and petulant, not a great moment.
Unhinged: My laptop hinges have failed. I have to hold the monitor up with one hand while I balance the computer on my lap or chest. I found repair instructions easily enough but the hinges cost $70 or so, a significant portion of the laptop's value.
Time for the third period….
Bonus publicity:
Elvi and her feminist choral group are performing as I tap. Here is an article on them.
My Irrational League team spent most of April solidly in seventh place but during the month's last week tremendously climbed into a tie for third. My hitting couldn't be better. My pitching could only barely be worse. This is the first week my team ERA has started under 6.00.
I dropped Ben Sheets, who is struggling and won't be an asset even if ever traded to the National League, with Carlos Silva, who may continue his fluke run or may revert but in any case can fill in for the injured Jason Marquis.
No one picked up Livan Hernandez. Unbelievers!
How I stand:
.272 batting average (3rd)
49 HR (1st)
177 RBI (2nd)
30 SB (tied for 2nd)
5.70 ERA (10th)
1.37 WHIP (7th)
12 wins (tied 8th)
6 saves (6th)
All that adds up to 48 points, good for a third-place tie and only half a point out of a second-place tie. It's 20 points behind the current leader, however.
Bonus foreboding:
I still have two posts I want to write, one a summary of the year's Atom B hockey with plenty of photos and the other a summary of how my Department of Journalism has toyed with me.
It's spring in Montreal. The trees are blossoming, the bushes are lushly green, and I had to shovel four inches of snow of my car this morning.
It snowed all day yesterday and a good portion of the night. The thumps of snow and slush falling from the tree above our skylight sounded like tennis balls as they hit the glass.
Every road seems to have one good-sized tree branch sprawled across the sidewalk.
But nobody cares, because tonight the hometown Habs stand a good chance if achieving the highly improbable.
I need to reclaim my Google PageRank for "early senility" and today's activities will help.
In January, I needed to urgently renew my citalopram prescription but my GP was on vacation. I went to an open clinic and spent most of an afternoon waiting to convince a doctor who'd never seen me before to prescribe more for me. I did; luckily it's not a drug that can be abused.
I noticed last week that the last month of my three monthly allotments (count with me: mid January to mid February to mid March to mid April is three months) was going to need to be replaced so I called my GP to make an appointment. The earliest available time slot was May 18, a good month too late.
The office recommended I come in Monday to see the walk-in physician, so I went there this morning.
After a brief consultation, he gave me a prescription for another month's worth of pills. The office is right on top of a drug store, so I went to the pharmacist there. The woman serving me created an account for me and upon handing me the bottle of pills asked for $70. I balked. Normally, a month costs me $30. She explained that because I didn't have my drug insurance info, she'd have to charge me full price but that I could reclaim the non-deductible part later. I declined her offer, hoping to stop off at a pharmacy that had my info on hand already.
I stopped at Wal-Mart on the way home. The woman behind that counter tapped a keyboard and said I still had a refill left on my old prescription. That's weird, because by our count (you counted with me, right?) I had used up all three months. Whatever. All it meant was that I'd wasted a couple of hours of driving and waiting.
More ominously, she said the provincial drug plan refused my claim. She said she'd call about that while I walked around the store lusting after cheap shirts I don't need.
I returned and she said my provincial drug insurance (called RAMQ) had been cancelled on April 8. I would have to call to clear it up myself. I refused her kind offer to exchange the drugs for full price and went home.
At home, I found an envelope in the mail. It said that the RAMQ wanted to be reimbursed for a year of claims because we hadn't replied to a letter I don't remember seeing.
At that point, it dawned on me that since September, our family's drug plan was with insurance provided by Concordia and not the RAMQ. I'd never changed the info. I need a plastic card to remind me of that sort of thing. No wonder the RAMQ folks were pissed. I called the insurance, learned that all the claims since September could be sent to them for payment, and then I could reimburse the public RAMQ.
I could even get the new prescription on the private insurance, and I will tomorrow.
That still leaves a half-year of claims the RAMQ should still be paying, but I'm sure that will get straightened out.
My tummy hurts.
The Irrational League held its annual April fantasy-baseball draft. I think I did OK, although my starting pitching makes me queasy. I was expecting Hiroki Kuroda to be on the table a few rounds in, but he was snapped up sooner than I had anticipated, probably because we held our draft after his first start, a masterpiece. I took some risks – rather, I took what most people would consider risks. I, however, am confident that Adam Laroche will thrive in Arizona's home-run environment. Jay Bruce will bounce back. He has too much talent for last year and the first week of this year to be the norm. Mat Latos has a live arm in a forgiving ballpark. I have two good starting catchers. Every hitter brings something to the table, much like my team last year. In fact, I think I have more than last year.
My hitters and projections:
C: Yadier Molina: .280, 5 HR, 55 RBI, 5 SB
C: Miguel Olivo: .260, 15 HR, 50 RBI, 5 SB
1B: Adam LaRoche: .260, 25 HR, 90 RBI
2B: Kelly Johnson: .275, 15 HR, 65 RBI, 10 SB
SS: Ryan Theriot: .280, 5 HR, 55 RBI, 20 SB
3B: David Wright: .305, 20 HR, 80 RBI, 25 SB
CI: Adam Kennedy: .280, 10 HR, 55 RBI, 15 SB
MI: Freddy Sanchez: .290, 10 HR, 45 RBI, 5 SB
OF: Matt Holliday: .300, 25 HR, 85 RBI, 10 SB
OF: Matt Kemp: .290, 20 HR, 80 RBI, 30 SB
OF: Jay Bruce: .290, 35 HR, 95 RBI, 10 SB
OF: Nate McClouth: .265, 20 HR, 75 RBI, 20 SB
OF: Ryan Ludwick: .270, 25 HR, 80 RBI, 5 SB
UT: Melvin Mora: .280, 5 HR, 40 RBI, 5 SB
UT: Lastings Milledge: .275, 10 HR, 60 RBI, 20 SB
On my bench, I have Jeff Baker to sub until Freddy Sanchez comes back from an injury. Greg Zaun also has a seat there.
I figure my final hitting stats will come out to something like .280, 250 HR, 1015 RBI, and 180 SB. It's more or less what I expected last year, with an extra 40 SB tacked on for the loss of 20 RBI. I guessed second or third in batting average and homers, first in RBI, and third or fourth in stolen bases. I think my first three categories hold, but if my team gets 180 stolen bases, I will win that outright – let's conservatively predict a second-place finish there. That's 36 points in hitting.
Those 36 points better be enough to buoy my pitching.
SP: Chris Carpenter: 14 W, 3.40 ERA, 1.15 WHIP
SP: Ted Lilly: 11 W, 3.75 ERA, 1.20 WHIP
SP: Mat Latos: 10 W, 3.60 ERA; 1.20 WHIP
SP: Kevin Correia: 11 W, 4.15 ERA, 1.30 WHIP
P: Jason Marquis: 11 W, 4.05 ERA, 1.30 WHIP
P: Kyle Lohse: 12 W, 4.25 ERA, 1.30 WHIP
RP: Trevor Hoffman: 30 Sv, 2 W, 3.15 ERA, 1.15 WHIP
RP: Billy Wagner: 25 Sv, 2 W, 3.10 ERA, 1.20 WHIP
RP: Latroy Hawkins: 3 Sv, 3 W, 3.50 ERA, 1.20 WHIP
RP: Danys Baez: 4 Sv, 3 W, 3.40 ERA, 1.20 WHIP
I do not like three of my six starters, who are consistently league average. They have no upside. Fortunately, starting pitching is unpredictable and the most available commodity. Also, I have Pedro Martinez and Ben Sheets on my reserve list….
I figure I'll get roughly 60 saves (good for fifth), 80 wins (good for fifth), but come in strong with an ERA of 3.80 (third) and a WHIP of 1.25 (first). That's 30 points to total, with the hitting, 66 points – more than enough for the 60 points usually needed to win.
Let's see how this all shakes out. I know I'll be shaking when Lohse, Correia, and Marquis toe the rubber.
I was using Google's analytic tools to help me find who links back to this blog and my 101 site when I discovered that some bot had scraped my post from Passover two years ago.
Check it out for a giggle based on the title and the photo.
Meanwhile, today I taught my last class for a while (story to come) and I'm preparing for Saturday's Irrational League draft.
This was weird. Today, we had to submit our list of four keepers for the 2010 version of the Irrational League.
I kept reaching the same conclusion: I have to drop two guys that have been mainstays of my team for years. Aging sucks. You hurt, you get slower, and you can't quite reach places you used to. I feel that myself, too.
I'm keeping:
Matt "Summer" Kemp OF LA
David "Two Wrongs Don't Make a" Wright 3B NY
Matt "Roman" Holliday OF STL
Chris "Karen" Carpenter SP STL
Goodbye, Lance (Berkman). So long, Carlos (Beltran). Please empty your desks and have security escort you to the front door.
The strange thing is that this completes an absolute turnover in my keepers. A year ago, only Kemp was on my team, and that was only his second year with me. I acquired the other three through last year's draft and a trade (Ryan Zimmerman for Wright).
As part of this series of updates, this one looks at our home menagerie.
We have a sick chinchilla. January had become lethargic and scruffy. The vet told us she had a molar tooth spur that had caused an infection. Two weeks later, after medicines, IV fluids, and a heating pad in her private hospital room (our downstairs bathroom), she is well on the way to recovery.
Various family members have absentmindedly left the bathroom door open at times, but January is the easiest chinchilla to catch even when fully healthy.
Crash is also out of sorts. He's not ill but Horner's syndrome has affected his left eye. He looks a little odd but is not in any pain. (Horner's affects humans, too.)
I noticed that he looked like he'd been hit in the eye with a hammer and took him to the vet. After examining Crash to rule out infection, the vet told me it was either nothing or cancer. She said it almost always goes away by itself after six to eight weeks, but offered me the option of paying for a MRI if I really wanted to. I didn't. If it's going to go away, great. If it's cancer… – well, Crash is already almost 12.
Child Three decided the time was right to find new pets of his own. He's recovered from the New Year's Eve grief of losing Momo the guinea pig and we accompanied him to the SPCA to look for more.
He chose a pair of one-month-old brothers, two black guinea pigs with white facial markings. The one with the vertical stripe is Harpo. The one with the eyebrows is Groucho. The one with the pig on his head is me.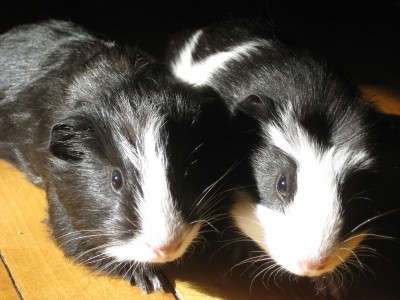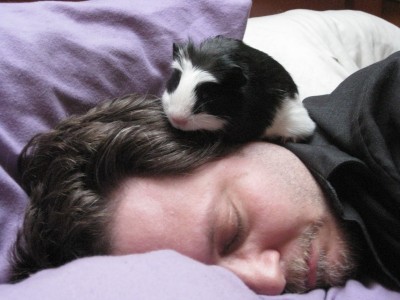 I have some brief observations on some entertainment so I might as well get them out of the way.
"Avatar": Roger Ebert has codified his Ebert's Law, which is that a movie is not about what it is about. It is about how it is about it.
What was "Avatar" about? It was a soft-core-porn mash-up of "Pocahontas" and "Return of the Jedi". But how was it about it? Oh, it was brilliant. I saw the 3-D IMAX version and sat enthralled for every minute. The best movies take me to a new world, although not necessarily as literally as "Avatar" did. Wow.
"Glee": At the request of Child Two, she, Elvi, and I have now watched the first season (a mere 13 episodes) of "Glee". Thank goodness for Jane Lynch, who makes the show bearable between musical numbers. When the show takes itself seriously as a drama, it is simply not very good. Ridden with plot holes and characters who act as if simply to move the plot forward, the shows had us rolling our eyes at the predictability and foolishness. Why, for example, if Kurt's dad knew and accepted Kurt's homosexuality did he confront the boy in the basement about which dancer was his girlfriend?
Yet when the show embraces the absurd, and that's brought primarily by Sue and Emma, it can shine.
"Glee" returns soon, and I hope it trends toward fantasy like "Pushing Daisies" did.
"The Pacific": I've only seen one episode and it's less… epic than the same team's "Band of Brothers". So far.
The second time I tried to import the old blog, everything went as planned, although all the embedded YouTube links have broken. Some image placements are slightly wonky due to a kludge I used at Blogger to get the vertical spacing the way I liked it.
My feed should be working now; let's see if this shows up at Facebook.
All I have left to do is add my links, categorize my 740 posts (because I like making work for myself, apparently), and create a .htaccess file to 301-redirect the URLs of my old blog to here. That's important because it tells the search engines that this new blog is the same as the old one only in a different place. I don't want to lose my inexplicable Google rank for "early senility", after all.
Anyone who links to the old blog can change the URL – or not. The redirection takes care of that, of course.
This WordPress blog seems to load a bit more slowly than the Blogger version but considering how bloated it is (beauty has its price), that's not surprising.
I think I can live with the vertically offset legacy images.
For now.
101 is open for business!
Update: I finally got the .htaccess file working after 90 minutes of excruciating frustration. My problem? The file in plain text on Mac OS X uses carriage returns. Linux requires linefeeds. Once again, Tex-Edit Plus comes in handy. I've been using it since 1994 and I paid many times the recommended software price when I bought it back then. Thanks, Tom Bender.