Our 13-year-old dog, Crash, while neurotic, has always been quiet except when greeting visitors.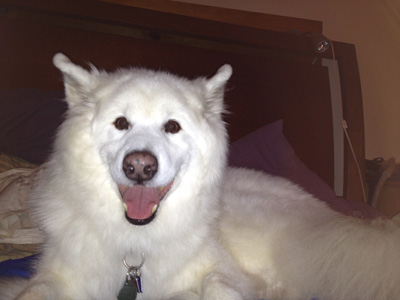 About two weeks ago, that changed. He's been moan/howl/bark/crying about one quarter of the time. That's one sound. He sits or stands around and emits it.
Audio clip: Adobe Flash Player (version 9 or above) is required to play this audio clip. Download the latest version here. You also need to have JavaScript enabled in your browser.
It sounds like some sort of longing, but the only time he stops is when he's lying in bed with me. There's no pattern, though. If he's downstairs with me, he whines. If he's in bed without me, he whines.
It makes it really hard to get any work done.
Now, he's not crying. That sounds different. He doesn't appear to be in physical pain: he doesn't limp or worry at a spot on his body. We let him out when he's by the back door. He always has food and water. He gets his fair share of attention. We just can't figure it out.
I called the vet, and they told me I could bring him in but it doesn't sound like they could do anything. They advised waiting a few more days.
I tried waiting a few more days, but I couldn't get anything done yesterday. I had to take action. A Google search revealed that it's safe for dogs to take hydromorphone, a.k.a. Dilaudid, which I have a surplus of because they don't work on my migraines. Safe dosage is 0.1-0.2 mg per kg of body mass, and that link leads to a PDF that recommends using hydromorphone for "fractious dogs". Bingo!
Crash weighs about 20 kg and my Dilaudid comes in 1 mg (migraine prescription) and 2 mg (finger painkiller) strengths. Perfect! I wrapped a 1-mg pill in some smelly pill pockets and he downed it.
You know, it worked. I had a quiet Friday afternoon while Crash crashed on the couch. He didn't pass out or anything, he was just his normal quiet self.
The issue remains, though. Why is he making that noise? The Dilaudid would have taken care of physical or mental issues, so I'm not sure which it soothed.