One heck of a storm blew in this afternoon. I have my office temporarily in the dining room to take advantage of the central air conditioning, which we used to have. Our heat pump decided to not turn on last week, just after the company that installed and would service it went on a two-week hiatus for the construction holiday. So did our lawnmower-repair shop of choice.
Whose idea was a midsummer construction holiday and why do lawnmower repair shops and air-conditioning companies shut down for it? Good thing they're open all of February.
So there I was, tapping away in the dining room with the glass doors open to let in some of the cool air – the temperature had dropped ten degrees (Celsius) in a minute. There was a lot of cool air and it was moving at a good clip. I heard a tremendous clunk from outside the front of the house but I didn't hear the house falling (further) apart so I ignored it.
What happened, I just learned, is that a limb fell off a tree belonging to the house across the street. It fell, hit the road surface, and toppled uphill. It fell 15 feet from my car, which was parked on the far side of the street. Had the limb decided to keel over downhill, my car would have been covered in branches and foliage at best, and probably would have stopped one of the thicker branches with something dentable or breakable.
Phew.
I dropped the two younger kids off at the bus to camp. Elvi is at a conference in Quebec City. Child One and I are going to par-tay!
Hey, bicycling asshat,
As you can see in the following Google Maps, de Maisonneuve has four lanes, one for bikes on the left, one for parking on the right and two for cars in the middle.
Last night, around 9:15, I passed you in my Mazda while you cycled in the right-middle car lane. I returned to the right lane and stopped at the red light, as drivers in Montreal sometimes do, at St. Marc. So did the car to my left. You had no room to pass me but instead of waiting behind me or USING THE FUCKING BIKE LANE, you squeezed yourself between our two stopped cars, scraping your handlebars along the side of my car in the process.
I opened the window to hear you sneer, "Je n'avais pas de place pour passer."
I helpfully pointed out, "THERE'S A FUCKING BIKE LANE RIGHT THERE! CARS HERE, BIKES THERE!"
You dismissed me – "Asshole." – and cycled through the red light on down de Maisonneuve. Apparently, you were too mentally retarded to decide to use the bike path then, too, and that forced me to drift into the left lane to pass you yet again. I may or may not have been completely over into the left lane.
Best of all, was five blocks later at the corner of Wood and de Maisonneuve when I again chose to stop at a red light. You caught up to us and this time with lots of room decided to press your face on my window and scrape your handlebars against my car again.
Other than the drunk who accosted us on Crescent street a few years back – and that was just a shove – I haven't been in a physical fight since high school, but you're lucky my kids were in the car. You may have been a little taller than me, but you can bet your doughy ass that I otherwise would have torn your smarmy Brazilianed facial hair off your chin after I tossed your bike into Alexis Nihon Plaza.
Seriously, you lame fuck up jackass – why the hell do you think they have bike lanes?
And people wonder why the rest of us hate cyclists so much.
The first season of the resurrected "Futurama" has been disappointing. The first broadcast seasons had me in stitches once the show found its feet after its first four episodes. The episodic movies were OK – they did win the show its reprieve. But since? Meh, as the kids say these days.
I was watching the new crop of episodes that have come out this summer, and I was struck by the laziness in "Law and Oracle", first broadcast July 7. I'd put the season and date but that show is either season 8 episode 4 or season 6 episode 17, depending on where you look. Its production code is, oddly, 6ACV16.
From plot to jokes, the writing is lazy. The plot is a mash of "Police Academy" and "Minority Report", with seasonings of "Tron" and "Star Wars". The plot resolution comes in the form of a deus ex machina: a character without a previous line of dialogue appears and becomes an expository crucial cog.
As for the jokes, here's a clip:
There are two jokes there, if you exclude the "Minority Report" setting. The first is the name of the oracle:
SCIENTIST
…We call him Pickles.
FRY
On account of it's like he's floating in a jar?
SCIENTIST
Exactly.
Fry's line is a setup. Having the scientist respond "Exactly" or "Yes" is only an explanation point on Fry's observation. To confirm his suspicion puts him on an intellectual level of the scientists, which may seem funny, but isn't. The rules of the show dictate that he's not the brightest star in the sky. Scientists in the world of Futurama are mad and Rube Goldbergesque, but they are not dumb.
It took me all of one shower to figure out a better response that's truer to the show in more ways than one.
SCIENTIST
…We call him Pickles.
FRY
On account of it's like he's floating in a jar?
SCIENTIST
No, I named him after my wife, who's a head in a jar. Her name is Pickles.
Here's another that just occurred to me:
SCIENTIST
…We call him Pickles.
FRY
On account of it's like he's floating in a jar?
SCIENTIST
What are you? Twelve?
Or:
SCIENTIST
…We call him Pickles.
FRY
On account of it's like he's floating in a jar?
SCIENTIST
No, I just like pickles.
My lines may or may not be winners, but they're not lazy and they remain within the rules of the show.
The second joke is even worse.
SCIENTIST
Green is larceny. Black is fraud. Red… homicide.
FRY
What's pink polka dots?
SCIENTIST
Clownslaughter. It happens more often than you'd think.
How on the nose is that? One of only four balls stands for clownslaughter. That fact alone shows the audience that it happens more often than you'd think. Unfortunately, the writers had to add that very statement to save an otherwise too ambiguous joke. It's on the nose. What they should have done is reworked it.
SCIENTIST
Green is larceny. Black is fraud. Red… homicide.
FRY
What's pink polka dots?
SCIENTIST
Clownslaughter. That one's sponsored by the Bumbo Lardbottom memorial chair of criminal psychology at NNYU.
(Where NNYU is New New York University.)
Or:
SCIENTIST
Green is larceny. Black is fraud. Red… homicide.
FRY
What's white with the red circle?
SCIENTIST
Clownslaughter.
This one makes the joke visible, as the ball resembles a clown face. The scientist's response holds up better as the punchline. You don't need the on-the-nose bit that follows.
Your turn. Can you write better than this crop of "Futurama" writers? I bet you can. Leave your attempt in the comments.
Bonus admission:
"The Silence of the Clamps", the episode that followed "Law and Oracle", was probably the best of the new episodes.
I'm making changes to links and link categories on my WordPress dashboard and they take fine. The changes are not, however, showing up on the blog itself.
I had just updated to WordPress 3.2.1, if that's a clue.
Is there any help out there?
Bonus update:
Stupid WordPress. I had to go to the Widgets page and put the new category in as a new Links widget. The links updates just took a while to register.
I spent two weeks at my dad's while Marion went back to the Bahamas to settle and organize those things that needed to be settles and/or organized. While my dad has an attendant with him during the day, I was still responsible for meals and of course 15 or so hours during nights.
It's not that tough to do, especially for two weeks, although the Claritin I took to cope with my cat allergy knocked me out. I would sleep for 12 hours through the morning and top it off with an afternoon nap of two or three hours, before or after driving carpool for the kids. My dad cries a lot these days and even though the attendant is there on the front line, I couldn't concentrate enough to work through the sound.
I haven't gotten a lot done this month, although I did grab every opportunity to leave the apartment to shop.
But here we are at the end of another month, and that means a baseball update. My team is improving. I have David Wright and now Roy Oswalt on the DL, but my hitting hasn't missed a beat. Heck, it's added beats. My pitching has held steady but more importantly is now more properly balanced. My decent pitchers are pitching decently. I have half a season to make up ground there, and to help, I picked up Paul Maholm (desperate times call for desperate measures) for my monthly add/drop. Wave goodbye to Adam Laroche.
Jason Bartlett and Roger Bernadina have stolen 11 bases for me so far.
.264 batting average (3rd)
125 HR (1st by 20)
480 runs (2nd but two out of first)
510 RBI (1st by 88!)
66 SB (5th)
3.98 ERA (8th)
1.32 WHIP (8th)
524 K (9th but six out of eighth)
40 wins (tied for 6th but five out of second)
4 saves (9th)
I have nine starters and Sergio Romo going now. I will move up in strikeouts and wins.
If this is the end of a month, it must be time for a baseball recap.
I made a serious trade on the weekend, sending away the suddenly hot Raul Ibanez along with spare part Ronnie Cedeno and barely warm-bodied Donnie Murphy for Jason Bartlett, Roger Bernadina, and the useless Brooks Conrad. Together, Bartlett and Bernadina have 15 steals so far, and the combo will add a healthy boost of speed to my line-up. I've been riddled with injuries, but the sluggers keep slugging. Latos and Carpenter have shown signs of life on the mound, but I could use some more strikeouts. Losing Wandy Rodriguez for at least two weeks won't help. Nevertheless, my WHIP has improved by 0.05 on the month and my ERA was under 3.90 (before Kyle McClellan fell down and played golden goose against the Giants today).
.258 batting average (4th)
86 HR (1st by 13)
335 runs (1st by 16)
343 RBI (1st by 56!)
39 SB (6th)
3.90 ERA (7th)
1.30 WHIP (6th)
337 K (9th)
23 wins (7th but four out of fourth)
4 saves (9th)
For May Day's add and drop, I lucked out. One of the teams behind me got impatient with James Loney and dropped him. I grabbed him and let Brooks Conrad retire to live on dreams of playoff heroism.
I'm in fifth place overall, but optimistic, even though I have the least points of any pitching staff in the league.
As promised, me at karaoke.
Elvi has already remarked at my resemblance to Julian from "Trailer Park Boys", although my rum and coke is in a taller glass.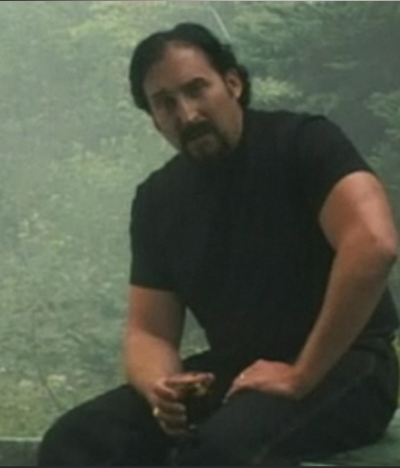 Bonus tech solution:
The video embedding function native to WordPress will not work properly with unlisted YouTube videos. Use the Viper's Video Quicktags plug-in instead.
Operation Nibbler has landed. Here's the debrief.
As I related two months ago, AutoXpressions sent me plastic shark teeth to try to fit into Nibbler, my copper-red 2011 Mazda 3 Sport (hatchback for you Americans) GS. The teeth are meant for a Miata/MX-5 so I knew there would be some fiddling to do. Now that we had two days of warmth and sun, I have completed my fiddling.
In my original test fit, the teeth seemed to fit. I had to break some of the plastic tabs to get the teeth into the grill, but that's what they're there for. I cleaned the car, let it dry, and used the adhesive pads to attach the teeth. There were two problems, one with each row of teeth.
The upper teeth needed to bend with the curve of the grill so much that the stress in the plastic was far too strong for the glue. The outer ends would spring out of the grill no matter how much adhesive padding I used. I had to snip the top row of teeth in half and attach each half on independently.


In my original test, the bottom tooth row fit more or less fine, although they are a bit scraggly. The outer teeth point away from the car and the middle tooth points in. It's not a big deal; they look fine from the front. I used the rainy weather to drive around with them in for two weeks and the tooth row stayed in place. The problem with this bottom piece, though, is that the white tabs show through the grill. It doesn't look as neat as it should.
My solution to that was to mask the teeth and paint the tabs with high-heat, black spray paint. Once I was doing the bottom tooth row, I figured I might as well paint the tabs on the top teeth, too.
The paint dried during two rainy days and yesterday, we had sun again. When I did my original test fit, I had put the adhesive pads on the top of the tabs on the top row of teeth, but I had a brainstorm. When I place the teeth for good, I put the adhesive pads on the bottom of the tabs. They are attached to the bumper section of the grill, which is much wider than the narrow inturned rim of the body metal above the grill. The top teeth rest on the bumper in a triangular fashion, with the apex of the triangle being the bend between the teeth and the tabs. It looks great.
Here are the sizes and locations of the adhesive pads I used. I had my own roll of adhesive padding to replace the pads included with the teeth kit, which I used up in my initial testing.

And here's the final product. These photos come from a test fit before applying the adhesive pads. The top rows are more symmetrical after attachment.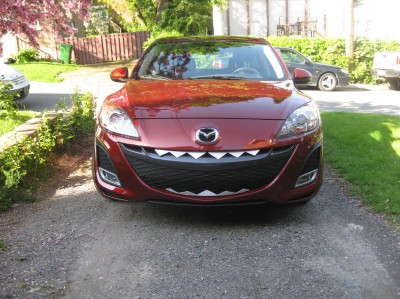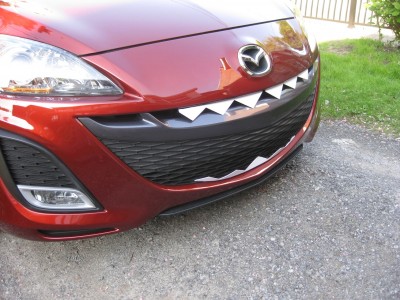 Bonus warning:
Coming soon, video of me at karaoke!
In 2000, wargaming took a bold leap into the future with Combat Mission: Beyond Overlord. Initially an unofficial software port of the classic Advanced Squad Leader
board wargame, Combat Mission brought battlefield fidelity and the revolutionary WEGO system of simultaneous plotted movements and commands.
Later releases in the Combat Mission series abandoned the Mac. Combat Mission: Afrika Korps was the only reason I used a Windows XP laptop. In 2007, Combat Mission Shock Force came out in 2007 as an entirely new rebuild. Its subject matter, modern asymmetrical warfare in the Middle East, didn't appeal to me and I gradually lost interest in the games.
Until this week, that is. Combat Mission: Battle for Normandy is out. The improvement in graphics evident in the following video pales in comparison with the improvement in game play.
The new release brings to the World War II battlefield considerations for command and control, radios, spotters, and a whole lot more. Best of all, it's back on the Mac. You can play with WEGO or in running real time.
Here are a few of the incredible scenes players have captured in two days of play.
The game costs $55, and those are weak American dollars. It's a download so there's no shipping charges (unless you want the DVDs and printed manual). Not convinced? The demo is free.
April flew by, and took the beginning of May with it.
I spent part of one Thursday night in the hospital. My Imitrex and Dilaudid just don't seem to work on my migraines anymore. Fortunately, the IV anti-emetic in the emergency ward does. In triage, they took my blood pressure and it was way high. I normally have slightly low blood pressure. I asked the nurse about it and she told me, "That's how we know you're not faking."
I talked to my doctor during a check-up on my knee and he prescribed Maxalt and Ralivia. I'm not sure about Ralivia, which is an extended-release pain reliever (my migraines rarely last more than ten hours) but the combo knocked out the migraine I had last night.
Speaking of my knee, the doctor told me that there was a lot less joint movement. He thinks the ACL is healing and that I don't need a surgical repair.
If this is start of a month, that means it's time for a baseball update.
Led by Lance Berkman, my sluggers are creaming the ball – when they hit it. Too many hitters are struggling, and bringing my batting average down. Most of my pitchers are performing as expected except the two I thought would be best, keepers Chris Carpenter and Mat Latos. They've continued to pitch as poorly as they did last September. C'mon boys, step it up.
.256 batting average (6th)
49 HR (1st by 5 HRs)
208 runs (1st by 15)
209 RBI (1st by 45!)
29 SB (tied 6th, four out of second)
4.14 ERA (7th)
1.35 WHIP (7th)
200 K (9th)
14 wins (7th but four out of first)
3 saves (9th)
I have the worst pitching and second best hitting of all teams. I have 56.5 points and sit in fifth place overall. The standings are volatile, however, and every week sees nearly random shifts among the top top eight teams.
For May Day's add and drop, I dumped Sam Demel and picked up Daniel Murphy. He better outperform Jason Bourgeois is all I gots to say about that.
My pitching can't stay this bad, can it?