For months, our wireless router has been acting up. It's a Linksys WRT54G by Cisco, possibly the most popular home Wi-Fi router on the planet. Ours is a Version 6.0.
This router would occasionally go wonky, by which I mean that it would maintain Wi-Fi connections with our laptops and my iPod touch but would not relay traffic between the devices and the Internet. The home network DHCP worked fine and all devices had valid IP addresses, but they simply could not connect to the Net.
I wasn't eager to buy a new router – we just had to buy a new stove because our old one became too costly to repair. I found this thread in the Cisco forums. It describes the same issue. Although no one directly solved the problem, I did find hints there and elsewhere online. After fiddling with a few settings, it looks like I fixed the problem.
For posterity on the Web and to help teeming crowds with the same problem, here's what I did. I'm not sure if any one step or a combination of them worked, I just know that I now have stable Wi-Fi. I opened the router management pages with my Ethernet-connected iMac and:
I went to "Setup" > "MAC Address Clone" and I cloned my iMac's MAC address. The MAC address the router had been using had belonged to my old Mac G4.
I went to "Wireless" > " Advanced Wireless Settings" where I set Basic Rate to "All" and enabled Frame Burst.
Having done that, I saved my configuration and reset the router. I updated the firmware, then restored my settings. The router has worked perfectly for four days.
Fa la la la la, la la play ball!
I'm optimistic. Was I last year? Let me check… I was, and then I finished in fifth. But we've been through that already. Enough with the past!
Introducing the 2011 Angels with Crystal Balls, along with my estimates of future performance which may or may not prove indicative of results:
C: Yadier Molina: .280, 5 HR, 50 R, 45 RBI, 5 SB
C: Ryan Hanigan: .275, 5 HR, 25 R, 25 RBI, 0 SB
1B: Lance Berkman: .265, 15 HR, 65 R, 60 RBI, 5 SB
2B: Jose Lopez: .290, 20 HR, 70 R, 85 RBI, 5 SB
3B: David Wright: .295, 25 HR, 90 R, 95 RBI, 15 SB
SS: Miguel Tejada: .285, 10 HR, 50 R, 60 RBI, 0 SB
MI: Ronny Cedeno: .245, 10 HR, 50 R, 45 RBI, 10 SB
CI: Adam Laroche: .265, 25 HR, 70 R, 80 RBI, 0 SB
OF: Matt Holliday: .305, 20 HR, 70 R, 70 RBI, 10 SB
OF: Matt Kemp: .270, 25 HR, 85 R, 85 RBI, 20 SB
OF: Jay Bruce: .265, 30 HR, 80 R, 85 RBI, 5 SB
OF: Aubrey Huff: .280, 20 HR, 70 R, 75 RBI, 5 SB
OF: Raul Ibanez: .275, 20 HR, 65 R, 70 RBI, 0 SB
U: Nate McClouth: .235, 20 HR, 70 R, 65 RBI, 15 SB
U: Ryan Ludwick: .255, 25 HR, 65 R, 75 RBI, 0 SB
That lineup has many familiar faces, and I don't mean the four keepers of Wright, Holliday, Kemp, and Bruce. Laroche, McClouth, and Ludwick rejoin the team through the draft; so does reserve infielder Jeff Baker. Keeping Baker company on the bench for now is Donnie Murphy. One thing that is not familiar is the runs category, which we added along with pitchers' total strikeouts.
Other than Ryan Hanigan (who thumped two of his expected five homers this afternoon), every hitter has a full-time job. I estimate final team totals of .280 batting average, 260 HR, 965 runs, 1010 RBI, and 95 SB. Adding the runs category drives down the value of stolen bases, which drop from 25% of a team's score to 20%. My team is not going to be running wild and will probably finish around seventh in that category. On the other hand, I expect this team to sew up home runs and RBI. Runs will be a top three finish, let's say third, and the .280 average will also finish high – again, let's say third. It seems I'm relying on 40 points, which is good but not great. Last year, I predicted I'd get 36 points in hitting in only four categories. (I wound up with 33, which led the league.)
Pitching can't help but be better than last year's 15 measly points. I can't possibly have a collapse as quick and as dreadful as 2010's, can I? I definitely won't finish fourth in WHIP and tenth in ERA again. that's just crazy.
SP: Mat Latos: 13 W, 155 K, 3.00 ERA, 1.15 WHIP
SP: Chris Carpenter: 15 W, 135 K, 3.25 ERA, 1.20 WHIP
SP: Roy Oswalt: 15 W, 155 K, 3.50 ERA, 1.20 WHIP
SP: Wandy Rodriguez: 12 W, 160 K,4.05 ERA, 1.35 WHIP
SP: Randy Wells: 12 W, 125 K, 4.30 ERA, 1.40 WHIP
SP: Barry Zito: 12 W, 125 K, 4.45 ERA, 1.45 WHIP
RP: Kyle McClellan: 11 W, 95 K,3.90 ERA, 1.30 WHIP
RP: Sergio Romo: 5 SV, 4 W, 60 K, 2.30 ERA, 1.05 WHIP
RP: Sean Burnett: 10 SV, 3 W, 50 K, 3.15 ERA, 1.25 WHIP
RP: Corey Luebke: 10 W, 105 K, 4.55 ERA, 1.40 WHIP
I loaded up on starters and their strikeouts at the risk of a low finish in saves. Closers were popular at the draft, and went way before I was willing to pick them. That suited me fine, as I loaded up on hitting and starting pitching. My estimated final stats are 14 saves, 106 wins, 1175 strikeouts, 3.78 ERA, and a WHIP of 1.29. I'll finish first in wins and ninth in saves. I have no idea about the strikeouts, but let's say fourth. The ERA and WHIP are good enough for third place in an average year. That comes out to 35 points – a bit weaker than I thought my calculation would produce.
Ahh, well – pitching's volatile. I have Chris Capuano and Sam Demel on the bench. Let's see what happens.
Spring is a time for the new, and this first week of spring brought many new things to me.
Friday, we went downtown and bought our tickets for the second Thunderdome nostalgia party (here's a link for you Facebookers). That's not new, but I'm counting it as a renewal, so there.
After we collected the tickets, we went to Fossil so I could buy a new money clip. I likes the one I had, which did not fold but kept my cards and money in a slim package. The clip on that one had given out, though, so it needed to be replaced. Fossil is the only brick-and-mortar place I found these things being sold. I normally don't mind shopping online but I like to handle or try out items of comfort in person.
Fossil didn't have exactly what I wanted, which was a money clip whose clip had a low profile. I had to choose between a bifold with a low profile clip on the outside or a money clip with a high profile. I went with the bifold. It feels a bit large in my pocket but I hope it will compress with time.
New wallet in pocket, we headed to Laval to fetch the new car. It's a copper red Mazda 3 Sport GS (Americans, that means a mid-trim hatchback) and I love it. It was dark, so I got to try out my optional high-intensity discharge (HID; Mazda calls them Bi-Xenon) headlights. Yowsa! And the Bluetooth audio connection to my iPod touch is about as good as one of those flying cars the 1960s promised us.

I love the way it drives. The manual transmission is smooth and forgiving, although the clutch may be a bit too precise. Best of all was out salesman, a young natively bilingual guy from the boonies named Alexander Mosseau. If anyone is interested in a Mazda, ask for him at Mazda de Laval. It's worth the drive.
After deciding on a Mazda a few months ago, I sent an e-mail to the following dealerships: Bourassa Mazda; Brossard Mazda; Longueuil Mazda; Mazda Chateauguay; Mazda Fairview; Mazda Gabriel; Mazda de Laval; and Spinelli Mazda. Alexander at Mazda de Laval was the first to respond, Chateauguay was second by a few minutes, and Fairview was third a few days later. Even though we chose Alexander on the basis of his quickness, I can't imagine a better choice.
The main fault of Mazdas is a tendency to rust, and dealer rustproofing means a check-up every six months to maintain the warranty. I prefer the standard yearly inspection and application offered by third parties. I'm down to two choices and I'm wondering if anyone has advice. Nelson Garage applies the popular Krown treatment, which is drippy and annual – and they drill holes in your car. It costs $110. My second option is Barry's Rustproofing, which uses a thicker, non-dripping grease. It will cost $400 initially and then a less expensive underbody treatment every three years. I've heard good and bad about both treatments. Do you have any tales to share?
My next consideration is the teeth. The 2011 Mazda 3 has a huge front grill. It looks like a giant smile. What good is a huge smile, I thought, without teeth?
AutoXpressions
in California makes teeth for Mazda MX-5 Miatas. I contacted them and asked if they would make anything for the 2001 Mazda 3. They weren't sure, but they offered to ship me a set of teeth for free. If they fit my Nibbler (the new car's name), we could pay them; if not, no charge. I'm going to try to fit the teeth (seen on a MX-5 in that tiny graphic) using masking tape as soon as it warms up. We'll see. People are divided on the teeth. They either love them (Children Two and Three) or hate them (my JOUR 528 students this year, who say they look douchy). That wasn't all the new things we got Friday night. Saturday morning, Elvi went to look at January the chinchilla. January has occasional tooth spurs that need grinding and she'd been acting odd. Elvi yelped,"Oh my God!" (which is something she tells the children not to say). January had given birth to two babies! We had been trying to breed her for a year without success so this was a shock. Apparently, the only way you can tell a chinchilla is pregnant is by her elongated nipples and that's just not something we look for too often.
Unlike the young of many other rodents, newborn chinchillas hit the ground furred with eyes open, walking and climbing. Each is about four inches long. Baby mammals have relatively large heads but the body length of these things is about a third head. They resemble Triceratops in that regard. We've decided to name them Walrus (the white one) and Grommet (the one with the gray head).
There's still more news! I have contracted a terrible cold, with a side dish of pink eye. I guess I'm off to the doctor in Nibbler tomorrow.
Bonus tangent:
Speaking of shopping online, I snagged the original Civilization board game on eBay, the first time I've owned a copy. I can't wait to play it again.
The Montreal Gazette's Habs Inside/Out site has grown over a few short years into the de facto destination for English-speaking fans of the Montreal Canadiens. The word "Habs", of course, is short for "habitants", which is what the early French-Canadians – the Canadiens – were called in the 17th century.
The Club de Hockey Canadien Inc. asked the Gazette to stop using the word "Habs" in reference to its Web site. It's arguable whether or not the Canadiens can uphold a trademark on the nickname, but the Gazette capitulated and renamed the site Hockey Inside/Out.
Notwithstanding some grumbling from the hoi polloi, such a change is easily accomplished. You register the new domain name, hockeyinsideout.com, and transfer the content of your habsinsideout.com site to the new domain. Sure, you may have to change a few links here or there with a global find and replace, but the site will remain robust.
Instead, the Gazette took the opportunity to move the entire site to WordPress. What a hellacious mistake. The site has lost all reader comments and much of contributor Mike Boone's post-game analyses. I can't even show you what the old site looked like because the Web team has trashed the CSS code it used to use. Even links to old stories no longer work.
Audiences are conservative. They don't like change. In this case, the audience is right. Take a look at this malfunctioning page of crap. It used to have dozens of comments. Go ahead and try the link to Boone's "Quick Hits/About Saturday afternoon…". Or try the link to the unhappily formatted "Afternoon delight".
I've just spent two weeks at my dad's apartment while his wife was back home in the Bahamas taking care of affairs. I did pretty darned well without a newspaper. Missteps like this make it easier.
Bonus knee news:
I can walk at about 90% efficiency thanks to physio. I can't run, skate, jump, etc. yet. I do know that jumping off a bench hurts.
I'm not fond of the phrase "bucket list" but I'm at a loss to replace it with anything as snappy. I don't even have such a list, per se. I dream small. I somehow lucked out with this family so everything else is just gravy.
Nevertheless, I have had one dream. I have never owned a new car and I've always wanted to.
I've spoken about some car history in this blog in the past but discretion prevents me from linking to it – although it didn't stop me from writing about it. When I learned to drive, I could borrow my mom's loaded used Chrysler Cordoba with manual T-roof or my dad's used BMW 530i (1975-78 vintage). After my mom moved to Houston and my dad's BMW self-immolated, I could borrow his used Hyundai (less than) Stellar.
After I returned from a carless four years as an undergraduate, I had the infamous used Renault Alliance foisted on me. And then I inherited the Stellar.
At that point, Elvi and I moved to California, where we purchased and drove a used Honda CRX and a used Honda Civic. Those served well, but we decided to return to Montreal with a minivan. We bought a used Dodge Grand Caravan from a French man who was himself returning home.
We were a single-minivan family until we found a second, I think. We had a series of used Dodge/Plymouth Grand Caravan/Voyagers, and some of those may have overlapped. We had but one when Elvi's mom bought us a used Honda Odyssey that immediately started dropping paint flakes and rust. It drove well, and still does more or less, after thousands of dollars worth of repairs.
But Elvi dropped a bombshell on me. She told me she thought we (meaning I) could buy a new car. We don't need two minivans anymore, if we ever really did. Best of all, one of the perks of her new job is access to X-Plan pricing for Fords, Lincolns, Mercurys, and Mazdas. X-Plan is a flat price of 4% over invoice: no haggling, great deal.
So I went shopping.
The first thing I looked was a Mini Cooper Countryman four-wheel-drive, but a lok at the price sent me reeling back to the Clubman S, which after taxes was a shade over $30,000. Of course Mini/BMW does not participate in Ford's X Plan, so I used the Mini as a baseline for further research.
I quickly concluded that we could afford a sub-compact without the X Plan or a compact with it. The sub-compacts are too small, so options loosely broke down to Ford Fiesta (still small, but highly rated), Ford Focus, or one of the Mazda 3 family. My superficial nature fell in love with the looks of the Mazda 3 Sport (the name of the hatchback version in Canada). The 2010 and 2011 models look like the offspring of a Corvette and a Nissan with the raised fenders set off from the hood. Many reviews make fun of the smilish/stylish front grill. Reviewers say it looks like a goofy grin, but I love it. I think it's snazzier than the ubiquitous split grills found on all Hondas, Toyotas, etc. out there.
All reviewers and raters agreed on how fun and good a car it was. A few mentioned the Mazdaspeed 3, which is a turbocharged, extra-large, 263-hp engine stuffed into the same chassis. We test-drove the 3 Sport and the Mazdaspeed 3. The 3 Sport was, well, sporty and fun to drive with its 167 hp. The Mazdaspeed 3 was a beast, incredibly fun, powerful, and not easily tamed. I spun the tires pulling away from the curb. I can't see myself driving the Mazdaspeed 3 for more than 15 minutes at a time without mental fatigue and it's quite a bit more expensive, to boot.
So we signed to buy last night a Mazda 3 Sport GS in copper red with a six-speed manual transmission. We added winter tires on rims, winter floor mats, a rear bumper step plate (don't want the goalie equipment to scratch the paint), and bi-xenon headlights! It's not an official option for the GS, but my dealer said no problem for only an extra $220 or so.
I wanted a dune-beige interior, but there are none available in Canada at the moment, and none on the way. Because this was an X-Plan purchase (with a graduate rebate on top of that), I couldn't make a special order. For $23,013 ($26,217 after tax), I can live without the black. It'll cost $430 a month for five years, which is a great deal but still more than my first apartment.
Apparently, the only copper red Sport GS in stock in the country is in Vancouver, so it will take three weeks to get it. It'll look quite a bit like this: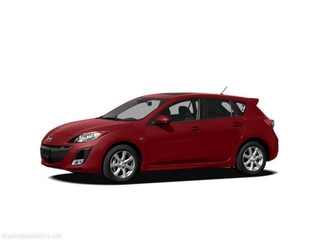 My mom and I thought the damage would be primarily to cartilage, specifically the menisci between the tibia and the femur. We were wrong.
The MRI doc found a "low-to-moderate-grade partial thickness tear of the anterior cruciate ligament" and "altered signal of the medial patellofemoral ligament at its femoral attachment raising concern for a recent partial tear."
What's odd is that my previous knee locking and pain was on the lateral side of the patellofemoral region, not the inside.
My doctor's advice is to wait to see if it heals by itself. I'm not allowed to skate for at least two months.
Otherwise, my knee is a by but functioning. I no longer use a brace or, since Sunday, my cane.
To be continued….
There's something about being the subject of advanced medical devices that gives me a thrill. Did I ever tell you about the upper GI endoscopy I had at the Royal Vic when I was working there? There I was (snicker), hopped up on intravenous valium, when the doctor handed me the controls. I was high, controlling a camera through a tube in my throat, and watching the inside of my stomach on a screen. I recommend it.
Anyway….
I had my knee MRI last week. I always fall asleep during those things. OK, during the two MRIs I've ever had. Here are three representative images:
Hmmm, I probably should have changed the names of the image files. Oh, well.
I was a bit surprised to be able to see the epiphyseal lines so clearly.
My dad also finally had his MRI. He was asleep too but that was because he was under sedation. Neither one of us has a diagnosis yet, but I will find out mine tomorrow when I revisit my doctor.
After class Tuesday, I headed back to the Place Alexis Nihon Bell store to exchange the Turbo Stick that wouldn't work on the iBook for a model that would. Thing is, the staff told me, the Novatel U998 was the only Turbo Stick that would work on a Mac.
Ha ha ha.
I cancelled the contract, returned the hardware, and went down the escalator to the Rogers kiosk. I could have chosen to add the Bell's version of the Novatel Wireless MiFi 2372 for the same lack of cost, but I was so fed up, I couldn't think straight – and even if I could think straight, Bell didn't deserve our business.
Rogers has essentially the exact same plan with their Novatel Wireless MiFi 2372, which is a wireless router that connects to cell phone service. The kiosk in the mall didn't have any in stock, but the salesman directed me to the Rogers store on St. Catherine, near Peel. As I was signing up for the service, our friend Stuart e-mailed me with links to iBook USB problems. The iBook's USB permissions tend to go awry with time. A relatively simple software cleanup can fix the issue. By that time, though, I was committed to Rogers.
Now, pardon me while I adjust my knee brace so that it doesn't cut off feeling to my foot.
It's 4:00 a.m. and my knee is in serious pain.
My knee has been a bit out of sorts over the last year. It was a bit sore at times and would briefly lock up at other times. My mom the orthopedics office manager said I probably had a small tear in the cartilage.
I told my doctor about it last fall and he sent me for X-rays, which showed nothing. Yeah, I would have ordered an MRI, too, but I lived with it.
Yesterday, I lifted my dad from his bed to his wheelchair and later back again. I didn't feel anything unusual in my knee, but it was the only physical effort of my day. My knee became more painful and a bit stiffer through the evening.
By midnight, my knee was in pain. I remember telling Elvi that it was the first time I would describe the knee as being painful rather than just sore.
I just woke up. I have close to migraine-level pain in my knee now, even at rest. If I move my knee away from the most comfortable 140-degree angle, it hurts more. I can barely walk. I hobbled to the bathroom for ibuprofen and it was excruciating.
I'm supposed to help get my dad to the hospital in a few hours but I'll be lucky to make it out of the house unaided.
I really don't need this now.
Marion and my dad arrived in Montreal Thursday afternoon. I spent most of Thursday arranging things for their arrival and slept over there to help get my dad to his hospital appointments Friday at dawn. I got home Friday around 7:00 p.m.
Saturday, I took Marion to flesh out her necessities. Prepaid cell phone service was going to get expensive, so we got her a Public Mobile phone. Her apartment building is supposed to come with free wireless but the only adequate thing about that is the free part. The signal is so weak, it's unusable. The building management kindly recognizes that and will take $30 off the rent for renters who get alternate Internet connectivity.
Given the uncertainty of the length of visit and living arrangements, it makes sense for Marion and her old iBook G4 laptop to get mobile Internet rather than wired broadband. And that's where our story begins….
We went to the Bell store in Place Alexis Nihon (when did it stop being a plaza?). We bought a Turbo Stick (model U998) and a three-year contract (which can be cancelled at any time without penalty thanks to the provincial government). She took the mobile-Internet stick and tried to use the building's Wi-Fi to download Bell's Mobile Connect software. Eventually, she succeeded – but she couldn't get Mobile Connect to detect the Turbo Stick. She spent some time on the phone with tech support, who couldn't help her to get it to work either.
I went over Monday to check it out and had no more success than she had, so I picked up the laptop and the stick and returned to the Bell store.
Nobody there had any idea what to do so they gave me a phone and dialed Bell tech support. An hour and a half later, tech support was able to figure out what they thought was wrong. We had installed the latest version of Mobile Connect and were trying to use it with an older version of the Turbo Stick. We needed to upgrade the firmware on the stick – but the firmware updater only worked in Windows.
Tech support asked the store employees if they could do it for me, but the employees were locked out from installing software on their computers. Tech support told me I could get it done or get a newer version of the stick at a Bell Product Assistance Centre, the closest one of which was in Plaza Cote-des-Neiges. Off I went, fighting rush-hour traffic to get there before it closed at 6:00 p.m.
I made it by 5:15 p.m. and Ivan the tech heard me explain what I'd been told was wrong. He took the laptop and the Turbo Stick into his back room.
He emerged 20 minutes later, telling me he couldn't get it to work. I asked if if he had upgraded the firmware. This time, he heard AND listened, because he said he couldn't do that. I asked if he could exchange the Turbo Stick for a newer version and he said he could sell me a new one, but that I would have to return the old one to the original store.
I admit, I lost it.
I yelled "What fucking bullshit!" and slammed te laptop shut. That wasn't smart, but I did no damage. I went home, exchanged the computer for Child Three, and headed off to Monday night goalie clinic.
I got back to laptop at 9:30 p.m. I used Elvi's Windows 7 laptop to update the stick's firmware. Guess what? That's right. It still didn't work in the iBook.
I got back on the phone with tech support. The stick worked in Elvi's laptop and it worked in my bitchin' modern iMac, so we could conclude that the problem lies in the iBook. Tech support guessed that its USB ports don't supply enough current to the Turbo Stick.
Next step in the plan, this afternoon, is to try a different model mobile-Internet device.