I love shopping, and I love shopping for bargains even more. Back in California once, my college friend Alex commented on how nice my suit looked. I told him I found it for only $200. Elvi reproached me about talking cost rather than gracefully accepting the compliment. Had I learned my lesson, I wouldn't have written that just now.
Groupon has found itself in the news over the past year, mostly due to its failures. I still don't think it has much of a business model, but great googly moogly, the deals are fantastic.
I was initially lured in by the offer of four 60-minute massages at a reputable spa for a mere $100. Talk about happy endings! After that, I couldn't turn down a comprehensive auto-detailing package for $85. Nothing polishes off winter like detailing.
I realized I had a problem when I found myself considering a diode-laser hair remover for $200. That's 80% off retail. No, I let that deal pass.
What I didn't let pass, at one-tenth the cost ($19 after delivery – there I go again) and 1,000 times the fun of laser hair removal was a VooMote One. Former FCC chairman Michael Powell once called the TiVo "God's machine". The VooMote is God's remote control.
The VooMote One is an infrared device that when couple with an iPhone or iPod Touch turns the latter into a universal remote. It is amazing.
Granted, I could have bought a universal remote but that doesn't solve my problem, which is that the everyone in my house loses or breaks remotes. This way, I have my VooMote at my desk and I can slip it on when needed.
You can program the VooMote by brand of equipment and a quick test sequence or by teaching it with your remote. It works as advertised, and have I said it is amazing yet?
Not all is perfect, however. I have three issues. Firstly, the app had to attempt the VooMote firmware upgrade three times before it was successful. That happens occasionally, and the company advises you to stop the process and try again if it happens – although the app itself tells you you can ruin the equipment if you do that. Mine is fine.
Secondly, the matte-black plastic case holds onto fingerprints. Mine already looks grubby. It's not a deal-breaker for me.
The final problem is not the fault of the VooMote. We have an old Sanyo CRT television that the VooMote does not recognize – and I can't teach the VooMote from the TV remote since the kids have lost it.
Bonus poll:
Buoyed by the success of Nibbler's teeth, I am considering further customization. I'm thinking of ordering magnetic vinyl decals for the front fenders. On one side would be Nibbler and on the other would be a 101 Squadron badge. Here are the images and a mock-up of what each side would look like. Ignore the positions of the decals for now. We can discuss that later. (I had no side photos with the teeth installed.)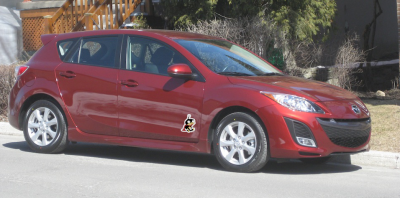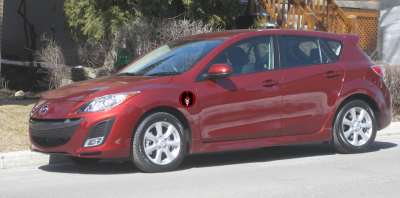 Loading ...