Archive for the 'Baseball' Category
Yep, it's time to go over the middling Angels with Crystal Balls this month.
I made a trade, sending away Ryan Ludwick and demoted starter Kyle McClellan for Hiroki Kuroda and Juan Uribe. I'm not as fond of Uribe's numbers as I am of getting rid of Ludwick's low batting average, which may or may not improve a bit in Pittsburgh. For the August addition, I took Houston rookie Jose Altuve. We'll see.
So, how is the gang doing? Middlingly well.
.263 batting average (5th but only .004 out of third)
160 HR (1st by 23)
639 runs (2nd but nine out of 1st)
652 RBI (1st by 88)
91 SB (5th but only five out of 3rd)
3.96 ERA (8th)
1.30 WHIP (8th)
755 K (7th)
55 wins (5th but three out of 2nd)
5 saves (9th)
I'm running out of time.
At least I can now sit Randy Wells and Barry Zito.
I spent two weeks at my dad's while Marion went back to the Bahamas to settle and organize those things that needed to be settles and/or organized. While my dad has an attendant with him during the day, I was still responsible for meals and of course 15 or so hours during nights.
It's not that tough to do, especially for two weeks, although the Claritin I took to cope with my cat allergy knocked me out. I would sleep for 12 hours through the morning and top it off with an afternoon nap of two or three hours, before or after driving carpool for the kids. My dad cries a lot these days and even though the attendant is there on the front line, I couldn't concentrate enough to work through the sound.
I haven't gotten a lot done this month, although I did grab every opportunity to leave the apartment to shop.
But here we are at the end of another month, and that means a baseball update. My team is improving. I have David Wright and now Roy Oswalt on the DL, but my hitting hasn't missed a beat. Heck, it's added beats. My pitching has held steady but more importantly is now more properly balanced. My decent pitchers are pitching decently. I have half a season to make up ground there, and to help, I picked up Paul Maholm (desperate times call for desperate measures) for my monthly add/drop. Wave goodbye to Adam Laroche.
Jason Bartlett and Roger Bernadina have stolen 11 bases for me so far.
.264 batting average (3rd)
125 HR (1st by 20)
480 runs (2nd but two out of first)
510 RBI (1st by 88!)
66 SB (5th)
3.98 ERA (8th)
1.32 WHIP (8th)
524 K (9th but six out of eighth)
40 wins (tied for 6th but five out of second)
4 saves (9th)
I have nine starters and Sergio Romo going now. I will move up in strikeouts and wins.
If this is the end of a month, it must be time for a baseball recap.
I made a serious trade on the weekend, sending away the suddenly hot Raul Ibanez along with spare part Ronnie Cedeno and barely warm-bodied Donnie Murphy for Jason Bartlett, Roger Bernadina, and the useless Brooks Conrad. Together, Bartlett and Bernadina have 15 steals so far, and the combo will add a healthy boost of speed to my line-up. I've been riddled with injuries, but the sluggers keep slugging. Latos and Carpenter have shown signs of life on the mound, but I could use some more strikeouts. Losing Wandy Rodriguez for at least two weeks won't help. Nevertheless, my WHIP has improved by 0.05 on the month and my ERA was under 3.90 (before Kyle McClellan fell down and played golden goose against the Giants today).
.258 batting average (4th)
86 HR (1st by 13)
335 runs (1st by 16)
343 RBI (1st by 56!)
39 SB (6th)
3.90 ERA (7th)
1.30 WHIP (6th)
337 K (9th)
23 wins (7th but four out of fourth)
4 saves (9th)
For May Day's add and drop, I lucked out. One of the teams behind me got impatient with James Loney and dropped him. I grabbed him and let Brooks Conrad retire to live on dreams of playoff heroism.
I'm in fifth place overall, but optimistic, even though I have the least points of any pitching staff in the league.
April flew by, and took the beginning of May with it.
I spent part of one Thursday night in the hospital. My Imitrex and Dilaudid just don't seem to work on my migraines anymore. Fortunately, the IV anti-emetic in the emergency ward does. In triage, they took my blood pressure and it was way high. I normally have slightly low blood pressure. I asked the nurse about it and she told me, "That's how we know you're not faking."
I talked to my doctor during a check-up on my knee and he prescribed Maxalt and Ralivia. I'm not sure about Ralivia, which is an extended-release pain reliever (my migraines rarely last more than ten hours) but the combo knocked out the migraine I had last night.
Speaking of my knee, the doctor told me that there was a lot less joint movement. He thinks the ACL is healing and that I don't need a surgical repair.
If this is start of a month, that means it's time for a baseball update.
Led by Lance Berkman, my sluggers are creaming the ball – when they hit it. Too many hitters are struggling, and bringing my batting average down. Most of my pitchers are performing as expected except the two I thought would be best, keepers Chris Carpenter and Mat Latos. They've continued to pitch as poorly as they did last September. C'mon boys, step it up.
.256 batting average (6th)
49 HR (1st by 5 HRs)
208 runs (1st by 15)
209 RBI (1st by 45!)
29 SB (tied 6th, four out of second)
4.14 ERA (7th)
1.35 WHIP (7th)
200 K (9th)
14 wins (7th but four out of first)
3 saves (9th)
I have the worst pitching and second best hitting of all teams. I have 56.5 points and sit in fifth place overall. The standings are volatile, however, and every week sees nearly random shifts among the top top eight teams.
For May Day's add and drop, I dumped Sam Demel and picked up Daniel Murphy. He better outperform Jason Bourgeois is all I gots to say about that.
My pitching can't stay this bad, can it?
Fa la la la la, la la play ball!
I'm optimistic. Was I last year? Let me check… I was, and then I finished in fifth. But we've been through that already. Enough with the past!
Introducing the 2011 Angels with Crystal Balls, along with my estimates of future performance which may or may not prove indicative of results:
C: Yadier Molina: .280, 5 HR, 50 R, 45 RBI, 5 SB
C: Ryan Hanigan: .275, 5 HR, 25 R, 25 RBI, 0 SB
1B: Lance Berkman: .265, 15 HR, 65 R, 60 RBI, 5 SB
2B: Jose Lopez: .290, 20 HR, 70 R, 85 RBI, 5 SB
3B: David Wright: .295, 25 HR, 90 R, 95 RBI, 15 SB
SS: Miguel Tejada: .285, 10 HR, 50 R, 60 RBI, 0 SB
MI: Ronny Cedeno: .245, 10 HR, 50 R, 45 RBI, 10 SB
CI: Adam Laroche: .265, 25 HR, 70 R, 80 RBI, 0 SB
OF: Matt Holliday: .305, 20 HR, 70 R, 70 RBI, 10 SB
OF: Matt Kemp: .270, 25 HR, 85 R, 85 RBI, 20 SB
OF: Jay Bruce: .265, 30 HR, 80 R, 85 RBI, 5 SB
OF: Aubrey Huff: .280, 20 HR, 70 R, 75 RBI, 5 SB
OF: Raul Ibanez: .275, 20 HR, 65 R, 70 RBI, 0 SB
U: Nate McClouth: .235, 20 HR, 70 R, 65 RBI, 15 SB
U: Ryan Ludwick: .255, 25 HR, 65 R, 75 RBI, 0 SB
That lineup has many familiar faces, and I don't mean the four keepers of Wright, Holliday, Kemp, and Bruce. Laroche, McClouth, and Ludwick rejoin the team through the draft; so does reserve infielder Jeff Baker. Keeping Baker company on the bench for now is Donnie Murphy. One thing that is not familiar is the runs category, which we added along with pitchers' total strikeouts.
Other than Ryan Hanigan (who thumped two of his expected five homers this afternoon), every hitter has a full-time job. I estimate final team totals of .280 batting average, 260 HR, 965 runs, 1010 RBI, and 95 SB. Adding the runs category drives down the value of stolen bases, which drop from 25% of a team's score to 20%. My team is not going to be running wild and will probably finish around seventh in that category. On the other hand, I expect this team to sew up home runs and RBI. Runs will be a top three finish, let's say third, and the .280 average will also finish high – again, let's say third. It seems I'm relying on 40 points, which is good but not great. Last year, I predicted I'd get 36 points in hitting in only four categories. (I wound up with 33, which led the league.)
Pitching can't help but be better than last year's 15 measly points. I can't possibly have a collapse as quick and as dreadful as 2010's, can I? I definitely won't finish fourth in WHIP and tenth in ERA again. that's just crazy.
SP: Mat Latos: 13 W, 155 K, 3.00 ERA, 1.15 WHIP
SP: Chris Carpenter: 15 W, 135 K, 3.25 ERA, 1.20 WHIP
SP: Roy Oswalt: 15 W, 155 K, 3.50 ERA, 1.20 WHIP
SP: Wandy Rodriguez: 12 W, 160 K,4.05 ERA, 1.35 WHIP
SP: Randy Wells: 12 W, 125 K, 4.30 ERA, 1.40 WHIP
SP: Barry Zito: 12 W, 125 K, 4.45 ERA, 1.45 WHIP
RP: Kyle McClellan: 11 W, 95 K,3.90 ERA, 1.30 WHIP
RP: Sergio Romo: 5 SV, 4 W, 60 K, 2.30 ERA, 1.05 WHIP
RP: Sean Burnett: 10 SV, 3 W, 50 K, 3.15 ERA, 1.25 WHIP
RP: Corey Luebke: 10 W, 105 K, 4.55 ERA, 1.40 WHIP
I loaded up on starters and their strikeouts at the risk of a low finish in saves. Closers were popular at the draft, and went way before I was willing to pick them. That suited me fine, as I loaded up on hitting and starting pitching. My estimated final stats are 14 saves, 106 wins, 1175 strikeouts, 3.78 ERA, and a WHIP of 1.29. I'll finish first in wins and ninth in saves. I have no idea about the strikeouts, but let's say fourth. The ERA and WHIP are good enough for third place in an average year. That comes out to 35 points – a bit weaker than I thought my calculation would produce.
Ahh, well – pitching's volatile. I have Chris Capuano and Sam Demel on the bench. Let's see what happens.
I haven't told much about Child Three's baseball team, for which I was an assistant coach. The team hobbled to a last-place finish in the regular season but incredible pitching got us to the penultimate game, which we lost for a third-place finish. Child Three had a marvelous season at the plate. The power isn't there, but the batting eye is, as is the swing. The little on-base machine takes after his dad.
But now is hockey season. Child Three and I were ready to make and coach NDG's Atom CC team this year until the city BB team cut an NDG goalie, bumping both of us down to Atom A, on a team with two goalies.
Our team was shut out in our first two games and have scored two goals in each of the next two, good for a 1-2-1 record. I love this team, though. Nearly every kid applies himself and, in one case, herself, and we may be the best skating team in the league. It's beautiful to watch. We've been working on offense lately in recent practices….
I feel bad about today's 2-2 tie, however. The kids worked hard, outshooting the opposition 18-6. I can't fault our goalie for the two goals given up, both were great shots. My job as a coach is to put my team in a position to succeed, but today I put them in a position to fail.
One of our defensemen is new to the position. The basics of the position are just not sinking in, though. I teach and I teach, and he just doesn't get it. Today, the entire team played poorly in the first five minutes, but the goal we gave up was on a rebound that went to a player that our out-of-position defenseman should have been covering. He had not been playing well or skating hard, and you can't have a kid like that on defense. I decided to give him another chance before I would switch him with a wing who I know can play D.
By the time the first period ended, we had taken a 2-1 lead, and my troublesome defender played OK. I decided to leave him alone. The second period saw few shots from either team, but at the start of the third, that same defenseman had reverted. I figured I would let him finish the game at defense since we were dominating play.
That was my mistake. I put him in a position to fail. I should have switched him out and put a better defender back there to protect the lead. His poor positioning allowed two breakaways in the last minute of play, one of which turned into a goal in the last minute of play. Those breakaways led to the only two shots we gave up in the third period.
I really blame myself. Kids play like kids play, and it's my job to maximize their potential. I failed at that today, but it's a lesson for the future.
My Irrational League hitters came alive in September, slamming homer after homer.
Unfortunately, my pitching stunk worse than month-old lobster. Collapses by Chris Carpenter and Mat Latos meant that Jason Marquis was my ace for the last six weeks – and yes, that's as bad as it sounds. Not only did I fall out of the money after climbing back into it in August, I finished in fifth.
My final stats:
.269 batting average (3rd, down from 2nd in August)
232 HR (1st up from 6th)
945 RBI (2nd, two RBI out of first)
131 SB (5th, down from 4th)
4.18 ERA (10th down from 6th)
1.28 WHIP (4th down from 3rd)
78 wins (9th down from 7th)
56 saves (6th up from 7th)
What went wrong?
I estimated my final hitting stats would come out to something like .280, 250 HR, 1015 RBI, and 180 SB – all overestimates, but this was a pitching year. An average of .275 won the category, and I essentially did as well as could be expected in HRs and RBIs. I lost 50 SB to Matt Kemp's (19 SB, 15 CS) and David Wright's (19 SB, 11 CS) inefficiency and Lasting Milledge's drop in speed (5 SB, 3 CS). I had predicted those three to rack up 75 SB instead of 43. Oh, yes, and then there was Nate McClouth, who had a whole season of went wrong.
My pitching failed at the start of the year as Jason Marquis and Kyle Lohse both stunk up the joint before going on the injured reserve list. Trevor Hoffman just stunk. Nobody picked up the slack after August, when Latos and Carpenter pitched like gods. In September, they pitched like dogs.
See you next year, Irrational League. It's hockey season!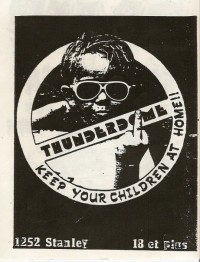 Thunderdome was an underground club in Montreal during the late '80s and early '90s. It was two floors connected by a huge spiral staircase in a cage. It had theme nights. It was one of a kind.
One of my most popular – and earliest – blog posts mentioned Thunderdome.
Well, the club is going to live again for a night.
A Sphinx/Thunderdome revival will take place Saturday, August 28 at Club La Boom – the former premises of Thunderdome at 1254 Stanley.
I doubt the Thundedome crowd will rip out the chic, cookie-cutter look of La Boom and replace it with the steel poles, murals, and Flintstones car we all loved, but the music will certainly revert to '80s New Wave and Alternative. Andre Legatos, Will Chase, and others will spin tunes.
Tickets are on sale in advance for $12 a head. Yeah, that's $12 more than the 'Dome used to charge, but we all have jobs now. (Well, most of us do.) Tickets at the door will cost $20.
Bonus baseball:
My fantasy team mired in doldrums. After leading the league in homers earlier in the year, my team has suffered a massive power outage. With some luck, my pick-up of Rick Ankiel will with that. Last month, I said my team will fall no lower than third in steals. I was wrong.
My pitching is doing well but has no wins to show for it. I may move up in saves if Drew Storen can wrest the closer job in Washington from his competitors, and if Aaron Heilman can grab that role (again) in Arizona.
.271 batting average (2nd in a group of three somewhat ahead of the others)
143 HR (tied 6th but only three homers out of fourth)
634 RBI (2nd)
102 SB (4th)
4.00 ERA (6th)
1.28 WHIP (3rd)
51 wins (tied 7th)
32 saves (7th and four saves out of fifth)
My team has dropped from second place to fifth, but I'm only five points out of second.
I wrote an article on baseball uniforms yesterday and to do that, I studied the official uniform rules of Major League Baseball, Little League, and another youth baseball organization called USSSA Baseball.
Little League bases its rules on the rules of Major League Baseball. As a result, both groups require in their Rules 1.11 that "all players on a team shall wear uniforms identical in color, trim and style, and all players uniforms shall include minimal six-inch numbers on their backs." Little League omits the number size and requires an official Little League patch on the left arm or, in sleeveless uniforms, on the left breast.
Both forbid ragged, frayed, or slit sleeves, and detail that sleeve length may vary between team members but that each player must sport two sleeves of the same length. If a player wears an undershirt visible beneath his uniform top, it needs to be a solid color and all teammates must wear the same color. No player may wear a white, long-sleeved
undershirt although any other color is allowed. No part of a uniform can resemble a baseball.
Aside from some rules on jewelry, shoes, and pitchers not distracting batters, that's about it. Notice anything missing?
That's right: pants. And caps. There is nothing in the rules that requires a team to wear pants. While there is a rule that says all members of a team must wear identical uniforms, an entire team can go without pants and remain within the rules. The same goes for caps. If the entire team goes hatless or all wear berets, it's within official uniform rules.
This explains the monstrous shorts the White Sox wore for three games in 1976. Note also in the photo the shirts, which were uniformly worn untucked.
Now, don't try this in USSSA leagues. The USSSA specifically mandates that players wear pants and caps. Spoilsports.
I skipped a June update because I had little to relate. The situation was essentially the same as May. This month, though, there is movement afoot!
In June I picked up Drew Storen in the hope that Matt Capps's rough patch would lead him to lose his closer job, but that never happened. Storen has provided a month of good stats in relief but no saves.
At the time, I had to decide between him and Aaron Heilman, who seemed to be a possibility for saves In Arizona. Since then, Heilman has indeed become the closer there. I chose wrong. Somehow, though, Heilman went unselected in our monthly update draft and I was able to snag him at the second-to-last position. That's right, I've climbed to second place. Here's how it breaks down:
.268 batting average (3rd and in a huge clump of five vying for second place)
106 HR (4th)
469 RBI (2nd)
81 SB (2nd and will fall no lower than 3rd)
4.07 ERA (6th up from 10th)
1.26 WHIP (2nd up from 7th)
40 wins (6th)
20 saves (tied 8th)
It's a pitching year. Only one team has a batting average over .270. With my crappy pitchers on the disabled list, my team has a WHIP of 1.16 and an ERA of 3.21 over the last 28 days.
Heilman alone will get me 2.5 additional points. I'm in second, 14 points behind the runaway leader and five points up on the third-place team.
Bonus real baseball:
Child Three has one of the nicest line-drive swings in the league. Incredibly, he's only made four outs at the plate so far this season and only two of those were strikeouts. He's speedy, he fields adequately, and he has no arm. As Uncle Jeff observed, he's like his dad.