Archive for the 'Tech' Category
I love shopping, and I love shopping for bargains even more. Back in California once, my college friend Alex commented on how nice my suit looked. I told him I found it for only $200. Elvi reproached me about talking cost rather than gracefully accepting the compliment. Had I learned my lesson, I wouldn't have written that just now.
Groupon has found itself in the news over the past year, mostly due to its failures. I still don't think it has much of a business model, but great googly moogly, the deals are fantastic.
I was initially lured in by the offer of four 60-minute massages at a reputable spa for a mere $100. Talk about happy endings! After that, I couldn't turn down a comprehensive auto-detailing package for $85. Nothing polishes off winter like detailing.
I realized I had a problem when I found myself considering a diode-laser hair remover for $200. That's 80% off retail. No, I let that deal pass.
What I didn't let pass, at one-tenth the cost ($19 after delivery – there I go again) and 1,000 times the fun of laser hair removal was a VooMote One. Former FCC chairman Michael Powell once called the TiVo "God's machine". The VooMote is God's remote control.
The VooMote One is an infrared device that when couple with an iPhone or iPod Touch turns the latter into a universal remote. It is amazing.
Granted, I could have bought a universal remote but that doesn't solve my problem, which is that the everyone in my house loses or breaks remotes. This way, I have my VooMote at my desk and I can slip it on when needed.
You can program the VooMote by brand of equipment and a quick test sequence or by teaching it with your remote. It works as advertised, and have I said it is amazing yet?
Not all is perfect, however. I have three issues. Firstly, the app had to attempt the VooMote firmware upgrade three times before it was successful. That happens occasionally, and the company advises you to stop the process and try again if it happens – although the app itself tells you you can ruin the equipment if you do that. Mine is fine.
Secondly, the matte-black plastic case holds onto fingerprints. Mine already looks grubby. It's not a deal-breaker for me.
The final problem is not the fault of the VooMote. We have an old Sanyo CRT television that the VooMote does not recognize – and I can't teach the VooMote from the TV remote since the kids have lost it.
Bonus poll:
Buoyed by the success of Nibbler's teeth, I am considering further customization. I'm thinking of ordering magnetic vinyl decals for the front fenders. On one side would be Nibbler and on the other would be a 101 Squadron badge. Here are the images and a mock-up of what each side would look like. Ignore the positions of the decals for now. We can discuss that later. (I had no side photos with the teeth installed.)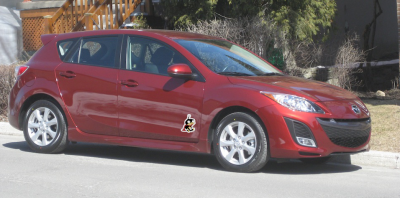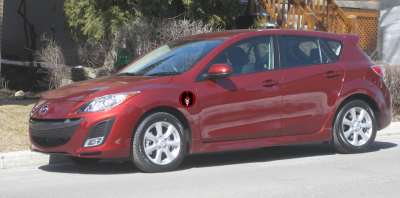 Loading ...
Late last night, after everyone else was asleep, I was leaning back in my chair when I heard a resounding crack and all the lights went out. More worrisome, I smelled smoke.
My biggest fear was that the iPhone had blown up due to a power surge, but I had not connected it to its USB cable. It was working fine. Using the trusty Flashlight app on my iPhone, I investigated all major electronics and outlets in the vicinity: iMac, router, modem, external hard disk, printer, throttle, joystick, and rudder pedals. I found nothing wrong or warm.
I went downstairs and discovered that the downstairs was not affected. Only one circuit breaker had tripped. I flipped it on and went back upstairs. There, I noticed a grey patch on the white extension cord that leads to the printer. The cord was sliced down to the copper wire inside.
I examined my $16 folding Home Depot chair. The plastic foot is missing from one of the legs. (I should explain that I hate chairs on wheels. They distract me and are no good for flight simming.)
I conclude that the leg of the chair was on the extension cord and when I leaned back, it cut into the insulation and shorted out the circuit. The insulation melted or burned a bit, but the voltage passed harmlessly through the chair's metal leg.
I suppose I was in no real danger, but would have read this lame excuse of a blog post if I hadn't sensationalized the title? Are you even reading it now?
Very late in the year, I bought myself a present.
Speaking of segues, I got two of these for my birthday: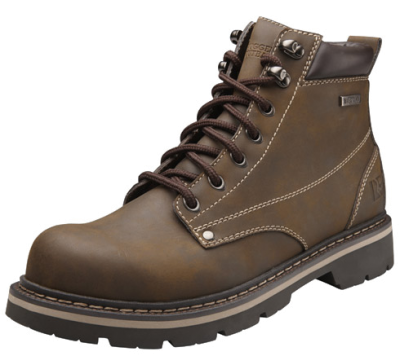 Technically, I got one of those and its enantiomer, as we used to say in organic chemistry.
What did I buy myself? A cell phone number! Yes, I who am interviewed by folks writing articles on high tech and social media (really!) can finally text. I'm learning how to do it.
Not long after I learned my number, I received a series of texts from a Marc I do not know. He was asking me how the new job was. I tried convincing Marc that I wasn't who he thought he was sending messages to, but Marc expressed only appreciation at my attempt to put one over on him.
A week later, Marc texted me again. This time, I asked him who he thought he was writing to. I guess I convinced him, and Mark explained that he was using Yahoo Messenger to chat with Imre Glaser. Given his name, I quickly tracked down Imre. He used to have my Montreal cell phone number but had recently moved to Ontario and gave it up. Rogers recycled it to me. – but Imre had forgotten that he had set Yahoo Messenger to forward IMs to his (my) cell phone. Not many people know where their phone number came from, but I do. I should form a club.
By the way, Imre, I got call for you tonight from the Ottawa region. You should text me your number so I can send these people your way. You know my number, I assume. You can text it to me because I know how to text now.
Now, if I could only get FaceTime to connect….
Bonus apology:
I thought I would receive mail when a comment was held for moderation, but apparently I hadn't set that correctly. A few comments have been held up because of that. Also, the story of my car's unsafe liaison with another is still in progress, so I'm going to hold back on that for a bit. It's nothing major unless you count gall, and then not mine.
I had a restful holiday. The five of us spent a week and a half in Houston. I spent a lot of that time sleeping. I also bought new shoes. They look like this: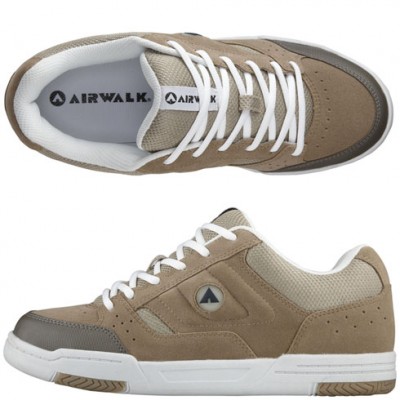 I wrote a long and detailed account of how I solved problems with my Chrome browser intermittently pooping out "Aw, Snap" and "Missing Plug-in" notifications, only to have an "Aw, Snap" page obliterate my advice. At least now I don't have to admit I was wrong.
I'm going to revert to using Safari until this is fixed.
While on the subject of tech, let me introduce one of the products my brother sells. By name, it's the GelPoint Path Transanal Access Platform. Below, you can see an animation of it in action. I recommend you expand the video to full-screen.
The GelPoint Path Transanal Access Platform may or may not be abbreviated to the GelPoint Path TAP, and surgeons may or may not refer to the procedure as "TAP that ass". The company did not answer my e-mail inquiry.
Before you get all huffy about my disrespect for a potentially life-saving device, allow me to state that I see the unquestionable value of having one's ass TAPed. So bugger off.
Bonus blog preview:
Coming up soon… a story of how my car got rear-ended.
Several friends and clients have lost automatic syncing in recent iTunes updates on the Mac. It even happened to me.
Somehow, the updates to iTunes 10.4 misconfigure iTunes Helper, which is behind-the-scenes software that, well, helps iTunes weave its magic.
Here's how to fix it on Snow Leopard. This fix may or may not work in Lion, too.
Plug in your device and open iTunes. On your device's Info page, uncheck "Launch iTunes when this iPhone/iPad/iPod is connected."
Unplug your device and restart the Mac. Launch iTunes, then connect the device. Put a check back in the box next to "Launch iTunes when this iPhone/iPad/iPod is connected." If this is solving your problem, iTunes should ask if you want to install iTunes Helper. You do.
That should do it for you.
Bonus reading:
Growing up, my favourite book was "Arty the Smarty". It was about a small, wiseass fish who outsmarts everyone. I wonder what I saw in that. You can read its acid-browned pages for free online. My copy looks exactly the same.
I'm making changes to links and link categories on my WordPress dashboard and they take fine. The changes are not, however, showing up on the blog itself.
I had just updated to WordPress 3.2.1, if that's a clue.
Is there any help out there?
Bonus update:
Stupid WordPress. I had to go to the Widgets page and put the new category in as a new Links widget. The links updates just took a while to register.
As promised, me at karaoke.
Elvi has already remarked at my resemblance to Julian from "Trailer Park Boys", although my rum and coke is in a taller glass.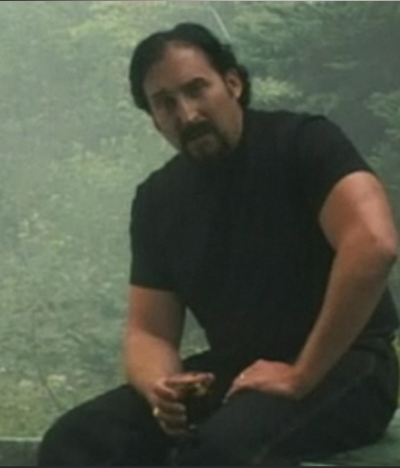 Bonus tech solution:
The video embedding function native to WordPress will not work properly with unlisted YouTube videos. Use the Viper's Video Quicktags plug-in instead.
For months, our wireless router has been acting up. It's a Linksys WRT54G by Cisco, possibly the most popular home Wi-Fi router on the planet. Ours is a Version 6.0.
This router would occasionally go wonky, by which I mean that it would maintain Wi-Fi connections with our laptops and my iPod touch but would not relay traffic between the devices and the Internet. The home network DHCP worked fine and all devices had valid IP addresses, but they simply could not connect to the Net.
I wasn't eager to buy a new router – we just had to buy a new stove because our old one became too costly to repair. I found this thread in the Cisco forums. It describes the same issue. Although no one directly solved the problem, I did find hints there and elsewhere online. After fiddling with a few settings, it looks like I fixed the problem.
For posterity on the Web and to help teeming crowds with the same problem, here's what I did. I'm not sure if any one step or a combination of them worked, I just know that I now have stable Wi-Fi. I opened the router management pages with my Ethernet-connected iMac and:
I went to "Setup" > "MAC Address Clone" and I cloned my iMac's MAC address. The MAC address the router had been using had belonged to my old Mac G4.
I went to "Wireless" > " Advanced Wireless Settings" where I set Basic Rate to "All" and enabled Frame Burst.
Having done that, I saved my configuration and reset the router. I updated the firmware, then restored my settings. The router has worked perfectly for four days.
The Montreal Gazette's Habs Inside/Out site has grown over a few short years into the de facto destination for English-speaking fans of the Montreal Canadiens. The word "Habs", of course, is short for "habitants", which is what the early French-Canadians – the Canadiens – were called in the 17th century.
The Club de Hockey Canadien Inc. asked the Gazette to stop using the word "Habs" in reference to its Web site. It's arguable whether or not the Canadiens can uphold a trademark on the nickname, but the Gazette capitulated and renamed the site Hockey Inside/Out.
Notwithstanding some grumbling from the hoi polloi, such a change is easily accomplished. You register the new domain name, hockeyinsideout.com, and transfer the content of your habsinsideout.com site to the new domain. Sure, you may have to change a few links here or there with a global find and replace, but the site will remain robust.
Instead, the Gazette took the opportunity to move the entire site to WordPress. What a hellacious mistake. The site has lost all reader comments and much of contributor Mike Boone's post-game analyses. I can't even show you what the old site looked like because the Web team has trashed the CSS code it used to use. Even links to old stories no longer work.
Audiences are conservative. They don't like change. In this case, the audience is right. Take a look at this malfunctioning page of crap. It used to have dozens of comments. Go ahead and try the link to Boone's "Quick Hits/About Saturday afternoon…". Or try the link to the unhappily formatted "Afternoon delight".
I've just spent two weeks at my dad's apartment while his wife was back home in the Bahamas taking care of affairs. I did pretty darned well without a newspaper. Missteps like this make it easier.
Bonus knee news:
I can walk at about 90% efficiency thanks to physio. I can't run, skate, jump, etc. yet. I do know that jumping off a bench hurts.