Archive for the 'Tech' Category
For months, our wireless router has been acting up. It's a Linksys WRT54G by Cisco, possibly the most popular home Wi-Fi router on the planet. Ours is a Version 6.0.
This router would occasionally go wonky, by which I mean that it would maintain Wi-Fi connections with our laptops and my iPod touch but would not relay traffic between the devices and the Internet. The home network DHCP worked fine and all devices had valid IP addresses, but they simply could not connect to the Net.
I wasn't eager to buy a new router – we just had to buy a new stove because our old one became too costly to repair. I found this thread in the Cisco forums. It describes the same issue. Although no one directly solved the problem, I did find hints there and elsewhere online. After fiddling with a few settings, it looks like I fixed the problem.
For posterity on the Web and to help teeming crowds with the same problem, here's what I did. I'm not sure if any one step or a combination of them worked, I just know that I now have stable Wi-Fi. I opened the router management pages with my Ethernet-connected iMac and:
I went to "Setup" > "MAC Address Clone" and I cloned my iMac's MAC address. The MAC address the router had been using had belonged to my old Mac G4.
I went to "Wireless" > " Advanced Wireless Settings" where I set Basic Rate to "All" and enabled Frame Burst.
Having done that, I saved my configuration and reset the router. I updated the firmware, then restored my settings. The router has worked perfectly for four days.
The Montreal Gazette's Habs Inside/Out site has grown over a few short years into the de facto destination for English-speaking fans of the Montreal Canadiens. The word "Habs", of course, is short for "habitants", which is what the early French-Canadians – the Canadiens – were called in the 17th century.
The Club de Hockey Canadien Inc. asked the Gazette to stop using the word "Habs" in reference to its Web site. It's arguable whether or not the Canadiens can uphold a trademark on the nickname, but the Gazette capitulated and renamed the site Hockey Inside/Out.
Notwithstanding some grumbling from the hoi polloi, such a change is easily accomplished. You register the new domain name, hockeyinsideout.com, and transfer the content of your habsinsideout.com site to the new domain. Sure, you may have to change a few links here or there with a global find and replace, but the site will remain robust.
Instead, the Gazette took the opportunity to move the entire site to WordPress. What a hellacious mistake. The site has lost all reader comments and much of contributor Mike Boone's post-game analyses. I can't even show you what the old site looked like because the Web team has trashed the CSS code it used to use. Even links to old stories no longer work.
Audiences are conservative. They don't like change. In this case, the audience is right. Take a look at this malfunctioning page of crap. It used to have dozens of comments. Go ahead and try the link to Boone's "Quick Hits/About Saturday afternoon…". Or try the link to the unhappily formatted "Afternoon delight".
I've just spent two weeks at my dad's apartment while his wife was back home in the Bahamas taking care of affairs. I did pretty darned well without a newspaper. Missteps like this make it easier.
Bonus knee news:
I can walk at about 90% efficiency thanks to physio. I can't run, skate, jump, etc. yet. I do know that jumping off a bench hurts.
Marion and my dad arrived in Montreal Thursday afternoon. I spent most of Thursday arranging things for their arrival and slept over there to help get my dad to his hospital appointments Friday at dawn. I got home Friday around 7:00 p.m.
Saturday, I took Marion to flesh out her necessities. Prepaid cell phone service was going to get expensive, so we got her a Public Mobile phone. Her apartment building is supposed to come with free wireless but the only adequate thing about that is the free part. The signal is so weak, it's unusable. The building management kindly recognizes that and will take $30 off the rent for renters who get alternate Internet connectivity.
Given the uncertainty of the length of visit and living arrangements, it makes sense for Marion and her old iBook G4 laptop to get mobile Internet rather than wired broadband. And that's where our story begins….
We went to the Bell store in Place Alexis Nihon (when did it stop being a plaza?). We bought a Turbo Stick (model U998) and a three-year contract (which can be cancelled at any time without penalty thanks to the provincial government). She took the mobile-Internet stick and tried to use the building's Wi-Fi to download Bell's Mobile Connect software. Eventually, she succeeded – but she couldn't get Mobile Connect to detect the Turbo Stick. She spent some time on the phone with tech support, who couldn't help her to get it to work either.
I went over Monday to check it out and had no more success than she had, so I picked up the laptop and the stick and returned to the Bell store.
Nobody there had any idea what to do so they gave me a phone and dialed Bell tech support. An hour and a half later, tech support was able to figure out what they thought was wrong. We had installed the latest version of Mobile Connect and were trying to use it with an older version of the Turbo Stick. We needed to upgrade the firmware on the stick – but the firmware updater only worked in Windows.
Tech support asked the store employees if they could do it for me, but the employees were locked out from installing software on their computers. Tech support told me I could get it done or get a newer version of the stick at a Bell Product Assistance Centre, the closest one of which was in Plaza Cote-des-Neiges. Off I went, fighting rush-hour traffic to get there before it closed at 6:00 p.m.
I made it by 5:15 p.m. and Ivan the tech heard me explain what I'd been told was wrong. He took the laptop and the Turbo Stick into his back room.
He emerged 20 minutes later, telling me he couldn't get it to work. I asked if if he had upgraded the firmware. This time, he heard AND listened, because he said he couldn't do that. I asked if he could exchange the Turbo Stick for a newer version and he said he could sell me a new one, but that I would have to return the old one to the original store.
I admit, I lost it.
I yelled "What fucking bullshit!" and slammed te laptop shut. That wasn't smart, but I did no damage. I went home, exchanged the computer for Child Three, and headed off to Monday night goalie clinic.
I got back to laptop at 9:30 p.m. I used Elvi's Windows 7 laptop to update the stick's firmware. Guess what? That's right. It still didn't work in the iBook.
I got back on the phone with tech support. The stick worked in Elvi's laptop and it worked in my bitchin' modern iMac, so we could conclude that the problem lies in the iBook. Tech support guessed that its USB ports don't supply enough current to the Turbo Stick.
Next step in the plan, this afternoon, is to try a different model mobile-Internet device.
A week ago tonight, Elvi and I attended the Montreal launch party for Microsoft's Kinect for the Xbox 360. Held in La Mouche on lower St. Denis, the party had free drinks and four playing stations (but no Playstations).
Kinect, of course, is Microsoft's answer to the Wii, taken a step farther. The Kinect uses video and infrared sensors to detect the motion of your entire body. Through your motions, you control what happens on the screen.
We were able to try out a number of games. I shook my booty to "Funkytown" in Dance Central, which is the sort of game that benefits from the technology. The Kinect accurately tracked my smoov moves despite the gawkers around me as I tried and mostly succeeded in following the fly girl's moves. Tremble mortals, and despair:
Another success was the beach volleyball, part of the Kinect Sports game. We got into it, and it was a blast to jump up and spike the ball, even if it sent my iPod flying out of my shirt pocket and skidding across the floor.
Unfortunately, there are deficiencies. The tracking was occasionally wonky. There may have been a finer resolution than the Wii, but it was less reliable overall. You need to stay in front of the Kinect; with the Wii, you have more freedom to roam.
Kinect's biggest drawback is its allegedly best feature: the lack of a controller. It sounds freeing, except it's actually more limiting. When playing Kinect Joy Ride, you had no way to brake or accelerate the car, the way you could with buttons on a controller. You could initiate a temporary speed boost by pulling back and pushing forward on the imaginary steering wheel but that felt awkward, like you were trying to induce whiplash.
And if you do buy Kinect? Forget Kinect Adventures. That was dull.
Bonus moving and shaking:
Child Three's guinea pigs seem to fight quite a bit, with lots of shrieking, but Groucho recently took to flailing around on his back and shrieking. The vets tells us they have mites, which burrow under the skin and cause severe pain. They're halfway through the course of two injections and we expect them to recover completely.
You love Google's Chrome browser but dread using it to look for PDFs because it won't display them? Hate having to download the PDFs as files and looking at them in Acrobat Reader or Preview or whatever?
Open Chrome and type "about:plugins" in the address/search field (also called the omnibox). Greyed out at the top of the list of plug-ins is the disabled "Chrome PDF Viewer". Enable it and you can view PDFs right in Chrome. The function has no progress bar, so if you try to load a large PDF, it may look as if Chrome has frozen or given up. Be patient.
I still don't have a cell phone but I do have an iPod Touch that goes with me everywhere. What a boon to aging minds!
Apple released the latest software update for iPhones and iPod Touches (iPods Touch?) this week, called iOS 4. The update brings new functionality to the devices, including multitasking (running more than one app at a times), the iBook reader, and app folders.
I decided to update my second-generation iPod Touch last night. It took a lot longer than I expected.
Previous updates have been painless, like a long sync. My download of iOS 4 went smoothly, but something interrupted the installation. That was my first clue that the process had gone wrong. iTunes gave me a host of error messages that told me my songs could not be found. iTunes itself played the songs well enough so I knew it was an iPod problem.
The rest of the iPod seemed to be in shape. The apps were there and iOS 4 was in place. The problem I tried to open some apps and not all were working. I tried again, and again it stopped in the middle and warned me of the errors.
I took a bold step and tried to restore the iPod, which resets it to pristine condition. . The restore function erases all data and reinstalls all apps, music, and what have you. You lose passwords and accounts and game scores, but that's not a big deal. The big deal was that the restore did not fix anything.
At that point, I noticed that Last.fm's Audioscrobbler had been trying to scrobble (i.e. record for posterity) the songs I'd played on my iPod since the last sync. I figured that was interrupting the installation so I closed Audioscrobbler, and synced yet again. The apps were working but iTunes told me there was no room left on the iPod for more than 24 songs. Looking at the capacity diagram of my beloved Zapp Brannigan (my iPod's name), I noticed that 5.89 MB of the alleged 8 MB total (which for some reason is only 6.83 MB) was taken up by Other data. That's why there was no room for songs. (Huge chunks of Other data is normal for jailbroken devices, but mine's regulation.)
I have no idea what that other data was, but my only hope was to try to restore the iPod again, this time without Audioscrobbler's interference. I wasn't hopeful that this would work, since other than being full, the iPod was now working perfectly – but work it did. Finally by 3:30 a.m., I had a properly functional iPod Touch.
I can't prove it, but it sure seems like Audioscrobbler screwed with the installation. Reports here and there online reveal some problems with iOS 4 installations elsewhere.
The irony? After all this consternation, I discovered that second-generation iPod Touches only benefit from iOS4's mail threading and and app folders. The rest of the advances don't work.
Bonus "Futurama" review:
No, not by me. Tim Surette of TV.com says everything I want to, so why repeat it? My brief note after watching the shows was that it has promise and a lot more nudity. To my pleasure, the new episodes match my taste much better than the DVD movies did.
I bought a cell phone for the first time more than a month ago. I've never had one – I still don't, since this one was for Elvi.
Our California arrangement expired and we finally needed to shop for a local plan. Canada has just about the most expensive mobile phone service in the world and we weren't happy with our options. We spotted an ad for Public Mobile, an upcoming service that offers unlimited talk and texting for a flat $40 total (no service fees) and no contract required.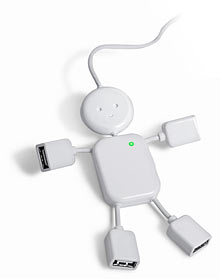 You might expect something like that in your part of the world but here in Canada, that's an extraordinary deal.
Because we signed up early, the company also offered us lifetime unlimited long distance in Canada and the US for an extra $5 a month (that offer is still in effect – tell 'em I sent ya). The only downside to Public Mobile is that you have to buy a phone and, unlike the money-sucking mobile service companies, it doesn't provide phones for free. I bought the most basic phone for $70.
We were all set for the roll-out of the service on May 15 but for undisclosed reasons, Public Mobile has pushed back the Montreal launch until June 26. To placate customers, the company is offering two free weeks of mobile service plus a $75 gift certificate for hardware. Not bad, but we'd rather have the phone working now.
In other tech purchase, we found these USB man four-port hubs on sale (see at left) for $3 apiece so we bought two, and shipping was reasonable.
Bonus world premiere:
Allow me to introduce Roadrageous. Yes, it's what you think it is. I just couldn't hold back any longer.
The second time I tried to import the old blog, everything went as planned, although all the embedded YouTube links have broken. Some image placements are slightly wonky due to a kludge I used at Blogger to get the vertical spacing the way I liked it.
My feed should be working now; let's see if this shows up at Facebook.
All I have left to do is add my links, categorize my 740 posts (because I like making work for myself, apparently), and create a .htaccess file to 301-redirect the URLs of my old blog to here. That's important because it tells the search engines that this new blog is the same as the old one only in a different place. I don't want to lose my inexplicable Google rank for "early senility", after all.
Anyone who links to the old blog can change the URL – or not. The redirection takes care of that, of course.
This WordPress blog seems to load a bit more slowly than the Blogger version but considering how bloated it is (beauty has its price), that's not surprising.
I think I can live with the vertically offset legacy images.
For now.
101 is open for business!
Update: I finally got the .htaccess file working after 90 minutes of excruciating frustration. My problem? The file in plain text on Mac OS X uses carriage returns. Linux requires linefeeds. Once again, Tex-Edit Plus comes in handy. I've been using it since 1994 and I paid many times the recommended software price when I bought it back then. Thanks, Tom Bender.
With layout in place, I decided to move my blog from Blogger to this WordPress thing the kids are crazy about. That sounds hard, but it's not difficult in theory. WordPress offers all kinds of import tools. The one that interfaces with Blogger, though, requires the blog to be in the new Blogger format, a change I resisted and continue to resist with all my Luddite mightiness.
That's not the end of the world, since Blogger lets you export the content all your blog posts as one XML file, which you can then upload with WordPress. WordPress reads the code and reassembles the posts. Unfortunately, WordPress will only do that for the new-style Blogger blogs.
Not all is lost. Google provides a little Web-based engine that will convert the old-style Blogger XML file to WordPress format. WordPress should import its own format.
Still, with some perseverance, I got the thing to work. I watched my Blogger posts get imported, but some of those posts weren't mine. Somehow, my XML file was infected with blog posts from Jennifer's Just a Stray Junior Mint. I don't understand how or why either, but it happened in the conversion process.
I had to manually delete Jennifer's posts from my archive and in the process I discovered that the import process only snagged my posts up to the end of 2008. WordPress documentation tells me that I can rerun the process without duplicating those posts that were successfully imported.
We'll see.
I've talked about LogMeIn before.
I still use and love it. My only qualm is that it is vulnerable to a second user. I have LogMeIn installed on my user on my Mac, but I have also set up a user for my kids. If the kids user is the active on on my Mac, I can't use LogMeIn to access my user on the Mac from my PC laptop, say.
The free version of LogMeIn does not allow you to transfer files between the distant computer and the one you're using in front of you, so what I have done if I need to get a file is e-mail it to myself on the distant computer and retrieve it locally in Gmail.
Recently, I discovered a fantastic service that works in tandem with LogMeIn to provide a complete experience. Dropbox is a combination of network and software. It acts like a folder on your hard disk, but in reality it is free FTP space that's as easy to use as a folder on your hard disk. You can share files with anyone you choose – and of course that includes through a Web interface, yourself on another machine, even on your iPhone or iPod Touch.
You get 2 GB with every free Dropbox account. You can pay to get more.
I've used it to transfer PDFs to my iPod and to share episodes of House with my daughter. Combined with LogMeIn, I have a fantastic and free communications tool that does just about everything I need for a home network or during travel.
Bonus question:
Does anyone have experience with Megaupload or similar services that appear to be easing torrents out of the picture?