Archive for the 'Uncategorized' Category
On the whole, I was impressed with the work my JOUR 428 students did on their final projects last semester. I adopted a loose definition of "journalism" so not all of these are strictly news, but I enjoyed their work.
Now, you can too. Here are the links in no particular order:
Bonus fighting of the man:
This happened again. I triumphed again. I am not impressed with the record-keeping involved in the process.
I look like this: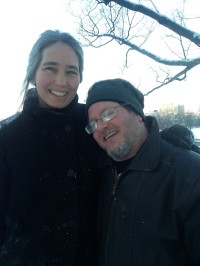 For Halloween, I temporarily dyed my facial hair to look like Tony Stark. I looked like this: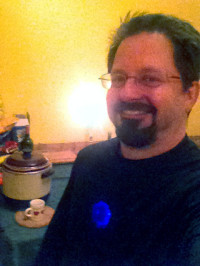 Many people urged me to keep dyeing, so I bought Just for Men Mustache and Beard, in light brown.
I followed the instructions and left it on for five minutes. I looked like this: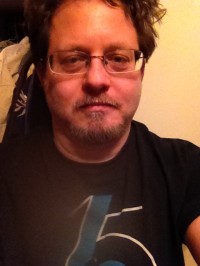 I wasn't happy with the coverage, so I dyed it again, this time leaving it on for ten minutes. I'm a daredevil. I looked like this: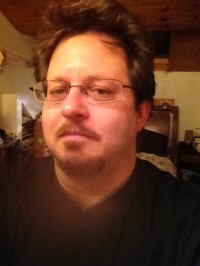 Not bad, eh? I am my mother's son. Also, I need a haircut.
I found this display in a local Michael's.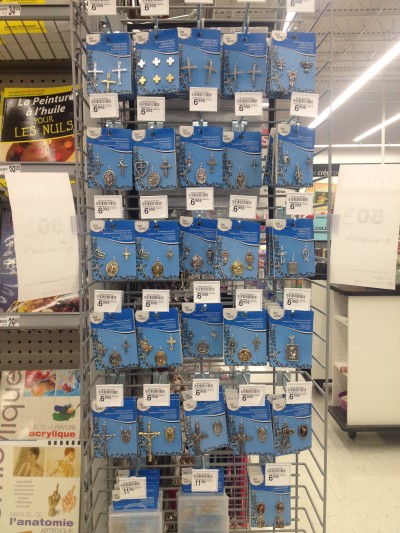 Hopefully, when the "Charte des valeurs québécoises" become law (ha!), the store will post a guide to tell us which of these symbols is too ostentatious for government work so we can know which will keep us (university professors count!) out of jail.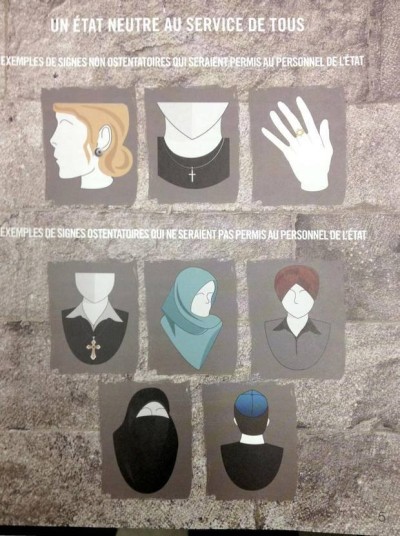 Bonus iOS 7 bug:
Apparently, if you alter a playlist in iTunes, the changes will not propagate to your synced iPhone/iPad in iOS 7. You have to create a new playlist in iTunes, copy everything from the old into the new, then make your changes.
I had to rename my Top Tunes playlist to Favourites because Siri kept insisting I was asking to shuffle my non-existent Pop Tunes playlist.
As summer began I had never seen a live moose. It was somewhat embarrassing for a Canadian, so seeing a living moose was on my bucket list.
The easiest way to find a moose to look at is to find a zoo that harbours one, you'd think – but there are few zoos within driving range of Montreal and the two I know of (the Biodome and Granby Zoo) don't have moose. Parc Safari has deer but otherwise focuses on African mammals.
To Google I went, where I discovered Parc Omega, located roughly across the Ottawa River from Hawkesbury. It's a drive-through circuit, like Parc Safari and although it's been around for two decades, I'd never heard of it before. It focuses on local and European fauna: a bunch of deer species; black bears; boars; wolves and foxes; etc. The park also offers overnight accommodations which are hardly necessary but which we decided to try out.
What a fantastic destination this place is. The deer and elk come right up to your car for food. Conveniently, the park's main building sells bags of carrots for $2.50. The park warns you to keep your car windows half closed, but we preferred having the deer stick their heads in our van. The boars are also friendly, although too short to reach the windows. The ibex are a bit shyer.
The herd of bison ignores the cars but you're not supposed to feed them anyway. I'm sure there's a link there. Musk oxen, bears, and the wolves and foxes are penned in. You can look, but you can't touch, or feed.
You can get very close to black bears and timber wolves on the park's boardwalk. I'm sure they have gauged the animals' leaping ability with some precision. Again, you are not supposed to feed them, but wild blackberry bushes grow around the base of the boardwalk supports. The bears had eaten all theirs, but we could reach some ripe berries on the wolf side. The bears would sit up and are extraordinarily good at snatching berries out of midair.
And in one pocket of the park, nearly smack dab in the middle, I saw these:
Bucket filled.
Five of us spent the night in what the park calls a prospector tent, which is really more like half a log cabin with a tent perched on top. It had real beds and a Keurig. Unfortunately, the shower is only cold and you are not allowed a fire. The tent suffered from a lack of ventilation and a clammy feel, but that's made up for by the fallow deer in the forest around you and free access to the back side of the wolf/bear boardwalk. You'd have to pay again to get your car back in the park, though. That's a policy the management should rethink.
Here are four dozen or so of my pics. As it turns out, everything we thought was a whitetail deer is actually an elk.
(Click to enlarge any photo.)
I don't have cool X-rays like last time – yet – but I did break another finger. I have two small fractures, one in the finger tip and one at the proximal end of the intermediate phalanx (middle finger bone).
There's no pain anymore. Most of the pain was emotional. I walked into Emergency at 9:55 p.m. and walked out just short of nine hours later. It had been a busy night, mostly with gastro patients who tended to vomit in the waiting room. I and my finger were low priority.
The mild pain I posted about from the waiting room had by midnight grown into real pain. The triage nurse could not give me any ibuprofen without a doctor's permission and I was waiting to see the doctor, so I had to grin and bear it.
Once I saw the doctor, he was kind enough to get me some ibuprofen. I got the X-ray, the news, and a small splint.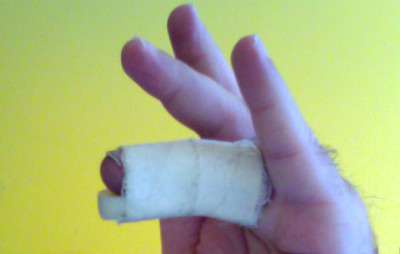 What was worst about my experience was leaving the hospital to find that someone had rubbed Nibbler the wrong way.
Bonus animal:
Somehow, my allergic self has agreed to let this thing live with us permanently.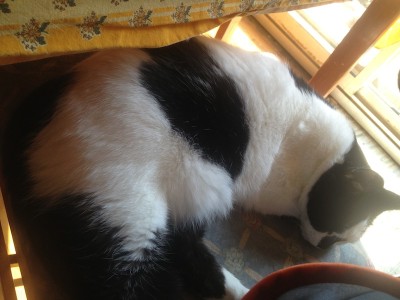 Does anybody have an in on inexpensive loratadine?
Yup, I took another softball in a fingertip.
This time, the nail didn't split and blood didn't spill.
It happened in the first inning of a doubleheader and had I left the game, we would have had to forfeit both games. So I moved to first base and did what I could.
Batting, I had even less power than I normally do and my finger would occasionally hurt like hell. It's bearable otherwise, like a mild headache.
Nevertheless, I feel I should get it checked out so I'm sitting in Emergency, waiting for an X-ray at least.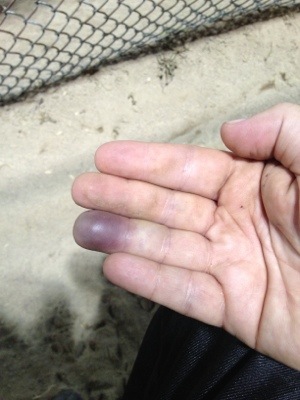 Saturday was Child Three's bar mitzvah. He performed well, after what was frankly a poor rehearsal the week before. Let's hear it for misguided life lessons!
Our last out-of-town guests leave today and while it is a nice change to spend time with them, my freelance schedule is piling up. I have a deadline of the end of the week to subtitle a 50-minute documentary on spontaneous human combustion (cough, bullshit, cough), copy-edit a 36-page e-zine on NoSQL, copy-edit two shorter tech articles, apply to teach courses next year, and iFigure out why a client's iCal won't sync with his iPad or iPhone. Is it just me or has Apple gone downhill since Steve Jobs died? The new iTunes is crap, interface-wise.
So I'm blogging. And not about my pretend baseball team, which is riding Roy Halladay, Jason Motte, Matt Kemp, and Jay Bruce to ninth place.
Enough about me. Let me now discuss my speech, the one I gave at the bar mitzvah. Some people asked to see it, so here it is. It's not a direct transcription, since I ad lib and some of this is from memory.
I'd like to start by pointing out that Child Three's bar mitzvah is not the only special occasion today. As Elvi implied earlier, it is Star Wars day. May the Fourth be with you. And purely by coincidence, it's Free Comic Book Day. If you go to a comic-book store today and ask, they'll give you a free comic book. We didn't know that until this week.

I learned on Facebook just a few days ago that today is also International Naked Gardening Day, and the weather's beautiful, so go for it.

Here we are again, for what's probably the last time in terms of my offspring.

I'd like to thank everybody for being here, especially those who travelled from all over North America. It is the NHL playoffs, so I'd like to thank them by team. We have people from the home territories of the San Jose Sharks, my sister from the land of the Vancouver Canucks, my brother from the Washington Capitals, and my brother, mother and Grandpa Marty from the AHL's Houston Aeros, at least for a few more weeks.

There's a huge contingent of family from the home of the Toronto Maple Leafs. Congrats on scoring a playoff goal this decade. Start planning your parade.

I don't want to make this a downer, but there is something I have to acknowledge. I'm almost certain that everybody here who was at our girls' earlier bat-mitzvah celebrations has, at one point or another this week, thought about someone who was around for those earlier occasions but isn't with us now.

You know who I mean. He had white hair, was basically friendly but had his grumpy moments, and if we can be honest, he went through a lot of pain near the end of his life.

He even bit me when I was trying to help him. I still have a scar on the palm of my hand.

I speak, of course, of our late dog, Crash.

All the same could be said for my dad, except about the scar. He wasn't strong enough to bite hard enough to leave a scar.

I wanted to honour my father in some way during this morning's service without bringing down the mood too much, so what I decided to do was to wear this suit, which belonged to him. These are his pants. This is his coat.

(GET CLUMP OF DOG HAIR FROM POCKET)

And this is Crash's coat.

Thank you all for coming.

Child Three, you drive me crazy sometimes, but we got there and passed with flying colours, mostly shades of purple. And if you think what you've done up to this point was hard, just wait until you have to sit down and write 200 thank-you notes.
When you lose your supper multiple times overnight, you can go back and delete the entries that are now all over the bathroom.
I've lost four pounds since yesterday afternoon and that is not an exaggeration.
Go look up "norovirus". I've worn a trough in the carpet between my bed and the bathroom.
It's been more than two months since I wrote here and, judging by all the fan mail and comments, none of you care.
I haven't written because nothing exciting has happened. I've shared a few small things to Facebook, but I like to keep anything original on the blog. There's been nothing original.
That's not entirely true. There's just been nothing I had much to say about. The big story since I last wrote a blog post is the demise of Crash. It got to the point where he was moaning nearly every waking moment and we decided it was time to put him down.
Here's audio of his moaning. Children Two and Three are not clapping with glee at his suffering. Their glee is unrelated to the dog completely.
We said goodbye on Nov. 23, which I realized later was the one-year anniversary in the Hebrew calendar of my father's death, 9 Kislev. Not a good day for shaggy white males, I suppose.
I've been extraordinarily exhausted since then, also unrelated to the dog completely. I've been sleeping ten to 14 hours a day. That's not hanging out in bed, but actually asleep. I think I've figured it out. I hadn't been using my CPAP machine, which meant I wasn't getting any deep and restful sleep. I've started using the machine again and I'm getting back to normal.
Why wasn't I using it? I like to snuggle Elvi in bed and that's hard to do with 15 PSI of wind blowing on her. The CPAP machine also gave me a nightmare once, which led to a series of weird dreams during which I yelled in my sleep. My exclamations?
Help! Help!
Come here!
Booyah!
Child Two heard me "booyah" and asked if I was OK. Apparently, I replied, "Can't a dad booyah in his sleep without being questioned?"
So I'm back on the CPAP and I think I'm recovering. That I'm writing this is evidence.
Bonus stickers:
What can I say?