Archive for the 'Uncategorized' Category
I've never been to Las Vegas, which made the tsuris at dawn somewhat palatable.
I'm here for a Waze conference. The company invited North American country managers to Las Vegas for a conference to discuss the eponymous navigation app. I'm somewhat embarrassed to admit that I've done so much map editing that I've reached that lofty level of editorship.
Still, it got me invited. Waze paid for the flight. They are paying for the hotel. How could I say no?
Waze is an Israeli company and although bought by Google remains based in Israel. They used an Israeli travel agent to arrange our desired flights. I was supposed to fly to Toronto and take a second plane to Nevada. Everything seemed perfectly arranged.
I tried to use the automated check-in machine but it told me to see an agent. That slightly annoyed me because I only had a carry-on for the three-day trip. I've never flown with just a carry-on bag before. This was a day of firsts.
There was only one agent to guard the gateway to the line to see the desk-bound agents and she was busy running between people who were having trouble with their automated check-in machines. She actually had to deputize a passenger to prevent any of us from entering the queue to see the desk agents.
Some ten minutes later, she returned and admitted us into the line. After another wait, my turn came.
The check-in agent took my passport, consulted her computer, and told me I didn't have a reservation for this flight. This was odd, since I had the itinerary in my e-mail. I gave her the ticketing code.
Mystery solved. My ticket was purchased for the last name Yveen. (That's missing the first letter.) This second agent told me there was no way that US Customs in Toronto would let me fly with a ticket that didn't match my name. She suggested I get the ticket reissued and for that I would have to go to the ticketing counter around the corner.
I didn't have to wait long at the ticketing counter. It was 6:30 and I still had half an hour to the flight, I thought. The ticketing agent disagreed, saying that they close the flight 45 minutes before departure. I could take the 8:30 direct flight to Las Vegas, but it would cost me $150 plus tax to change the ticket.
My mom is coming into town for Passover today and at this point I was thinking I would get an unexpected extra three days with her. I wasn't going to pay and hope for a reimbursement later.
I called the toll-free number and reached the Israeli travel agent to explain the situation. Yitzchak told me he needed to contact the original agent and Waze to see if they could pay the extra charge.
A short wait later, Yitzchak called me back. Everything was approved and I should go back to the ticketing counter. I did, but the woman I had been dealing with was no longer there. The woman I had to deal with now said it was impossible to link my incorrect ticket to a new one since they are two different people. She refused to talk to Yitzchak on my phone.
I was about to give up when the first ticketing agent returned. She said it was certainly possible to change the ticket, but that she needed to be paid up front. She also refused to talk to Yitzchak and said there was no way she could accept any form of online payment.
Yitzchak swore on a stack of pitot (pitas) that somebody would reimburse me so I handed my Visa card to the ticketing agent.
Right now, I'm in the airplane. The flight crew was late, so we'll be late into Las Vegas. It's not a big deal. This flight was going to get me into Las Vegas Ten minutes earlier than my original itinerary, anyway.
Bonus adventure:
I was chosen to try out the new machines set up at US Customs. I had to stand on my tiptoes to get into frame for the camera. I also had a problem because my flight was not listed as belonging to Air Canada. The nice Customs lady helped me backtrack and choose Air Canada Rouge.
A new paper reports on an incredible collection of aquatic fossils from Cerro Ballena, Chile. Spanish speakers who can translate Cerro Ballena to Whale Hill might hazard a guess at what fossils were found.
The paper, available to all in "Proceedings B of the Royal Society", describes a series of whale strandings that occurred 9-6.5 million years ago. Science has a lay summary of the work.
Such a fine collection of fossils is called a lagerstätte and can reveal a lot about the environment at the time.
Under a deadline due to the impending highway construction that revealed the lagerstätte, the research team relied more on 3-D virtualization than on old-fashioned digging.
Because these fossils are relatively recent, they don't reveal much about whale evolution, but research did teach me one thing I never knew before: the phrase "aquatic sloths".
I went to the fantastic Web site the team put together. Not only can you download the 3-D models of some of the specimens, but you can cruise a list of all of them. Near the bottom, you can find Thalassocnus natans, the aquatic sloth.
I knew sloths could swim – there are a few videos of that – but that's not the same as being aquatic. Carl Zimmer wrote about these things ten years ago so perhaps I need to pay better attention.
Aquatic sloths were not small animals. I could not find a published estimate of their size, but I did find an unofficial estimate: six feet long and up to 500 pounds. Here's a photo of the skeleton (click to enlarge):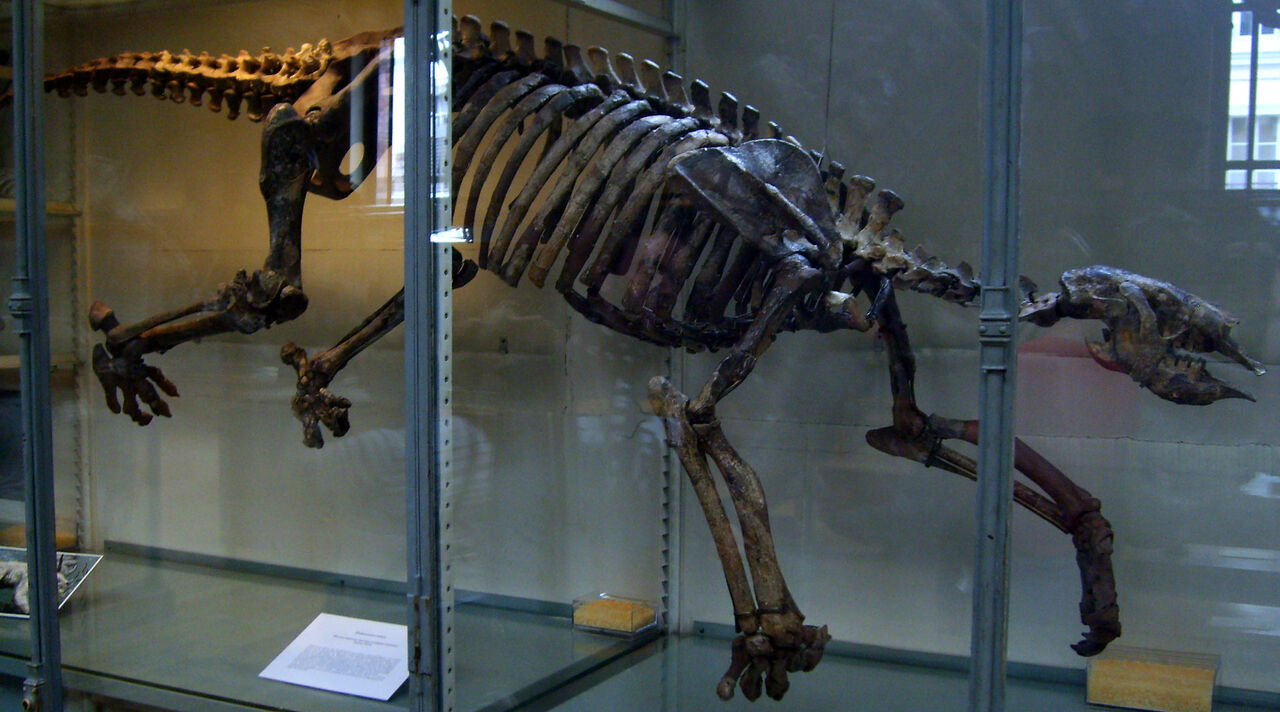 And a couple of artists' depictions:
Note the snout elongation from the first depiction of an older species to the second, more derived species.
The driving force that led to sloths' adopting an aquatic lifestyle (although they almost certainly came back to land after feeding, sort of the opposite of hippopotamuses) was the terrestrial environment. This area has been arid for a long time, which makes it tough for a dedicated herbivore to find enough to eat on land. Tooth wear tells us that the early aquatic sloths fed on or near shore where sand would abrade their tooth enamel. The later species show no evidence of sand abrasion and probably fed in deep water, where the sea bed is calm.
We're still sorting through my dad's stuff and I got my hands on a photo album that contains photos of older family, my younger brother modelling in a fashion show, and my university graduation.
Here I am in my youth and long-haired glory.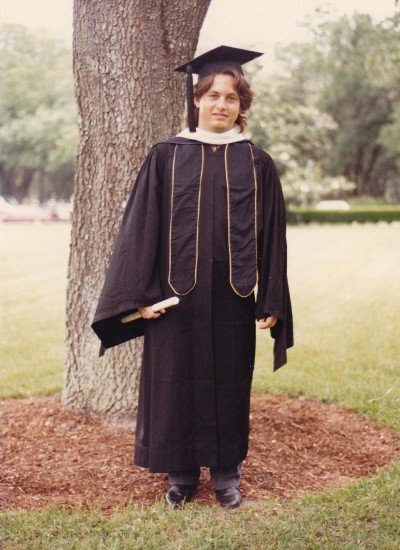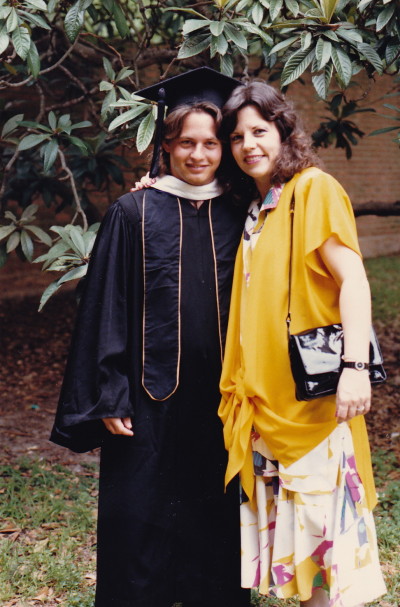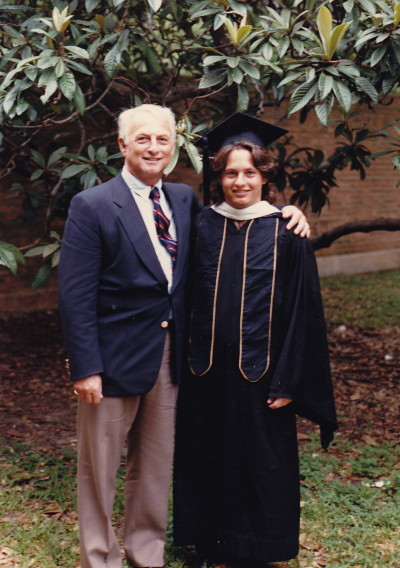 My dad in that photo is two months away from turning 48. Right now, I am one month past 48. Is it just his grey hair that makes him look so much older in the photo than I do now?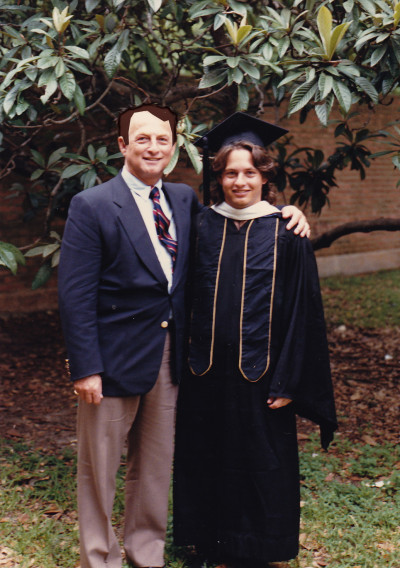 Nope – not according me, anyway. His hairline receded more than mine has. I'm not sure about the face.
Speaking of which, this may be the most recent photo I have of my dad clean-shaven.
My netsurfing today took me to Dorian de Wind's article on Dutch Jewry in the Holocaust.
Today, Jan. 27, is International Holocaust Remembrance Day, a date chosen to commemorate the Red Army's liberation of Auschwitz-Birkenau concentration camp on Jan. 27, 1945.
De Wind's article pointed me to the Digital Monument to the Jewish Community in the Netherlands, a site set up to remember Dutch Holocaust victims.
My youngest brother has for years maintained a family tree that's been striking for the number of deaths recorded in Auschwitz and Sobibor. Click the compressed image below to see the whole thing.
I decided to test the Digital Monument to the Jewish Community in the Netherlands against a subset of my brother's information, that being the nine siblings of my great-grandfather, who left Europe well before World War I (yes, WWI).
Of the nine siblings, two died in infancy. One survived the war in Europe. The other six died in then camps along with spouses and children.
Here are those six siblings:
Mozes Mozes (65) – died in Auschwitz with daughter Rachel (36) and sons Izak (36) and Jacob (27). Son Isidor died, age and place unknown. Rachel's son Bernard (13) died at Auschwitz.
Samuel Mozes (61) – died in Auschwitz along with daughter Chelly (37) and son Izak (36).
Israël Mozes/Nijveen (57) – died in Auschwitz.
Betje Mozes (49) – died in Sobibor.
Hinderika Mozes-Zilverberg (53, the memorial site has the name wrong) – died in Sobibor; daughters Rachel (25), Anna (21), and Saartje (16) died in Auschwitz. Daughters Geertje and Sara also died, age and place unknown. Son Jacob (30 in 1945) survived.
Isidor Nyveen (age unknown and not in the Dutch Web site) – died, place unknown as did son Jacob (age unknown).
The one sibling who survived, Charles Nijveen, lost his son Max (29) in Auschwitz. Daughter Rachel (32) died of illness in Amsterdam in 1942. Daughter Judith survived the war, and was a blast to hang out with in 1979.
On the whole, I was impressed with the work my JOUR 428 students did on their final projects last semester. I adopted a loose definition of "journalism" so not all of these are strictly news, but I enjoyed their work.
Now, you can too. Here are the links in no particular order:
Bonus fighting of the man:
This happened again. I triumphed again. I am not impressed with the record-keeping involved in the process.
I look like this: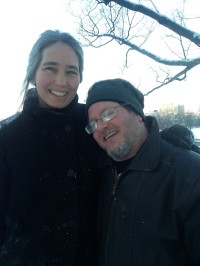 For Halloween, I temporarily dyed my facial hair to look like Tony Stark. I looked like this: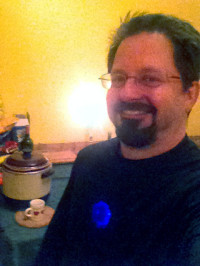 Many people urged me to keep dyeing, so I bought Just for Men Mustache and Beard, in light brown.
I followed the instructions and left it on for five minutes. I looked like this: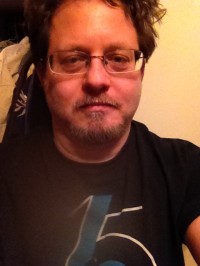 I wasn't happy with the coverage, so I dyed it again, this time leaving it on for ten minutes. I'm a daredevil. I looked like this: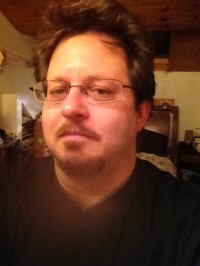 Not bad, eh? I am my mother's son. Also, I need a haircut.
I found this display in a local Michael's.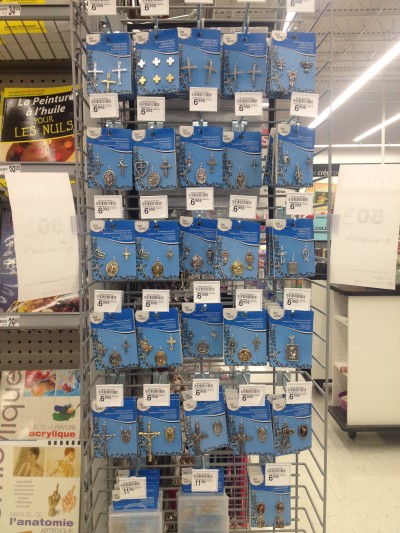 Hopefully, when the "Charte des valeurs québécoises" become law (ha!), the store will post a guide to tell us which of these symbols is too ostentatious for government work so we can know which will keep us (university professors count!) out of jail.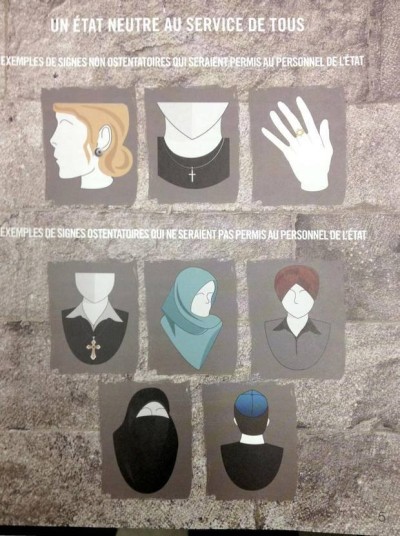 Bonus iOS 7 bug:
Apparently, if you alter a playlist in iTunes, the changes will not propagate to your synced iPhone/iPad in iOS 7. You have to create a new playlist in iTunes, copy everything from the old into the new, then make your changes.
I had to rename my Top Tunes playlist to Favourites because Siri kept insisting I was asking to shuffle my non-existent Pop Tunes playlist.
As summer began I had never seen a live moose. It was somewhat embarrassing for a Canadian, so seeing a living moose was on my bucket list.
The easiest way to find a moose to look at is to find a zoo that harbours one, you'd think – but there are few zoos within driving range of Montreal and the two I know of (the Biodome and Granby Zoo) don't have moose. Parc Safari has deer but otherwise focuses on African mammals.
To Google I went, where I discovered Parc Omega, located roughly across the Ottawa River from Hawkesbury. It's a drive-through circuit, like Parc Safari and although it's been around for two decades, I'd never heard of it before. It focuses on local and European fauna: a bunch of deer species; black bears; boars; wolves and foxes; etc. The park also offers overnight accommodations which are hardly necessary but which we decided to try out.
What a fantastic destination this place is. The deer and elk come right up to your car for food. Conveniently, the park's main building sells bags of carrots for $2.50. The park warns you to keep your car windows half closed, but we preferred having the deer stick their heads in our van. The boars are also friendly, although too short to reach the windows. The ibex are a bit shyer.
The herd of bison ignores the cars but you're not supposed to feed them anyway. I'm sure there's a link there. Musk oxen, bears, and the wolves and foxes are penned in. You can look, but you can't touch, or feed.
You can get very close to black bears and timber wolves on the park's boardwalk. I'm sure they have gauged the animals' leaping ability with some precision. Again, you are not supposed to feed them, but wild blackberry bushes grow around the base of the boardwalk supports. The bears had eaten all theirs, but we could reach some ripe berries on the wolf side. The bears would sit up and are extraordinarily good at snatching berries out of midair.
And in one pocket of the park, nearly smack dab in the middle, I saw these:
Bucket filled.
Five of us spent the night in what the park calls a prospector tent, which is really more like half a log cabin with a tent perched on top. It had real beds and a Keurig. Unfortunately, the shower is only cold and you are not allowed a fire. The tent suffered from a lack of ventilation and a clammy feel, but that's made up for by the fallow deer in the forest around you and free access to the back side of the wolf/bear boardwalk. You'd have to pay again to get your car back in the park, though. That's a policy the management should rethink.
Here are four dozen or so of my pics. As it turns out, everything we thought was a whitetail deer is actually an elk.
(Click to enlarge any photo.)
I don't have cool X-rays like last time – yet – but I did break another finger. I have two small fractures, one in the finger tip and one at the proximal end of the intermediate phalanx (middle finger bone).
There's no pain anymore. Most of the pain was emotional. I walked into Emergency at 9:55 p.m. and walked out just short of nine hours later. It had been a busy night, mostly with gastro patients who tended to vomit in the waiting room. I and my finger were low priority.
The mild pain I posted about from the waiting room had by midnight grown into real pain. The triage nurse could not give me any ibuprofen without a doctor's permission and I was waiting to see the doctor, so I had to grin and bear it.
Once I saw the doctor, he was kind enough to get me some ibuprofen. I got the X-ray, the news, and a small splint.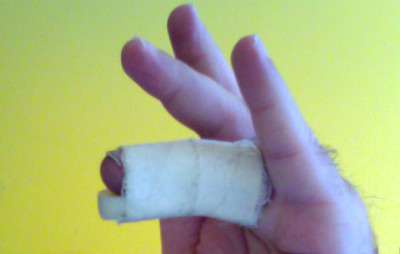 What was worst about my experience was leaving the hospital to find that someone had rubbed Nibbler the wrong way.
Bonus animal:
Somehow, my allergic self has agreed to let this thing live with us permanently.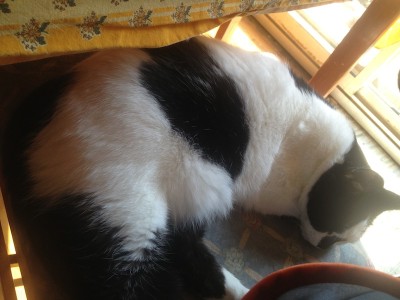 Does anybody have an in on inexpensive loratadine?