Archive for the 'Uncategorized' Category
Yup, I took another softball in a fingertip.
This time, the nail didn't split and blood didn't spill.
It happened in the first inning of a doubleheader and had I left the game, we would have had to forfeit both games. So I moved to first base and did what I could.
Batting, I had even less power than I normally do and my finger would occasionally hurt like hell. It's bearable otherwise, like a mild headache.
Nevertheless, I feel I should get it checked out so I'm sitting in Emergency, waiting for an X-ray at least.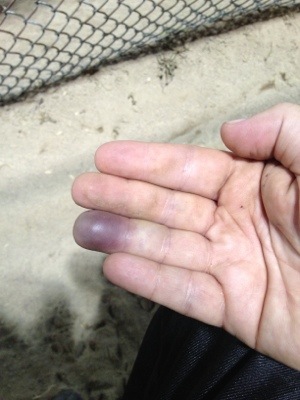 Saturday was Child Three's bar mitzvah. He performed well, after what was frankly a poor rehearsal the week before. Let's hear it for misguided life lessons!
Our last out-of-town guests leave today and while it is a nice change to spend time with them, my freelance schedule is piling up. I have a deadline of the end of the week to subtitle a 50-minute documentary on spontaneous human combustion (cough, bullshit, cough), copy-edit a 36-page e-zine on NoSQL, copy-edit two shorter tech articles, apply to teach courses next year, and iFigure out why a client's iCal won't sync with his iPad or iPhone. Is it just me or has Apple gone downhill since Steve Jobs died? The new iTunes is crap, interface-wise.
So I'm blogging. And not about my pretend baseball team, which is riding Roy Halladay, Jason Motte, Matt Kemp, and Jay Bruce to ninth place.
Enough about me. Let me now discuss my speech, the one I gave at the bar mitzvah. Some people asked to see it, so here it is. It's not a direct transcription, since I ad lib and some of this is from memory.
I'd like to start by pointing out that Child Three's bar mitzvah is not the only special occasion today. As Elvi implied earlier, it is Star Wars day. May the Fourth be with you. And purely by coincidence, it's Free Comic Book Day. If you go to a comic-book store today and ask, they'll give you a free comic book. We didn't know that until this week.

I learned on Facebook just a few days ago that today is also International Naked Gardening Day, and the weather's beautiful, so go for it.

Here we are again, for what's probably the last time in terms of my offspring.

I'd like to thank everybody for being here, especially those who travelled from all over North America. It is the NHL playoffs, so I'd like to thank them by team. We have people from the home territories of the San Jose Sharks, my sister from the land of the Vancouver Canucks, my brother from the Washington Capitals, and my brother, mother and Grandpa Marty from the AHL's Houston Aeros, at least for a few more weeks.

There's a huge contingent of family from the home of the Toronto Maple Leafs. Congrats on scoring a playoff goal this decade. Start planning your parade.

I don't want to make this a downer, but there is something I have to acknowledge. I'm almost certain that everybody here who was at our girls' earlier bat-mitzvah celebrations has, at one point or another this week, thought about someone who was around for those earlier occasions but isn't with us now.

You know who I mean. He had white hair, was basically friendly but had his grumpy moments, and if we can be honest, he went through a lot of pain near the end of his life.

He even bit me when I was trying to help him. I still have a scar on the palm of my hand.

I speak, of course, of our late dog, Crash.

All the same could be said for my dad, except about the scar. He wasn't strong enough to bite hard enough to leave a scar.

I wanted to honour my father in some way during this morning's service without bringing down the mood too much, so what I decided to do was to wear this suit, which belonged to him. These are his pants. This is his coat.

(GET CLUMP OF DOG HAIR FROM POCKET)

And this is Crash's coat.

Thank you all for coming.

Child Three, you drive me crazy sometimes, but we got there and passed with flying colours, mostly shades of purple. And if you think what you've done up to this point was hard, just wait until you have to sit down and write 200 thank-you notes.
When you lose your supper multiple times overnight, you can go back and delete the entries that are now all over the bathroom.
I've lost four pounds since yesterday afternoon and that is not an exaggeration.
Go look up "norovirus". I've worn a trough in the carpet between my bed and the bathroom.
It's been more than two months since I wrote here and, judging by all the fan mail and comments, none of you care.
I haven't written because nothing exciting has happened. I've shared a few small things to Facebook, but I like to keep anything original on the blog. There's been nothing original.
That's not entirely true. There's just been nothing I had much to say about. The big story since I last wrote a blog post is the demise of Crash. It got to the point where he was moaning nearly every waking moment and we decided it was time to put him down.
Here's audio of his moaning. Children Two and Three are not clapping with glee at his suffering. Their glee is unrelated to the dog completely.
We said goodbye on Nov. 23, which I realized later was the one-year anniversary in the Hebrew calendar of my father's death, 9 Kislev. Not a good day for shaggy white males, I suppose.
I've been extraordinarily exhausted since then, also unrelated to the dog completely. I've been sleeping ten to 14 hours a day. That's not hanging out in bed, but actually asleep. I think I've figured it out. I hadn't been using my CPAP machine, which meant I wasn't getting any deep and restful sleep. I've started using the machine again and I'm getting back to normal.
Why wasn't I using it? I like to snuggle Elvi in bed and that's hard to do with 15 PSI of wind blowing on her. The CPAP machine also gave me a nightmare once, which led to a series of weird dreams during which I yelled in my sleep. My exclamations?
Help! Help!
Come here!
Booyah!
Child Two heard me "booyah" and asked if I was OK. Apparently, I replied, "Can't a dad booyah in his sleep without being questioned?"
So I'm back on the CPAP and I think I'm recovering. That I'm writing this is evidence.
Bonus stickers:
What can I say?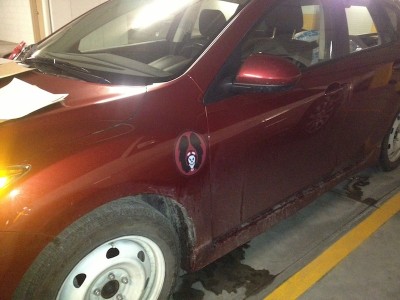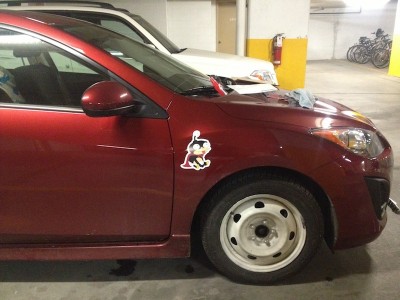 It's been a while.
With the beginning of school, peewee hockey, and lots of other stuff to keep me busy and/or exhausted, I haven't had time to blog. I might as well do it now while iOS 6 is downloading in iTunes.
As promised, here is a small album of animal photos I took while in Maine nearly a month ago.
Here's a much better look at the white-marked tussock moth.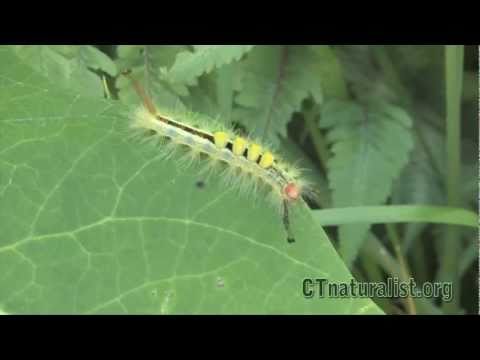 What belated event will I write about next? Stay tuned!
Bonus iOS 6 aggravation:
When you move apps more than one screen, the iOS dims the screen and refuses to comply. Just move apps one screen at a time.
I'm in bed and not feeling so hot. By bed, I mean between two sleeping bags on top of an air mattress.
Crash and I woke up first this morning, around 9:30. I let him out of the tent so he could pee on our campsite rather than in our tent. I followed him out but didn't leash him since he nearly always sticks close by and he can no longer run. He instead chose to wander to the next campsite.
He walked over there and he tried to crawl under a picnic table stocked with food. I ordered him to stop, which usually works but didn't. I bent to gently guide him backward and and he snapped, literally.
His canine punctured the palm of my hand. It bled for 15 minutes and I put Ozonol on it. It was no big deal.
After breakfast, we went to buy some cheap fishing gear and two fishing licences. Child Three and I spent the afternoon fishing from the pier in Searsport where we acquired three mackerel from the waters of Penobscot Bay. We traded them to another angler for three cleaned squid. No cleaning? Definitely worth the trade. The squid had mantles about eight to ten centimeters long and – I just had a taste – are delicious. It's much better than frozen. I guess $30 mackerel/squid is the fishing tourists equivalent of the private pilot's $100 hamburger.
I noticed during the afternoon that my hand was hurting up by the knuckles and that worried me a bit. While the family set up for supper, I headed off to Waldo County Hospital. Elvi's insurance covers travel medical care.
After a bit of difficulty registering my foreign address, I saw a nurse.
"What happened?" she asked.
"My asshole dog bit me."
"I can't put that on the form."
"Sure you can. I'll spell it for you."
I explained why he'd bit me and over the course of my visit I must have told five people that the dog had all his shots so we unfortunately didn't have to cleave open his head (standard procedure for a rabies test).
"Can you describe your injury, please?" the nurse continued.
I lifted up my palm. "Stigmata!" I was feeling punchy, I guess. She laughed.
The exam showed I had a fever and an infection. They debrided the wound (ouch), washed it with iodine, and gave me amoxicillin. I also got a DTP shot because I couldn't recall the date of my last tetanus shot. Five minutes later, I remembered that I'd gotten one when the softball obliterated my finger last October.
By the time I got back to the campsite, I was feeling chilly, headachy, and nauseated. It may have been psychosomatic but I felt like crap. I've been in bed since (it's 9:00 p.m. now). I have a large bandage on my hand and I'm under doctor's orders not to lift anything or otherwise exercise my right arm.
Bonus excuse:
I put no links or photos in this post for now because I have better things to do than wrestle with the WordPress app on my phone.
No, that isn't a baseball-related title.
Elvi and I have been travelling a lot lately. We drove to Boston on Thursday, Aug. 2 so she could see Amanda Palmer in concert while I played on Child 2's laptop and fended off blondes on the terrace outside.
As you know by last post, we stopped Saturday night in New Hampshire.
I've had a lot of work this summer and I used the subsequent week to catch up before heading to Cornwall for our friends' annual pieces-of-pig-and-lamb roast last Saturday. I DJed the party after dinner, per usual. Up until that night, I'd been bitten by mosquitos only once or twice all year, which is a rarity for me. Those bastards love my blood.
By Sunday morning, I had 44 more bites. I counted them. They were mostly on my feet and ankles with a few up my shins to behind my knees. You in Texas, in California, in Florida – you might think you know mosquito bites. They swell up a bit, itch for a day or so, then go away. The mosquitos in the northeast aren't so kind. They bite and it itches like crazy for days. I can still feel these four days later.
These were incredibly itchy. Normally I use Gold Bond ointment to relieve the itching of bites, but it did nothing this time. Nothing did until I read that Orajel and its benzocaine could numb the skin. That worked for about two hours at a pop. Once I ran out, I switched to Ozonol and its lidocaine. That worked for three hours per slather.
I have not slept well. I haven't slept through the night since Saturday, and that was helped by a nice dose of coconut rum.
I'm hoping to get decent rest tonight because tomorrow we are driving to the Maine coast to camp in some woods. I'll be sure to bring the Deep Woods Off.
Bonus maternal exclamation after reading the previous blog post:
"Since when are you an atheist?!"
I'm a week late on this, but things have been happening (see previous post) and Elvi and I spent three days in Boston so that she could attend an Amanda Palmer concert. Subsequently, we toured Beacon Hill, Harvard Square, and met my old WarBirds crony Tone to take the Rangefinder Challenge.
Currently, I'm on a porch on Lake Winnipesaukee while a Christian faith retreat goes on around me. I suspect I am the only atheist Jew here.
A week late on what? On a fantasy baseball update. Don't you read headlines?
One week ago, I had fallen to eighth place, which sounds worse than it is. The spread between third and tenth is less than ten points, and the standings are dynamic day to day. I was able to grab young phenom Starling Marte with my pic. I don't care what batting average he puts up so long as he keeps playing and adding to the counting stats.
I'm in a good position to move up if my team merely does what it should. We'll see.
.286 batting average (in first by 0.11)
160 HR (3rd and nine out of 2nd)
622 runs (3rd, two out of 2nd)
605 RBI (3rd by nine)
86 SB (8th by two, five out of 7th)
3.78 ERA (6th, 0.10 out of 4th)
1.27 WHIP (8th, 0.16 out of 6th)
679 K (10th, 28 out of 9th)
46 wins (tied in 7th, four out of 6th)
12 saves (8th)
I'm in fifth, only four points out of the money with two months to go.
Bonus whine:
Why, when I'm retreating and hiding around Wi-Fi-enabled corners, do people keep seeking me out to chat?
Another month, another gun rampage, another anecdotal bullet in the clip of those who argue for banning guns and for those who advocate a thoroughly armed populace.
As tragic as massacres may be, they are rare and do not account for many casualties. Data from the Centers for Disease Control (National Vital Statistics Reports Vol. 60, No. 4; see p. 44) indicate that in the US in 2010 there were 118,043 accidental deaths, 37,793 suicides, and 16,065 homicides. US population in 2010 was 308,750,000, give or take.
The CDC breaks down the numbers further. Slightly more than half the suicides (19,308) and about two-thirds of the homicides (11,015) were caused by firearm.
Statistics Canada supplies similar data for Canada, although the latest available data comes from 2009. Accidents killed 10,250 people, homicide killed 574, and there were 3,890 suicides. Canadian population in 2009 is estimated at 33,894,000. The number of firearm homicides in 2009 was 180 or 30.5%. As the table shows, that number has varied between 30% and 34% in recent years.
It goes without saying that the total number of homicides is dwarfed by other causes of death. Even if you factor in the shock of an unexpected death, accidents are far more prevalent. The gun issue simply doesn't merit the energy it consumes.
Here's a table, with rate being number per 100,000 population.
| | | | | |
| --- | --- | --- | --- | --- |
| Cause | US total | US rate | Canada total | Canada rate |
| Homicide | 16,065 | 5.2 | 574 | 1.7 |
| Gun homicide | 11,015 | 3.6 | 180 | 0.53 |
| Suicide | 37,793 | 12.2 | 3,890 | 11.5 |
| Gun suicide | 19,308 | 6.3 | 622* | 1.8* |
* Although Statistics Canada has not released data with firearm suicides as a separate category since the early 2000s, 16% of all suicides was the rate then and is used here. This rate was higher in the '90s, around 22%.
A huge difference between the countries lies in homicide rates. Americans (5.2/100k) kill each other three times as frequently as Canadians (1.7/100k) and they are six times more likely to do so by shooting a gun. But let's remove all gun homicides. Americans kill each other without guns (1.6/100k) more frequently than do Canadians (1.2/100k) but the difference isn't nearly as drastic.
It's a much different situation across the globe. I took data from the Guardian and added more relevant content. Take a look at my spreadsheet (it's not a comprehensive list of countries as I removed any with incomplete data).
The spreadsheet is sorted by total homicide rate. Note that 17 of the top 20 countries are in Latin America or the Caribbean. Why would that be? These countries do not have particularly high numbers of guns per capita. Gun-lousy countries like Serbia, Finland, and Canada all have much lower rates of homicide. Gun prevalence is roughly equal to or higher than the top 20 in eight of the countries with the 20 lowest rates of homicide.
Conspicuously grouped at the bottom are France, Norway, Germany, Austria, Greece, Denmark, and Spain. A few other European countries are not too far away. Switzerland with the third most guns per capita ranks 21 from the bottom.
You can probably guess where I'm headed. I don't think gun ownership has anything to do with homicides. Certain cultures are inherently more violent than others. Whether they have guns or not is beside the point. The non-gun homicide rates track extremely well with total homicide rates.
It's a cultural difference. Some cultures are simply more violent. Sometimes the difference is huge. Other times it's subtle – but I truly believe that Americans as a whole are more violent than Canadians. We do not share the same culture. We do not share the same approaches to the balance of community versus individual. The gun control question is practically moot, a secondary consideration.
American and Canadian national suicide rates are the essentially identical, and have been throughout the last decade – although Americans will use a gun more often. That's not surprising. Roughly 3 million Canadians in 26% of households live with at least one gun, Justice Canada tells us. According to a recent Gallup poll, the corresponding figure is 47% in the US.
If Canadians owned guns at the rate Americans do, gun suicides would probably increase, but would the extra suicides pad the total or simply replace more cumbersome methods of offing oneself? Fortunately, researchers have studied this.
Miller et al ("Household firearm ownership and suicide rates in the United States") found in 2002 that "a robust association exists between levels of household firearm ownership and suicide rates." Many suspect that the immediacy of the act of shooting a gun versus more cumbersome and less successful methods leads to both more attempts and more successful attempts. A position paper from the Canadian Paediatric Society has more citations that lead to the same conclusion. In short, fewer guns means fewer suicides. (There's a corollary: fewer guns in Canada means we would otherwise be killing ourselves more often. Blame Canada!)
Suicide is the forgotten variable in discussions of gun control. Far fewer folks shoot someone else than shoot themselves. I've maintained for years that the question of gun control is a question of suicide, not of interpersonal violence or home defense.
The rate of gun deaths among various nations follows the total homicide rate fairly well, which indicates not that guns are the problem, but that cultures of violence among countries are the problem. The only stat that defies the curves is gun suicide. Having guns around really does make it a whole lot easier to kill yourself. Those who consider suicide a health problem should find free gun ownership a problem.
(Actually, I lie. Accidental gun deaths also increase with gun ownership, but the number is so tiny, it's not significant enough an event to base policy on.)
From the Canadian Paediatric Society paper:
The presence of a firearm in the home has been shown to increase rates of homicide and suicide compared with homes without a firearm. In studies of adolescent suicide conducted by Brent et al, the presence of a firearm in the home was found to be a strongly positive risk factor for completed adolescent suicide. Apparently, the adolescent without a firearm in the home is more likely either to use a less lethal method or to not attempt suicide. Birckmayer and Hemenway analyzed the relationship between suicide rates and household firearm ownership for four age groups. They found that firearm ownership was correlated with increased suicide rates for 15- to 24-year-olds and 65- to 84-year-olds, but not for 25- to 64-year-olds. This suggests that the availability of a firearm in the home is a suicide risk factor for some, but not all, age groups. It is likely that certain developmental characteristics of adolescents, such as impulsivity, sensitivity to peer pressure, and experimentation with alcohol and substances, are responsible for this effect.