Archive for the 'Uncategorized' Category
Our 13-year-old dog, Crash, while neurotic, has always been quiet except when greeting visitors.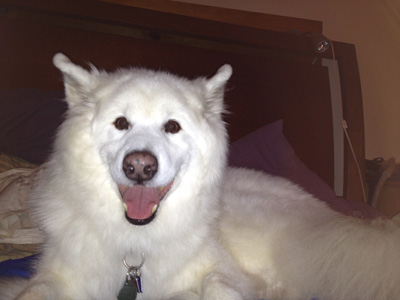 About two weeks ago, that changed. He's been moan/howl/bark/crying about one quarter of the time. That's one sound. He sits or stands around and emits it.
Audio clip: Adobe Flash Player (version 9 or above) is required to play this audio clip. Download the latest version here. You also need to have JavaScript enabled in your browser.
It sounds like some sort of longing, but the only time he stops is when he's lying in bed with me. There's no pattern, though. If he's downstairs with me, he whines. If he's in bed without me, he whines.
It makes it really hard to get any work done.
Now, he's not crying. That sounds different. He doesn't appear to be in physical pain: he doesn't limp or worry at a spot on his body. We let him out when he's by the back door. He always has food and water. He gets his fair share of attention. We just can't figure it out.
I called the vet, and they told me I could bring him in but it doesn't sound like they could do anything. They advised waiting a few more days.
I tried waiting a few more days, but I couldn't get anything done yesterday. I had to take action. A Google search revealed that it's safe for dogs to take hydromorphone, a.k.a. Dilaudid, which I have a surplus of because they don't work on my migraines. Safe dosage is 0.1-0.2 mg per kg of body mass, and that link leads to a PDF that recommends using hydromorphone for "fractious dogs". Bingo!
Crash weighs about 20 kg and my Dilaudid comes in 1 mg (migraine prescription) and 2 mg (finger painkiller) strengths. Perfect! I wrapped a 1-mg pill in some smelly pill pockets and he downed it.
You know, it worked. I had a quiet Friday afternoon while Crash crashed on the couch. He didn't pass out or anything, he was just his normal quiet self.
The issue remains, though. Why is he making that noise? The Dilaudid would have taken care of physical or mental issues, so I'm not sure which it soothed.
My finger – the digit. Digit-al journalism? News about my finger? Oh, forget it….
I unraveled the huge bandage, figuring that all wounds would have healed in the ten days since my finger broke. I was right. There's still a big clot of dried blood over the split, but I washed off what I could before snapping a few photos. The yellow coloration is the remains of a bruise.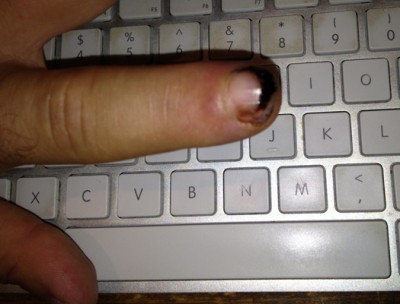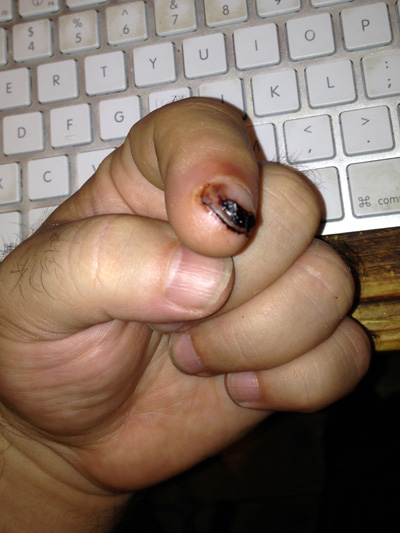 Please pardon my dirty keyboard. I'm sorry the first photo is out of focus. I didn't realize that until I had rewrapped my finger with fresh gauze and splinted it. I'm not going to undo that for a photo.
The bottom of my finger is still swollen. The skin is tight an unyielding and the finger is about half again as deep as it should be. There's not much lateral swelling, though. And, as it turns out, the softball didn't rip my fingernail all the way across. The right side is intact.
The pain has mostly subsided. Every once in a while, I'll get a sharp pain inside, and the fingernail always feels like it was cut too short. The finger tingles, as if it were in low-grade sleep.
I gotta say, it felt amazing to wash my hand this afternoon.
Yes, my finger is broken. The softball shattered the bone in my fingertip; the technical name for it is a distal phalanx tuft fracture. You can see the main splinter and some pulverized bone in the x-ray.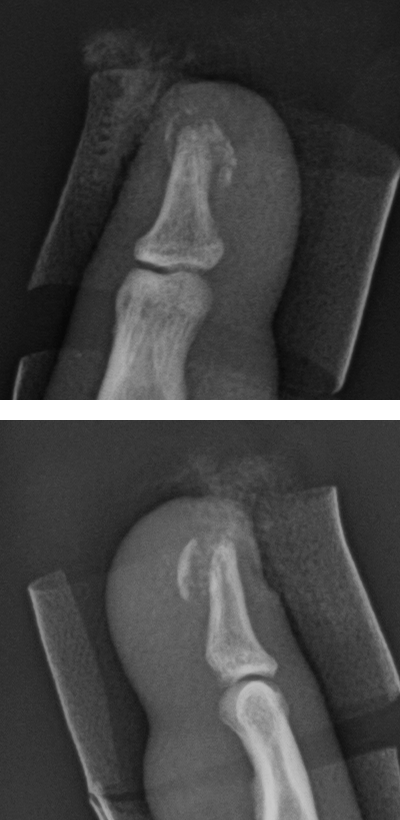 The nail was not bent but completely split and is indeed responsible for all the blood.
I have a bandage the size of a sake cup on my finger. When that comes off, I have a splint to put on. (The splint won't fit over the bandage.) I received a tetanus shot and I'm taking cephalexin to ward off other infections. I have Dilaudid for the pain, but it's not working yet. It doesn't work on my migraines either.
I must have jinxed myself, eh?
So there I was, pitching softball in the top of the first.
The batter swung and hit a line drive right at me. I moved my glove to catch the ball and protect my belly. Normal human reflexes would have caught the ball, but my superhuman reflexes brought my glove past the ball. The ball hit the back of my glove, or would have had I not had my index finger sticking out the back of my glove, as is my custom.
Oh crap, I just bled on the Q key.
The ball hit my fingertip flush. It crushed my fingernail and bent it about a third of the way down. The edge is digging into the nail bed and it's bleeding. Worse, I think my finger broke. Under all the blood, the last segment of my finger is purple and swollen. It may even be crooked.
Here, you tell me: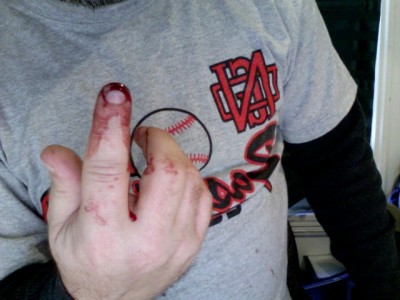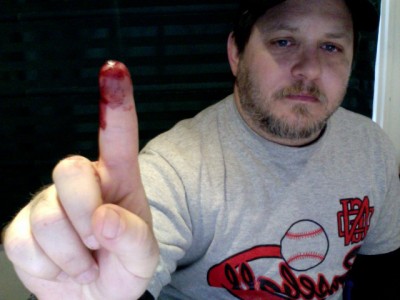 I included a normal halfling finger for comparison here: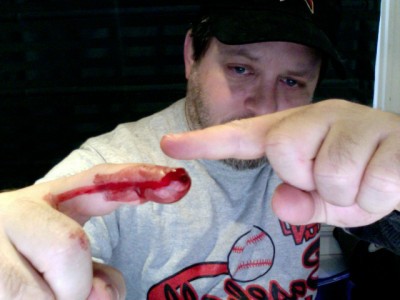 So, who thinks it's broken? I'm off to spend the rest of my weekend in the emergency room with a low-priority emergency. I'll let you know when I get home.
Long time no write.
I've been busy. I should be carving pumpkins instead of writing. I should be grading assignments instead of carving pumpkins. It's been that kind of month.
My CPAP therapy is working. It's no miracle, but I have more energy these days, and I'm using it up. I'm napping less, but my sleep doctor says the naps aren't a problem; they're "nothing pathological", in his words.
I need the energy, because I'm expending it. I am teaching two classes this semester. It's Jour 202, which I've taught before, but the class has evolved from an introduction to the Internet and desktop publishing into an introduction to digital tools. It means more work for me, as I have to prepare quite a few classes from scratch, but I'm eager to do it.
Freelance work has also picked up. I've been training folks who throw around terms like Agile and .NET, turning them into newbie journalists for InfoQ. My computer and Web consulting has also picked up. I'm not doing as much writing as I'd like, but I will tackle that when the semester ends in early December.
In other news, I am once again the figurehead atop a team of hard-working kids (the Cougars). Child Three cracked the A-level of Peewee in his first year, and he's doing well. All the boys on the team are. We have a good group this year and I will be disappointed if we finish lower than third in the league.
Children One and Two, meanwhile, have a new hobby that may involve the maiming of other parents' daughters. Here's a preview: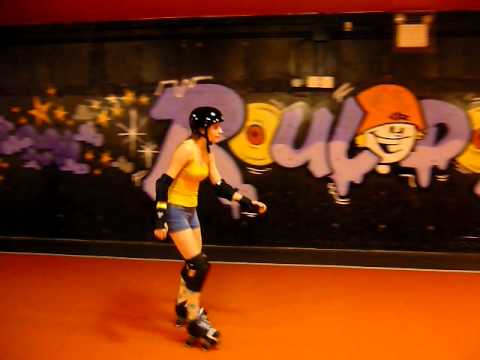 That's Child One in yellow and Child Two in black.
My own physical activity has picked up. I'm playing hockey as a spare roughly once every two weeks. I'm playing softball once a week as long as the weather holds up. I'm even back to running hockey practices.
The big news is that today I finally ordered a cell phone. Siri, who was the only 45-year-old in Canada to own a home but not a cell phone? Yes, I'll be getting an iPhone 4S. It'll be white, at least when it shows up. I'm thinking of not giving out my number. If I do give it out, people will call me and I can't have that.
Bonus bullshit:
The Journalism Department invited a speaker to speak to all the first-year students on search-engine optimization. One of her pearls of wisdom was to write numbers in ciphers (e.g. 7) instead of in words (e.g. seven). Guess what? Google doesn't give a crap which way you express it. The cipher and word are synonymous in a search. I wonder what other 15-year-old advice she had for the students….
Elvi has pneumonia and has spent pretty much two and a half weeks in bed.
I'm doing a lot of seeing doctors, a lot of preparation to teach, a bit of teaching, a lot of chauffeuring children, and a bit of taking care of Elvi.
The CPAP machine is tolerable, but I don't see too much benefit from it yet. I still need a nap, although that nap is earlier than it used to be. For some odd reason, I only sleep four hours with the mask, wake up for an hour or so, then go to sleep again. Also, the mask has made me break out in pimples on the bridge of my nose.
In spring, Elvi noticed a poster for an upcoming sleep study. I love bending the path of future medical science in my direction, so I signed up. In return for an evening in a sleep lab, I would get an assessment of my sleeping and $50. What's not to love?
I went in the night of August 11. I had electrodes on my chest, head, and legs, along with a blood-oxygen sensor on a fingertip and a microphone on my forehead. Bands around my abdomen and chest recorded expansion and contraction. They don't let you sleep naked, so I wore boxers that, I later discovered, were somewhat crotchless. I went to sleep around 11:30 p.m. and at 2:00 a.m., the tech woke me to hook me up to a CPAP machine with a nasal mask. They woke me and kicked me out at 6:00 a.m. The group offered me another $50 for a follow-up experiment in which I'd hook up a home-based kit with the bands, microphone, and oxygen sensor – I did that, too.
So, here I was, $100 richer off the fat of the scientific land. I had a hunch something was up with my results since the nice lady running the study said I should soon hear from a sleep doctor. Today, I saw him.
The doctor showed me my results and the squiggly lines were dramatic. I have pretty bad sleep apnea, so bad that I never entered Stage 3 deep sleep. With the CPAP mask on, my sleep was normal and deep. He measured my 18.25″ neck and looked in my throat, which, he discovered, is unusually narrow. (Sorry, boys, I'm taken.)
He suggested a host of possibilities, from a fitted mouthpiece through CPAP through surgery. He says I'll live another 40 years and thinks surgery to remove my tonsils and widen my throat is worth a try over 40 x 365 = 14,600 nights hooked up to an air tube. For now, though, I'm going to try CPAP – starting next week, when I have an appointment for a fitting.
The doctor said it's possible that my sleeping problems have been causing my depression rather than the other way around. Once I start my sleep therapy, he told me, I may be able to stop taking the citalopram.
My dad is stable. He's steady at a poor quality of life and bedridden, but things aren't any worse.
He's on the waiting list for a long-term-care facility and meanwhile spends his time in a bed at the Royal Vic.
We know what's wrong with my dad. I hinted at it, but to my surprise I never posted it. He has a blockage in the vein that drains the thalamus. At this point, no one has any hope that he'll recover at all.
A month and a half ago, my brother Jeff played with the results of my dad's various imaging tests. He's produced some amazing 3-D models from them (QuickTime required).
Here's my dad's bones, kidneys, heart, and major abdominal blood vessels.
This one shows my dad's skull. I don't think it really has wood grain.
This last image shows the veins that are causing the problem. It's kind of zombie-riffic.
One heck of a storm blew in this afternoon. I have my office temporarily in the dining room to take advantage of the central air conditioning, which we used to have. Our heat pump decided to not turn on last week, just after the company that installed and would service it went on a two-week hiatus for the construction holiday. So did our lawnmower-repair shop of choice.
Whose idea was a midsummer construction holiday and why do lawnmower repair shops and air-conditioning companies shut down for it? Good thing they're open all of February.
So there I was, tapping away in the dining room with the glass doors open to let in some of the cool air – the temperature had dropped ten degrees (Celsius) in a minute. There was a lot of cool air and it was moving at a good clip. I heard a tremendous clunk from outside the front of the house but I didn't hear the house falling (further) apart so I ignored it.
What happened, I just learned, is that a limb fell off a tree belonging to the house across the street. It fell, hit the road surface, and toppled uphill. It fell 15 feet from my car, which was parked on the far side of the street. Had the limb decided to keel over downhill, my car would have been covered in branches and foliage at best, and probably would have stopped one of the thicker branches with something dentable or breakable.
Phew.
I dropped the two younger kids off at the bus to camp. Elvi is at a conference in Quebec City. Child One and I are going to par-tay!
Hey, bicycling asshat,
As you can see in the following Google Maps, de Maisonneuve has four lanes, one for bikes on the left, one for parking on the right and two for cars in the middle.
Last night, around 9:15, I passed you in my Mazda while you cycled in the right-middle car lane. I returned to the right lane and stopped at the red light, as drivers in Montreal sometimes do, at St. Marc. So did the car to my left. You had no room to pass me but instead of waiting behind me or USING THE FUCKING BIKE LANE, you squeezed yourself between our two stopped cars, scraping your handlebars along the side of my car in the process.
I opened the window to hear you sneer, "Je n'avais pas de place pour passer."
I helpfully pointed out, "THERE'S A FUCKING BIKE LANE RIGHT THERE! CARS HERE, BIKES THERE!"
You dismissed me – "Asshole." – and cycled through the red light on down de Maisonneuve. Apparently, you were too mentally retarded to decide to use the bike path then, too, and that forced me to drift into the left lane to pass you yet again. I may or may not have been completely over into the left lane.
Best of all, was five blocks later at the corner of Wood and de Maisonneuve when I again chose to stop at a red light. You caught up to us and this time with lots of room decided to press your face on my window and scrape your handlebars against my car again.
Other than the drunk who accosted us on Crescent street a few years back – and that was just a shove – I haven't been in a physical fight since high school, but you're lucky my kids were in the car. You may have been a little taller than me, but you can bet your doughy ass that I otherwise would have torn your smarmy Brazilianed facial hair off your chin after I tossed your bike into Alexis Nihon Plaza.
Seriously, you lame fuck up jackass – why the hell do you think they have bike lanes?
And people wonder why the rest of us hate cyclists so much.