Archive for the 'Uncategorized' Category
Why did I need a root canal? Child Two (whom you see at right) is quite the baker, and she decided to make homemade snack bars. I guess you could call them granola bars, but they were mostly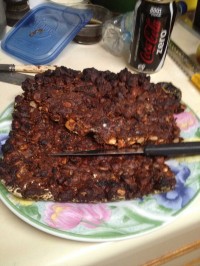 dried fruit and hazelnuts (that's the other photo, left). I had a hunk and the stuff pulled out a filling on my rearmost top right molar. My tooth cracked and part of it went with the filling. The inside of my tooth had been infected, to the surprise of me and my dentist, so I need to have the root canal.
Despite the name, a root canal is the removal of all pulp from within the tooth and the root canals. The dentist uses these diode-like files to pull out all the living tissue.
The procedure was painless, after the needles in my palate. The right side of my face was frozen from eyelid to neck. The freezing is wearing off as I write this, and it's starting to ache a bit. The dentist told me to take Advil for any subsequent pain, and I hope that's sufficient. If not, I have my migraine stash to raid.
I have two weeks to wait before the broken molar gets a permanent fix.
I'm sitting here with a mouthful of aches. About two hours ago, I got up from the dentist's chair after a root canal. There's still some anaesthetic in my mouth and what aches the most are my TMJs (jaw joints). It's hard to keep your mouth open for 90 minutes.
No new footwear lately.
Back on October 3, I took Child Three to an interview at a high school he's interested in attending last year. When we returned to my parked car, we discovered that a navy blue Volkswagen Golf had snuggled under my car's rear bumper.
I didn't have a camera and as I was puzzling out what to do, a woman who lives in the house in front of which I parked came home. I showed her the situation ad asked of she could take a photo for me. She did.I recorded the license plate of the offending Golf and left a note on its windshield. I returned Child Three to his current school and ran errands.


When I got home, I had a phone message from the driver of the Golf. She was apologetic and couldn't understand how it happened. I called her back and told her I would send her the photos as well as photos of the damage, which, as you can see, was minor: some abrasions on and under the bumper lip. But the car was barely six months old!
I still hadn't received the photos of the cars so I went back to the house and spoke to the woman's husband. They couldn't figure out how to download or send the photos on the cell phone. A few days later, I got this, which seems to be a photo of the cell phone screen. It arrived as a 314 dpi image of 2.3 MB: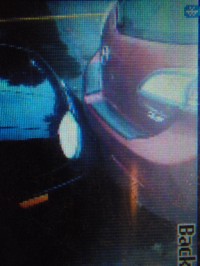 I sent the photos. I wasn't expecting to have to go through the insurance companies.
The last communication the driver sent me was an e-mail that in its entirety read: "Please be advised that I am totally unaware of how your car was damaged and deny any responsibility for said damage."
Well. I think she took some bad advice from friends or family.
The next call I made was to my insurance company. I had the offending parker's license plate number, e-mail address, and phone number. I also had the witness who took the photos for me. The agent told me to go ahead and get the car fixed, so I did, at the cost of a $500 deductible I was sure to get back when this was settled.
The agent handling my case got in touch with me again on November 11. The offender refused to provide my insurers with the name or contact info of her own. My insurance agent said that I should go to the police to file a report for a hit and run. The police would get in touch with the other driver/parker and ask her for her insurance info.
The police were not cooperative, but the officer who dealt with me was extremely helpful. She told me that my insurance company was taking the easy way out instead of hiring their own researcher. They wanted the police to do the work for them. Further, the officer called the Golf driver and explained the situation, strongly advising her to cooperate with my insurance company. The officer spoke with her for a good ten minutes. The call ended and she told me that the offender had promised to call my insurers.
I was hopeful, but it never happened. By the end of the month, my insurance company went to find the parker's info.
I heard nothing for two months. I sent an e-mail to my agent on January 11 and heard back that while the company was in touch with the parker's insurance company, said parker stilled denied the incident. Given the photos and the witness, that didn't seem to me to be a prudent course of action.
Last week, I got word: my insurance company had prevailed and I would be reimbursed in full. In one way, it's a shame, as I was all set to launch Operation Public Humiliation, but now that the issue is settled, I can leave the parker anonymous.
The fourth from last line in my last post was "In the meantime, my dad has stabilized and appears to be out of the woods for now."
Not so much, it turns out. He died Monday, December 5 at 6:05 a.m.
Marion, my dad's wife, transferred him to the hospital. He was placed in isolation in the emergency ward, but the folks there didn't mind allowing as many visitors as wanted to go in.
I showed up to relieve Marion around 9 p.m. Sunday night. My dad had double pneumonia and kidney failure. The doctor wasn't sure my dad would make it through the night.
I offered to stay overnight. Everyone else left to get some much needed sleep. I stretched out on three plastic chairs and drifted off for about a half hour. My dad's heart rate was about 125 bpm, his breathing rate about 25 per minute, and his blood pressure was too low to be recorded. Metabolically, his blood potassium was high – his kidneys weren't clearing it.
Now, I wrote "my dad" and I'll continue to do so, but since I'd left him Thursday afternoon, he was only a body that gasped rattly breaths while being fed 100% oxygen.
The night shift doctor came to visit around 2:30 a.m. He was careful in introducing the subject of morphine, which my dad might not handle well, he explained. I told him that if it had been up to me, I would have stopped my dad's feeding 13 months ago. The doctor quickly pointed out that he wasn't advocating euthanasia; he was only hoping to make my dad more comfortable. I was pretty sure my dad wasn't feeling anything, but the morphine couldn't hurt, so I approved it. Shortly thereafter, Marion responded by phone and approved it, too. It was legally her decision. So sue me.
At 3:20, my dad's heart rate took a tumble. It fluctuated between 28 and 70 bpm. Whenever it dropped below 33 bpm, the monitor alarm would beep loudly. The nurses came in to turn it off – apparently it has no volume control – and told me to use the call button if I needed anything.
I no longer had the monitor to calculate for me, but I could tell my dad's breathing rate was slowing.
The nurses administered a second dose of morphine and a dose of something else that was meant to relax his breathing. I was in the middle of a wicked game of iBubble Shooter when I realized I was no longer hearing breathing. My dad's face had turned… – what's that colour? Pallor? I checked the clock and it said 6:06, so I pulled my estimate of his time of death back a minute to compensate for my inattention.
I pressed the call button twice but no one came. I stepped into the hallway and spotted the kind doctor at the main desk he looked up at me and I did that signal for "cut", swing my hand in front of my neck. he understood and came to confirm that my father had died. He said he was glad my dad had gone on his watch and in comfort.
We had the funeral on Wednesday. The day went perfectly, even with my brothers cracking into laughter at the cemetery, first at my sister's attempts to shovel dirt and then at my dad's friend Allen's near tumble into the grave.
I have a few things I want to blog about, but this had priority. I hope I remember what they are. Regardless, I have a pile of grading and freelance to get through now.
I made a quick Facebook status update that I was spending too much time in hospitals and here's my explanation.
Child Two has been suffering repeated bouts of cold-like illness over the last three weeks so Monday I took her to the clinic. The resident thought he heard some slight crackle in her lungs, so we crossed the street for an X-ray, then returned to the clinic to await the results.
There was some sort of technical-communications glitch that left us waiting for a while. Finally, the doctor who was waiting for the results told us to go home and he'd call if there were any signs of pneumonia.
I had been planning to get a follow-up on my broken finger. I've discarded the splint and there's no pain, but it remains swollen and stiff and it tingles a bit. I was a bit paranoid I had compartment syndrome because the original doctor had told me my finger would heal in four weeks. Monday was four weeks and one day.
I had wanted to visit my GP but the hospital had not forwarded the records regarding my broken to his office, so that meant revisiting Emergency to get either a follow-up or the records which I could then relay to my GP with whom I could book an appointment in January. I Was at the hospital already with Child Two so I popped in to check on my options. The triage nurse told me that there wouldn't be a long wait so I decided to stay.
Two hours later, I had to leave to do carpool for Child Three.
The staff told me to come back and they'd see me right away. Child Two was testy that she'd had to wait with me and now would have to tag along for carpool. Ingrate.
I returned to Emergency after carpool and, sure enough, a resident saw me right away. He suspected an infection, but there was no sign of one other than the swelling. The physician in charge explained to both of us that my finger was swollen because my body was resorbing the many fragments of pulverized bone. Once that was gone, the swelling and stiffness would decrease. So that's where my finger is.
My next visit to a hospital was Thursday. OK, it's not really a hospital but the long-term-care center that is hosting my father. Thursday is his physiotherapy day and I went to encourage him. Upon arriving, I learned that he had thrown up in the morning so the staff decided to keep him in bed.
He looked sick. He had facial twitches and a wet cough. He was on supplemental oxygen. He would open his eyes every once in a while but there was no indication he was looking at anything. He certainly didn't acknowledge me. I stayed 90 minutes then left to do carpool again.
Elvi and I returned that night. My dad was feverish and diagnosed with a lung infection and a urinary tract infection. He seemed worse. Around 11:00 p.m., Child Two called us because she was in great pain around her eye. We left my dad and headed home.
What Child Two described sounded to me to be a migraine. I gave her one of my Maxalt – that would cure a migraine but not another sort of head pain. It helped her a bit and she was able to get to sleep. The next morning, yesterday, she had more pain. This time a Maxalt did not help. Neither was the acetaminophen or ibuprofen. I pulled out the heavy artillery and gave her one of my 1-mg Dilaudids, that got rid of her pain and knocked her out for the afternoon. Victory – or so I thought.
Elvi reached my toward the end of a hockey practice last night. She was taking Child Two to the emergency room at Montreal Children's Hospital. I dropped Child Three off at his friend's for a sleep-over then went to join them.
I was almost there when Elvi called to tell me that she had forgotten Child Two's health insurance card, so I drove home, changed clothes, and picked up the card. I got to the hospital at 8:30 p.m. At 2:30 a.m., we got the diagnosis: Child Two probably has a sinus infection. We picked up anti-biotics at an all-night pharmacy and came home.
In the meantime, my dad has stabilized and appears to be out of the woods for now.
So, yeah – too much time in hospitals.
Bonus peace and quiet:
At least the dog has stopped his barking/moaning sessions.
Ah, yes, November 1987. New Coke. Iran Contra. The Yeastie Boys.
The Yeastie Boys was what we called our intramural College Bowl team at Rice University: David Nathan, me, Brian Tagtmeier, George Webb, and our captain, Mike Yanochik. We five Weissmen sliced through our competition on the way to the intramural finals. At stake was the honour of representing Rice in the regional championship.
The late Dr. Bill Wilson was a long-time resident associate at Wiess, and his family is still going through his archives. One of the treasures that recently turned up was video of the Rice championship game in November 1987. Here it is.
Spectators and celebrants include Kyle Giacco, Tania Min, Bill Davis, and Joan Rea, Wiess College master at the time. Dr. Bill is behind the camera.
You'll note that I was riding the pine for this match.
Doug Elliott, the star of our opponents, would join the Yeastie Boys as we scorched all opposition in the spring and earned a date at the national championships in Chicago in May or June 1988. The details are fuzzy. We were eliminated quickly and spent the rest of the weekend on alcohol, pizza, and Astros baseball in Wrigley.
The video brought some things to mind. Did I really have a mullet? Why was I wearing glasses instead of my contact lenses? Gordon Sumner, anyone? C'mon! (I bet I knew that one even then.) Speaking of then – holy crap, we were once smart and fast and thin and sported much more hair.
Today, it's out-and-out barking.
Audio clip: Adobe Flash Player (version 9 or above) is required to play this audio clip. Download the latest version here. You also need to have JavaScript enabled in your browser.
One of the Others left the dog outside yesterday morning while I slept. Crash wouldn't shut up, apparently. Our octogenarian neighbour called but I didn't hear the phone. Sometime after that, she crept into our backyard and put the dog in our house.
Can you blame her?
I just gave Crash another 1 mg of Dilaudid. Let's see if I can salvage the afternoon.
Our 13-year-old dog, Crash, while neurotic, has always been quiet except when greeting visitors.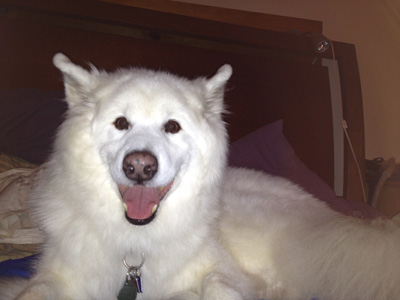 About two weeks ago, that changed. He's been moan/howl/bark/crying about one quarter of the time. That's one sound. He sits or stands around and emits it.
Audio clip: Adobe Flash Player (version 9 or above) is required to play this audio clip. Download the latest version here. You also need to have JavaScript enabled in your browser.
It sounds like some sort of longing, but the only time he stops is when he's lying in bed with me. There's no pattern, though. If he's downstairs with me, he whines. If he's in bed without me, he whines.
It makes it really hard to get any work done.
Now, he's not crying. That sounds different. He doesn't appear to be in physical pain: he doesn't limp or worry at a spot on his body. We let him out when he's by the back door. He always has food and water. He gets his fair share of attention. We just can't figure it out.
I called the vet, and they told me I could bring him in but it doesn't sound like they could do anything. They advised waiting a few more days.
I tried waiting a few more days, but I couldn't get anything done yesterday. I had to take action. A Google search revealed that it's safe for dogs to take hydromorphone, a.k.a. Dilaudid, which I have a surplus of because they don't work on my migraines. Safe dosage is 0.1-0.2 mg per kg of body mass, and that link leads to a PDF that recommends using hydromorphone for "fractious dogs". Bingo!
Crash weighs about 20 kg and my Dilaudid comes in 1 mg (migraine prescription) and 2 mg (finger painkiller) strengths. Perfect! I wrapped a 1-mg pill in some smelly pill pockets and he downed it.
You know, it worked. I had a quiet Friday afternoon while Crash crashed on the couch. He didn't pass out or anything, he was just his normal quiet self.
The issue remains, though. Why is he making that noise? The Dilaudid would have taken care of physical or mental issues, so I'm not sure which it soothed.
My finger – the digit. Digit-al journalism? News about my finger? Oh, forget it….
I unraveled the huge bandage, figuring that all wounds would have healed in the ten days since my finger broke. I was right. There's still a big clot of dried blood over the split, but I washed off what I could before snapping a few photos. The yellow coloration is the remains of a bruise.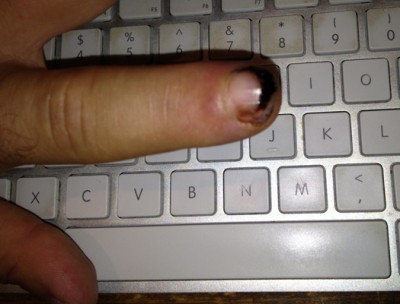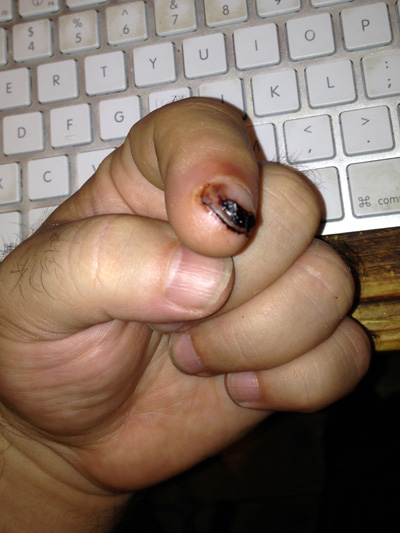 Please pardon my dirty keyboard. I'm sorry the first photo is out of focus. I didn't realize that until I had rewrapped my finger with fresh gauze and splinted it. I'm not going to undo that for a photo.
The bottom of my finger is still swollen. The skin is tight an unyielding and the finger is about half again as deep as it should be. There's not much lateral swelling, though. And, as it turns out, the softball didn't rip my fingernail all the way across. The right side is intact.
The pain has mostly subsided. Every once in a while, I'll get a sharp pain inside, and the fingernail always feels like it was cut too short. The finger tingles, as if it were in low-grade sleep.
I gotta say, it felt amazing to wash my hand this afternoon.
Yes, my finger is broken. The softball shattered the bone in my fingertip; the technical name for it is a distal phalanx tuft fracture. You can see the main splinter and some pulverized bone in the x-ray.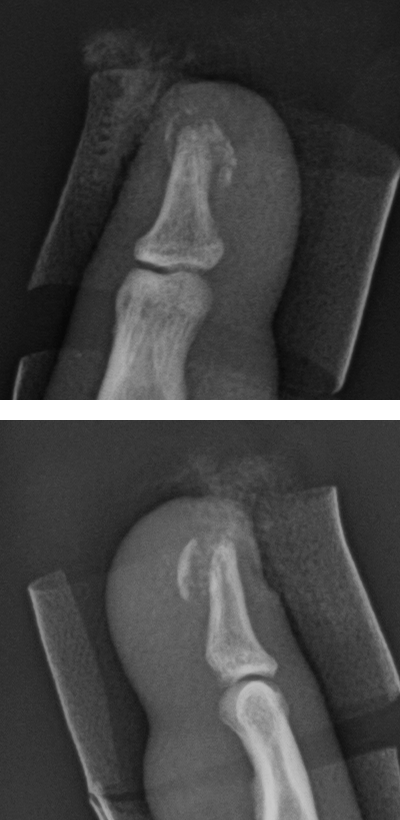 The nail was not bent but completely split and is indeed responsible for all the blood.
I have a bandage the size of a sake cup on my finger. When that comes off, I have a splint to put on. (The splint won't fit over the bandage.) I received a tetanus shot and I'm taking cephalexin to ward off other infections. I have Dilaudid for the pain, but it's not working yet. It doesn't work on my migraines either.
I must have jinxed myself, eh?
So there I was, pitching softball in the top of the first.
The batter swung and hit a line drive right at me. I moved my glove to catch the ball and protect my belly. Normal human reflexes would have caught the ball, but my superhuman reflexes brought my glove past the ball. The ball hit the back of my glove, or would have had I not had my index finger sticking out the back of my glove, as is my custom.
Oh crap, I just bled on the Q key.
The ball hit my fingertip flush. It crushed my fingernail and bent it about a third of the way down. The edge is digging into the nail bed and it's bleeding. Worse, I think my finger broke. Under all the blood, the last segment of my finger is purple and swollen. It may even be crooked.
Here, you tell me: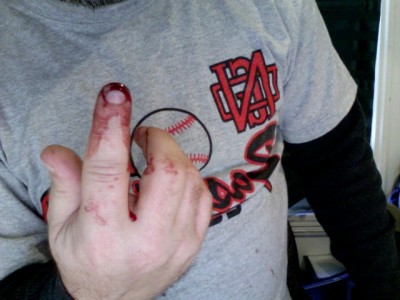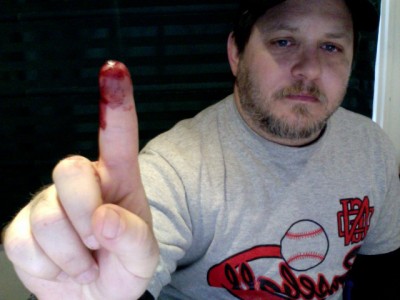 I included a normal halfling finger for comparison here: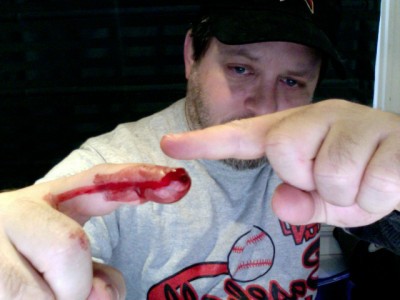 So, who thinks it's broken? I'm off to spend the rest of my weekend in the emergency room with a low-priority emergency. I'll let you know when I get home.