I don't have cool X-rays like last time – yet – but I did break another finger. I have two small fractures, one in the finger tip and one at the proximal end of the intermediate phalanx (middle finger bone).
There's no pain anymore. Most of the pain was emotional. I walked into Emergency at 9:55 p.m. and walked out just short of nine hours later. It had been a busy night, mostly with gastro patients who tended to vomit in the waiting room. I and my finger were low priority.
The mild pain I posted about from the waiting room had by midnight grown into real pain. The triage nurse could not give me any ibuprofen without a doctor's permission and I was waiting to see the doctor, so I had to grin and bear it.
Once I saw the doctor, he was kind enough to get me some ibuprofen. I got the X-ray, the news, and a small splint.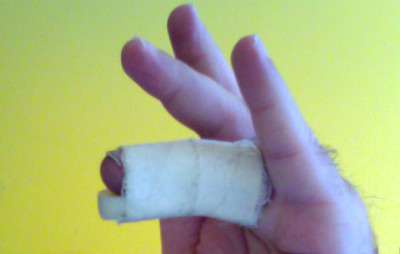 What was worst about my experience was leaving the hospital to find that someone had rubbed Nibbler the wrong way.
Bonus animal:
Somehow, my allergic self has agreed to let this thing live with us permanently.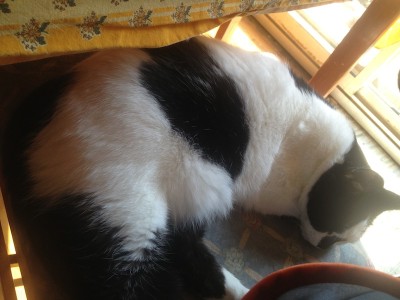 Does anybody have an in on inexpensive loratadine?
Yup, I took another softball in a fingertip.
This time, the nail didn't split and blood didn't spill.
It happened in the first inning of a doubleheader and had I left the game, we would have had to forfeit both games. So I moved to first base and did what I could.
Batting, I had even less power than I normally do and my finger would occasionally hurt like hell. It's bearable otherwise, like a mild headache.
Nevertheless, I feel I should get it checked out so I'm sitting in Emergency, waiting for an X-ray at least.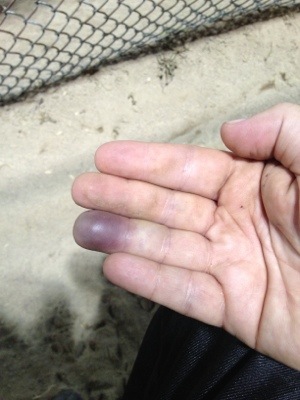 I recently dealt with an quirk of Apple's Mail application for a client. I found a workaround, but I have no idea exactly why it's happening, or how to prevent it from happening. That bugs me.
My client receives an e-mail newsletter from an industry group. What he gets shows up like this: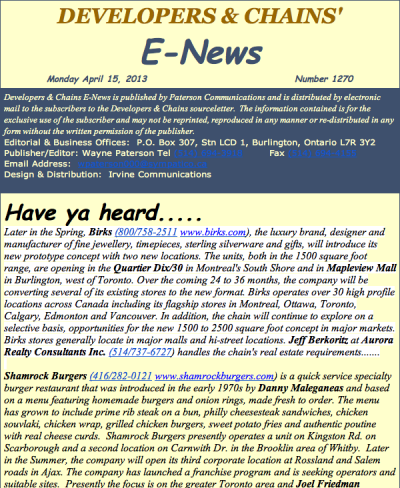 It's a standard formatted e-mail. The raw e-mail comes in two parts. The first is simple text, and the second is HTML. It's ugly, inelegant HTML, with layout driven by nested tables, but it works.
A problem arises when my client forwards this e-mail to others. It shows up like this: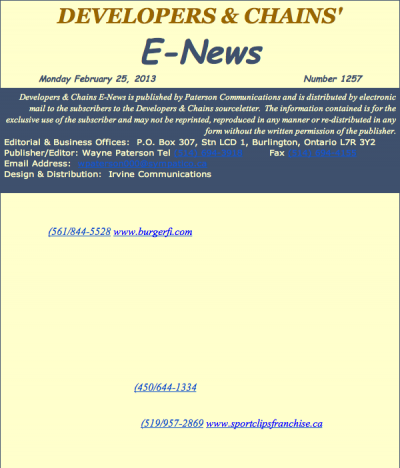 The text is there. It's just the same colour as the background. Notice that the justification of some of the paragraphs has also changed.
When asked to forward this e-mail, Mail does so, but it adds this before the HTML of the newsletter proper:

Mail adds that little text through some, yes, HTML. And that HTML is what (I assume) screws up the styles of the newsletter.
As far as I can tell, there's no way to get around this while using the "Forward" function. My workaround takes advantage of Mail's "Send Again" command. That doesn't add anything to the message and conveniently can be applied to messages that you yourself didn't send the first time.
Bonus funny:
I've been freelancing for a company that adds subtitles to movies, which is more complicated than you think it is because of competing standards. There's also a procedure to verify foreign dialogue.
The other day, I was working on Darren Aronofsky's "Pi" along with two goyim. Each of us covered a third of the movie, which contains a bit of Hebrew and Yiddish, but I was responsible for knitting all three reports together. One of the foreign-dialogue notes one of the other titlers left for me concerned a Hebrew word. His remark cracked me up, and it will amuse anyone who is familiar with Chabad and its tactics:
Teffillin. A type of Jewish phylactery? Appears to be used in the context of a drug.
Saturday was Child Three's bar mitzvah. He performed well, after what was frankly a poor rehearsal the week before. Let's hear it for misguided life lessons!
Our last out-of-town guests leave today and while it is a nice change to spend time with them, my freelance schedule is piling up. I have a deadline of the end of the week to subtitle a 50-minute documentary on spontaneous human combustion (cough, bullshit, cough), copy-edit a 36-page e-zine on NoSQL, copy-edit two shorter tech articles, apply to teach courses next year, and iFigure out why a client's iCal won't sync with his iPad or iPhone. Is it just me or has Apple gone downhill since Steve Jobs died? The new iTunes is crap, interface-wise.
So I'm blogging. And not about my pretend baseball team, which is riding Roy Halladay, Jason Motte, Matt Kemp, and Jay Bruce to ninth place.
Enough about me. Let me now discuss my speech, the one I gave at the bar mitzvah. Some people asked to see it, so here it is. It's not a direct transcription, since I ad lib and some of this is from memory.
I'd like to start by pointing out that Child Three's bar mitzvah is not the only special occasion today. As Elvi implied earlier, it is Star Wars day. May the Fourth be with you. And purely by coincidence, it's Free Comic Book Day. If you go to a comic-book store today and ask, they'll give you a free comic book. We didn't know that until this week.

I learned on Facebook just a few days ago that today is also International Naked Gardening Day, and the weather's beautiful, so go for it.

Here we are again, for what's probably the last time in terms of my offspring.

I'd like to thank everybody for being here, especially those who travelled from all over North America. It is the NHL playoffs, so I'd like to thank them by team. We have people from the home territories of the San Jose Sharks, my sister from the land of the Vancouver Canucks, my brother from the Washington Capitals, and my brother, mother and Grandpa Marty from the AHL's Houston Aeros, at least for a few more weeks.

There's a huge contingent of family from the home of the Toronto Maple Leafs. Congrats on scoring a playoff goal this decade. Start planning your parade.

I don't want to make this a downer, but there is something I have to acknowledge. I'm almost certain that everybody here who was at our girls' earlier bat-mitzvah celebrations has, at one point or another this week, thought about someone who was around for those earlier occasions but isn't with us now.

You know who I mean. He had white hair, was basically friendly but had his grumpy moments, and if we can be honest, he went through a lot of pain near the end of his life.

He even bit me when I was trying to help him. I still have a scar on the palm of my hand.

I speak, of course, of our late dog, Crash.

All the same could be said for my dad, except about the scar. He wasn't strong enough to bite hard enough to leave a scar.

I wanted to honour my father in some way during this morning's service without bringing down the mood too much, so what I decided to do was to wear this suit, which belonged to him. These are his pants. This is his coat.

(GET CLUMP OF DOG HAIR FROM POCKET)

And this is Crash's coat.

Thank you all for coming.

Child Three, you drive me crazy sometimes, but we got there and passed with flying colours, mostly shades of purple. And if you think what you've done up to this point was hard, just wait until you have to sit down and write 200 thank-you notes.
I stocked up on Coke Zero, figs, and rye matzah yesterday and spent the afternoon in a conference room at the TSN Radio 690 for the annual Irrational League draft and bitchfest.
I took an unusual tack with my keepers this year in two respects. I kept no pitchers. Any pitchers I would have kept would have been barely equal in value to my hitter keepers. Since hitters are more reliable than pitchers, it's an easy decision to keep the bats and cut the arms loose, even if it is Mat Latos.
The second thing I did differently was to pay at least a little attention to positional scarcity. My decision on my last two keepers came down to three choices: Starling Marte; Aaron Hill; and Yadier Molina. I kept the infielder and catcher even though Marte has a higher ceiling.
Ultimately, I kept Matt Kemp, Matt Holliday, David Wright, Jay Bruce, Hill, and Molina. I went into the draft hoping to grab the first drafted pitcher with my #3 pick. That's how I ended up with Roy Halladay. It's a calculated risk.
This is a transition years for NL-only leagues, since we lost two teams. Yes, two. The Astros are in the AL now and so are nearly all the decent Marlins. It was deep into the draft before any of us drafted a Marlin besides Giancarlo Stanton and Steve Cishek. The loss of the Astros takes 5400 AB out of the league, or roughly 6% of the available total. I'm not sure enough teams compensated for that in the draft.
I'm happy with my picks, although I have no real first-baseman for a few months. My roster and predictions:
C: Yadier Molina: .285, 15 HR, 70 R, 75 RBI, 5 SB
C: Devin Mesoraco: .245, 10 HR, 30 R, 30 RBI
1B: Logan Morrison: .255, 15 HR, 55 R, 55 RBI
2B: Aaron Hill: .270, 20 HR, 80 R, 65 RBI, 10 SB
SS: Chris Pennington: .255, 5 HR, 40 R, 40 RBI, 10 SB
3B: David Wright: .280, 20 HR, 75 R, 75 RBI, 10 SB
CI: John Mayberry: .250, 15 HR, 50 R, 60 RBI, 5 SB
MI: Darwin Barney: .270, 5 HR, 60 R, 55 RBI, 5 SB
OF: Matt Holliday: .290, 25 HR, 95 R, 95 RBI, 5 SB
OF: Matt Kemp: .285, 30 HR, 90 R, 100 RBI, 15 SB
OF: Jay Bruce: .260, 35 HR, 85 R, 100 RBI, 5 SB
OF: John Jay: .290, 10 HR, 70 R, 60 RBI, 10 SB
OF: David DeJesus: .265, 10 HR, 80 R, 50 RBI, 5 SB
UT: Denard Span: .270, 5 HR, 75 R, 45 RBI, 15 SB
UT: Collin Cowgill: .255, 10 HR, 45 R, 45 RBI, 10 SB
I have Jerry Hairston filling a roster spot while Logan Morrison mends. Yes, that's the Astros effect. Other than that and John Mayberry, everyone else at least starts with a full-time job.
Last year, I predicted totals of .270, 225 HR, 910 R, 900 RBI, and 140 SB. I wound up with .280, 228 HR, 908 R, 865 RBI, and 130 SB. I earned 37 points instead of the predicted 46, which I thought was optimistic – but Matt Kemp missed a third of the year with injuries.
This year, I'm looking forward to .270, 230 HR, 985 R, 950 RBI, and 110 SB. My projections tell me that's good for clear first-place finishes in runs and RBI, strong second-place finishes in average and home runs, and a middle of the pack finish in stolen bases. I'm going to be conservative and estimate 42 points.
Despite going into the draft with no pitchers, I came out with a fairly strong pitching staff. I have solid starters and nobody too terrible to ruin the year, which is a big problem on some other teams. I snagged some familiar names. Latos, Estrada, and Fiers finished the year with me last year.
SP: Mat Latos: 13 W, 165 K, 3.80 ERA; 1.25 WHIP
SP: Roy Halladay: 13 W, 145 K, 3.45 ERA, 1.16 WHIP
SP: Marco Estrada: 12 W, 150 K, 3.65 ERA; 1.20 WHIP
SP: Mike Fiers: 12 W, 145 K, 4.00 ERA, 1.30 WHIP
P: Edwin Jackson: 13 W, 160 K, 3.95 ERA, 1.30 WHIP
P: Juan Nicasio: 10 W, 120 K, 4.25 ERA, 1.30 WHIP
RP: Chris Capuano: 6 W, 70 K, 3.60 ERA, 1.20 WHIP
RP: J.J. Putz: 30 Sv, 4 W, 65 K, 3.00 ERA, 1.15 WHIP
RP: Jason Motte: 25 Sv, 4 W, 65 K, 2.80 ERA, 1.15 WHIP
RP: Mark Melancon: 5 Sv, 3 W, 55 K, 2.90 ERA, 1.15 WHIP
Waiting for injuries to heal are Francisco Liriano and my man-crush, Corey Luebke. I also have Taylor Skaggs (another Angel refugee from last year) for those who believe in pitching prospects. I only believe in them when the option is Jason Marquis.
Liriano when healthy will replace Nicasio, I suspect, unless there's an injury.
My projections give me good but not great WHIP and ERA in the second to fourth-place range. Let's call that two third-place finishes for 16 points. I should expect 90 wins, 60 saves, and 1,140 Ks. Normally that's middle of the pack in saves and upper third in wins and strikeouts. This year, the cumulative stats will be harder to come by, so I may finish slightly better than that. Call it fifth, second, and third respectively. Pitching points total to 39.
Hmmm, 39 and 42 points sum to a league championship, as long as I only suffer the standard injury losses. We'll see.
Bonus cleaning tip:
Ever burn sugar or milk in a pot so badly that you think of throwing the pot away? I was reducing some balsamic vinegar when it turned on me and carbonized, welding itself to the inside of a saucepan. ONline hints told me to try Tide or bleach. Neither worked and neither did generic CLR. I had an idea, though, and that worked: use spray-on oven cleaner! Let the pot soak in for a few hours and the mess wipes up easily.
When you lose your supper multiple times overnight, you can go back and delete the entries that are now all over the bathroom.
I've lost four pounds since yesterday afternoon and that is not an exaggeration.
Go look up "norovirus". I've worn a trough in the carpet between my bed and the bathroom.
Thanks to "Blackadder the Third" for the influence of title alliteration. Thanks to me for the crappy execution.
Yesterday, I did something to a Mac I've never done before and it left me with a sick feeling in my stomach. Behold: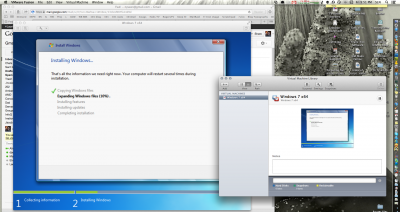 I have some work that requires me to use proprietary software that's Windows-only, so I had to. I chose VMware over other options because I have a friend who works there, so I figure high-quality tech support will be easy to access.
I had a bad experience with tech support recently. Our old router was dropping connections and somebody on our wireless LAN has been occasionally uploading way more data than normal. I installed DD-WRT on the old router, a Cisco/Linksys WRT54G v.6. Version 6 of that router is crippled with minimal RAM compared to earlier models so the installation left no room for the tools I'd need to install to monitor bandwidth by user. Plus, it kept dropping connections.
By the way, yes, Wi-Fi routers can wear out despite a lack of any moving parts. Probably.
So I bought a new Netgear router and put DD-WRT on that. I tried and failed to install a Linux bandwidth monitor program on it and I felt the best thing to do would be to start anew, with factory settings. I tried to reset the router according to the manual, but it just wouldn't reset. It did, however, stop working.
I called Netgear tech support and spent an hour with a clueless person. He was trained to follow the script he was given, which was to test the router and repair its Internet connection. He wouldn't comprehend that I was asking him to help me reset the router. He also wasn't comfortable with using Macs, so he made me dig out Elvi's Windows laptop and use the unintuitive networking tools on that. My post-call assessment was not kind – although at some point in the process, the router came back to life, although with DD-WRT and not the native Netgear firmware. I said thanks and goodbye.
Oh, yeah. I've also moved up to Mac OS 10.8 Mountain Lion. I forget why.
Anyway, in the upgrade I discovered that my favourite text-editing program, Tex-Edit Plus no longer worked. I've been using it for close to 20 years, and I lamented its loss – until I visited the site to learn that an updated version will work on Mountain Lion. Huzzah! It's shareware, and recommends you pay $15. I paid $50 a long time ago. It's that good.
I started this post with the intention of noting some apps. I suppose it's time to get around to that.
I continue to have a torrid love affair with Waze. I'm obsessed with mapping for it. I pretty much singlehandedly filled in everything between St-Jean-sur-Richelieu and Drummondville. On to Trois-Rivières! It's not healthy.
I'm also using Lose It, which is an app that lets you record what you eat and exercise you perform. I got on a scale in late December and saw 178 on the readout. That's too much. I set a goal of getting down to 155 lbs by May, roughly a pound a week. Lose It set my daily caloric budget at 1,752. Right now, I'm bouncing between 172 and 174 so it seems to be working.
What I like about Lose It is its bar-code scanner. Scan what you eat and it tells you what it costs in calories. What I don't like about Lose It is that it is aimed at people who eat prepackaged foods. It's sometimes difficult to find home-made foodstuffs in its list and of course food made from scratch doesn't have a bar code. Nevertheless, I'm sticking with it, and to my budget.
Another I want to praise is actually kind of boring. Battleship Destroyer HMS turns you into a gunner on a Royal Navy frigate in World War II. It's simple and it gets dull after a while, particularly if you stick to the free version. The amazing thing about the game, and this is not unique, is that you can play in gyroscope mode. Instead of using screen swipes or buttons to move, you move the smart phone to view the world around you. Want to swivel your gun turret? Turn around. Want to aim high? Lift the phone toward the sky. It's surprisingly immersive.
The final app I want to mention is Spaceteam (iOS only). Developer Henry Smith knocked this off to train himself to code iOS apps and has an unexpected hit in his hands. You can only play it face to face, and multiplayer is mandatory. Every player has a control panel and is sent a list of commands. If they cannot use their own control panel to fulfil the command, they must ask/shout at the other players to do so. That's the whole game. It gets hard, especially when you lose the labels on the controls.
We have a game night scheduled with friends tonight. I wonder if I can use Richard III to whip up some enthusiasm for Kingmaker.
It's been more than two months since I wrote here and, judging by all the fan mail and comments, none of you care.
I haven't written because nothing exciting has happened. I've shared a few small things to Facebook, but I like to keep anything original on the blog. There's been nothing original.
That's not entirely true. There's just been nothing I had much to say about. The big story since I last wrote a blog post is the demise of Crash. It got to the point where he was moaning nearly every waking moment and we decided it was time to put him down.
Here's audio of his moaning. Children Two and Three are not clapping with glee at his suffering. Their glee is unrelated to the dog completely.
We said goodbye on Nov. 23, which I realized later was the one-year anniversary in the Hebrew calendar of my father's death, 9 Kislev. Not a good day for shaggy white males, I suppose.
I've been extraordinarily exhausted since then, also unrelated to the dog completely. I've been sleeping ten to 14 hours a day. That's not hanging out in bed, but actually asleep. I think I've figured it out. I hadn't been using my CPAP machine, which meant I wasn't getting any deep and restful sleep. I've started using the machine again and I'm getting back to normal.
Why wasn't I using it? I like to snuggle Elvi in bed and that's hard to do with 15 PSI of wind blowing on her. The CPAP machine also gave me a nightmare once, which led to a series of weird dreams during which I yelled in my sleep. My exclamations?
Help! Help!
Come here!
Booyah!
Child Two heard me "booyah" and asked if I was OK. Apparently, I replied, "Can't a dad booyah in his sleep without being questioned?"
So I'm back on the CPAP and I think I'm recovering. That I'm writing this is evidence.
Bonus stickers:
What can I say?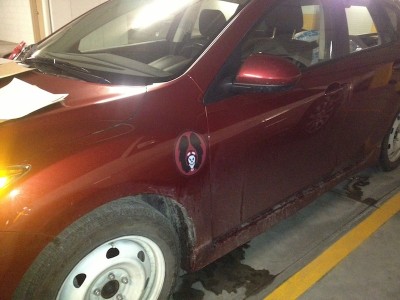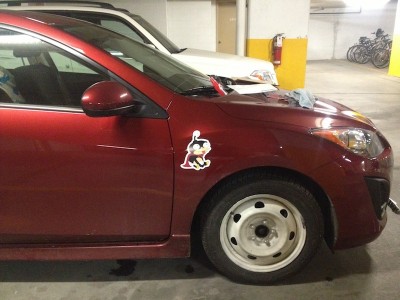 Lost in the news blitz of Tuesday's American elections was the establishment of the copyright provisions of Bill C-11 as active law.
For several years, the combination of phrases "copyright law" and "Conservative government" in an article have provoked anxiety and confusion, and that stems from a series of bills the Conservative Party introduced to Parliament in 2005-2007. The foundation of the government's approach was the American DMCA, which Canadians generally found abhorrent.
After public consultation and further thought, the Harper government introduced Bill C-11 and passed it this past summer. It is a direct descendant of its ancestor bills, including the almost reasonable Bill C-61.
Canadian copyright guru Michael Geist explains the evolution and bullet-points the features of the Bill C-11.
There are major changes from previous bills. One of the most notable is the establishment of parody and satire as legal uses of copyrighted material. This was the case in the US, but not previously in Canada.
You may now use any material that is public and online for educational purposes. This is an expansion of previous fair-use provisions and, boy, is it broad.
One contentious remnant of the old bills has been effectively neutered if not eliminated. It remains illegal to break a digital lock in order to make copies of media (although you are allowed to possess the tools to do so). Although restrictive, this provision is tempered by the cap on statutory damages for breaking a digital lock for non-commercial reasons. The most a guilty individual can be forced to pay is $5,000. That's not even going to cover a company's legal fee for a case, so unless a company is driven by revenge or example-making rather than profit, the cap is essentially permission to copy for non-commercial purposes.
All in all, Bill C-11 is an enlightened approach. It's not perfect, but what is?