I stocked up on Coke Zero, figs, and rye matzah yesterday and spent the afternoon in a conference room at the TSN Radio 690 for the annual Irrational League draft and bitchfest.
I took an unusual tack with my keepers this year in two respects. I kept no pitchers. Any pitchers I would have kept would have been barely equal in value to my hitter keepers. Since hitters are more reliable than pitchers, it's an easy decision to keep the bats and cut the arms loose, even if it is Mat Latos.
The second thing I did differently was to pay at least a little attention to positional scarcity. My decision on my last two keepers came down to three choices: Starling Marte; Aaron Hill; and Yadier Molina. I kept the infielder and catcher even though Marte has a higher ceiling.
Ultimately, I kept Matt Kemp, Matt Holliday, David Wright, Jay Bruce, Hill, and Molina. I went into the draft hoping to grab the first drafted pitcher with my #3 pick. That's how I ended up with Roy Halladay. It's a calculated risk.
This is a transition years for NL-only leagues, since we lost two teams. Yes, two. The Astros are in the AL now and so are nearly all the decent Marlins. It was deep into the draft before any of us drafted a Marlin besides Giancarlo Stanton and Steve Cishek. The loss of the Astros takes 5400 AB out of the league, or roughly 6% of the available total. I'm not sure enough teams compensated for that in the draft.
I'm happy with my picks, although I have no real first-baseman for a few months. My roster and predictions:
C: Yadier Molina: .285, 15 HR, 70 R, 75 RBI, 5 SB
C: Devin Mesoraco: .245, 10 HR, 30 R, 30 RBI
1B: Logan Morrison: .255, 15 HR, 55 R, 55 RBI
2B: Aaron Hill: .270, 20 HR, 80 R, 65 RBI, 10 SB
SS: Chris Pennington: .255, 5 HR, 40 R, 40 RBI, 10 SB
3B: David Wright: .280, 20 HR, 75 R, 75 RBI, 10 SB
CI: John Mayberry: .250, 15 HR, 50 R, 60 RBI, 5 SB
MI: Darwin Barney: .270, 5 HR, 60 R, 55 RBI, 5 SB
OF: Matt Holliday: .290, 25 HR, 95 R, 95 RBI, 5 SB
OF: Matt Kemp: .285, 30 HR, 90 R, 100 RBI, 15 SB
OF: Jay Bruce: .260, 35 HR, 85 R, 100 RBI, 5 SB
OF: John Jay: .290, 10 HR, 70 R, 60 RBI, 10 SB
OF: David DeJesus: .265, 10 HR, 80 R, 50 RBI, 5 SB
UT: Denard Span: .270, 5 HR, 75 R, 45 RBI, 15 SB
UT: Collin Cowgill: .255, 10 HR, 45 R, 45 RBI, 10 SB
I have Jerry Hairston filling a roster spot while Logan Morrison mends. Yes, that's the Astros effect. Other than that and John Mayberry, everyone else at least starts with a full-time job.
Last year, I predicted totals of .270, 225 HR, 910 R, 900 RBI, and 140 SB. I wound up with .280, 228 HR, 908 R, 865 RBI, and 130 SB. I earned 37 points instead of the predicted 46, which I thought was optimistic – but Matt Kemp missed a third of the year with injuries.
This year, I'm looking forward to .270, 230 HR, 985 R, 950 RBI, and 110 SB. My projections tell me that's good for clear first-place finishes in runs and RBI, strong second-place finishes in average and home runs, and a middle of the pack finish in stolen bases. I'm going to be conservative and estimate 42 points.
Despite going into the draft with no pitchers, I came out with a fairly strong pitching staff. I have solid starters and nobody too terrible to ruin the year, which is a big problem on some other teams. I snagged some familiar names. Latos, Estrada, and Fiers finished the year with me last year.
SP: Mat Latos: 13 W, 165 K, 3.80 ERA; 1.25 WHIP
SP: Roy Halladay: 13 W, 145 K, 3.45 ERA, 1.16 WHIP
SP: Marco Estrada: 12 W, 150 K, 3.65 ERA; 1.20 WHIP
SP: Mike Fiers: 12 W, 145 K, 4.00 ERA, 1.30 WHIP
P: Edwin Jackson: 13 W, 160 K, 3.95 ERA, 1.30 WHIP
P: Juan Nicasio: 10 W, 120 K, 4.25 ERA, 1.30 WHIP
RP: Chris Capuano: 6 W, 70 K, 3.60 ERA, 1.20 WHIP
RP: J.J. Putz: 30 Sv, 4 W, 65 K, 3.00 ERA, 1.15 WHIP
RP: Jason Motte: 25 Sv, 4 W, 65 K, 2.80 ERA, 1.15 WHIP
RP: Mark Melancon: 5 Sv, 3 W, 55 K, 2.90 ERA, 1.15 WHIP
Waiting for injuries to heal are Francisco Liriano and my man-crush, Corey Luebke. I also have Taylor Skaggs (another Angel refugee from last year) for those who believe in pitching prospects. I only believe in them when the option is Jason Marquis.
Liriano when healthy will replace Nicasio, I suspect, unless there's an injury.
My projections give me good but not great WHIP and ERA in the second to fourth-place range. Let's call that two third-place finishes for 16 points. I should expect 90 wins, 60 saves, and 1,140 Ks. Normally that's middle of the pack in saves and upper third in wins and strikeouts. This year, the cumulative stats will be harder to come by, so I may finish slightly better than that. Call it fifth, second, and third respectively. Pitching points total to 39.
Hmmm, 39 and 42 points sum to a league championship, as long as I only suffer the standard injury losses. We'll see.
Bonus cleaning tip:
Ever burn sugar or milk in a pot so badly that you think of throwing the pot away? I was reducing some balsamic vinegar when it turned on me and carbonized, welding itself to the inside of a saucepan. ONline hints told me to try Tide or bleach. Neither worked and neither did generic CLR. I had an idea, though, and that worked: use spray-on oven cleaner! Let the pot soak in for a few hours and the mess wipes up easily.
When you lose your supper multiple times overnight, you can go back and delete the entries that are now all over the bathroom.
I've lost four pounds since yesterday afternoon and that is not an exaggeration.
Go look up "norovirus". I've worn a trough in the carpet between my bed and the bathroom.
Thanks to "Blackadder the Third" for the influence of title alliteration. Thanks to me for the crappy execution.
Yesterday, I did something to a Mac I've never done before and it left me with a sick feeling in my stomach. Behold: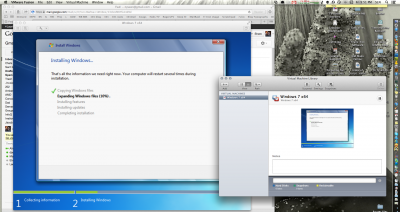 I have some work that requires me to use proprietary software that's Windows-only, so I had to. I chose VMware over other options because I have a friend who works there, so I figure high-quality tech support will be easy to access.
I had a bad experience with tech support recently. Our old router was dropping connections and somebody on our wireless LAN has been occasionally uploading way more data than normal. I installed DD-WRT on the old router, a Cisco/Linksys WRT54G v.6. Version 6 of that router is crippled with minimal RAM compared to earlier models so the installation left no room for the tools I'd need to install to monitor bandwidth by user. Plus, it kept dropping connections.
By the way, yes, Wi-Fi routers can wear out despite a lack of any moving parts. Probably.
So I bought a new Netgear router and put DD-WRT on that. I tried and failed to install a Linux bandwidth monitor program on it and I felt the best thing to do would be to start anew, with factory settings. I tried to reset the router according to the manual, but it just wouldn't reset. It did, however, stop working.
I called Netgear tech support and spent an hour with a clueless person. He was trained to follow the script he was given, which was to test the router and repair its Internet connection. He wouldn't comprehend that I was asking him to help me reset the router. He also wasn't comfortable with using Macs, so he made me dig out Elvi's Windows laptop and use the unintuitive networking tools on that. My post-call assessment was not kind – although at some point in the process, the router came back to life, although with DD-WRT and not the native Netgear firmware. I said thanks and goodbye.
Oh, yeah. I've also moved up to Mac OS 10.8 Mountain Lion. I forget why.
Anyway, in the upgrade I discovered that my favourite text-editing program, Tex-Edit Plus no longer worked. I've been using it for close to 20 years, and I lamented its loss – until I visited the site to learn that an updated version will work on Mountain Lion. Huzzah! It's shareware, and recommends you pay $15. I paid $50 a long time ago. It's that good.
I started this post with the intention of noting some apps. I suppose it's time to get around to that.
I continue to have a torrid love affair with Waze. I'm obsessed with mapping for it. I pretty much singlehandedly filled in everything between St-Jean-sur-Richelieu and Drummondville. On to Trois-Rivières! It's not healthy.
I'm also using Lose It, which is an app that lets you record what you eat and exercise you perform. I got on a scale in late December and saw 178 on the readout. That's too much. I set a goal of getting down to 155 lbs by May, roughly a pound a week. Lose It set my daily caloric budget at 1,752. Right now, I'm bouncing between 172 and 174 so it seems to be working.
What I like about Lose It is its bar-code scanner. Scan what you eat and it tells you what it costs in calories. What I don't like about Lose It is that it is aimed at people who eat prepackaged foods. It's sometimes difficult to find home-made foodstuffs in its list and of course food made from scratch doesn't have a bar code. Nevertheless, I'm sticking with it, and to my budget.
Another I want to praise is actually kind of boring. Battleship Destroyer HMS turns you into a gunner on a Royal Navy frigate in World War II. It's simple and it gets dull after a while, particularly if you stick to the free version. The amazing thing about the game, and this is not unique, is that you can play in gyroscope mode. Instead of using screen swipes or buttons to move, you move the smart phone to view the world around you. Want to swivel your gun turret? Turn around. Want to aim high? Lift the phone toward the sky. It's surprisingly immersive.
The final app I want to mention is Spaceteam (iOS only). Developer Henry Smith knocked this off to train himself to code iOS apps and has an unexpected hit in his hands. You can only play it face to face, and multiplayer is mandatory. Every player has a control panel and is sent a list of commands. If they cannot use their own control panel to fulfil the command, they must ask/shout at the other players to do so. That's the whole game. It gets hard, especially when you lose the labels on the controls.
We have a game night scheduled with friends tonight. I wonder if I can use Richard III to whip up some enthusiasm for Kingmaker.
It's been more than two months since I wrote here and, judging by all the fan mail and comments, none of you care.
I haven't written because nothing exciting has happened. I've shared a few small things to Facebook, but I like to keep anything original on the blog. There's been nothing original.
That's not entirely true. There's just been nothing I had much to say about. The big story since I last wrote a blog post is the demise of Crash. It got to the point where he was moaning nearly every waking moment and we decided it was time to put him down.
Here's audio of his moaning. Children Two and Three are not clapping with glee at his suffering. Their glee is unrelated to the dog completely.
We said goodbye on Nov. 23, which I realized later was the one-year anniversary in the Hebrew calendar of my father's death, 9 Kislev. Not a good day for shaggy white males, I suppose.
I've been extraordinarily exhausted since then, also unrelated to the dog completely. I've been sleeping ten to 14 hours a day. That's not hanging out in bed, but actually asleep. I think I've figured it out. I hadn't been using my CPAP machine, which meant I wasn't getting any deep and restful sleep. I've started using the machine again and I'm getting back to normal.
Why wasn't I using it? I like to snuggle Elvi in bed and that's hard to do with 15 PSI of wind blowing on her. The CPAP machine also gave me a nightmare once, which led to a series of weird dreams during which I yelled in my sleep. My exclamations?
Help! Help!
Come here!
Booyah!
Child Two heard me "booyah" and asked if I was OK. Apparently, I replied, "Can't a dad booyah in his sleep without being questioned?"
So I'm back on the CPAP and I think I'm recovering. That I'm writing this is evidence.
Bonus stickers:
What can I say?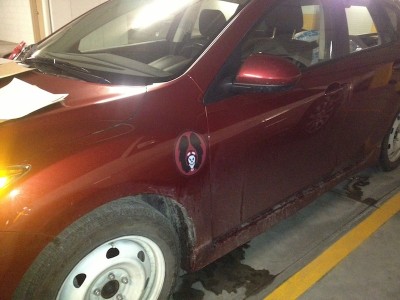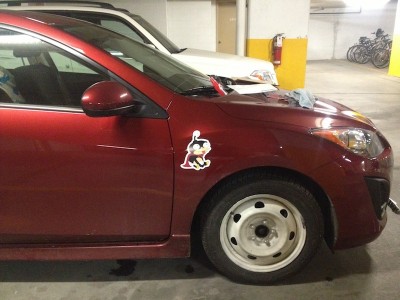 Lost in the news blitz of Tuesday's American elections was the establishment of the copyright provisions of Bill C-11 as active law.
For several years, the combination of phrases "copyright law" and "Conservative government" in an article have provoked anxiety and confusion, and that stems from a series of bills the Conservative Party introduced to Parliament in 2005-2007. The foundation of the government's approach was the American DMCA, which Canadians generally found abhorrent.
After public consultation and further thought, the Harper government introduced Bill C-11 and passed it this past summer. It is a direct descendant of its ancestor bills, including the almost reasonable Bill C-61.
Canadian copyright guru Michael Geist explains the evolution and bullet-points the features of the Bill C-11.
There are major changes from previous bills. One of the most notable is the establishment of parody and satire as legal uses of copyrighted material. This was the case in the US, but not previously in Canada.
You may now use any material that is public and online for educational purposes. This is an expansion of previous fair-use provisions and, boy, is it broad.
One contentious remnant of the old bills has been effectively neutered if not eliminated. It remains illegal to break a digital lock in order to make copies of media (although you are allowed to possess the tools to do so). Although restrictive, this provision is tempered by the cap on statutory damages for breaking a digital lock for non-commercial reasons. The most a guilty individual can be forced to pay is $5,000. That's not even going to cover a company's legal fee for a case, so unless a company is driven by revenge or example-making rather than profit, the cap is essentially permission to copy for non-commercial purposes.
All in all, Bill C-11 is an enlightened approach. It's not perfect, but what is?
When I'm not being paid to write, edit, or research, I do home/small-office IT support for Macs. I love doing it. It's the puzzles that intrigue me. This week, I had a doozy.
A client bought a new Mac Pro to replace her old one. The migration of her old account to the new Mac went pretty well, with only a few wobbly moments – for some reason, her old iPhoto 6 replaced the new version that came on the new Mac.
Once that was done, she had me install a (legal) copy of Microsoft Office 2011 on the new machine to replace the Office 2008 she'd been using on her older Mac Pro.
The first installation (and subsequent updates) seemed to go flawlessly, until it was time to open the Office applications. The splash screen would come on but before any document or blank template would load, the application would crash, with this error (in this example, for Word):
Microsoft Error Reporting log version: 2.0

Error Signature:
Exception: EXC_BAD_ACCESS
Date/Time: 2012-10-26 01:40:50 +0000
Application Name: Microsoft Word
Application Bundle ID: com.microsoft.Word
Application Signature: MSWD
Application Version: 14.2.4.120824
Crashed Module Name: CoreFoundation
Crashed Module Version: 744.12
Crashed Module Offset: 0x0000b849
Blame Module Name: MicrosoftMenuLibrary
Blame Module Version: 14.2.4.120824
Blame Module Offset: 0x000133ec
Application LCID: 1033
Extra app info: Reg=en Loc=0x0409
Crashed thread: 0
And that would be followed by a dump of incomprehensible codes and threads.
I did a bit of research and learned that this was a known problem. The primary recommended step is to delete all Microsoft Office preference files. I did, but it didn't help.
Next, I deleted every trace of Microsoft software – including preferences, receipts, and fonts typefaces – from the new Mac and reinstalled Office. No dice.
I spent nearly two hours on the phone with Microsoft tech support. The nice lady, via a customized LogMeIn client, also wiped everything clean and reinstalled Office, with as little success as I had. We did learn, though, that Office worked fine for a pristine new user on the Mac Pro. There was obviously some conflict with something in the migrated user account. With that information, Microsoft told me to call Apple tech support.
Apple found a few cache files that Microsoft tech support hadn't dealt with, but it didn't help. While on hold while my call was being bumped up a support level, something occurred to me. My client is a graphic designer and has nearly 1,000 fonts typefaces, some of which she's had for decades. I disabled her migrated fonts typefaces, leaving only the system fonts typefaces and the fonts typefaces Microsoft installs for Office.
Ta-dah! The Office applications worked!
There is nothing more tedious than going through fonts typefaces looking for a problem – but it's a puzzle and I love it. Especially when I solve that puzzle.
The problem is that there was a an old version of Georgia font typeface in her ~/Library/Fonts directory. That was in conflict with the native OS X version of Georgia and and version Microsoft may have installed itself.
I deleted several duplicate fonts typefaces, but it was the removal of Georgia that fixed the problem. Well, either that or GillSans.
Take that, megacorporations what can't figure out what I did.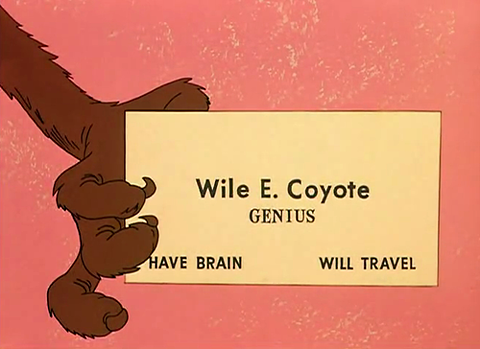 It hasn't been a great two weeks, overall.
Bad:
Old man without driver's licence opens the door of the cab he's riding in. The cab is in the left lane and Nibbler (with me) is in the right, waiting to make a right turn. Nibbler's driver door has a small but perceptible dent and scrape. While waiting for the cops to show up to make a report to force the old man to pay for the damage, I hold my wallet and iPhone in the same hand and the wallet's money clip gouges a scratch in the iPhone screen. Two hours later, the nice police officer convinces me not to write a report and wait for the cabbie to come back.
I receive a vinyl badge I ordered for Nibbler's flank. The postman bends the envelope to put it in my mail slot despite the large "DO NOT BEND" warning on the mailing label. I now have an irreparably creased vinyl sticker. Canada Post may or may not reimburse me.
Someone broke into Nibbler and rifled through the car's contents. My sunglasses and softball bat are missing.
A blue minivan with Ontario plates BMLN 401 (or close to that) drifts into my inside lane on Cote-Saint-Luc Rd. just before Wilson. I avoid being hit by the van, but my passenger side window explodes into a dozen fragments as it connects with a parked car. The parked car suffers nothing but a few scratches on its mirror. The van drives away. I leave a note on the parked car.
My Irrational League baseball team finishes in sixth place. I estimated .275, 225 HR, 910 R, 900 RBI, and 140 SB for 46 points. I finished with .280, 228 HR, 908 R, 865 RBI, and 130 SB but that was only worth 37 points. Another 40 RBI would have gained me only one point. The big blow in hitting was Jason Bartlett, who I thought would get me 20 SB but got me none. While my ERA and WHIP were as good as predicted, losing six starters was too big a hole to climb out of with respect to wins and strikeouts.
Good:
I had forgotten my softball bat at a game. It wasn't stolen from the car. I have it back.
What can you write when everyone already knows your lead? Let me think about this a moment….
Screw it.
You've doubtless heard that Apple dumped Google Maps from the iOS line-up. Whole Web sites have been set up to display the flaws in the Maps app with which Apple replaced it.
I did my own little exploration of my navigation apps. I never used Google Maps. I use Navigon (now part of the Garmin family) and the free Waze app. Waze is great if it can find your address or destination in a search. It's a bit finicky, sometimes without reason. Navigon is better able to help you pinpoint your destination, but Waze is better at the navigation, as it takes into account traffic and anticipated road speeds when it calculates your route.
I decided to look at a tricky section of the map near home. Girouard Avenue south of Sherbrooke used to be one-way southbound and had an entrance ramp onto Autoroute 15. That ramp was closed in December 2010 and that section of Girouard was turned into a two-way street. Around the same time, Crowley was extended to intersect Upper Lachine.
Here's how the three apps map these major changes, some of which are nearly two years old. Apple's Maps is on the left, Navigon in the middle, and Waze on the right. I recommend you click to open the full-sized image.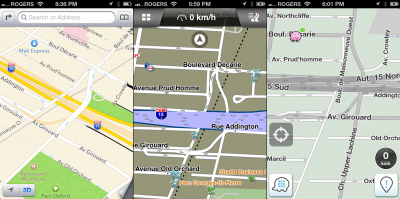 (Ignore the black infestation of the right-side roads on Maps. That's my fault, the result of a poor fill operation in Photoshop.)
Neither Navigon nor Maps has the Crowley extension. Both have Girouard as continuing to be a one-way street. The ramp may or may not be active; it's tough to tell. Waze has it correct. It may look at first like Girouard maintains its one-way status, but those arrows are indicating the ramp only. The ramp, you can tell, is not connected to Girouard and Waze will never route you onto it. You can see the extension in place between Crowley and Upper Lachine.
Also note that Waze is the only one of these apps to correctly show that Decarie no longer intersects de Maisonneuve from the south (which is to the right on these maps).
What does Google maps show?
Google has Decarie and Crowley correct, but fails with Girouard.
I didn't expect this result, but Waze wins. Did I mention it's free?
It's been a while.
With the beginning of school, peewee hockey, and lots of other stuff to keep me busy and/or exhausted, I haven't had time to blog. I might as well do it now while iOS 6 is downloading in iTunes.
As promised, here is a small album of animal photos I took while in Maine nearly a month ago.
Here's a much better look at the white-marked tussock moth.
What belated event will I write about next? Stay tuned!
Bonus iOS 6 aggravation:
When you move apps more than one screen, the iOS dims the screen and refuses to comply. Just move apps one screen at a time.
I was flying high three weeks ago, touching third place. Then my pitching took a vacation for a week, losing seven points and sending me plummeting to ninth.
On the bright side, I almost got to pick up Adrian Gonzalez. I had second pick, though, and opted for yet another pitcher, Tyler Skaggs. That was fortunate as I lost another starter this week when Pittsburgh dumped Erik Bedard. All is not quite lost, though, as I've regained four of those lost points in the last four days.
I have a headache. Please excuse me for not posting the list of stats. I'm sure one or two of you are disappointed.
Elvi and the girls are on the road to Chicago where they will attend Chicon 7, the 70th Worldcon. The boys are staying home to go to high school, sit around in underwear, and pee in the dining room.

My hand is healing nicely. The infection is down to resembling a pimple about a centimetre in diameter. The wound is still there but healing. I should be OK for the flag-football championship game tonight if my knees hold up. I've lost four pounds this summer, whcih is a nice change from the year on the gimpy ACL.
I've been meaning to put up a post of all the animals I took photos of in Maine. Unfortunately, I didn't think to take a pic of the squid or mackerel.
Bonus name-dropping:

Students to whom I lectured about Wikipedia may remember this story (scroll down to the changes in 2007).