Get your own 101 Squadron stuff at the online store!
I finally decided to sell some 101 Squadron-related merchandise. My WarBirds squadron got together to make some gear a few years ago. Some of our newer flying buddies weren't around when we made our very cool and not-at-all-geeky hats and T-shirts and coffee cups and mouse pads, and now they look on jealously at our annual conventions.
Well, it doesn't have to be that way anymore, and you, the anonymous netsurfer, can take advantage of this as well.
I have built a Web shop of 101 Squadron swag. It has a variety of shirts, cups, mouse pads, and other goodies. Heck, you can even buy a thong - although recommend you do that only if your name is Webs. If you're lucky, you may want to ask about a bulk discount.
Give the place a look. The T-shirts are almost exactly the same design as our virtual squadron's first batch, but I doubt they will fade as much as ours did. If there's anything you'd like to see that isn't for sale, just send me an e-mail and I will whip up a new design for you. Unfortunately, I am limited to one design per item, so I can't offer a selection of mouse pads, for example, but I can change it. Also, the site does not offer proper hats, so we early adopters will still be the only ones with the red baseball caps we made.
I especially like the wall clock. And the thong, of course...

The 101 Squadron vets I've spoken to and others who have helped me gather information have been extremely helpful in not only supplying information and photos, but also in pointing me to books, movies, and TV documentaries. Here are some excellent sources of information should you wish to learn more.
Most of the pilots were part of "Machal", the Hebrew abbreviation of the phrase "foreign volunteers". The Machal organization is still going strong, and offers an informative PDF on Machal contributions to Israel in all branches of service in the War of Independence. The Machal Web site is here, the PDF is here.
There are other sources of info - many more books for example. I've only included on this page works I've actually consumed.
Note: I've included links to these books to Amazon.com where available and to Barnes and Noble.

Books
Avia S-199 in Israeli Air Force Service: 1948-1950, by Alex Yofe and Lawrence Nyveen. White Crow Publications: San Jose, Calif., 2007. ISBN 0977462714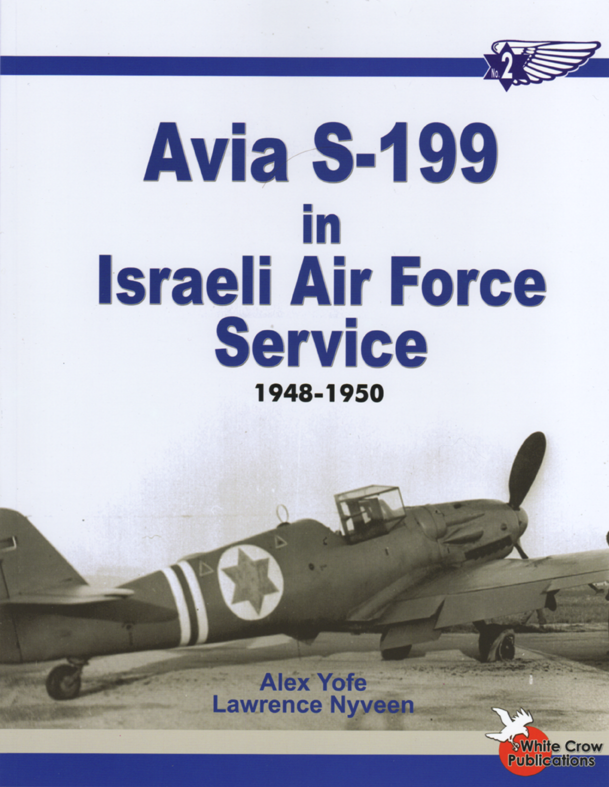 NEW! NEW! NEW! SECOND EDITION OUT IN 2019!
My book!
For more info, including how to buy it, please follow this link.
Angels in the Sky: How a Band of Volunteer Airmen Saved the New State of Israel, by Robert Gandt. W.W. Norton: New York, 2017. ISBN 0393254771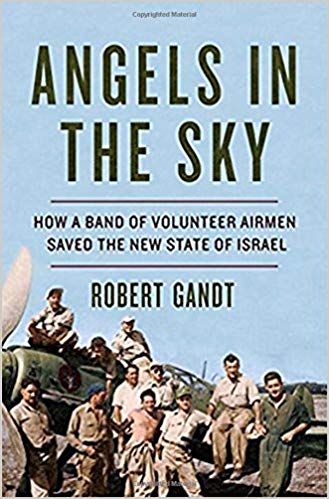 Click here to see Angels in the Sky at Amazon.com.
Robert Gandt is prolific writer of aviation history and when introduced to the story of nascent Israeli air force, he decided he needed to write a book about it. You can read an interview with in Air & Space Smithsonian. I helped Robert Gandt with some of the research for this so you know it's going to be accurate. Who knows - this may even be made into a movie someday.
Israeli Fighter Aces, by Peter Mersky. Specialty Press: Ocean, N.J., 1997. ISBN 1883809150

Click here to see Israeli Fighter Aces at Amazon.com.
Use the link above and you'll discover that you can only find one used copy of this book on sale, for $50. Peter Mersky has contacted me and has agreed to sell new, autographed copies of this book for $24 (USA; $40 overseas), postage included. That's well worth the price - e-mail me if you want to take advantage of this offer. Mersky is known for his award-winning books and articles on US Navy and Marine Corps aviation. He devotes the same skill to this book, in which he focuses on the men who flew and fought for Israel. Despite the cover, this is not a guide for modelers . Through interviews and research, it's a look inside the events and minds of the pilots who have found themselves tangling with the enemy. Aerial tacticians have a saying: "It's the pilot, not the plane." That also describes the intention of this book.
No Margin for Error: The Making of the Israeli Air Force, by Ehud Yonay. Pantheon Books: New York, 1993. ISBN 0679415637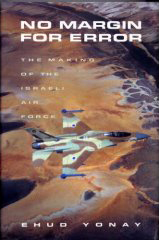 Click here to see No Margin for Error at Amazon.com.
This book is different from the others on this list as it focuses more on the people of the early Chel HaAvir and less on the aircraft and operations. A lot of attention is devoted to the roots of the modern IAF - people like Ezer Weizman and Menachem Bar. The small section on the War of Independence contains a lot of storytelling, which makes it an entertaining read, though the book is somewhat lacking in pictures and operational detail. Dreamworks SKG optioned the movie rights to the first few chapters of this book, but nothing ever came of it.
Spitfires over Israel, by Brian Cull and Shlomo Aloni with David Nicolle. Grub Street: London, 1994. ISBN 0948817747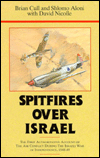 Click here to see Spitfires over Israel at Amazon.com.
What a read! Brian Cull is a British Spitfire expert. Shlomo Aloni is an Israeli aviation historian. David Nicolle a staunchly pro-Arab journalist and teacher. Together they have written a comprehensive history of the airspace above Israel up until the end of the War of Independence. Don't let the title fool you - this book delves as far back as World War I and moves forward with miniscule detail as it covers all aircraft. Just about every aircraft in the theater is identified by serial number or call letters. Fans of detail must find this book. It was an indispensable source for this Web site. One caveat, though: when I mentioned this book to Red Finkel, 101 vet, he said that the way the book described the Egyptians was "full of shit". The pilots maintain that every S-199 they lost in the air - and they only lost S-199s - they lost due to malfunctions. It's possible, but this book points out enemy claims of aerial victories.
Spitfire: The Canadians, by Robert Bracken. Boston Mills Press: Erin, Ont., 1995. ISBN 1550461486

Click here to see Spitfire: The Canadians at Amazon.com.
A must-have for the Spitfire buff, this book focuses on Spitfires and the Canadians that flew them in anger from the earliest Mk I to the hot rods of late World War II. There's a page of narrative by Denny Wilson, formerly of 411 Sqn RCAF, about his flying with the 101. Don't miss the awesome pictures by Ron Lowry, including a 101 Squadron Spitfire LF9e. Bracken and Lowry collaborated on a sequel, aptly titled "Spitfire 2: The Canadians".
I Am My Brother's Keeper, by Jeffrey Weiss and Craig Weiss. Schiffer Publishing: Atglen, Penn., 1998. ISBN 076430528X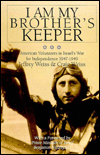 Click here to see I Am My Brother's Keeper at Amazon.com.
This book, by far, takes the best advantage of the best resources of all - the people who fought in the war. The list of interviews is staggering. The authors also opened up previously classified documents to present just a superb resource. Although the book covers North American volunteers involved in all aspects of the war, the information the Weisses provide about the 101 can't be found anywhere else. That's Rudy Augarten on the cover, by the way, in his USAAF P-47 during the war. If you like good stories told by the guys who lived them, this is the book you want. Check out the book's own Web page.
Spitfire Mk.IX in the Israeli Air Force Service, by Alex Yofe. White Crow Publications: San Jose, Calif., 2005. ISBN 09774627-0-6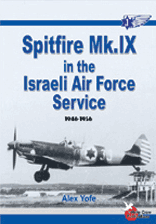 Alex Yofe is my friendly rival in online information about the air war in the War of Independence. We're so friendly, we've agreed to write books together.
Alex wrote this book without my help. It's a fantastic resource for - well, for info on the Spitfire Mk IX in Israeli Air Force service. Alex is as devoted to historical accuracy as I am and he speaks much better Hebrew than I do.
This volume is not available online or even in stores, except through Alex himself. Let me know if you want a copy and I will put you in touch with him.
Spitfire: Star of Israel, by Alex Yofe. Ventura Hobby Products: Wellington, NZ, 1996. ISBN 1550461486


Primarily a guide for model builders, this paperback has enough text and technical details to make a worthwhile read - if you can find it. I found a mere one copy advertised online (oddly enough, for sale right here in Montreal) which I snapped up. It's just a treasure trove of photos and illustrations, like the Spitfires above. Ventura Hobby Products had planned to write a similar guide to Israel's S-199s, but poor sales of this one forced Malcolm Laird, the big cheese of Ventura, to limit that to a section in a compilation (with the help of yours truly).
Laird has graciously supported me with permission to use pics and just kind words in general. You can purchase copies of Spitfire: Star of Israel at Ventura's homepage.
Don't bother clicking here to see Spitfire: Star of Israel 'cuz you ain't gonna see it at Amazon.com.
Israeli Air Force, 1947-1960: An Illustrated History, by Salvador Mafe Huertas. Schiffer Publishing: Atglen, Penn., 1998. ISBN 0764303902

Click here to see Israeli Air Force, 1947-1960: An Illustrated History at Amazon.com.
Despite the date range in the title, a good half of this book covers the War of Independence. I found pictures in here that I had not found anywhere else. If your interest extends to the early jet age, this book is indispensable. The photos taken at the IAF Museum rank with the best.
Middle East Wars 1947-1982, by Shlomo Aloni. Osprey Publishing: Oxford, England, 2001. ISBN 1841762946

Click here to see Middle East Wars 1947-1982 at Amazon.com.
Aloni co-authored "Spitfires over Israel" with Cull and Nicolle and I consider him the premier researcher of the Israeli side of the air war in the War of Independence. Readers of Air Enthusiast magazine will be familiar with his articles on 101 Squadron history. This book is a must-have for anyone interested in the topic and contains new information and photos not available elsewhere.
Spitfire: The History, by Eric Morgan and Edward Shacklady. Key Publishing: Stamford, England, 2001. ISBN 0946219486

Click here to see Spitfire: The History at Amazon.com.
This is the Bible of Spitfire manufacture, newly revised. Every Spitfire to come of the assembly line is tracked by manufacturing number as closely as possible in this book's voluminous ledger of Spitfires. The authors pay attention to the aircraft's developmental history and pay particular attention to the inclusion or abandonment of innovations good and bad. If you have any inclination toward Spitfires at all, this is the book to own. It has a price/page ratio that matches just about anything out there.

Books by 101 Pilots
New Heavens, by Boris Senior. Potomac Books: Dulles, Va., 2005. ISBN 1574886797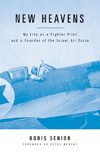 Click here to see New Heavens at Amazon.com.
I spent an afternoon with Boris Senior at his home in Kfar Shmaryahu. We talked and snacked and drank tea, and he showed me some of his photos. He had written an autobiography, in English, which had ben translated into Hebrew and published. he gave me a copy of his English manuscript on a floppy (remember those?).
Boris died in 2004, but by then he knew that his English manuscript was on its way to publication. Here it is.
The man lived an eventful life, from flying with the SAAF to acquiring and ferrying aircraft from South Africa to Israel. He used his Bonanza to bomb an Egyptian ship. His greatest contributions came outside the battles, as a man crucial to bringing Spitfires to 101 Squadron, but he got his combat with 101 toward the end of the war.
Flying under Two Flags, by Gordon Levett. Intl Spec: 1994. ISBN 0714641022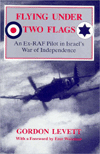 Click here to see Flying under Two Flags at Amazon.com.
What a superb book, one likely to be of interest to anyone, aircraft buff or not. Levett tells his life story with dry wit and honest openness towards himself and discretion toward others. You gotta love a guy who on page four of his autobiography writes, "When I was about twelve I started masturbating."
Born into a family so poor his mother had to place him temporarily in an orphanage to make sure he got fed, Gordon joined the RAF at age 17 in 1939 and began his career as a sub-standard "erk", or ground crewman. By the end of World War II, he had earned his wings and the rank of Squadron Leader, despite having spent the entire conflict as a trainer of other pilots. He never saw combat.
Drummed out of the post-war RAF for taking an unauthorized vacation, Gordon eventually volunteered to fly for Israel. He spent most of the 1948-49 war flying transports between Europe and Israel and joined 101 Squadron in November 1948.
For a dirt-poor kid, Gordon had his share of excitement. He met Howard Hughes, Elizabeth Taylor, David Ben-Gurion, and been homosexually propositioned by a major Hollywood star who shall remain forever nameless. He was stranded in Iran and in the Arctic. Gordon tells an amazing story of an adventurous life outside of Britain and a mundane existence at home. I wonder if he ever regretted keeping to the principle that prevented him from accepting Israeli citizenship.
Desert Hawks: An American Volunteer Fighter Pilot's Story Of Israel's War Of Independence, 1948, by Leo Nomis and Brian Cull. Grub Street: 1998. ISBN 1898697825
Click here to see Desert Hawks at Amazon.com.
Leo was an observer. While some properly call into question his recollection of facts (many glaring errors found their way into the text), his descriptions make the book a worthwhile read. The accounts of his first visit to Israel, spent in and around Tel Aviv before assignment to the Czechoslovakian flying school, make as interesting reading as his accounts of life in 101 Squadron. His description of the almost civil war that occurred with the appearance of the Altalena off the Israeli shore puts you right in the middle of the action.
If you ignore the mistakes, and approach the book more as atmosphere than factual history, it makes a worthwhile read. That's also one slick illustration on the cover. How did they get that pig to look so nice?
On Eagles' Wings, by Ezer Weizman. Macmillan Press: 1976.
Click here to see On Eagles' Wings at Amazon.com.
The classic.
Lost Black Sheep: The Search for WWII Ace Chris Magee, by Robert T. Reed. Hellgate Press: 2001. ISBN 1555715494

Click here to see Lost Black Sheep at Amazon.com.
I have had a lot of trouble finding this book in Canada. While this is not an autobiography, it is the next best thing. Robert Reed is Chris Magee's son. Without exaggeration, Magee led one of the most rollercoaster lives of the 20th century. Magee was the second-leading ace of the famed Black Sheep Squadron (after squadron leader Pappy Boyington) in World War II. He won the Navy Cross, but felt somewhat adrift outside the cockpit and when the war ended, he pursued a number of shady practices - one of which was to join 101 Squadron.
Eventually, Magee was caught and jailed for bank robbery. He may be the only Navy Cross winner in history to be jailed for robbing a bank. Eventually, Magee settled into a more ordinary lifestyle as an editor and writer, although he rarely touched upon his past in his written work. Some of his poems and stories appear in this book. (It's worth noting that John Gillespie Magee, the author of the famous poem "High Flight" - you know: "Oh, I have slipped the surly bonds of earth / And danced the skies on laughter-silvered wings...." - was Chris Magee's first cousin.)
This book only barely touches on Magee's service in Israel, but it does reveal one of the personalities that helped make 101 Squadron what it was.
Other books used to research this site:
Israel's Best Defense, by Eliezer "Cheetah" Cohen. Orion Books: 1993
Shield of David, by Murray Rubenstein and Richard Goldman. Prentice-Hall: 1978
No Trophy, No Sword, by Harold Livingston. Edition Q: 1994
The First Fliers, by Eddie Kaplansky. Israel Defence Forces: 1993

Visual Media
Strange Encounter, painted by Roy Grinnell, courtesy of the American Fighter Aces Association.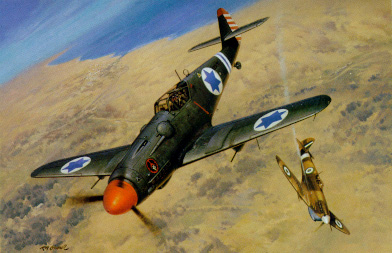 I have spoken with Roy Grinnell and he said he based this painting on how Rudy Augarten described the S-199. So, the Avia's not the right color... it's still cool. (By the way, the image above is less vivid than the print, but it's the best I could do with the patience I have.) The print depicts Rudy's Oct. 16, 1948 victory, his first in Israel and the third of his career.
The American Fighter Aces Association sells a limited-edition, 24"x30" lithograph, signed by both Rudy and Roy, for $150 US plus $7.50 postage. You can order it through any of the following:
Postal mail: Box 2020, San Antonio, TX 78297
Telephone: (210) 354-2322
Fax: (210) 354-0575
E-mail: amftrac@goodnet.com
The Association accepts cash, checks, and most credit cards.
Giora Epstein - Ace of Aces, painted by Roy Grinnell.
Giora Even (born Giora Epstein) guns down an Egyptian MiG-21 on Oct. 20, 1973 during the Yom Kippur War. Even would shoot down four MiG-21s that day, one with a Shafrir missile and three with the 30-mm cannon on his 101 Squadron Nesher (an Israeli copy of the Mirage V). He would finish the Yom Kippur War with 12 kills and retire with 17 kills to his credit, a huge amount for the jet age. OK, this art has very little to do with my focus on 101 Squadron, but it's pretty nifty nevertheless. If you would like to buy a print of this picture, signed by both Giora Even and artist Roy Grinnell, e-mail me. Cost is $150.
Israel's Forgotten Heroes, Jerry Levine, producer. WPBT: Miami, 1998
This PBS documentary was produced by Miami's WPBT and premiered on that station in December 1998. It has been shown several times as part of a pledge drive. Although it covers a wide range of Machal volunteers, the film spends a considerable amount of time with Giddy Lichtman of the 101, currently a resident of South Florida.

Interview Tapes
These audio files are three parts of a lecture given by real life members of 101 Squadron and recorded by me. They are all in QuickTime 4 format, audio only. Sound quality gets spotty infrequently, but overall is good.
Part 1: 101tape1.mov - 7 MB
Intro by Red Finkel, lecture by Rudy Augarten on his WWII and War of Independence experiences.
Part 2: 101tape2.mov - 7 MB
Augarten continues, additional material by Mitchell Flint.
Part 3: 101tape3.mov - 6 MB
More of the same.
I only ask two things. If you listen, please tell me what you think and attribute me if you use them for anything. Thanks.
- Webs

Other Nifty Items
Avia S-199 "Israeli Knife" 1/48 Scale Model Kit, Hobbycraft Canada. Concord, Ont.
Don't underestimate the value of a model kit with regards to information. Some can be veritable gold mines, like this one. This kit, numbered HC1540, provides a good deal of detail on the varying paint schemes of the Israeli Avias and shows off just how ugly the plane really is.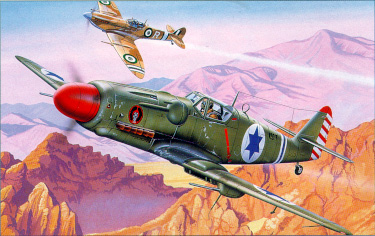 The S-199 is really that green on the box art, shown above. The plane is D-120 and I believe the combat depicted shows Modi Alon's July 18 downing of a REAF Spitfire Mk Vc. If you want a review of the model, take a look at this Hypercale feature.
Avia S-199 Mule 1/72 Scale Model Kit, KP-Kopro, Prostijov, Czech Republic.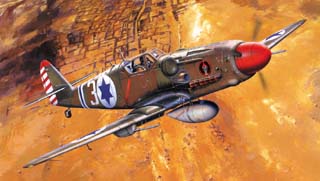 For scale modelers who prefer 1/72 scale, here's an Avia direct from the nation that built the real one. I haven't seen it in person and so I can't comment on it with any authority, but the company does supply a bit of info at its Web site. I do not know if the only provided paint scheme is the post-War of Independence mottle shown in the image above or not, but I suspect so.
Spitfire LF.IX E "Israeli Air Force" 1/48 Scale Model Kit, ICM, Kiev, Ukraine.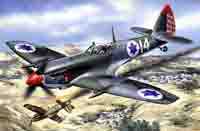 Finally, a company has released the Spitfire Mk IX in 1/48 scale. It's just a bonus that modelers also get a kit specifically detailed as one of the 101 Squadron Czechoslovakian Spitfires. The decals that come with the kit let you build it as either White 14 or White 26. Hyperscale also has a review of this series of kits, although not specifically of this exact configuration. I can confirm some sinks in the plastic in my kit, particularly in front of the ailerons.
Thrustmaster Cougar HOTAS Joystick (USB; with bonus IL-2 Sturmovik), Guillemot Corp.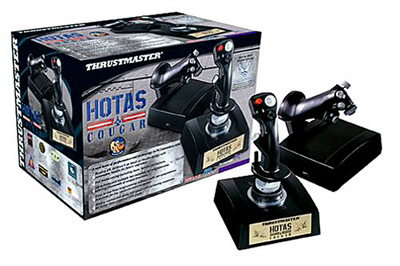 The ne plus ultra of flight sim gear. The Thrustmaster Cougar is made of metal and feels solid in your hands. Even the hat switches are metal, so the shafts won't snap. It's quality, and you pay for it: $270, although Amazon offers free shipping (as of November 2002) and the joystick comes with a free copy of the IL2 Sturmovik Eastern Front combat flight sim. Although Thrustmaster/Guillemot does not advertise the fact, this USB suite does work in Mac OS X as well as in Windows. Even better, there is a port to accept the cable from the old Thrustmaster RCS rudder pedals. Click here to see the Thrustmaster Cougar at Amazon.com.