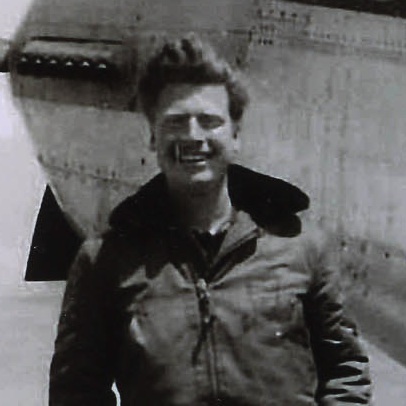 Mitchell Flint
Kansas City, Missouri
Combat Record
WWII: Nakajima C6N Saiun "Myrt" (in F4U-4)
Story
Mitchell Flint discovered his lifelong love of flying through his father, a former Navy combat flyer in World War I, who introduced him to the passion at Kansas City's Fairfax Airport. Flint graduated from Westport High School in Kansas City, where he took part in the Junior Reserve Officers' Training Corps and graduated with honors.
Flint volunteered at age 18 to serve as a pilot in the US Navy. After training on several aircraft at a host of bases, he earned his Naval Aviator Wings of Gold at Corpus Christi Naval Air Station. He served in the Pacific Theater on board the aircraft carrier CV18 USS Wasp, under Admiral John S. McCain, Sr. Flint at first flew primarily dive-bombing missions in the F6F Hellcat before transitioning to the F4U Corsair, in which he chased down and splashed a kamikaze flying the extraordinarily fast C6N. During his service, he earned three Air Medals and eight Navy Unit Commendations.
Flint had planned to celebrate his graduation from UC-Berkeley in June 11, 1948 by attending the 1948 Olympic Games in London but he changed his plans out of concern for the plight of Holocaust survivors. He decided instead to volunteer to fly for the fledgling country of Israel in its War for independence. He used the story of attending the '48 Olympic Games as cover: he didn't want the State Department to become privy to his illegal activity and perhaps just as importantly didn't want his mother to worry. In order to pull off the ruse, he prepared a series of postcards in advance, and made arrangements with some distant relatives in London to mail them back to his mother in the US.
Flint went undercover in New York, and was soon after ferried to Ceske Budejovice, Czechoslovaki where he trained under George Lichter and Bilek, a Czech instructor. He began his Israeli flying career in Czechoslovakia on July 8 with two flights in an an Avia C-2B1 (a Czechoslovakian version of the Arado Ar 96, serial number EV 28). The Avia S-199 familiarization course lasted all of July. Flint compares flying the S-199 to flying in a coffin. Flint's log shows ten flights in S-199s from July 21-29 for a total of 6.7 hours on the type, dual-seaters included.
Leo Nomis took the familliarization course at the same time, and described Flint as follows:
Flint had exceptionally white skin and he looked too young to have been in the war.... Further, I was impressed that he was not a Jew and fighting for the cause. At least I didn't think he was a Jew but he was. (Nomisinterview)
Nomis also described the course:
Flint is having problems with the two-seater. He and Bilek (a Czechoslovakian trainer) take off ahead of me....

The rain falls intermittently for two days and the fighters have to be grounded. We ride into Budejovice the first evening.... I go with Flint to a cafe in the square and we have dinner. The beer is strong and afterwards we go to another place and there is a violinist and no one speaks English. Flint leans across the table so that his face is close to mine. He says that he is afraid of the goddam (sic) Messerschmitts....

At the end of the week the skies are clear again.... Lichter (George Lichter, Machal trainer) sends Flint to Bilek for more dual instruction in the two-seater....

Lichter and Flint accompany me to where the path turns onto the perimeter, when I leave for Prague (a stop on the way to Israel) that evening. They are staying on at Budejovice for another week. (Cull et al 1994)
Nomis made Israel by the very end of July and Flint followed soon after, in early August. Nomis was one of the few pilots who could tame the S-199 at first exposure and left for Israel earlier. This is no knock on Flint, who was about as capable in the cockpit of the Mule as most of the pilots. It was simply a underpowered bear of an airplane. The F4U-4 Flint had flown in the Pacific was also not an easy aircraft to fly and Flint had handled it just fine.
Flint's first two flights in Israel came in the S-199 marked D-122, on Aug. 15. The first flight appears to have been a search for a lost aircraft and Flint came under Egyptian AAA fire but escaped unscathed. The second flight is noted as "attempted interception of plane" but it is unknown whether that was practice or action. Each flight lasted 1.2 hours.
On Aug. 17, Flint took up D-108 for an hour of formation flying, part of an exhibition for Prime Minister Ben-Gurion's visit to Netanya. Flint spent another uneventful hour aloft in D-119 two days later, in an aborted convoy escort.
Flint found himself in the wrong place at the wrong time as the unforgiving S-199s treated him poorly over the next couple of days. After an hour in D-117 on Aug. 20, Flint had to make a wheels-up landing when his gear wouldn't descend. The next day, after 0.8 hours in D-108, he cracked up on landing. Flint deftly handled both accidents and both aircraft were repaired and put back into service.
Flint grew discouraged with the S-199 whose handling was vastly inferior to the planes he had flown in the Pacific. The S-199 had issues on the ground and in the air and the gauges were in unfamiliar German and in metric measurements. Abie Nathan, a Dakota pilot from India in 103 Squadron, asked Flint to transfer to 35 Flight, primarily a dive-bombing unit. Flint knew he would have more experience at dive-bombing than any of the other pilots in the unit and agreed to go.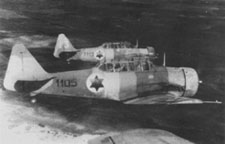 At 35 Flight, Flint was made executive officer. He flew the flight's C-64A Norseman bomber-transports and AT-6 Harvard dive-bombers (SNJs in USN parlance) for the duration of the war. See the picture of Harvard 1105 to the left? Between Dec. 22 and Jan. 7, Flint flew that plane 15 times of which six were bombing missions. I wouldn't be surprised if Flint was flying 1105 in the picture at left. His most exciting sortie took place late December in a 35 Flight Harvard. While dive-bombing Egyptian forces, a 50-kg bomb hung up on its rack and Flint couldn't shake it loose. He landed safely and after leaving the cockpit he went to grab the bomb. It came off in his grasp. It's likely that Harvard 1105 was the culprit with the malfunctioning bomb-release mechanism. Flint flew Harvard 1102 to bomb Beit Daras on Jan. 3.
Flint spent February and March 1949 flying transport missions primarily in a Dragon Rapide, with occasional forays in a Piper Cub and an Auster. On Apr. 8, he returned to the 101 to fly the tamer Spitfires - which Flint described as "a lady's plane" (pers. comm.) because it handled so easily - and Mustangs. He flew a slew of Spitfires (numbers 12, 16, 17, and 22-28) and Mustang 41. He says one of the highlights and proudest moment of his service in Israel was flying Spitfire 26 in formation with 101 Squadron during Israel's first Independence Day celebration that spring.
Flint's last assignment in Israel was a spy mission in Spitfires over Syria with wingman Danny Shapira. While Flint was taking photographs of a Syrian air base, Shapira's plane disappeared. Concerned Shapira might have been shot down, Flint searched for the missing plane. He was running low on fuel and as Syria had started to equip with its own Spitfires (F.22 variant), he had to be extra alert.
Flint spotted one. He headed straight towards it in an attack run. As he got close enough to start to aim, he noticed the red 101 Squadron spinner. It was Shapira. The two formed up and returned safely.
The incident led Flint to feel that he was pushing his luck. He had served in Israel longer than most of the combat pilots. Fellow 101 Squadron pilot Giddy Lichtman said Flint never turned down a mission or a challenge. The air force had awarded Flint the Silver Wings with Red Piping, bestowed on the handful of pilots who flew more than 50 missions in the war. Flint probably flew more airplanes and combat missions than anyone else during the War for Independence.
Israel's air force had become established. Shapira was a native, for example. More and more Israelis were graduating from flight school. The language of the air force was transitioning from English to Hebrew. Flint decided to retire from the Israeli service.
Flint left Israel on July 13, 1949 with Caesar Dangott. He celebrated Bastille Day in Paris, and visited the cousins in the UK who helped him maintain his cover. He returned to serve in the US Naval Reserve, ultimately achieving the rank of commander. He started law school at George Washington University while on duty in Washington, D.C. during the Korean War. After a move to Los Angeles, he earned his J.D. from UCLA in 1951, and is still practicing law in Hollywood. He is married to Joyc , a former fashion designer-turned conservator, and has two sons, Michael, a film producer in Hollywood, and Guy, an educator.
Flint has recently completed a book about his flying experiences, "Angel in the Sky: My Life as a Fighter Pilot during World War II and Israel's War for Independence", with academic scholar Christian L. Rehr. It should be out toward the end of 2012. In the meantime, Flint will finally achieve his lifelong dream of attending the London Olympics this summer and reunite with his relatives. NBC reported on his story during the Olympic Games.
A documentary based on the exploits of Flint and other founders of the Israeli Air Force is in the works. Visit Angels in the Sky for more info.

Click the badge to return to the squadron roster