Mustangs
While the P-51D enjoyed an illustrious IDF career that even extended into the 1956 Sinai campaign, a mere two Mustangs saw work in the War of Independence. Considering only two found their way to Israel, it's not hard to nail down their identities....
On July 17, two Mustangs, along with a pair of Piper Cubs and 18 Pratt & Whitney R-2800 engines for the C-46s, left New York aboard the cargo ship Enterprise. They were offloaded in Israel on Aug. 19 and sent to the Central Maintenance Unit at Ma'aborot. By Sept. 17, the Mustangs were still not airworthy. Unskilled labor had unpacked the crates and damaged components, and no one had manuals. A few parts were missing, most notably the gunsights. Engineers removed the Revi sights from wrecked S-199s and installed them in the P-51s.
Standard P-51Ds were armed with six .50-caliber Browning machine guns but shortages in wartime Israel restricted the first two Mustangs to four apiece, two in each wing.
The 101 received the first one ready for operations, D-190, in early October.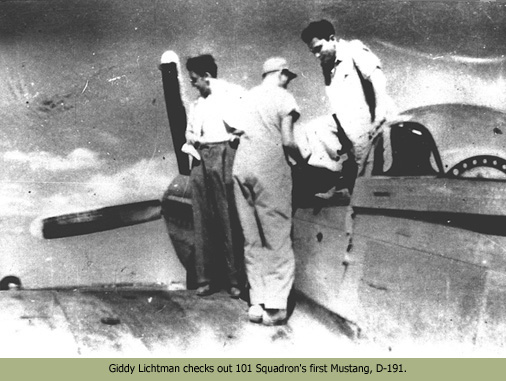 One of D-191's first jobs was reconnaissance. Giddy Lichtman, who flew P-51s in the USAAF, took it on an extended tour of the Middle East shortly after delivery:
"I was to go on a recce mission from Damascus, Beirut, back over Israel, and then to the south of the Suez Canal and return.

Over Beirut I noticed many fighters lined up on the runway at the airport. As this was a recce mission, I decided not to strafe. I came around past Damascus then headed towards the Suez Canal and there got flak like no other flak I'd seen. I started to weave. I was up about 12-14,000 feet. I flew about five minutes over the Canal then headed back. About five minutes from the canal, I noticed what looked like a reflection far below me. I kept staring at it. Finally, I discerned it was an aircraft. I peeled off and armed my guns and sure enough I saw an Arab aircraft.

I came at this guy at great speed and made a pass. Drove right up his ass. He saw me and made a turn into me. I pulled up and came round again. It was quite a dogfight. This guy really knew what the hell he was doing. After what seemed a pretty long length of time, I got up his ass and lined him up. I could see the back of his head very clearly and could even see him turn around and look.

I pulled the trigger and absolutely nothing happened. I was furious. I stayed with him for a few more minutes as I did not want to break away and have him up my ass. I knew nothing about his aircraft. To me it looked like a Sea Fury. I had seen a picture in a magazine." (Cull et al 1994)
Lichtman had in fact encountered Egypt's only Fury (although Iraq loaned three to Egypt), a demonstration aircraft they had impounded from the British. Its pilot, Sqn Ldr Muhammad Abd al Abu Zaid, led the REAF's 2 Squadron based at Al Arish. (Abu Zaid would be killed when he flew the Fury into the sea trying to shoot an Israeli Beaufighter on October 19. See Stan Andrews's bio for more info.) When Lichtman reported the Fury's existence to the Chel HaAvir brass, they didn't believe him.
The second Mustang showed up for work for the first time on October 17, just as Operation Yoav was getting hot and heavy.
Because 101's Spitfire D-130 had an untrustworthy oxygen supply that limited its flights to 14,000 feet maximum altitude and the photo-recon mission limited its speed to under 220 mph while demanding considerable time over target, it often received an escort, a job that fell to the P-51Ds when they became available. On November 19, for example, Ezer Weizman took D-130 with a Mustang as escort. They left Chatzor and refueled at Ramat David. Early in the afternoon, Weizman spent 40 minutes making three 200-mph passes over Damascus and made another three passes over Sach al Sacher.
Late in the morning of Nov. 20, Chatzor received a phone call from Ramat David that the shuftikite had been spotted. While CO Syd Cohen headed for the control tower with binoculars, Wayne Peake scrambled in a Mustang. Cohen tracked the shuftikite while guiding Peake on the radio to a position behind it. The unidentified airplane probably sighted Peake's Mustang because for the first time, it headed west over the Mediterranean rather than continuing south.
Reaching the intruder's altitude, Peake was suffering blurred vision and almost passed out - his oxygen system was malfunctioning to some degree.
As the shuftykite's contrails came into view, Cohen guided Peake right to it, but Peake missed the intercept as he was too high. Cohen told him to dive, and Peake rolled over and found the target, which with his blurred vision he thought was a four-engine bomber. He let loose a stream of .50 caliber and hosed the shuftykite until his guns jammed. Syd Cohen recalled:
"It was going away and Peake cursing like hell on the radio and almost crying because he couldn't fire another shot, but suddenly I noticed that the vapor trails were getting thicker and thicker, and then I saw fire, and the next thing I knew that thing just disintegrated in the air." (Yonay 1993)
Upon observing the explosion, Ezer Weizman took the squadron's Seabee runabout to investigate the crash site off the coast of moshav Dor, south of Haifa, but he only found wreckage floating on the surface.
On landing, Peake was convinced he had shot down a four-engined Halifax bomber, but it was later proven that it actually was a two-engined Mosquito PR.34 (numbered VL625) from 13 Sqn RAF, based at RAF Kabrit near the Suez Canal. Peake's condition had probably given him double-vision, thus making the victim seem to have twice as many engines.
This was the last RAF flight over Israel proper.
On December 22, both Mustangs, along with two Spitfires, took off at 16:45 to escort 69 Squadron's three B-17s in a raid on Al Arish.
On December 23, Jack Doyle took D-191 to meet the Velvetta 2 Spitfires and escort them to Chatzor.
The REAF continued relatively intense operations on the southern front despite a lack of activity at Al Arish, and the mystery was solved when, on Dec. 24, a 101 pilot in one of the Mustangs spotted the airfield at Bir Hama.
Jan. 5 saw two 101 Squadron Spitfires bomb and strafe a train just south of Khan Yunis, damaging the engine. Around noon, a mixed pair of Boris Senior in a Mustang and Sye Feldman in a Spitfire ran into three REAF MC.205Vs. The Israelis jettisoned their bombs, and a failure of either will or equipment prompted one Macchi to flee immediately. Feldman claimed one Macchi destroyed. Also this day, Red Finkel
On the final day of the war, Jan. 7, Boris Senior and Jack Doyle in Mustangs were escorting 35 Flight's Harvards to attack Egyptians at Dir El Balah when they encountered eight REAF Macchis above the Al Auja-Rafah road.
Wilson, in Spitfire White 16 fresh from feasting on the RAF) and wingman Arnie Ruch were also in the air and found what they thought were eight REAF Macchis on their low 3. The Egyptians saw the two above them, jettisoned bombs, and climbed toward them. In fact, there were only six Macchis. Ruch and Wilson misidentified Jack Doyle and Boris Senior in P-51s as two more Macchis. The Egyptians didn't see Doyle and Senior at all.
In the ensuing battle, both Senior and Doyle claimed a kill, although Egyptian records indicate only one plane lost. Wilson, separated from Ruch in the fight, found himself in a gaggle of five Macchis (which itself indicates that only one REAF plane was lost) after the other Israeli planes bugged out. he radioed back to Chatzor, "I've got five of them cornered," and attacked.
I was left dogfighting the Fiats (sic), when I realized they were leading me into the range of the anti-aircraft guns at Al Arish. I was hit by shrapnel and subsequently found that a chunk of shrapnel was lodged in a canister of 20mm cannon shells, which fortunately did not explode. At that point, I broke off the action and returned to base after calling Arnie. (Cull et al 1994)
Syd Antin enjoyed his Mustang time:
Wonderful airplane. Great airplane. But for our situation there, not as good as the Spitfire. The reason? The Mustang was built for longer range, it was a heavier aircraft - it could not maneuver as tightly as the Spitfire. The Spitfire was designed and built as a short-range fighter. You gotta remember that all it had to was cross the English Channel and it was in a war zone. The Mustang was designed and built to escort long-range bombers and to defend them in the air. Consequently, it had to have more armament and more fuel capacity, so it was heavier and it couldn't maneuver anywhere near as good as the Spitfire.

The Mustang? Great, I loved that airplane. For our job over there, for combat, we only had to fly a few miles to get to it so we didn't need the long range.
| | | | | |
| --- | --- | --- | --- | --- |
| 230X # | D- # | Radio # | Delivery | Notes |
| 230? | D-190 | Black 41? | Around Oct. 12 | Imprinted with "Zulu" on left side? |
| 230? | D-191 | Black 41? | Oct. 17 | Nicknamed "Buzzr"? |