Lou Lenart
Born in Hungary, moved to USA
Combat Record
No kills. Transferred from 101 Squadron to Air HQ in July.
Story
Lou Lenart prowled the Pacific theater in a USMC F4U Corsair during World War II. He flew aircraft for Israel before joining the fighter squadron, and with Milton Rubenfeld as co-pilot had ferried a Norseman from Italy to Sde Dov on May 3.
On May 6, Rubenfeld and Lenart joined nine Israeli Sherut Avir pilots (Modi Alon, Ezer Weizman, Sandy Jacobs, Jacob Ben-Chaim, Pinchas Ben-Porat, Itzchak Hennenson, Misha Kenner, Nachman Me'iri, and the immigrant Eddie Cohen) on a leased Pan African Air Charter DC-3 leaving Sde Dov. It hopped to Cyprus, Rome, then Geneva. From Geneva, the group took a train to Zurich and from there took a Czechoslovakian Airline DC-3 to Prague. While somewhat an unsettling venture for all, Lenart's Hungarian accent added risk. Authorities in any of the countries he passed through on the way to Ceske Budejovice could have suspected he was a defector and turned him over to Hungary.
After two days at a dingy Prague hotel, they flew to Ceske Budejovice aboard a military Ju 52. Assigned a barracks and Luftwaffe flight jackets, they began training.
The instructors at the Ceske Budejovice airfield were Czechoslovakian veterans of the RAF. A few flights in the Avia C-21B (Avia's version of the Arado Ar 96B) re-awakened old skills in the pilots who had flown fighter aircraft before. They also quickly and firmly rejected any hope that the Israelis who had only flown light civil aircraft in the past could be quickly converted into fighter pilots. Only those pilots with previous fighter experience - Alon, Weizman, Rubenfeld, Lenart, and Eddie Cohen - were allowed to move on to the next step in the course, which introduced the CS-199, a dual-seat trainer version of the S-199. Lenart took the first S-199 solo, on May 15, and became the first of Israel's pilots to learn of the plane's tendency to slew:
As Lenart sat strapped down in his cockpit, the only thing he could see in front was the Messerschmitt's huge nose pointed skyward. Until his plane was traveling fast enough so that its tail came up, he had to watch the runway markings on his side, or fix on a distant tree or building for direction.

But the Czech field was only an expanse of gray-green grass blended seamlessly into the gray, dreary countryside. There were no runway markings, no trees in the distance to navigate by. When his instructor jumped off the wing and barked something in Czech that Lenart assumed was an order to take off, he pushed the throttle forward and let go of the brakes. When his speed gauge indicated he was going fast enough, he flicked his stick forward to raise the tail, and got ready to take off.

To his horror, as the Messerschmitt's huge nose came down, he suddenly found himself speeding between two huge hangars, heading straight for a tall chain-link fence. He had no idea where he was, or how the buildings suddenly got in front of him. Cursing and pulling hard on the stick, he managed to lift the plane over the fence, but he was not yet going fast enough and the Messerschmitt promptly dropped back down on the other side. Fighting to keep it from cartwheeling or smashing belly-first into the ground, Lenart managed to keep it skimming the grass until it picked up enough speed, and then pulled it up in the air. (Yonay 1993)
On May 18, the pilots in training at Ceske Budejovice learned that two Egyptian C-47s that day had bombed Tel Aviv's central bus terminal, killing 42 people and demanded to return to Israel. Their Czechoslovakian instructors unsuccessfully tried to convince the pilots to stay for at least a few days more training - the Israeli pilots had not yet undergone air-to-air or air-to-ground gunnery lessons. The Israelis insisted, saying they'd practice gunnery on real targets, and the five former combat pilots who passed the training course the next day moved from Ceske Budejovice to Zatec airfield, the headquarters of Israel's airlift operations.
The morning of May 20, the pilots and a handful of Czechoslovakian mechanics squeezed into a C-54 beside a disassembled S-199, ammunition, and bombs. More than 11 hours later, they landed at Ekron. The next day, another S-199 arrived in a C-46 (serial number RX-138). On May 22, a third flew into the country inside the C-54.
On May 29, Lenart, Modi Alon, Ezer Weizman, and Eddie Cohen took off from Ekron at 19:45 with two 70-kg bombs each, bound for an Egyptian army column near Ashdod - in fact, a mere 20 km south of Ekron itself. The Egyptians had been stalled by a blown bridge 32 km south of Tel Aviv and the lightly armed remnants of the Givati Brigade. The Egyptians were estimated to have 500 vehicles, among them ten tanks.
Lenart and Modi Alon shared unofficial command of the new fighter squadron and Lenart led the first mission. The wingman pair of Lenart and Alon took off first, followed by Weizman and Cohen. Lenart, however, was unfamiliar with the country and once in the air realized he didn't know the way to Ashdod. The S-199s had no radios so he used hand signals to indicate that to Alon, who pointed in the proper direction.
The official report of the operation reads as follows:
At 1945 local, a four-aircraft formation took off to attack a large column of Egyptian vehicles, between Ashdod and Gas'ser Ishdod, which had just stopped on the southern side of a destroyed bridge:

(1) - The leader, Lou Lenart, approached Ishdod from the north and dropped his bombs in the center of the village. He observed the largest vehicle concentration at the road curve about 300 meters south of Ashdod. His second pass was from southeast to northwest. His third pass was from north to south and in both he strafed with his machine guns since the cannon ceased firing after the first ten rounds. The AA fire was very intense and most of it came from 40mm guns. He landed at 2025.

(2) - Modi Alon approached from the northeast. South of the bridge, he observed a lot of vehicles and also many more vehicles were observed east of Ishdod. He dropped his bombs on the vehicles on the road. On his second pass, he attacked from east to west and on his third from north to south. In his passes, he exhausted his ammunition and returned home flying over the sea. The AA fire was heavy. He estimates the number of vehicles in hundreds. Upon landing at Ekron, his left brake did not function and he could not maintain a straight line as a result. Finally, he performed a ground loop, the left tire exploded, and the wing tip struck the ground and was damaged. He landed at 2005.

(3) - Ezer Weizman attacked from south to north. At first, he witnessed about 20 vehicles south of Ashdod and dropped his first bomb. In his second pass, he attacked from west to east and dropped his second bomb about one kilometer north of Ashdod. His third pass was from south to north. His cannons fired one round each and jammed. His machine guns worked fine. He landed at 2015.

Eddie Cohen was in radio contact with base. On his way back he reported that all was OK, that he saw the base and that he was about to land. From Ekron, he was not observed and he did not land there. Our men near Chatzor air base saw an aircraft engulfed in flames trying to crash-land two and a half kilometers distant. Two infantry platoons were sent immediately but the Egyptian forces were the first to reach the location. It is thought that Eddie Cohen mistook Chatzor for Ekron and tried to land there with his damaged airplane. (Cull et al 1994, Huertas 1998)
Alon's guns had also jammed. Lenart had used a clover-leaf attack pattern he'd learned in the USMC.
Cohen was killed in the crash. His S-199 may have taken an AA hit which started a fire that he apparently hadn't noticed. In 1949, Israel recovered Cohen's remains near a small airfield called Beit Daras, at the time of his death in Egyptian hands. Cohen could have mistaken that field for Ekron and received fatal defensive fire from defenders in the area.
Despite the loss of one aircraft and damage to another, the mission succeeded. The Egyptian force advanced no farther than it had on May 29 for the remainder of the war.
On May 31, Alon won a coin flip with Lenart to see who would support construction of the Burma Road in the last flyable S-199. After that day, the squadron reserved the shot up but still airworthy plane for air defense. Alon and Lenart alternated twilight patrols over Tel Aviv, a patrol that paid dividends on June 3, when Alon scored Israel's first two air-to-air kills over a pair of Egyptian C-47 bombers.
Airborne and alone, Lenart reflected on the fact that he alone was responsible at that moment for providing the air defense for the entire country:
I suddenly had the feeling that I was David. I was watching over my people, ready to defend them with my own body. It was such a powerful sensation that tears literally came up in my eyes. (Yonay 1993)
As commander, Lenart checked out new pilots and when Giddy Lichtman showed up the first week of June, he and Lenart took to the skies in a pair of aircraft which may or may not have been S-199s. Throughout all the maneuvers, Lichtman stuck to and impressed
Lenart who told the new guy they would always wing. "I'll be Lou the Jew and you'll be Gid the Yid," he said. (Weiss and Weiss, 1998)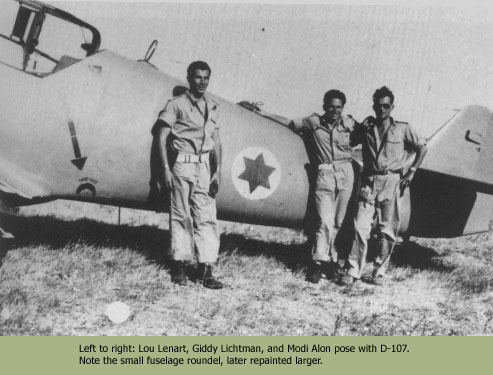 Although he didn't design the 101 Squadron logo, Lenart was apparently the person who suggested the angel of death theme the night Stan Andrews drew it up with Bob Vickman. Mindful of their main foe, the Egyptians, Lenart remarked that it had been the angel of death who finally forced the biblical Pharoah to capitulate in the Passover story.
A UN-brokered ceasefire kept things quiet until July 9. At dawn, as part of the new Israeli offensive, Lou Lenart led Vickman and Bill Pomerantz from Herzliya into the air in bomb-laden S-199s. Stan Andrews (Sandy Jacobs?, Huertas says) had planned to be the fourth, but he flipped his plane on its back on take-off. The target was to be Al Arish.
Lenart took off first, to be followed by Andrews. On take-off, Andrews slewed to the left and dug his right wingtip into the ground. The plane flipped and rested on its back. Ground crews tried to move the plane for 20 minutes while Lenart orbited the field. Finally, some local Yemenite farmers used long poles to right the plane. Vickman and Pomerantz then joined Lenart.
After the 20-minute delay, Lenart was too low on fuel to make it all the way to the planned target, so over Gaza, he ordered his flight to turn back. Lenart spotted and attacked a ship in Gaza harbor that appeared to be unloading troops and supplies. Lenart dove in a dive bombing and strafing attack with Vickman behind him, but when he pulled out, he couldn't find Vickman's plane. He returned to Herzliya and landed extremely low on fuel. The third pilot, Pomerantz, had beaten Lenart back home. Vickman did not return and the 101 believed that he had been shot down by ground gunners, although one REAF Lysander pilot claims that Vickman tried to attack him but hit the sea. It's possible that as Vickman egressed, he attacked the Lysander and flew into the sea while chasing it, either through an error in judgment or because he had mis-synchronized cowl machine guns that damaged his prop.
In any case, the 101 had lost two pilots and both had died under Lenart's command. Because of this and/or because he had failed to strike Al Arish, Lenart was soon transferred to Air HQ where he took charge of air-to-ground operations on the southern front. Lenart had specialized in combined attacks in the Marines. He never flew a S-199 again, but when David Ben-Gurion visited Ekron on his August 17 tour of air bases, Lenart controlled the air demonstrations with a portable radio.
Before Operation Yoav in October, Lenart had sold the concept of forward ground controllers to Aharon Remez, head of the air corps. Lenart had a crew customize a jeep for the job with a Spandau machine gun on the hood and a Beza machine gun in the back. They filled the jeep with radio equipment and hooked up a trailer with a generator.
In the afternoon of Oct. 14, Lenart and his crew of gunners and radio operators were about to leave for the Negev when Lenart decided he had better take along spare tires.
Lenart and former 101 pilot Coleman Goldstein went to a supply clerk and Lenart asked the clerk for two tires. The clerk told Lenart that he needed a written request from a higher officer, which because of the time (after 5 p.m.) could not readied until the next day. Lenart could see stacks of tires in the storage area behind the clerk and the two of them argued increasingly forcefully.
Frustrated that the bureaucracy might fatally delay his project, Lenart chambered a round in a rifle, aimed the gun between the clerk's eyes, and told him, "OK, you son of a bitch. You've got ten seconds to give me the tires or I'm going to blow your fucking brains out." (Weiss and Weiss, 1998) Goldstein paled, but the clerk, not waiting for the countdown, fetched a pair of tires.
Many months after the war ended, Lenart and Slick Goodlin joined a private charter service that ferried Iraqi Jews to Israel.
In later life, Lenart held a number of unusual jobs. He was at one time general manager of the NBA's San Diego Clippers basketball team and co-produced the movie "Iron Eagles". He now lives in Israel.
It's amazing how pilots back in these days could
navigate
their flights without radios or flight towers. These pilots had to be extremely
knowledgeable
and quick-thinking when in flight from
Canada
to Europe and beyond. If you are looking for good prices on flights to Canada or other countries,
cheapflights.ca
is a great resource!

Click the badge to return to the squadron roster