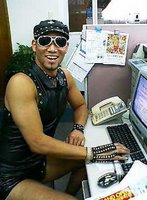 While reading AGW last night (see link in masthead to right), a post turned me onto Hard Gay videos at YouTube.
I was in bed with my laptop and I was laughing so hard, I was surprised that I didn't wake the wife.
If you're gay with no sense of humour, you won't like Hard Gay. Nor will you if you find flamboyant homosexuality disturbing. Otherwise, bust a gut. He's your everyday Japanese leather boy with a heart of gold. Try not to hurt his HGP (Hard Gay Pride).
I first watched the ramen shop video, so I'll introduce you to that first as well:
I've embedded this clip from
YouTube
, and you can find other clips there, but I prefer the more comprehensive
Bakafish site
with even more videos and even translator's notes.
Once you've had your fill, you can read the
story
of the man behind the sunglasses at Wikipedia. But watch the videos first. Hooo!