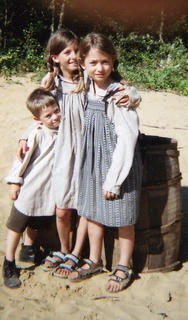 We've had no contact from the other stage dad, but here's a snap I took on the second day of shooting, to finish off Child One's disposable camera. Left to right, that's Children Three, One, and Two – and it's a very rare photo of Child Two without a genuine smile. And an equally rare photo of Child One with a genuine smile.
Note the ultra-modern footwear on the girls. The costumers had no shoes for the older girl (either actor*) and the shoes for Child Two gave her blisters. They'd have gone barefoot, but the sandpit contained scattered broken glass. The result? The kids were carefully shot from mid-calf up, although the father often lifted the properly shod boy into his arms. I'll be looking for flashes of sandal, though, when this finally hits the air.
* When did the term "actress" fall from favour, anyway?