Last night's bedtime movie was "The Good Girl".
I noticed Mike White in the film – how could you not? – and I appreciated the simple yet convoluted story, but I hadn't put the two together. Yeah, he wrote it.
He appears in most of the movies he writes: "Chuck and Buck"; "School of Rock"; "Orange County"; and more. I first noticed him in "Chuck and Buck", appropriately since that was his first lead.
In general, White's movies are small-scale stories of off-kilter individuals. "School of Rock" is the most famous, probably had the best box office as well. He hasn't yet written anything that hasn't drawn me into his world. I'd call "Nacho Libre" the worst thing to come out of his head so far. That's a pretty good record.
But why doesn't White's name come up more often in discussions of today's best screenwriters? I'd put him up there in the top 20 certainly, maybe the top ten. Why does Charlie Kaufman get all the press?
Beats me. Maybe White needs to seek out the press more often. Anybody else as big a fan as me?
Bonus movie-watching update:
We saw "A Night at the Museum" between the time I started this post and the time I finished. I'd forgotten that Steve Coogan was in it. I just look at him and chuckle.
Well, we didn't get to see "A Night at the Museum".
I made lunch for the kids and asked the younger two to clean up a game they'd been playing while I cleaned up and got dressed. Oddly, Child Three complied and Child Two procrastinated. She and Child One wrestled or something.
The movie was scheduled to start at 2:00. At 1:45, I noticed that the game was still out. We waited for Child Two to clean up. The theatre (AMC Saratoga) is about a ten minute drive from here in Santa Clara.
Child Two put the game away and we were off. We lost five minutes to traffic. Then we lost another five minutes trying to find the theatre, and five more looking for parking. It was 2:05 by the time I parked the minivan.
We ran to the theatre, only to find a long line of people waiting to buy tickets. Sigh.
There was no other movie that appealed to us in terms of content and start time, so I thought we'd drive and look for cool stuff to do. We left the Westgate Mall area (the mall's across the street) and drove south on Saratoga. I though D&J; Hobby was down this way, but I didn't know exactly where. (My 12-year-old memories were very, very close, but not quite good enough – the theatre is roughly where Hamilton and Campbell join.)
I drove down dull Saratoga to 85, then headed over to take 17 north, but changed my mind and took Bascom, which was a street that I liked to shop on when I lived here. It has a Cosentino and a Trader Joe. As I drove by the Pruneyard, I noticed another movie theatre, so we stopped to check the show times. No dice.
I drove up Bascom to 280, then east to the Bird exit. I showed the kids the Willow Glen we lived in on Fuller. Child One, the only one to really live in that house, was the only one who was even mildly interested. The house looked the same, but had considerably more Christmas decorations on it than we ever put up.
I headed north to show Child Three the Shark Tank (a.k.a. the HP Pavilion these days). It was 3:15 by now, so I figured the crowd and parking lot at Valley Fair would be subsiding.
Nope. Not even close. We spent a nervous half-hour in the Valley Fair parking lot looking for a parking spot. I say nervous because Child Three had to pee so badly that we considered having him use an empty water bottle. There was no place even to pull over and let him go outside.
I somehow found myself in an exit-only lane, so I exited. I spotted a strip mall with the Train Store and figured that was as good a place to pee as any.
Child Three's moan of relief could be heard from down the hall. All four of us went.
The kids voted 2-1 to walk around a mall rather than go home, so I drove back to Westgate Mall, thus completing a circuit of Campbell, more or less.
We window-shopped, mostly (Child One bought a game) then came home.
Late at night, Elvi and I watched "Hellboy". No plot holes there….
Technorati doesn't seem to gather in all the updates it ought to. As a result, some of the favourites listed on my Technorati Favorites page appear to have been last updated months before the actual last update.
I put a plain old link to those blogs I like to read regularly but which Technorati seems to miss. I see no pattern. I can offer no advice.
Technorati does offer code to plug-in and make the updates appear on my blog, but it's too ugly.
I'm going to take the kids to see "A Night at the Museum" this afternoon.
Blogrolling was a great idea, and still when it works which these days means not anymore.
I've fired Blogrolling.
There doesn't seem to be a replacement that will do all it used to do, so I've opted for a Technorati Favorites page, which lists blogs in chronological update order, but which can't be displayed on this here blog. I can link to it, but that reduces the ego value of any fellow blogger who wants to see his blog in RAF red on Avia green.
I've only just started adding blogs to the Technorati page, but doing so's easy with the automated "Add to Technorati Favorites" browser button.
I could use a feed reader, but I'm trying to simplify my life, not overwhelm it.
Bonus child fun:
So we're in California, staying with Elvi's sister and her children. Her sister runs a spiritual household and tries to ground her children in propriety. She also sends her kids to a Waldorf school. Waldorf education de-emphasizes reading and as a result, her eight-year-old girl (or is it seven?) – let's call her "M" – can't read or write.
M and my six-year-old Child Three got into a minor spat. M wanted to hurt Child Three with an insult but for some reason wanted to write it down. She drafted my Child Two to do the writing and dictated the insult.
M delivered the note, which said "You are the Devil, Jacob", to Child Three.
Elvi's sister found the note and was not amused. I laughed, and chuckled a while after that. I'm still smiling. This was the worst possible insult that M could think up, but out in the real world, it's fairly innocuous. Child Two, the poor girl, is such a sweetheart and only tried to do her cousin a favour. She didn't realize this was such an awful thing to say in this house. She didn't know where to turn.
Child Three, meanwhile, was upset at first but soon shrugged off the note.
But, man, was it funny.
I spent seven hours visiting with fellow 101 Squadron enthusiast Alex Yofe. I thought I had a decent library and research but his stuff puts mine to shame. He's been collecting and interviewing for three times the amount of time I have, so that's understandable – expected, even. But to see it….
We spent the time looking through photos and telling stories of the fantastic people we've met and now miss.
Alex presented me with a free copy of his latest book, "Spitfire Mk. IX in the Israeli Air Force Service 1948-1956" as well as a poster of a 101 Squadron victory over the RAF on January 7, 1949. (He'd sent one to me years ago that was damaged in transport.)
Alex wasn't pleased with the text he wrote for this Spitfire book – English is his third language – so he asked me to write the upcoming book on the Avia S-199. To the detriment of my earning power as a freelancer, I couldn't agree fast enough. Most of the photos and illustrations will come from Alex, and we will collaborate on the text. I'm honoured. The book should be out by April.
And the South African sausage at dinner chez Alex was superb. It was a slim, homemade beef (?) sausage seasoned with a South African spice mix that tasted a lot like Montreal steak spice.
Bonus hint that "Futurama" has affected your child – well, my child:
Child Three and I were discussing my sister-in-law's Christmas tree and he asked, "Is the Christmas tree going to stay alive?"
"No," I said. "It's been cut down. What would happen if your head were cut off? Wouldn't you die?"
"I know where I was cut," he answered. I prompted him with a raised eyebrow. "On my lower horn."
The suitcase, that is. We're off to Santa Clara, Calif., after a drive and sleepover in Albany, N.Y. Santa Clara, part of the Silicon Valley complex, has been about as warm as Montreal lately, although historical weather trends should hold in the long term. Still, it's a green and brown Chanukah in Montreal this year.
I asked for and received a one-week extension on my travel article, which will help make up for the number of people who either don;t return calls in December or take the month off. that left me with some Webs time yesterday. I reworked the beginning of "Sheep's End" from those notes I'd written in November. I like it more and more. I do have to boost some stakes in there, but I need to finesse that somehow. I could have the villain beat up the female lead, but that wouldn't be in the spirit of the thing. She is already kidnapped, but offscreen. Perhaps I can put that in front of the audience. Ah, I'll figure it out. It's a goal for the next three weeks.
Other goals include reading at least seven TriggerStreet screenplays, reading Cornelius Ryan's "A Bridge Too Far", work on "By the Book", and finishing this "Sheep's End" boost. At some point, I'm going to grab a coffee with fellow 101 Squadron researcher and author Alex Yofe. And if I can convince myself to drive three and a half hours, I might go take a look at this tarted up Mustang replica.
Craig Silverman's Regret the Error blog reports on corrections in journalism. I visit once in a while, but at year end, Craig notes what he considers the best of the year in whichever categories he deems necessary.
I read his annual wrap-up last night and I laughed so hard I was in tears. It was just one of those episodes where you can't stop laughing. Here are two examples of work that needed correcting: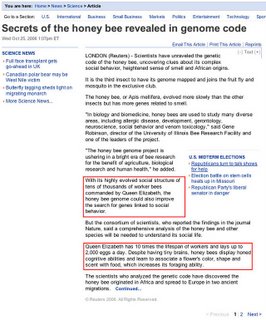 I'd like to see Helen Mirren try that!
This one is pure anti-genius, from the kids at the Exponent, a student newspaper at Purdue University:


The Queen Elizabeth gaffe is a case of misuse of automated spell-check. This one shows why you need to be extra careful when you copy and paste text or use a template to maintain a style. Make sure you remove all the old text. Better yet, use stylesheets.
Bonus holiday treat tangentially related to screenwriting:
Industrial Light and Magic has a Web site that reveals in gory detail how the company produced the special effects for "Pirates of the Caribbean 2". It's heavy duty Flash, but fantastic.
And you learn that Davy Jones has exactly 46 tentacles on his face.
To us!
Elvi and I decided to try to fix the dishwasher ourselves. A bit of Web research revealed that this was probably one of two problems. Either the plastic valve that the drainage hose hooks up to was clogged or the motor/pump had ceased pumping in the proper direction. We figured there was a clog in it, because that we stood a chance of fixing.
Thursday, we tried to get at the drainage hose from the side, but we couldn't reach it. In moving the dishwasher out from under the counter, we stressed the copper pipe that brings the thing fresh water and it started to drip.
I worried that we'd split the pipe. I turned its water feed off and Elvi put a towel own. She's more optimistic than me and she thought we just loosened the nut that keeps the pipe attached.
We then tried to follow the drainage path, essentially. We started taking parts off inside the dishwasher. We got as far as the spray arms and a water propeller, but we were stymied by a nut and rubber cover.
We stopped there and called Art, a plumber-savvy sort of fellow. He agreed with the diagnosis told us the right way to do this – he was too busy to come over. The way to get at that drainage valve is from the front, after removing the kickplate. While Elvi did that, I cleaned the gunk out of the parts we'd removed.
When you know what you're doing and how to do it, repairs are easier. Elvi handed me the valve she removed and I used a skewer to push out the end of a chicken wing bone and the detritus that had agglomerated around it to seal off the passage.
Art said he'd seen these valves clogged with lemon seeds. I smell a design flaw.
Victory is sweet.
IWC, the high-end watch company, produced a film to advertise its Pilot watch. The film stars two clipped-wing Spitfires, a LF IX E and a XIV. And a Junkers Ju 52. And John Malkovich. I fell in love all over again. Not with John Malkovich.
Watch here.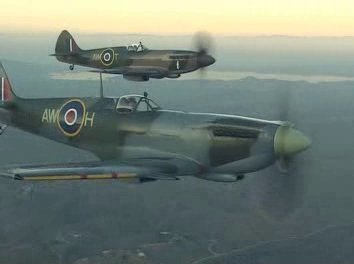 Then, watch the "making of" film here.
I think those two gorgeous creatures both belong to the Planes of Fame in Chino, Calif. That museum's LF IX spent its career with Canadians, shooting down two Bf 109s with a third probable and a probable FW 190.
Bonus thought of the day:
If dogs had reached the levels of intelligence and technology that characterize modern humans, would they urinate in toilets? Or would scent still be so important to them that they'd pee on their homes' walls?
Wizard Entertainment has a brief interview with "Futurama" showrunner David X. Cohen.
Even though the bastard didn't invite me to the room, I thought I should point you to the piece. The new season is halfway written and in production.