The good news first: Nearmiss reports that our outline has been accepted for production: "We're in. No contracts yet, but I did bug him about it today."
She's going to take first whack at the script this week while I figure out how to teach Javascript, CSS, and syndication to a class of tech semi-literates. I think I'll start by not teaching how to code Javascript. It should be adequate to show them only what it is, to make them familiar with the code through some simple examples. They're training to be journalists, not Web designers.
Now the bad news…. Quite a few Netsurfer Digest subscribers have written to me since the last issue in November. They want to know what's been going on. I've posted in blog posts all that I know, so I furnish them with the relevant links.
Today, a subscriber wrote in with the first legal threat. Whether or not a lawsuit, even a class action suit, is worth pursuing for a $20 subscription is beside the point. One thing I did learn from the threatening e-mail was that Arthur had put a line of red text on the site that reads "Since some of you are wondering, yes we'll have our first issue of the 2006 year out shortly (roughly by Jan 23/24 or so). Patience, patience!" You'd think he'd tell me about that.
The letter reads (with an edit, by permission):
Your last issue was in November, 2005. The links to all services such as back issues etc. don't work; they are locked.

I have been a subscriber since 1998. You have thrown out all pretext to professional journalism and the public should know about it. There is always an attorney out there willing to take a class-action suit against your publisher. I have copied those Internet news services that may bring the story to the public.

It's not the cost of a subscription that matters but the principal. You have not lived up to your subscription contract. How many $20 subscribers have you cheated this year? It's not the editor or writers that I point the finger at (I wonder whether they were cheated on paychecks) but the publisher. This is worse than any security problems we face.
Bonus atmosphere:
I write this post on my laptop, seated in the downstairs bathroom as chinchillas run free across my feet, legs, shoulders, and head. One just scampered across the top edge of the laptop screen.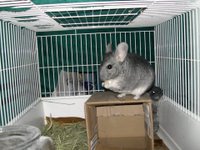 We have a new species in our home. Child One has decided to take in two rescue chinchillas. They are about a year old and unlike most small mammals, live a long time. Child One is 11 years old and may have a graduate degree by the time her chinchillas reach the end of their natural lifespan.
One is light gray and male, called August. He's on top of the box. The other is darker ("black velvet" in chinchilla-breeder jargon) and female, named June. August is more social, and neutered.
These are by far the most social mammals in our home, dog and some children included. If you have a chance to play with them, or you're looking for an expensive pet (or a free rescue pet), I recommend them.
I bet the mouse gods are angry.
The ophthalmologist took a look at my eyes this morning. He concluded that I do have keratoconus in my right eye. He also said my left eye was fine. He said that the keratoconus shouldn't worsen given my age.
He didn't present me with a lot of treatment options. Given that my left eye is perfectly correctable, the doctor said the only option he'd consider is to do nothing. He could have prescribed a hard lens for the right eye only, but he said that patients who use only one hard lens tend not to use it at all, since it's uncomfortable. That solution, as I mentioned before, does not fit my lifestyle.
He ruled out surgery or implants because I don't need them to function.
So I'm stuck living life as if I have a clear sandwich baggie (both layers of plastic – I checked) permanently welded over one eye. It's a huge pain in the ass.
The three and a half good eyes of Nearmiss and myself finished the "72 Virgins" outline. It's in the producer/director's hands. News as it comes.
Bonus recipe:
It's cold and snowy out. Steak under a broiler is just too gray and lifeless. I don't have an indoor grill.
When I need a wintertime beef fix, I tend to go out or fry it at home. I cook a bit, so it's occasionally more sophisticated than slapping it into a cast-iron pan and letting it sear on both sides – although that has its place.
I tried something different this week and thought I'd share – it's ludicrously simple and delicious. My local Iranian grocery sells huge boneless sirloin steaks for C$11/kg. That's US$4.33/lb. I had to do something with it. This came out wonderfully. Scale as necessary:
2 lb sirloin
1/2 cup light soy
1/2 cup rice wine
3 tbsp green peppercorns (canned; I'm estimating how much I used)
Cut the steak into strips a half-inch wide. Mash half the peppercorns. Dump all ingredients into a bowl and mix. Let it sit and marinate an hour or two.
Heat up a wok or large skillet (I have a huge frying pan) with two tablespoons of peanut oil. Drain the meat and peppercorns of excess marinating liquid; keep as many peppercorns as possible for the cooking. Once the oil is hot, dump the meat and peppercorns into the pan.
Chow/stir fry the meat until it reaches the proper level of doneness (which is rare, of course). Dump into a serving dish and pour the masterful, naturally-produced pepper gravy over the meat. Serve.
This dish has one of the highest taste/effort ratios I've ever managed. Let me know how it comes out for you.
Elvi and I watched a lot of comedy tonight and our biggest laugh came, ultimately, not from a writer but from an actor.
The second season of "The Tournament" has been workmanlike comedy: good enough to watch, but not as inspiring as the original stretch of episodes. This year's season has gotten better as it's gone on, however, and tonight's episode 9 was easily the best of the lot.
The introduction of Barry McConnell's dad was a genius tactic. The guy was scary enough to have an effect on Barry, but was multidimensional enough to feel real. He wasn't the cartoon that Hank Hill's dad is. If Robbie wants to dance, let him dance, this mean dad says. And he does teach Barry a thing or two about keeping your lady happy.
That's all fine. So is the admiration and pity that Barry's hockey buddies – yes, even Singh – throw his way when they meet his dad.
But our biggest laugh came from pure acting. You can't write "Barry's face expresses disgust, despair, and 'I should've seen this coming' all at once." Well, you can – but unless you have an Alain Goulem to play it, it's not going to mean squat.
I wanted to post a short note to keep Jakob Nielsen happy (see #7, and ignore the rest with respect to this post).
I've been working on characters for "72 Virgins" most of the weekend. Most of the inspiration came at a Havdalah performance that Child Two and her classmates put on Saturday night. Remember, monkeys: never travel anywhere without pen and paper.
Right now, I'm going to hop in the shower, do carpool, and go vote. I find this particular election exciting, because the Liberals always pull more votes than polls predict. The margins in Canada's parliamentary system are fine. A swing of a few percentage points can tip ridings. How big will the swing be today?
I predict a Conservative minority government. The Tories (the Conservatives) won't pull in as many Quebec votes as predicted and won't have enough MPs to control Parliament outright.
The Liberals will clean house and get rid of all visible remnants of the Chretien/Martin power struggle/structure. Once the Liberals have a new face/facade in six months or a year, they will topple the Conservatives and waltz back into power.
This prognostication assumes that:
a) Stephen Harper is the Stephen Harper we knew and avoided before the campaign, and is not the new improved version we saw during the campaign.
b) Harper and his party avoid the tendency of all elected parties to slide toward the centre. If the Conservatives stick to their guns, they will alienate the other parties enough to lose confidence.
My vote? I live in the western half of Montreal. My riding will vote Liberal. I like the Conservative platform and I would like to see the Liberals clean house. But I can't help recalling that Harper has said he'd have sent Canadians into Iraq. I'm not a big believer in pre-emptive war, so that gives me pause. Afghanistan? Sure. Iraq? No.
Gosh. Politics is something I actively try to avoid on this blog. Dang.
Powerful Western democracies – and Canada – can kick ass militarily. To maintain favour in the global eye, however, they must wield that big stick with caution. The US can't be a bully and expect weaker countries to fall in line.
Nobody faults the US – and Canadian – invasion of Afghanistan, because that was retaliation. Even if Iraq had planned an attack on the US, the US has to stand and take it. Once hit, any country would have global support to hit back. Look at Gulf War I.
It's braver to face the threat than it is to push first.
Even though I know no one in the Canadian military, even though I would have no personal investment in Canadian forces in Iraq, I'm glad my country isn't involved there.
It's gonna have to be a quick shower….
We found a roof, provided by another TriggerStreeter. It's the top of the DeWitt Theatre in Auburn, Calif. It's not quite the urban setting we had in mind, but it sure beats a hill. Marior has admitted that his hill just won't do, so it looks like cast and crew will be making the three hour drive to Auburn. You can see the roof in a small image at that link.
In the meantime, Nearmiss pitched four shorts this morning:
"The Apple": A morose teenager young teenager is the target of his family's criticism even after he eases his grandmother's passing.
"72 Virgins": A suicide bomber finds himself in limbo with his victims and has to convince them to pass to the other side before he can attain Paradise.
"Do No Evil": Three sixth-graders take shortcuts as they summon a special demon to do their bidding.
"Weeping with the Fishes": Fish in one tank launch a surprise attack on another tank only to be greeted with an escalating response.
Looks like they want to buy "72 Virgins", so Nearmiss and I will spend this weekend writing outlines. I had already roughed out a synopsis for the pitch.
Bonus search engine referral:
A netsurfer in the Islamic Republic of Iran found 101 with a search for "sexy poster" on Blogger's Blog Search.
Now, if that won't tip the scales to get this post tagged in Echelon, nothing will.
Off to chip the front walk. We can't have the G-men slipping as they assault my home.
Nearmiss and I have until the weekend to come up with loglines and synopses for four shorts. We IM'd this morning and already have three ideas to work on: working titles are "Weeping with the Fishes", "Dead Grandmother", and "Bad Hockey".
On top of that, Marior wants us to rewrite "Time and Space" so that the key scenes take place on a hill instead of on a rooftop. I have nothing against rewrites, but the driving force behind this one is his inability to easily find a roof. The rooftop scenes work because of the roof-access door and the parapet around the roof, so I'm spending the time finding a place to film remotely. This looks promising.
With a little effort, it's just not that hard to find a roof. Makes me wonder about the rest….
Our director had such overwhelming response to his Craigslist casting call that he pulled it down after two days.
This is what it said, unedited. (I just noticed he asked us to edit it. Oops.)
We are making a short, no budget, 10 minute long, Sci-Fi film which might be incorporated into a feature length movie.

We are looking for actors, and we are also looking for crew, and post production people.

ACTORS-

SHELDON, 33, intelligant college drop-out nerd.
MOM, 50-ish, matronly
TIBOR, 20, younger version of Sheldon
CASS, 20s, sexy goth girl
WEREWOLF GUY, 20s, tattooed, (but not necessary), long haired, bad boy type
TEEN BOYS 1 and 2, into comics
GRETCHEN, 70s, demented
YOUNG BOY, 10,
ALIEN BEINGS 1 and 2, Tall and big, muscle-bound perhaps

CREW-

TWO CAMERA GUYS, if you have a video camera, 24p, and are experienced. Got a stabilizer or tripod?
MAKE-UP PERSON, if you have experience
WARDROBE PERSON, are you a seamstress?
PROPS GUY,

LOCATIONS!!!

We need a place to audition and rehearse, so you have a room and/or BACKYARD, or office space near the South Van Ness area and would be willing to let us use it we would be most appreciative.

We need these locations for the shoot-

SHELDON'S BEDROOM- If you just have a bedroom with lots of light, great. If you have a bedroom with these things in them even better; messy- clothes all over, text books, science books, sci-fi posters, especially goldfish bowl and/or snake and lizard aquariums

MOM'S KITCHEN- with breakfast nook area

ROOF TOP- We need access to a roof top with accessible by stairs with door. The roof should have a brick parapet (small wall around roof). Building must look like it could have gargoyle statues on it. (if it doesn't, a gargoyle will be provided, but the building must look like a gargoyle is not out of place.)

If you know of a location like this and have access to it, let us know.

POST PRODUCTION CREW

VIDEO EDITOR, experienced
SPECIAL EFFECTS PERSON, experienced

CONCLUSION-

If you fit any of these positions, or not, or know of these locations, or would just like to wish us luck, please contact us. This a no budget short film being made for the fun and experience. If you would like to be considered for future productions please contact this poster. We will let you know when and where we hold auditions.

Thank you.
Nearmiss wrote me today. A different producer wants to hire us to write a short or four for this summer's festival circuit.
Dang. I may soon be able to say I'm a paid screenwriter. I've found that the local pros I've met at schmoozefests and elsewhere are remarkably welcoming of amateurs, but I can't help feeling like a wannabe. The psychological benefit of pay will help me more than the cash itself.
Speaking of schmoozefests, Montrealers should check out the new Montreal Film Group. It's not a writers' group but is meant to cover all aspects of film. I can't make the first meeting on January 31, but I expect to attend subsequent gatherings.
This link calls up the Craigslist casting call for "Time and Space". (Our director wrote and posted it. Ahem.) And you thought I was making it all up….
I dropped by Alex's today to deliver a new ADSL modem. He asked about "By the Book" – a title I grow less and less fond of, by the way. He found it to be a fun idea with great characters. He suggested it should be a comedy, and he's not the first to say that. I had planned some comic moments, but I'm not sure I could handle the genre switch. I'll let the story take me where it wants to go.
Bonus stupidity:
My sleep schedule has been screwy since Friday. I discovered at midnight that I had prepared the wrong lecture for that Friday's class, so I spent the next six hours getting the proper lecture into shape. Saturday, Elvi and I stayed out late. Monday, I only fell asleep at 5:00 a.m. and I woke up at 1:20 p.m.
This called for drastic measures. I didn't go to sleep last night. I can get by fairly well without sleep, although hockey tonight may be a gear lower than usual. With any luck, I'll come home and nod off fairly quickly.
While I shuttled children this afternoon, Elvi drove down to Burlington to retrieve the new monitor. Gosh, I'd forgotten how nice its screen looks.
I calibrated it in ColorSync, which advises you to squint or lean back from the monitor as you calibrate. (Un)fortunately for me, I have keratoconus in my right eye, so all I have do is close my left eye and the monitor gets blurry.
I've worn glasses or contact lenses since Grade Two. I developed astigmatism in my teens, but contact lenses corrected for that. When I decided to switch back to glasses a few years ago, the optician couldn't get rid of some slight double vision. I saw an ophthalmologist on his recommendation, and the doctor diagnosed the keratoconus in the right eye.
At the time, the only options he presented to me were expensive hard contact lenses or corneal transplant surgery. Since the lenses will need to be replaced if the keratoconus worsens, I opted to do nothing.
I'm a big wuss when it comes to eyes. I feel uncomfortable when someone only points at my eyes with a popsicle. Putting my contacts in is fine, but corneal surgery? Not yet.
Soon, maybe. I'm pretty much legally blind in my right eye now. I can't read these words with my left eye closed until I get about three inches from the screen.
Other options have developed in the meantime, such as Intacs. I should look into this again. I wear my glasses everyday, but wear contact lenses for hockey, and I'm not sure there's a non-surgical solution that's flexible enough for my lifestyle.