I'll post my 2007 baseball prognostications by Sunday, but for now, let me look back a year at what I said last April 1.
NL EAST
The NL East is a tight division. Philly has the best team on the field, but has no bench, although Dellucci will help. The team may suffer at 3B. The Philly starters are mostly young and talented. The Braves are also solid. There's no hole to be seen. The Mets need a middle infield that can contribute more than speed, and the back of the rotation is shoddy, and would be even with Heilman starting. I'll go with the Braves.
The Mets won it in a laugher as Jose Reyes pounded the ball. They moved to some hitting at second base, and did fine. The pitching came through with some unexpected contributions. I was sure right about the Phillies, but I'd picked the Braves. The Braves suffered quite a bit from injuries on offense and on the mound. Only two pitchers started more than 18 games. I'm not ashamed of that pick.
NL CENTRAL
Houston has the hitting, but needs Clemens for the team to squeak its way into the playoffs. The Astro starters are Oswalt and Pettitte and then forget it, although the bullpen is a good one. Chicago has adequate pitching even without Prior and Woods, and any innings those two can contribute only help. The Cubs line-up is solid, especially with Walker as the primary man at 2B. If Dusty Baker can avoid using his weak bench too much, I smell a pennant. Milwaukee is a dark horse, but people overrate their starting pitching. St Louis will struggle to dominate their division, but will be near the top. The Cardinals are in decline. Aaron Miles, Sidney Ponson, and Larry Bigbie do not a pennant make. I'm going to pick the Cubs for the NL Central.
With too many defensive specialists and unexpected poor performances, the Astros did not have the hitting. One more decent bat would have won them the division. Pitching overall was decent, especially once Clemens came on board. The Cubs' pitching plain stunk. They did need Prior and Wood – from 2004. And, shockingly, Dusty Baker couldn't refrain from going to his weak bench. The list of middle infielders is nauseating. Contrast that with Tony LaRussa, who got his weak bats off the field and rode a mediocre team to a pennant by default.
NL WEST
The Giants just plain stink. Two thirds of the outfield won't last the season as senility and/or rage sets in, and then primary back-up Finley will join the others in the home. Todd Linden will be starting by October, and that's not a plus. The Giants don't have even an average first-baseman. Todd Greene is the fresh young face. Jason Schmidt is the only decent pitcher on the team. Noah Lowry is slightly above average. Matt Morris is a nice pick-up, in 2001. The Rockies still haven't figured out what that earthen bump between home and second base is. I want to like the Padres as the best of a bad lot, but I can't pick a team that's relying on Vinny Castilla, Mike Cameron, and Shawn Estes to improve. The Dodgers need another outfielder, or a rejuvenated Jose Cruz Jr., but for now they are the best of a bad lot in the west.
Did I call this one or what?
AL EAST
The Blue Jays are better, but they're not better enough to top both the Yanks and Sox. The two traditional powers will spend another summer banging heads. Damon and Millar are great characters, but their skills are replaceable. The Yanks have Chacon in the rotation and Bubba Crosby is the top bat on the bench. I'll take the Red Sox, who are again solid, top to bottom.
Does that count as calling the Jays to finish second? I like to think so. Makes up for picking the Sox. Never underestimate the Yankees' ability to fill holes.
AL CENTRAL
The AL Central is stacked. You could pick any of the big three (Cleveland, Minnesota, Chicago) and make a case. I'll go with the White Sox on a gut feeling that Thome will have a big year. I like their pitching more than the Indians', too.
Detroit who? What Tigers? I don't feel bad about missing that. No one else figured it out either, and the Twins won the division, remember. Thome had his big year and the White Sox finished with 90 wins out of the playoffs.
AL WEST
The Rangers are the sexy pick, but they are doomed by half their starters in a close division. The Angels have too many guys with good fantasy stats and poor baseball contributions. I have to go with the A's. They nearly took the division last year, and they cut out the deadwood and improved at all weak points for this year. Offensively, they don't have room for a bat like Bobby Kielty's. (The Cubs or Dodgers could use him.) Pitching-wise, the A's led the league in ERA last year and are better this year. They… could… go… all… the… way!
The A's took the division but few people had picked them. Ahem. Now, if only Billy Beane's shit worked in the playoffs.
They say the relief of stress is a trigger for migraines. I finished the S-199 book this morning and I have one heck of a tension headache, but I don't think they're related.
In addition to the book, I've been busy finding crew for Alex's short film. We'll be filming in late May. I surprised myself on this – I've already got a list of 28 volunteers. I used a Craigslist ad, but also worked the phones and the community. Feel free to hire me to do the same for you.
I'm saddened that no one has stepped forward with an image or video of Antonia Maioni and her unruly head of hair. No one else even seems to have noticed it. What's wrong with you people?
I was doubtful that this week's provincial election had killed separatism, but the head of the PQ has come out and said that it's a dead issue. At long last, politics in this province look to shifting from the issue of French humiliation toward a more reasonable social focus.
The partners in the minority government for now seem to be the Liberals and the ADQ – the parties with the most and second-most seats will unite to freeze out the newly third-party PQ. It's an odd alliance, but natural in that the Liberals are centrist, the ADQ is conservative, and the PQ leans left. Perhaps the PQ leader's statement has more to do with realigning his party to become a more acceptable partner to the Liberals. It really has been a fascinating election, even for jaded ol' me.
Enough of that.
At home, my wife has gone insane. I'm not sure she looks at it as work or fun, or something else entirely, but she has decided to catalogue all our books. We have roughly eight walls of books, plus about an equal amount in boxes. You can see her efforts here.
Last night, Child Two volunteered to help out. Insanity is catching.
Passover's approaching, and while Jews around the world argue whether beans, pot and/or hemp may be consumed during the holiday, I offer you a song:
[youtube=https://www.youtube.com/watch?v=GL6Tim80g5A]
I opened my office window today for the first time this year. Passover may be the Festival of Spring this year, but I'll be living the Festival of Beach this year as I take Children Two and Three to spend ten days with my dad on Friday.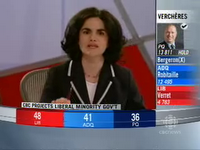 I watched the CBC most of the evening, and most of the commentators made Tim McCarver look like a genius. "Well, we expected the ADQ to come out the blocks with a fast start and watch the other parties overtake them." Do these folks even understand the process? Today was one of the most historic votes in Quebec and maybe Canadian history, and that's what Monsieur Leger Marketing has to say?
Let's cut to the chase and focus on the most fascinating part of the evening: Antonia Maioni's hair. The screen capture above was taken late in the evening, after brave efforts by what must have been a crack SHWAT (Special Hair Weapons and Tactics) team.
When I first saw Ms. Maioni on hair (he he he – that's a typo, but I'll leave it in), I put the remote down. It was a bride's nightmare. (Yeah, it's fake. So what?) Unruly bands of hair were displayed common sense as they tried to fly away from the overpuffy, poorly straightened explosion that threatened to ensnare boom mikes and fellow commentators. I swear the others around the table nearly cracked up. The blonde woman in particular refused for the most part to look in that direction – she's stronger than me – but when she did, you could see her smile burst out, just for a moment.
The director kept close-ups, and that's when the SHWAT team went to work, but this eagle-eyed (left eye only) journalist caught Ms. Maioni's absence in a few overhead shots, no doubt that's when the SHWAT troops brought her over to the heavy artillery. They deserve credit; as the evening wore on, the hair did slowly come under control until around 11 p.m. (see above) it looked downright reasonable.
If anyone out there has an image or video of the hair around 8:15 p.m., I'm begging you for a copy. It's historic.
Bonus comment on the election:
Also fairly historic. The seats don't reflect the vote, which essentially split three ways. I was hoping that the poor showing of the Parti Quebecois seat-wise was a death knell for separatism, but the vote numbers don't reflect that. It'll take another election or two for that.
Last election, the Liberals won with a conservative platform that promised to deal with the deficit and take on the unions. Neither happened and the party nearly lost power to the upstart conservative ADQ. Maybe the subsequent minority government will stiffen the platform. What this means for English Montreal remains unclear.
Both the Avia S-199 book and the central Asian research I'm doing for Reader's Digest (Canada) involve niggling little villages, sometimes defined by a mere building.
The search engine built into Google Earth can be helpful, but on so small a scale it often fails to find what I need. The software makes up for this deficiency by allowing third-party developers to produce plug-ins, in the form of .kmz files.
Now, you'd suspect any Web site called Palestine Remembered, al Nakba 1948 (al Nakba translates to "The Catastrophe") to have a measure of ideological rigidity – and you'd be right. Depite the name, despite the mission, the site presents some good work. One of the spectacular resources it offers is a .kmz file of villages in 1948 Israel/Palestine.
Cruise Google Earth's fora and you'll find plenty of political discussion over this map, but that fails to detract from this plug-ins value. It's an amazing resource, and not only for the expected mapping of former Arab villages. The file also maps Jewish settlements and those villages that were bi-cultural. You may read about Faluja (not the one in Iraq) and Beit Jibrin, but where were they? And why were they so important?
This map shows you. There's some discrepancy in English spellings of Arabic and Hebrew placenames, but that's a minor inconvenience.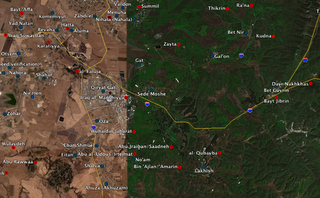 I'd be lost without it.
Bonus political commentary:
It's voting day here in Quebec. I've carried out my civic duty and now all I can do is wait. Will my riding, which has elected a Liberal MNA every election since approximately the Big Bang (with a brief interruption from the late lamented anglophone-rights Equality Party), do so again? I'm on tenterhooks.
When I said I'd finished the Avia S-199 book, what I meant was that I'd finished all new writing for the book. The bulk of the text is going to be an edit of what I've already written for 101Squadron.com. I underestimated how much work needed to put into the required edits, and I'm still slaving away at it.
The really neat thing? I'm still learning new information.
So instead of anything pithy or even meaningful, here's a list of cool stuff:
– Mystery Man posted a portion of his review of "Sheep's End" on his blog. He wants a quest story. That was going to be the sequel. He also wants Bren to become the protagonist. My wife thinks Bren is the protagonist. He's currently the point-of-view character.
– France's space agency has opened its OVNI files to the public. The site is down.
– Our Irrational League draft will be late this year, on April 14.
– "Andy Barker P.I." was hilarious last night, but it can't last. The humour is too… recursive. I think that's the right word. It's humour for screenwriters. Making the fat slob an irresistable hunk to all and Andy's perplexed questions about that cracked me up – but will middle America find that as funny as I did? Maybe the sop was showing the clip of the running, sexy, fat man five times. that was hilarious, too. Great choice for the music.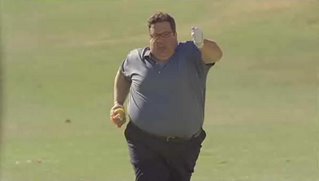 – On the other hand, the half-hour "Andy Barker P.I." doesn't have time to do an investigation justice (um, no pun intended). The show comes across somewhat as a series of loosely connected moments. And the Tony Hale/receptionist love plot fell flat. Again, the writers played with conventions but this time the twist back upon itself did not work.
– I have two episodes of "The Riches" waiting to be watched. Eddie Izzard freaks out Child Two.
I'm not doing much other than catching up on Reader's Digest work, finishing edits on the book with second Alex, and doing researchy things for the original Alex.
Oh, and I'm spending too much time at I Can Has Cheezburger?, a blogfest of images like this one: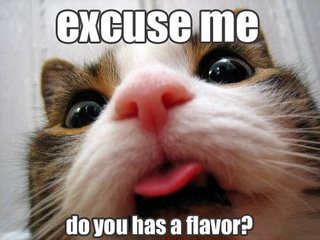 Oh, yeah – I've also added some goodies to my 101 Squadron CafePress shop. (You can be the first to purchase a thong.) And I added a link to Curt Schilling's blog.
Bonus superfluous bonus:
This is sorta weird and cool. I found it in my stats.
Spent the last five days subsisting on Advil, tea, and sleep. I was able to take Children Two and Three to skate at the Bell Centre Friday night.
Tonight, Child Two and I went to "Bridge to Terabithia". I didn't need that – although I was impressed with how far Klasky Csupo's animation/effects have come since "Duck Man".
Check out the time of this post…. Since there's no 31 April or Duodecember 3, this has to do.
Lots of good news yesterday. I'll be teaching JOUR 519 this summer. It's the diploma program version of what I've already taught. I'll also be applying for a limited term appointment (LTA) in the department, which is a decent paying one-year position for six or seven courses.
BravoFACT decided to fund Alex's short film, and with any luck we'll be doing that in just over a month.
I'll finish the book this week if this cold doesn't take me down for a few days.
I was doing some online research for the book, specifically on John McElroy and when he passed away.
One of the hits that turned up was a piece of mechanima called "Brothers in Arms". Produced in the IL2 family of flight sims, this video tells the story of McElroy and Chalmers "Slick" Goodlin, who as volunteers in 101 Squadron flew a patrol over the southern front on January 7, 1949 – the last day of hostilities in the war.
My drafts of "101" also have this battle, as a third-act affirmation of the squadron's survival and development after – well, I'm not going to give it all away. Regardless, I thought it might be cool to compare the mechanima with the same events in my script. Among other things, mine's more accurate in the details. And Goodlin was not a southerner (gosh, that accent's grating) – he was born near Pittsburgh. Also, my dialogue is better. It had better be.
Let's start with the mechanima, in three parts on YouTube. (If you want to download the video in a single file, you can get a .zip file of it here.)
Part 1:
[youtube=https://www.youtube.com/watch?v=XqLp3uUwFes]
Part 2:
[youtube=https://www.youtube.com/watch?v=5HTwkZoWpGE]
Part 3:
[youtube=https://www.youtube.com/watch?v=g0fijVLFPf8]
Now, six pages from the third act of "101":
INT. DISPERSAL HUT, QASTINA AIRFIELD – DAY
Goodlin and McElroy, in flying gear, play poker with Augarten. Goodlin reads a copy of the Egyptian newspaper Al-Aharam. Two Arabs pose in a photo with the remains of Vickman's D-110.
SUPER: "January 7, 1949"
MCELROY
What time does the truce come into effect?
AUGARTEN
Four.
MCELROY
You know that other patrol's been out for over an hour.
AUGARTEN
Uh-huh.
MCELROY
I got a funny feeling they've run into something. What do you say we get down there? Just in case there's any trouble, you know.
GOODLIN
Hell, I'm up for it.
AUGARTEN
You really want to go?
(off their smirks)
Okay. Check what's available.
EXT. QASTINA AIRFIELD – DAY
It's a chilly winter day. McElroy briefs Goodlin with a map spread on the tarmac.
MCELROY
…then follow the tracks to Rafah. If there's no trade, we'll tool along the border.
I/E. SPITFIRE COCKPIT/OVER RAFAH – DAY
McElroy flies Spit 15 with his knees while he consults his map. He fingers Rafah and confirms his bearings with the terrain 16,000 feet below.
MCELROY
Okay, Slick, let's head south now.
I/E. SPITFIRE COCKPIT/OVER RAFAH – DAY
Goodlin holds up a "wait a second" finger. He keys his mic.
GOODLIN
Come on up, Packard! Ellsworth! We're waiting for you!
I/E. SPITFIRE COCKPIT/OVER RAFAH – DAY
McElroy sees Goodlin speak but hears only static.
MCELROY
Slick, I think your R-T's gone tits up.
Goodlin taps his helmet earpiece and gives McElroy a thumbs-up. McElroy hears a faint voice cut through the static.
VOICE (V.O. RADIO)
(English accent)
…El Auja… stay… fifteen hundred feet… smoke… fire…cover….
MCELROY
Slick, hear that?
Goodlin shakes his head.
MCELROY (CONT'D)
I think my R-T intercepted some Gyppos at Auja. Follow me.
McElroy fiddles with his radio, but can't tune into the mysterious transmission. He consults his map, shoves it under his thigh, then turns south. Goodlin follows.
I/E. SPITFIRE COCKPIT/OVER NEGEV – DAY
Three pillars of smoke billow 1,000 feet into the sky ten miles ahead.
MCELROY
Let's have a look at it.
He noses over into a shallow dive.
EXT. NEGEV ROAD – DAY
Smoke rises from three burning trucks, part of a column of trucks, jeeps and light armor. Israeli flags are painted on vehicle roofs. Israeli soldiers have scattered to either side of the road. The smoke and a dusty haze limit visibility.
I/E. SPITFIRE COCKPIT/OVER NEGEV – DAY
Gliding above the top of the haze, the two Israeli Spits approach the vehicles at 5,000 feet.
MCELROY
Who the hell does that the last day of a war?
McElroy scans the sky deliberately, sector by sector. As he passes east of the convoy, his radio crackles to life.
ISRAELI VOICE (V.O. RADIO)
Two friendly… north… keep eyes… turning… aircraft.
MCELROY
Slick, climb right, bogies about.
The two Spits complete a half-turn to north when McElroy spots two pairs of enemy aircraft low to the west, heading for the column. They are barely visible in the haze.
MCELROY (CONT'D)
Slick, four bogies, eleven o'clock low.
One enemy pair dives toward the column while the other stays at 1,500 feet. The diving pair disappear in the haze.
EXT. NEGEV ROAD – DAY
Two RAF Spit RF18s buzz the column in a photo pass. Israeli machine guns reach for and cut into the lower Spitfire. Its engine streams flame. The RAF Spits climb several hundred feet and the pilot of the stricken Spit bails out.
I/E. SPITFIRE COCKPIT/OVER NEGEV – DAY
McElroy watches the surviving Spit rejoin the higher pair of enemy aircraft. In the haze, they are only silhouettes. They orbit the parachuting pilot in close formation. An explosion and fourth column of smoke mark the end of the wounded Spit.
MCELROY
Spits. Not ours. I'm in.
He waggles his wings and dives steeply, Goodlin right behind.
EXT. OVER NEGEV – DAY
The RAF Spits lazily circle the parachuting RAF pilot. Behind them, the two Israeli Spits dive in an attack.
I/E. SPITFIRE COCKPIT/OVER NEGEV – DAY
The enemy Spits grow large in McElroy's windshield.
MCELROY
Slick, you take the last one.
McElroy chops throttle. At 200 yards, he fires at the middle Spit. Small explosions dance on its wings and fuselage.
I/E. RAF SPITFIRE COCKPIT/OVER NEGEV – DAY
Cannon fire rocks the aircraft. The RAF pilot, turns to see where it come from.
RAF PILOT
What?!
His Spitfire explodes.
I/E. SPITFIRE COCKPIT/OVER NEGEV – DAY
McElroy flies through the explosion. Pieces of Spitfire ding his prop and tail. He looks around, spots another Spit at two o'clock low.
I/E. SPITFIRE COCKPIT/OVER NEGEV – DAY
Goodlin chases his target in a steep climb through the haze. It's hard to see and pulling away.
Goodlin breaks into clear sky. The enemy is now coming down toward him. Goodlin rolls into a knife-edge turn. The enemy's guns throw tracers but they fall far behind Goodlin. Goodlin notices its RAF insignia as
it flashes past him.
GOODLIN
Oh, shit. Just go home, junior. Don't make me shoot you down.
EXT. SKY OVER NEGEV – DAY
Goodlin's and the other Spit scissor through the sky. The enemy fires a few erratic bursts and misses badly.
I/E. SPITFIRE COCKPIT/OVER NEGEV – DAY
Goodlin keeps his eyes glued to the enemy as he maneuvers. He rolls his Spitfire faster, pulls crisper turns. The enemy overshoots.
Goodlin leads it in his sights. He plants a short stream of shells in its engine. Its prop disintegrates. Another short burst knocks off its canopy. The Spit rolls onto its back and its pilot bails.
Goodlin salutes his fallen opponent in the British style.
GOODLIN
Sorry, Tommy. Happy landings.
EXT. QASTINA AIRFIELD – DAY
Ground crew work on Spit 21 in the open and on the two Mustangs in hangars.
Spit 15 buzzes the field with a victory roll. Spit 16 trails, also rolling.
EXT. QASTINA AIRFIELD – DAY
McElroy examines his damaged Spit 15 as ground crew service it. A handful of other pilots listen to him. Goodlin climbs out of Spit 16 in the background.
MCELROY
We caught four Spits strafing them and clobbered them. Piece of cake, really. These guys had no mustard.
McElroy uses his hands to demonstrate the fight.
MCELROY (CONT'D)
My second one just hung around scratching his ass while we took care of the first two. I just dropped my sights on him in a turn and let him have it.
RUDY
Johnny, take your gear off and come in for a formal debrief.
Goodlin approaches.
GOODLIN
Notice anything odd about those Spits, Mac?
MCELROY
What do you mean?
GOODLIN
They were R-A-F.
RUDY
Excuse me?
MCELROY
Oh, no. You're crazy. The British wouldn't be down there. That's behind our lines.
GOODLIN
Scout's honor.
MCELROY
That was, what, three or four miles inside our lines? There's no way.
GOODLIN
Oh, there is a way, alright.
McElroy blanches. He buckles, holds the Spit wing for support.
MCELROY
Why would they attack like that? I can't….
GOODLIN
Why? What do you mean why? You can't ask why. It's our job. Control the air. We've done that. No more, no less. You did good up there.
MCELROY
Nobody told me I'd be fighting the British.
GOODLIN
Don't crack up over this, Johnny.
Rudy's thinking. Nobody knows what to do.
EZER
That's three kills for you now?
McElroy sinks to a crouch, puts his head in his hands.
Bonus name-dropping:
I think I caught a sore throat from Telefilm's Greg Dunning at Alex's schmoozefest last night.