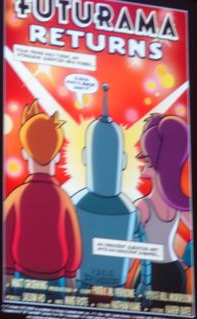 It arrives November 27, 2007. (Image and news courtesy of TV Squad.)
There's more at Rotten Tomatoes, too, including a hilarious Hermes/Zoidberg joke.
I love the teaching. I dislike the grading. But I'm done, almost. Concordia has its professors submit grades through an online portal, but my class list is missing a student and as a result I haven't sent in my grades yet.
Last night, I was successful at the Alex Epstein House of Poker. That's two for two. Maybe I should go pro.
Tomorrow morning, I will meet with Robert the Director to discuss his latest feature screenplay.
I'm going to get cracking on my specs this week. About time. I'm also going to design some business cards.
I bought my tickets to California. I don't know if folks are just being nice to my face, but many have said they want a copy of my book. I could easily sell 50, maybe 100. I'll bring a box of them back in late August. Scott the Reader, who reads this blog (I see your IP address, Scott) remains mum on the possibility of coming to see me.
Thursday night is another Montreal writer's schmooze. Should be fun, and I have babysitting for the boy lined up. All the ladies are away at camps, so we have a swinging bachelor pad at the mo'.
Bullet points rule.
Bonus dog story:
I walked the dog along Monkland, Saturday, then down Girouard to the dog park. Crash (the dog) is superbly reliable off the leash, so I generally don't use it these days.
He introduced himself to the other dogs, then begged for petting from a pair of humans. After the primates grew bored, the dog came and lay down under my bench, watching the other dogs but not participating, like a canine writer. Loser.
We walked home along Sherbrooke. I stopped at the Korean grocery to get a can of peach-coconut juice. As I wrapped the leash around a light pole to secure him, Crash lay down on the sidewalk out of reach of the clasp.
I couldn't coax him closer, so I went over to him to guide him by his collar. When I tried to get him to move, he let out a cry like I was beating him with a hose and he rested his teeth on my hand (he has never bitten a thing other than food). Smartass.
That wasn't going to work, so I took a few steps away from him with the pole interposed between us. That got him to approach the pole, but when I came back, he retreated. Genius.
I wasn't going to grab his collar again, so I tried pushing him toward the leash. He rolled on his side and lifted all four paws in the air in ultimate submission. I had to push him across the sidewalk to the pole. He rolled his eyes, and alternately drew his lips closed and rested his teeth on my hand. Drama queen.
I realize I could have brought the leash to him, but once it became a battle of wills, he wasn't going to win.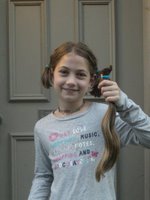 Child Two decided to get a haircut before camp and donate those 15 inches of hair she's holding to Locks of Love.
In other news, it looks like I may be helping Alex on another short. I need to look up funding deadlines today.
I'm also toying (again) with the idea of creating a mechanima music video for DUBB. I need to talk to a producer about getting funding to do that. That, I know can get money for, unlike my book-launch trip. I plan to use an action sequence from one of my scripts as the basis for the video.
I'm writing notes for Robert the director and for Alex. Robert's is done and we'll be meeting next week. Alex's I will tackle this weekend, hopefully before poker night on Sunday, to avoid any awkward moment. Awkward for me alone – Alex doesn't pressure me, but I do.
The Jewish War Veterans of Canada enthusiastically accepted our documentary pitch, but we're waiting to hear whether anyone will pay us to make it. In the meantime, I've been invited to pitch some ideas to another documentary project, involving Lou Lenart.
I also have a Web consulting job on the horizon, and there's always more Reader's Digest work if I want it.
All this opportunity makes me nervous.
Bonus baseball bitching:
My big trades have netted me a grand total of one win, crappy pitching, sub-par batting average, two HRs, 19 RBIs, and one stolen base. The players I've given up have since amassed ten HRs (Tony "Bambino" Graffanino is driving me nuts), 24 RBIs, two SBs, and have hit for an average average. Oh, yeah – and Wickman has three saves and a win.
Keep me away from the trading button. I can draft, but I sure can't trade.
1) Why about 100 people a day have been coming to this blog through Google image searches that result in the film clapper in this post.
2) Why somebody in Australia did a text search for "Frank Cavallaro Hair" (and found the blog with it).
3) Why it's a struggle to do all this correcting when the work isn't too bad.
4) Why most folks, including myself, can only get to the official WarBirds forum server sporadically – like a half hour every few days – while others have 24-hour access.
5) Why Naila keeps challenging me at Facebook Scrabble – although I do enjoy the games.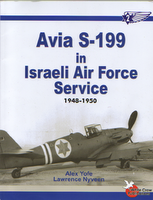 Had I known that American Airlines charges nearly as much to transfer air miles as a paid ticket costs, I never would have asked, but thank you for all the kind offers.
I do have enough to get me to my Anaheim book launch and I have made flight reservations. In order to avoid an overnight stay in DFW, I'll be flying into and out of different airports. It's also more convenient given my itinerary, which follows:
Wednesday, Aug. 22: Arrive at John Wayne Airport a bit after noon. Coincidentally, a friend is moving from Brazil to Anaheim this month. I'll be staying with him initially.
Thursday and Friday and possibly part of Saturday: Hang out at a table at the IPMS convention, selling books and chatting with Israeli researchers with similar interests. We've invited Lou Lenart to appear, and it looks like he'll be with us part of the time, too.
The convention is being held at the Anaheim Marriott, about two blocks from Disneyland. If you're close enough, please do visit (and buy a book maybe?) The convention has some field trips in the works: Thursday and Saturday to the Chino aviation museums and Saturday to the American Society of Military History Armor Museum in El Monte. Friday might be the best day to come visit me. Scott, are you willing to drive across the city?
I plan to take in an Angels game one evening, but my other evenings should be more or less free.
Sometime Saturday, I'll decamp from Anaheim and move north to Whittier to stay with some old family friends. I'll fly out from the Ontario airport Monday morning, with several dozen books to sell to all those who can't make it to Anaheim.
I'm holding a copy of "Avia S-199 in Israeli Air Force Service", my first authored book.
The main thing on my mind is the question "Didn't my publisher look at the galley proofs?"
Ironically, as I teach desktop publishing and layout, the book leaves something to be desired in design. The font is a bit large but worse, the paragraphs have neither indented first lines nor spaces between them. The result is long columns of text blocks that are difficult to look at and read.
Although I wrote every word that appears in the book, I freely admit that most of its value is in the photographs and aircraft profiles. Many of the photos have never been published before and have significant historical value. The problem is that the printer used low-resolution copies of the images (from a mock-up, maybe?) instead of the high-resolution images that the publisher supplied. That's a mistake that should have been caught. Alas, the publisher already paid the printer and has no leverage to use for corrections.
With some luck and work, we'll sell enough copies of this version to raise the cash for a second printing. I am trying to get enough American Airlines air miles to pay for a trip to the book launch in late August – but that's another post. (Anyone want to donate miles? See my profile for my e-mail address.)
Don't get me wrong. I think the book is still a valuable contribution to Israeli history, military history, and scale-model builders. I just wish it looked better so I could feel a little more proud and less icky when I start to sell copies.
Ironically, while we are rodent-sitting a friend's hamster, I'm the one who has come down with wet tail.
Oh, was I sick last night. Starting around dinnertime, I made better than a baker's dozen trips to the bathroom before I lost count. My final visit, about 1:45 a.m., culminated with a party in my bathroom to which every fluid was invited.
Good thing I only had a peach for supper.
Fortunately, after blood, toil, tears and sweat, that was my last visit for the night, although I remained uncomfortable with muscle pain and sleepless for the most part.
My affliction appears to be a 12-hour virus, because my GI tract feels fine this morning.
I've spent the better part of the week devising new class assignments and correcting old ones. In lieu of anything useful, let me revert to Netsurfer Digest format and introduce you to fun and/or useful corners of the Net.
Let's start with comedy. This YouTube clip comes from Robot Chicken and made me laugh out loud.
[youtube=https://www.youtube.com/watch?v=orK_H_m9n78]
I would have liked a more substantial set-up; the human co-worker is far too sincere to be playing a silly prank. Nevertheless, it earns a chuckle.
Speaking of online video, Zamzar is an awesome service that will convert online video formats into downloadable files you can archive for yourself. It works for images, text, and music as well, but the moderately clever netsurfer knows how to save those already – you do, don't you? If not, Zamzar's there for you. All of us will benefit from the service's ability to save YouTube and other video in pretty much any video format known to humanity – yes, even .rmvb, whatever that is.
Once you have amassed a collection of videos, you'll want to back it up. I'm betting most of you either don't back up your data at all or do with local media such as an extra hard drive or a pile of CD-ROMs or DVDs that are slowly compressing the Iomega and floppy disks beneath them into rock.
Offsite back-ups are the way to go. A house fire will render your drives, disks, and paleomedia to slag, after all. There are several options; Mac users are familiar with the expensive .Mac service that Apple offers. Amazon S3 will store all your data for a few dollars a month. For 15 cents per GB a month, Amazon S3 will safely store your bytes at a great whopping facility with its own back-ups. There's a small fee for data transfers as well, but it's still an attractive package.
How to upload your files to Amazon S3? Use Jungle Disk, beta software available for all major operating systems. Jungle Disk is designed to interact with your Amazon S3 storage. The software is free, at least for now, and the home page provides a handy table that lets you compare various data-storage pricing plans.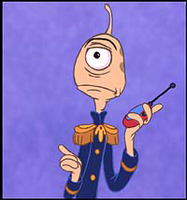 The wife, the sister-in-law, the sister-in-law's friend, the mother-in-law, and I went down to the catch an act at the tail end of the Jazz Fest last night. I'm not much for live music, but I do enjoy the people watching. While the ladies braved a massive crowd to watch a screen that showed the action taking place down the block, I sat on a grassy slope and observed.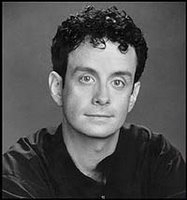 I spotted Kevin McDonald trying to get closer to the stage. The Kids in the Hall will be reuniting for a show at Just for Laughs, but Kevin was at the fest with an unfamiliar man. He climbed the slope and disappeared from sight.
I might have been the only person to recognize him but who knows. Montrealers are famous for letting famous people have their privacy. I saw him again later on the plaza atop Place des Arts. Like the ladies, he must have given up trying to see the stage – or like me, he must have given up trying to appreciate the Algerian cacaphony on it.