On possibly the most crucial marketing week of my paltry career, my Web host goes kablooey.
I'll keep posting – who knows when it will be back up.
Alex Y. reneged on his pledge to give me lifts to and from the convention, which could have been a pain in the ass had I not friends who are willing to pick up the slack.
Yesterday, I was stuck in the morning. I don't have a cell phone – well, let me start there.
All my work is done at home or in the classroom. I have a landline phone I use at home and I wouldn't take alls when I teach. I have no use for a mobile phone when I work, and I don't want calls when I'm off. Once in a while a phone comes in handy, and at those times I borrow Elvi's – not the greatest solution because she uses a phone with a Bay Area area code. Whatever.
OK, back to Anaheim. My host, Roland, has a cell phone but no landline yet. He only moved in a few weeks ago. I borrow his phone when I need it. When I'm with Alex Y., I borrow his phone if I need it. So far, I've only called one when I'm with the other.
Yesterday morning, Roland had an early morning appointment, and Alex was supposed to pick me up at 11. My friend Stuart flew down from the Bay Area for the day to meet me and pick up a book. He e-mailed me offering to pick me up. I e-mailed back saying that Alex would.
I went to wait for Alex in front of the apartment complex, at which point I was without communication. I waited until 11:30, then borrowed a phone to call Alex. It sounds less complex than it was when I describe it, but I got Alex and Stuart in touch from afar and Stuart gave me a lift to the convention.
I've signed some books over the last two days. We haven't sold as many copies as we'd have liked, but sales at the convention as a whole are slow. Alex did find a distributor for the books, which is good for him – irrelevant for me, but good for him. I'm making my money by selling my own copies. It's all part of the joy of small-scale publishing.
I took Roland to the Angels game last night. I wistfully watched Vladimir Guerrero hit two more home runs, this time in an Angels uniform, alas.
Bonus holy cow!
My fantasy baseball team climbed into first place tonight, thanks to a month of better than .300 hitting.
My trades sacrificed some power, and I've lost a point in home runs, but I've climbed from last to sixth in average.
.270 batting average (6th, .0009 out of 4th)
198 HR (4th, four HR out of 3rd)
799 RBI (2nd)
94 SB (8th)
3.85 ERA (2nd, 0.02 out of first)
1.27 WHIP (1st)
62 wins (5th)
25 saves (7th)
I'm going to lose one point in saves and another in steals, but I hope to gain a few more in batting average, and maybe a point in ERA. Prospects look good, but it's a very close race and my pitchers are a little ragged (Chuck James, Chris Young, Chris Sampson).
I woke this morning at 5:00 a.m. with a baby migraine. I dunked my head in the sink to make my hair presentable, threw some Paul Mitchell in when that didn't work, and had a pill for breakfast.
The pill kicked in before boarding at 6:30, thank goodness, but the nausea lasted almost three hours more and detracted from my enjoyment of the in-flight movie, "Waitress".
I found the movie fascinating, because you can clearly see the each of the major influences on the story: writer, actor, and director. I liked the dialogue, which helped define each role. You know how they say that you should be able to tell who's speaking without character slugs? That's hyperbole, but you can see the advice at work in this film.
I'd have gone a touch more subtle, but what do I know – I tend to go too subtle. You can also see the choices the actors made. Maybe it's the testosterone in me, but I thought all the male roles performed amazingly, especially Jeremy Sisto (Earl), in a movie in which all the men were defective in one way or another. In fact, Sisto was so good, he turned his despicable wife-abuser into someone you could almost heer for, which unfortunately brought out the bad side of the protagonist,Jenna, in high relief.
Then there's the directing, which got too cute. I think the story would have come across more powerfully had the director not used swelling sacred music, quick jump cuts, and long, emotional shots to bludgeon us.
(Um, hours after writing that, I learned of the director's murder. That was an unfortunate choice of word.)
Watch the movie. It's not a great film, but I think it has lessons to teach movie-makers and even audiences.
I'm posting this from my pal Roland's apartment. He was my executive officer in the virtual 101 Squadron when he lived in Sao Paulo, Brazil. He moved to Anaheim a month ago and it's a happy coincidence. I'm staying with him and he lives only a few blocks from the modeller convention at which my book is being launched.
I stopped by the convention for an hour. People are still setting up, so there's not much reason to be there today. One guy bought our book. I introduced myself as author. He said he was glad that the book exists and that he'd found a lot of info about the S-199 online. I told him it was probably my site, 101squadron.com. He said that was it. The look on his face was hard to interpret. Either he was impressed, surprised the the site and book came from the same source, or shocked that some guy in such a metrosexual shirt – my purplish hibiscus print – could write such hard-core geeky material.
Wandering the floor, I recognized a face. I wagged a finger as I struggled for the name that went with, but I found it. Mo! Mo used to lead WarBirds, then led World War II Online. He was at the convention with a group for which he manages the Web presence. We'd run into each other at WarBirds cons in the past and gotten along well. We had a nice chat and I look forward to seeing him again tomorrow.
Now, off to catch a movie….
Having finished up some deadline work (well, just about, anyway), I'll take a moment to fill all in on what I alluded to in an earlier post.
Last Tuesday, Mark (director and DoP on Alex's short) came over to talk about a project we'd like to get off the ground – yes, an airplane picture. He is meeting a producer Friday and we thought that creating a little video would help express the emotion and excitement of the thing.
We would create mechanima – meaning we'd use a game, WarBirds, to generate the footage – but this wasn't going to be a run of the mill YouTube quickie. I wrote a script with some meaning to it. The game limits dialogue to voiceover, but I was able to build quite a bit of character in the few lines I allowed myself.
Mark had left town Friday, and I'm leaving town tomorrow, which limited the window in which to accomplish this.
There are two primary variables to filming in WarBirds: the technology of recording and the use of human pilots versus computer pilots.
I decided to run a test Friday night with human pilots. I don't have a digital camcorder, so doing it myself with AI wouldn't work. I had a player set to record the video for me on his camcorder, but he lost his DSL connection and could not.
I had to settle for ACMcam files, which record flights for later playback in the game. It sounds like a good idea, and lets you view the same flights from a variety of (camera) angles, but it's just too jerky to use in a pro pitch.
Our session, helpfully set up by IEN (the company that owns WarBirds) went for nought – other than lessons learned. I can program the game to fly our choreographed fights by itself and record those, but I can't figure out how to get it to operate properly within the game. I can run the results in the Mission Builder, but there's no sound there.
Regardless, we won't have anything for this Friday but the stills in this post. They do look cool. Grognards will be able to discern our subject from the photos alone; pasty-white writers will not.
The near future also holds airplanes for me. I fly down to Anaheim tomorrow morning to attend the IPMS USA 2007 convention (plastic scale models) and my book launch there.
Come by and say hi. (Directions and map here.) I should be at our booth most of the day Thursday through Saturday. Look for the Israelis in the red caps with winged-skull logo. Or just look for the short guy who looks exactly like the South Parkian image to the right.
After the final T-ball game, we headed to Cornwall to spend the weekend with some friends at their annual pig barbecue.
We took our new old van. We acquired a 1997 (I think) Honda Odyssey. It has a few spots of rust but is otherwise in great shape.
While following another van along the 40 between Vaudreuil-Dorion and the Ontario border, I spotted a dog ahead of us. The animal was your average size dog, mostly white short-hair with a brown saddle. The face resembled a pug/boxer/Boston terrier. It was trotting toward us on the gravel shoulder.
Noting the potential for trouble, I slowed down. Good thing. The dog inexplicably turned around to run after or into the blue van ahead of us and absorbed a powerful blow in the left hindquarters. It hurtled six feet into the air, rolling quickly. Its legs whipped around and around as it flew over the shoulder to land in the soft grass alongside the highway.
We saw no blood or any sign of injury but that dog could not have enjoyed the flight. The van that hit it braked and pulled over, so we kept on going. I've been in animal-vehicle collisions before (never as a driver; it's a funny story, but not for all the deer involved) but the choreographic beauty of the flying dog will stick with me for a while.
We had our own dog in the car (that's him in the photo). He got to play with three other visiting dogs at our destination. In fact, for the balance of the afternoon, a female poodle kept mounting him.
Bonus work update:
I spent much of late last week working on a film project. I haven't had time to blog about it, but I will soon.
Here's what we came up with. At this resolution, the document doesn't show up well – it's a page from a logbook.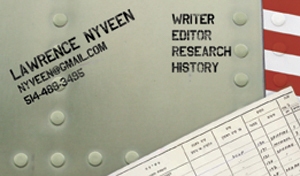 Also, this morning the Reds took to the T-ball field to contest the league championship. Like the similarly miraculous Bad News Bears, the Reds lost. Unlike the Bears, the Reds lost by a lot. A whole lot. 34-18 lot. Yes, the defense converted fourteen outs over 48 at-bats.
Next up, hockey!
This blog remains the holder of the top Google result for a search of the words "early senility".
I was going to write something else, too, but I've forgotten what it was.
Bonus salutation:
Thank you. Thank you. Try the veal.
First, the not-at-all bad news. I went to a barbecue at our friends Carol and Charles. Carol's brother is visiting, and he's friends with some really tall dude, who is the fiance of Marika Anthony-Shaw, who plays with Arcade Fire, which I've started calling the biggest Montreal band since April Wine – although Men Without Hats might throw its collective hat into the ring, had it one.
So Marika was at the party, too, blowing off a few hours before flying to Belgium on band-related business. Carol and Charles live five minutes from the airport. Marika called bandmate Richard Parry and learned he was already at the airport with nothing to do. She invited him over and went to pick him up.
That's my celebrity encounter and name-dropping this week. It was a pleasant enough night, ruined only slightly by one of Carol's starstruck neighbours who asked Richard defiantly important questions like "Are you happy?"
I was particularly happy for Elvi that these musicians came. She appreciates Arcade Fire more than I do and she wants to find a band to play with.
"What?", I hear the masses ask.
Yes, the Disciples of Ursula Big Band is no more. Bandleader Clement cut the band down to eight people and fired the rest, including Elvi. After nine years, he is turning what's left of DUBB into a back-up band for his singer (and wife).
Elvi wants to keep playing, but she didn't have much hope of finding a band that needed a clarinet. Marika, however, told her that there are lots of bands looking for clarinets and similar instruments. I hope she can find a new band with people as freindly and comfortable as DUBB was.
Bonus explanation of the impending flood of posts:
The FTP function of my host server is wonky. As soon as its fixed, all these posts I've written will flood it and the RSS feeds. Sorry about that.
This is a test of the Blogger FTP system. Do not be alarmed. If this were a real emergency, authorities would direct you to the nearest underground bunker.
I haven't kvetched about coaching T-ball (that really should be "tee-ball", but…) as much in the blog as I have in person. (What do you know? "Kvetched" passes the spellchecker. But "spellchecker" doesn't.)
My team officially finished with two wins on the year, but all four teams make the playoffs, which run in double-elimination format.
Our first playoff game saw us facing the first-place As, who were missing some of their better players. Our boys (we have all boys) played well, and we pulled off an upset 21-15.
(In T-ball, each inning is once through the line-up. If one team has fewer players, some of the kids bat twice to make an equal number of at-bats for each team. In the last at-bat of an inning, the kids keep running until they score or are out at home. The last batter is the only real clean-up hitter and each out you make prevents a run.)
While the As did play short-handed, we played well to limit them to 15 runs in four innings (36 batters total). Two kids in particular have improved immensely. Denis is so good with he glove now, he plays shortstop despite throwing left-handed. Michail was always fast, but now he can catch pop flies and even sorta, kinda throw. He's our centerfielder. Those two couldn't touch a ball two months ago.
After that first playoff game, we lost unquestionably our best player and first baseman (because he was one of the few kids who could catch a ball) because he left town. Another kid who was close to if not our second-best player also left town.
The third-place Orioles won their first playoff game against the second-place Pirates by forfeit. They won only three games in the season, and we'd beaten them twice. Unfortunately, we turned in a lousy effort, falling behind 30-18 in three and a quarter innings (the ump called the game).
That meant we had to face the Pirates, who most of the league's coaches felt was the most talented team. They had six all-stars; we had two, and both were missing.
Many weekend plans changed as our kids played their most fundamentally sound game of the year. In one inning, they allowed only two runs(!) as we took it 22-18. It sure helped that the Pirates' last hitter dribbled out to the pitcher three out of four at-bats, leaving six men on base, nine including himself. The score is closer than the game was – the Pirates started batting in the bottom of the last inning down by 11 runs with ten players, meaning that we had already sealed the victory.
So now we play Saturday against the Orioles in the championship. In the double-elimination format, we need to win two games in a row to take the crown. Wish us luck.
Bonus morning musing:
Instead of calling the hobby "amateur photography", they should call it "shutterbuggery".