Last week, a British rabbi contacted me to inform me that Leslie Shagam died. He flew with 101 Squadron in 1948. The rabbi asked me for some biographical information to help her with the eulogy.
I don't have much on Shagam, and what I do have, I haven't posted on a profile page for him. I whipped it into shape for the rabbi and sent it off:
In 1946, Les co-founded Commercial Air Services in South Africa, which helped him keep his flying current. In 1947, he sold two Bonanzas to the Yishuv, through Boris Senior. At the beginning of May 1948, Les volunteered himself to Jewish recruiters in the country.

Around mid-June, Shagam and fellow volunteer Syd Cohen arrived in Israel. Within days, they flew to Czechoslovakia for training. They arrived at Ceske Budejovice (pronounced "chesky boodehyovitseh") airfield along with fellow pilots Rudy Augarten (US), Alfred "Al" Freeman (US), Sandy Jacobs (Isr), Chris Magee (US), and Boris Senior (S. Afr.). They trained to fly the Avia S-199 (an underpowered, unwieldy Czech version of the Messerschmitt 109 fighter) under the tutelage of George Lichter (US).

(Magee had flown with Pappy Boyington in the famous/infamous Black Sheep Squadron of the US Marine Corps.)

Les was flying missions in Israel by July 9, so the training was rudimentary at best.

Within a few days, there was trouble. Les and Syd took off from Herzliya (actually in Kfar Shmaryahu, but called Herzliya) on a mission, Syd's first. Syd tested his guns over the sea and his S-199 started shaking violently. Les escorted him back to Herzliya where the squadron discovered that Syd's cowl machine guns had put holes in his own propeller.

Les flew less than a month with 101 Squadron. By the end of July, he had transferred to Air Force HQ. He was tasked with forming a second fighter squadron, to be called 105 Squadron. He would be second in command (under Boris Senior) of a squadron of Spitfires that Israel had recently agreed to purchase from Czechoslovakia.

Les helped plan the complex ferry operation that flew the much-needed Spitfires from Czechoslovakia to Yugoslavia and then to Israel. He himself did not fly in the operation, but he was responsible for its name: Operation Velveta, named after a brand of cream.

He organized 105 Squadron and equipment at Kfar Sirkin airfield, but was forced to leave by the threat of Transjordanian artillery. When the Spits finally did arrive at the end of September, they joined 101 Squadron. I'm not sure what happened to Les, but he didn't return to 101 Squadron.
I also posted that to IDForce, a Yahoo group focusing on the Israeli Air Force.
Last night, I was browsing AGW (see link in sidebar) and my friend Krod posted the bio I wrote, which he had received as part of SAAF News, another mailing list. This passage prefaced my miniature essay: "He died in Israel last week and a friend sent me the following which he had written as background for the eulogy."
(He died in England.)
The man who cut my work from one mailing list and pasted it without any real attribution into the second has been helpful in the past. He has let me use some of his photos with permission on my Web site. Those key words, "with permission", are the focus of my consternation.
I sent off a polite note that chided him for not asking permission and not even noting me as author.
He just wrote back with an apology, and sent off a second note with an attribution.
It's not like I've lost any income, but this sort of thing aggravates me. I'm not sure if I'm overly or rightly sensitive about it.
Since 1999, HTML has been frozen at the 4.01 standard. Web design technology has progressed despite that with XML, XHTML, and other advances, but the standard remained static.
The World Wide Web Consortium (W3C), the group responsible for maintaining such standards, has started to move on HTML 5, a generation that owes much to advances in CSS code.
IBM has an article that explains the development and features of HTML 5, and I'll point you there rather than repeat it all here.
However, I do want to highlight some of these, including some new tags with interesting implications for screenwriters and others who want to post formatted pages with code (versus an image format).
The important innovations are the division of the basic Web page body into several areas. A page will have header (not the same as the
in code) and footer areas to play with. No longer will Web designers have to hard-code such areas with tables or divs.
Text also receives renovation. It may be treated like a giant list, with subgroups called sections and articles joining the existing blockquote format.
Best of all is the new dialog tag, meant for the representation of conversation in text – i.e. a screenplay. Sure, screenwriters have accomplished the same thing with some hard work, but it's not free of problems. Standards takes care of that. The tags will operate much like table tags do now, with one tag indicating the speaker's name and another to indicate the spoken dialogue. The IBM article notes:
The exact syntax of this element is still being argued over. Some people want to embed additional nondialogue text (such as stage directions) inside the dialog element, and others aren't happy with the overloading of dt and dd. However, most everyone agrees that some such semantic representation of dialogue is a good thing, even if they haven't yet agreed on the exact syntax.
Speaking as an amateur Web designer, HTML 5 will make life so much simpler. I look forward to its acceptance as a standard even if that would force me to do more work to teach it.
See the Sadvertising link down there in the right column? That belongs to Wily, an old WarBirds crony who happens to be a marketing consultant. You can tell he's cool by his use of a four-letter handle that starts with W.
Wily commented on my potential business cards and when I asked him to elaborate, not only did he mock up some samples, but he gave my whole approach a marketing makeover.
His business-card design is certainly more eye-catching than mine, but possibly most helpful was his advice that I drop the cute quote from my e-mail signature.
If you've had any e-mail contact with me over the last 14 years, you've probably seen the quote that sits under my contact info and micro-resume. I do love that quote, since I think it sums up the human condition succinctly and with humour. Wily points out that the quote is dated – true, it's nearly 20 years old now – and he made a point that strikes right at the heart of us writers:
"Remember, you're a 'creative'," he wrote. "The rest of the world is NOT. What you see as irony, amusing, clever, can be seen any number of ways by someone else." (I modified his punctuation.)
That's a lesson not only for business cards and e-mail signatures, but for stories as well. It means "kill your darlings." It means "don't use private jokes." It means "don't talk down to your audience." Lessons, lessons everywhere….
By now, you're probably wondering about the quote, unless we've communicated through e-mail. It comes from an episode of "Northern Exposure" called "Animals R Us", broadcast in 1991 and written by Robin Green. Green has won several Emmy awards for writing and supervising/co-executive/executive producing "Northern Exposure" and "The Sopranos". Nice pedigree, eh?
The line comes from Grandma Woody, a fictional grandmother of Woody Allen played by the diminuitive Sparkle Stillman. She lectures Ed about capturing human behaviour on film and comes out with this line, my quote: "All we are, basically, are monkeys with car keys."
So it's struck from my e-mail sig, which now looks more professional, but I did find a place for it to go….
Now, time to get cracking on a Web page for Alex E.
The wife was out of town and the girls are in camp, so Child Three and I spent this week alone – well, if you discount all the animals.
Monday, our fourth-place (of four) T-ball team laid a beating on the first-place team to win the first playoff game. The other coach expressed his admiration at our players' play. They did play well. They've improved much more than I had expected.
Thursday I dropped him at a babysitter while I attended a meeting of screenwriters. I met some fun people, and had a few productive discussions. I had managed to beat out 15 pages of script earlier in the day, and I wonder if the get together spurred me on.
Yesterday, I took the boy to see "Transformers". It was the best Michael Bay-directed film I've ever seen. I had trouble following the action, but I'm probably just getting old. I'm still not sure how or, more specifically, why Megatron bought it. The sequence in which the Autobots hide in the yard from Sam's parents for me was by far the best part of the movie. The comedy helped.
The wife returns in a few hours.
Bonus fantasy baseball update:
I spent my monthly pick-up on Tad Iguchi, once Teixeira and Wigginton disappeared. It has paid off well so far, as has last month's pick of Milton Bradley, and I spent half the week in the money, in third place. Less glorious so far is my trade of Austin Kearns for Conor Jackson.
The injury bug has bitten, though: Bradley, Beltran, Chris Young the pitcher, and Chris Sampson all have lost or will lose time. I'm so close to picking up points in the hitting categories and ERA. I'm currently half a point out of third, two points out of second, and five and half points out of first.
.264 batting average (9th)
167 HR (3rd)
666 RBI (5th, 13 RBI out of 3rd)
85 SB (tied 6th, 2 SBs out of 4th)
3.87 ERA (2nd)
1.28 WHIP (1st)
53 wins (5th)
25 saves (7th)
It's time to get some. I like the effect of the colour gradient and the olive/red colour combination is my brand now, I suppose, so I should keep it.
I have two designs in mind, one with an aircraft photo and the other with a stylized aircraft. I like the aircraft motif because it will pique curiosity and it's memorable. That's all you can ask for from a card.
Which style do you like better? I can always refine the design somewhat (one concern is the Star of David, for example), but I would like advice if you have any. Which style do you like better?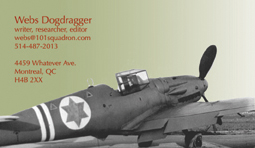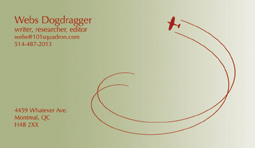 And now, a third option after some feedback elsewhere: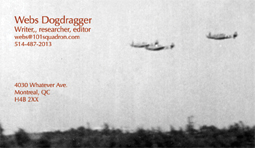 We value your opinion.
(The address and phone number on the cards are not real, for now.)
Bonus elucidation:
Original I had JPEGs in CMYK mode posted here, copies of the layered files I had saved for CMYK printing. Windows browsers could not read those files, so I resaved them in RGB mode and now they show up fine.
A front-page story in this morning's Gazette discusses a pedophile Web site that promotes Montreal as a good place to watch children.
The story went up on the paper's Web site last night, with an ad for pool safety embedded at the top: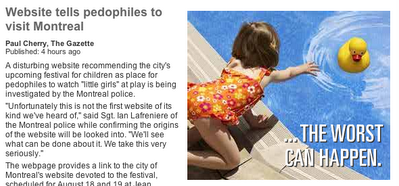 I wonder if that was a random accident or the result of careless oversight or automated keyword matching.