Archive for September 2007
I lost $3.70 at Alex's poker table last night (photos at Facebook). I won only three hands, all in a row. Three other hands, I was set to win before getting screwed over by the river.
Compensating for the pain of that loss is a small measure of fame. A writer used my Pace Mannion Fan Club/Wikipedia story in an article about Wikipedia for CIO.com. You can read it here. I appear on the second page, with some tangential references later in the piece.
Elvi is up north with the choir she has joined to take the musical place of the defunct band. I'm spending the day shuttling children and, well, blogging.
My fantasy baseball team oozed its way into third place last night, thanks to Russ Springer's win in relief. I can't stomach following the games in progress. Maybe I'll catch a movie tonight. I can't stay in the house or I'll fire up the laptop and be forced to watch.
Allow me to finish up with a great cartoon: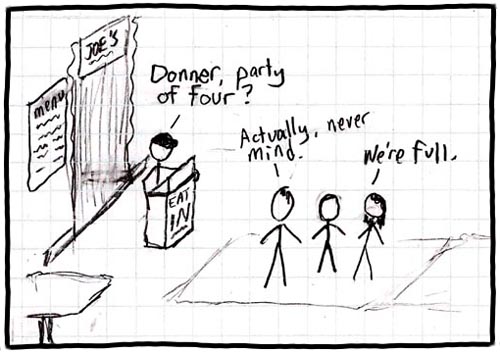 Bonus true fact:
One of the Donner party survivors later opened a restaurant in San Francisco.
My ex-student and fellow entertainment-industry limpet Iuliana invited me to an industry party that took place Wednesday night – and then didn't show up.
Nevertheless, all who know me know what a people-person I am, and I found folks to chat with. I spent most of the evening with Joel (whose IMDb page doesn't do him justice). Joel reminded me a lot of myself, if I had less hair (all over), were a bit older, and more talkative. We spent most of the night discussing key inventions in history and I think I made him change his mind on a few (he held out for the car, and I pointed out that what he meant was the internal combustion engine).
I also chatted with local comic/actor/writer Mike Paterson, whom Alex and I had auditioned last December for the short. And Joel and I gave audition advice to belly dancer/actress/Miss Universe Quebec contestant Mihaela, who thought my business card was cute.
Elvi found out today that her master's thesis was accepted. Yay! She spent the evening entertaining a friend of her sister's from California, and they went out to catch a Thomas Dolby concert tonight. Elvi's sister is a friend of Rich the trumpeter in the band, also from the Bay Area.
So Elvi just came home with Adam the tromboner in the band, who apparently was going to spend the night in the airport otherwise because there are no hotel rooms in the city (thanks to the President's Cup). He needs to get back to San Francisco for another gig while the rest of the band rides the bus. Elvi invited him to stay on our couch.
OK: chatting up a Miss Universe contestant and getting her card versus coming home with a tromboner. I think I win.
Elvi went backstage and got to chat with Thomas Dolby and – I asked – did indeed blind him with (metallurgical) science.
I still win.
Speaking of fame, please note the addition of Stephen Fry to the blogroll. His latest post discusses the advantages and disadvantages of fame, in his trademark velvety ramble.
Speaking of winning, I'm in fourth place in fantasy baseball and the team is doing nothing to make up the two points I need to finish in the money.
I'm not going to win.
"House" was awesome, "The War" found its feet, our extra Illico channels have gone away, and my visitor stats reveal that someone from the Tribune company came to this blog to find out if "suck" is OK to use in the paper:
Host name: eye2.tribune.com (163.192.21.42)
Web page: 101squadron.com/2006/03/vans-across-america.html
Referring link: www.google.com/search?q=is suck ok to use in journalism&hl;=en&start;=10&sa;=N
I wasn't going to watch "Chuck", but it was on before "Heroes", so I let it play in the background, until it muscled its way into the foreground. It hooked me, for now.
Lead actor Zachary Levi reminds me of all that's good about Jimmy Fallon without all that's bad. He's very charismatic, too much for a real nerd, but I can accept that. The premise is goofy and I wonder how long they can string it along. I think it would have made a bang-up movie, but I question whether the idea has the staying power over one season, never mind two or more.
Why do I like it? I think it can be summed up in one detail. When Chuck visits the box store, he passes an aisle end-cap stocked high with Astro Diapers. That's funny – a throwaway, sure, but funny.
If the show holds up, and I hope against hope that it does, that's another hour of my week gone. I'm running out of time, especially over the next two weeks as Child Three has an hour of hockey on ten of the next 4 days as they try to grade the kids into skill levels. I'm also spending time looking for an appropriately sized chest protector. Not much luck there yet.
Moving on, "Heroes" was as good as could be expected. After the big climax of the first season, the show had to somehow set up a second year's worth of plot. Having Hiro's hero be a gaijin scoundrel was a brilliant stroke. It was not the best episode of "Heroes", but it has set up some fun.
Last of the night's line-up was "Journeyman". (Was it NBC? It looked like Global to me.) It was "Quantum Leap" without the panache, humour, or logic, but with a soap-opera veneer. 'Nuff said, and not for me.
Bonus digital cable update:
I wonder if I have the drive to get to understand the digital cable service. The channels I've grown up with are scattered randomly. We seem to be getting all channels, many more than I ordered. I wonder if that's a service teaser or if the installer I had a nice conversation with did something extra nice for us…. We discussed a variety of television services and he was adamant that DirecTV topped them all.
So far, it looks great. The only problem happened as I was scrolling through the channel guide with Children Two and Three when they came home from school. Child Two became disgusted with the "Rock Hard Cocks 2" (or something) title that popped up…..
The first new show I'm watching at the traditional start of the TV season is a miniseries documentary, "The War" on PBS. It's Ken Burns's take on the American generation that fought World War II.
I'm a fan of Burns's previous work on the US Civil War and baseball and jazz and much else, but this first episode had me struggling to pay attention. I'm at the bullseye of the target audience – or, perhaps I should be, but more on that later – so I need to analyze why this didn't enthrall me.
In theory, the documentary focuses on the residents of four representative towns and the impact the war had on them. In practice, this approach did not work. The stories were scattershot and we were – I was – left without a sense of how the first year of war affected Sacramento, say. The filmmakers' efforts to cover the war in general further weakened their product. Most Westerners have little idea that the war in Europe was won and lost on the Eastern Front long before D-Day, and the episode took the time to provide "updates" on campaigns and events in Poland and the Soviet Union. That's an admirable approach, but it dilutes the message. It belongs in another documentary. Every time the episode shifted from Bataan to Warsaw to Luverne, Minn. to Guadalcanal, I struggled to follow.
If I am the audience for "The War", the show doesn't need to break away for these global updates – but maybe I'm not the intended audience. Maybe "The War" is meant for history-challenged youth who don't know much about this at all. That makes the mistake, in my opinion, understandable, but doesn't remedy it.
I also wonder if the topic itself is part of the problem. The multi-episode documentaries that Burns has made in the past have also been historical, but he reached back into the dim, 19th-century past for topics and made style-setting choices in his use of motion over photographs. While there are Civil War movies, they are and always remain movies. No man can point and say, "I was there and that's what it was like."
World War Two is not as forgiving on two fronts. Fiction like "Saving Private Ryan", and "Band of Brothers", and more are more than stories; they are invested with real experiences. Men can and do stand up and say, "That's what it was like." Episodes of "Band of Brothers" started and ended with the actual veterans reminiscing. Compared to the cinematic power of these masterful films/miniseries, can "The War" compete with archival footage and stills in motion? It didn't seem like it to me.
And that comes back to the scope of this project. It needs to focus more on the individuals and their stories. It can't takes us off on a jaunt to Stalingrad and expect us to pick right up with the internment of Japanese-Americans and then zip off to explore the wartime African-American experience in Mobile, Ala. (which it didn't except in the vaguest of ways).
Coming this week are premieres of "Heroes", "House", and "The Office". "30 Rock" starts Oct. 4. The two new shows I have pencilled in for premiere-night viewing are "Pushing Daisies" and "Cavemen". That's either going to be awesome or atrocious. I see no middle ground.
Oh, and "Kenny vs. Spenny" hits Showcase again Nov. 6.
Bonus budget update:
I spent over a hundred dollars on goalie-style throat protector and jock for Child Three today. We looked everywhere between downtown and the West Island for a small size chest protector but didn't find that or any set small enough for him. We may have to go with something a bit too big, because I don't think it's safe for him to go with plain old shoulder pads this year.
There's a week to go in the regular and fantasy baseball seasons and while the most people watch the Mets and Red Sox hold their leads or not, my gaze is firmly fixed on my injury-riddled fantasy team.
Orlando Hernandez, Chris Sampson, Willy Taveras, Milton Bradley, and Ken Griffey Jr. can't be replaced. (UPDATE: Nor can Carlos Beltran.) The rest of the gang is keeping up, however. Over the past four weeks, my team is hitting .327(!) with 52 home runs.
The loss of Taveras has really hurt my steals and I've fallen two steals behind eight place – but unless Taveras comes back soon, it might as well be 200.
My starting pitching is performing well, but I'm just not getting the wins. A series of relief meltdowns has cost me, but that has cost me all year. My pitchers have thrown 104 quality starts but have only 73 wins to show for it (and that includes Russ Springer's seven wins in relief). The team in first has 88 quality starts and 74 wins. The team leading in wins, with 102, has only 112 quality starts.
Nevertheless, three teams have separated themselves from the pack. First place is all but decided and so I find myself in a fight for second.
.278 batting average (3rd)
249 HR (2nd)
973 RBI (2nd)
109 SB (9th)
3.96 ERA (1st)
1.27 WHIP (1st)
73 wins (6th)
25 saves (8th)
Avast!
I carried off our ol' CRT television not in plunder but in barter for coinage back in 1994. It is no longer shipshape, and it gains an extra bright line near the bottom and contracts its picture into a narrow band you couldn't hit with musket fire at a hundred paces.
I be hoping we need not rig up the minicaravelle and set forth to raid shops until we find one that marks the spot where value and cost meet. Should we need such new treasure, that would be under a yard of LCD screen and 800 silver dollars.
A crewman from another ship has told us the tale of a local craftsman who, legend holds, can fix these infernal devices. We be hopin', but first I must set up a parlay with 'im.
Curiously, during this same week, the good ship Videotron came abreast and boarded us with an offer we did not refuse. We will be upsailin' to digital television feed for about the same price that we were paying afore. Our old Telemax standard cable cost us $38; we will in future harvest digital cable for about the same price.
We be pillaged of some channels that we never watch, but that be no loss. We gain reception quality, a bugaboo that has vexed us. We're taking the standard package ($14), adding local American channels ($5), the Anglo package ($17), and RDS ($1.50; for that strange Indian game called "Habs hoki"). We lose a passel of channels, mainly French cable, that we never watch. The Illico digital cannon and installation cost $20, once.
We be sailin' into the sun, matey. Afore ye know it, I may even get a cell phone.
Bonus explication:
Today is Talk Like a Pirate Day.
[youtube=https://www.youtube.com/watch?v=2cKCkbWDGwE]
Saturday was our semi-annual high-school reunion hockey game. Friday night was the first night I slept without the aid of decongestant nasal spray and I felt pretty good.
That is, until my second shift.
I've never been the smoothest skater and I've certainly never had a hard shot, but I understand the game, theoretically and as play develops on the ice, and with that, good passing skills, and hard work, I've turned myself into a pretty good hockey player. I went out hard my first two shifts, at which point every organ system in my body reminded me that I was not healthy. I spent the next half-hour taking it real easy on the ice, and wheezing and lying down on the bench.
Eventually, I was able to pace myself, and I lasted the game.
This morning was my high school's first official homecoming. School homecomings here are nothing like American homecomings, which focus on sports. Ours are more like family reunions.
Of the 18 or so hockey players Saturday, three quarters were from my high school. we get together and play at Rosh HaShanah and Passover. At the homecoming, only one other person from my graduating class showed up – and he's the guy who organizes the hockey games.
I saw some of my teachers, and I impressed some current students with my live "Reach for the Top" skills while a tape of some old games played (not ones from my year on the show), but other than that the nearly three hours I spent at the school were a waste of time.
What wasn't a waste of time was my afternoon today. Mark and I spent some time filming our mechanima trailer courtesy of the Journalism Department and one of its TV editing set-ups. Despite al that equipment and Mark's camcorder skills, we couldn't match plugs exiting the Mac with plugs going into the camcorder. We ended up having Mark film the LCD monitor. I hope it works out.
I attended a relatively sparse Montreal Film Group party Monday night at B-Side on St. Laurent. The bar's walls are decorated with albums displayed as art: London Calling; Boys Don't Cry; etc. The music that played was quite acceptable to me.
I met a few interesting people. I had a long talk with he president of an animation studio. I didn't know it at the time, but he had worked with DUBB – I saw a clip of the aborted attempt at a video for the band on his company's Web site.
At one point, I was talking with Steve, another writer, and my former student Juliana and her friend Dina. Allow me to paraphrase….
Steve: Did you see all the albums on the wall? I recognize all of them but some band called the Cure.

Webs: You've never heard of the Cure? Seriously?

Steve: No. Who are they? Should I have heard of them?

Webs: How old are you?

Steve: Twenty-eight.

Webs: You should have heard of them. "Just Like Heaven", "Inbetween Days", "Friday I'm in Love"?

(Steve has a blank look.)

Dina: "Boys Don't Cry", "Close to Me", "Lovecats"?

(Webs cocks an eye at Dina.)

Webs: Pardon the question, but how old are you?

Dina: Thirty-seven.

Webs: You used to go to Thunderdome, didn't you?

Dina: Yes!
We're everywhere. Sniff deeply, and you can probably still smell the Black Label.
Somebody with more guts and better French than me really ought to open up a Retrodome.