I bought a cell phone for the first time more than a month ago. I've never had one – I still don't, since this one was for Elvi.
Our California arrangement expired and we finally needed to shop for a local plan. Canada has just about the most expensive mobile phone service in the world and we weren't happy with our options. We spotted an ad for Public Mobile, an upcoming service that offers unlimited talk and texting for a flat $40 total (no service fees) and no contract required.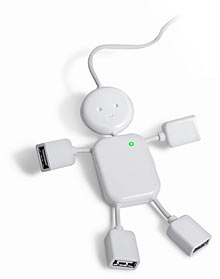 You might expect something like that in your part of the world but here in Canada, that's an extraordinary deal.
Because we signed up early, the company also offered us lifetime unlimited long distance in Canada and the US for an extra $5 a month (that offer is still in effect – tell 'em I sent ya). The only downside to Public Mobile is that you have to buy a phone and, unlike the money-sucking mobile service companies, it doesn't provide phones for free. I bought the most basic phone for $70.
We were all set for the roll-out of the service on May 15 but for undisclosed reasons, Public Mobile has pushed back the Montreal launch until June 26. To placate customers, the company is offering two free weeks of mobile service plus a $75 gift certificate for hardware. Not bad, but we'd rather have the phone working now.
In other tech purchase, we found these USB man four-port hubs on sale (see at left) for $3 apiece so we bought two, and shipping was reasonable.
Bonus world premiere:
Allow me to introduce Roadrageous. Yes, it's what you think it is. I just couldn't hold back any longer.