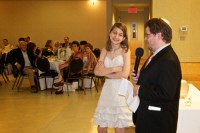 That was the big news this week. She did a marvelous job Saturday, everything was as good as it possibly could be (save the absence of the ordered sushi and bagels at the luncheon), and everyone went home happy, even me.
I got to play DJ at the evening party, which was a blast. The best part of my weekend, however, was my Torah reading and later speech.
I sang Numbers 20:22-24, in which God tells Moses and Aaron that they won't enter Israel because they beat a rock. Oh, that God….
Here's my speech. The standard font colour is what I had written before hand. I had to make some edits between the ceremony and my presentation; those are in black. I've edited out the names.
Inspired by the haftorah Ilana would sing this morning and the midrash she wrote, when I went to bed last night I vowed to sacrifice the first thing I saw this morning.

Fortunately, it was a bagel.

I'm surprised to be here. Many fathers think that, I'm sure. They think how time passes so quickly and their kids grow up and they're amazed to be standing up here for their child's bar or bat mitzvah.

Not me. I'm surprised that I was even invited to be here.

See, for the first two years of her life, Child Two was her mother's child. All I had to do was hold her and she'd start to wail. This shocked me since I had gotten along so well with Child One, as she was known then, Child Two's older sister.

Eventually, Child Two grew to be fond of me. We would make sure that she gave me a daily hug and I would get her to regularly clean my toes – which was my sneaky way of getting a free foot massage and, well, clean toes.

Once she grew up a bit and wised up, the toe-cleaning stopped – which is a shame because I have a hard time reaching my toes. Despite all that abuse, she still invited me here.

Child Two's wisdom continued to accumulate and she became a great student. Teachers tell us she's a perfect student, but I don't see one-hundreds on every single one of her tests, so I'm skeptical. I try to teach my kids critical thinking that way.

I also try to teach my kids to duck behind cover to avoid incoming fire, be it candies or any other projectile. I'm successful at that, apparently.

Now, this next paragraph I wrote before I knew I'd wow you all with my Torah singing and outshine Child Two up on the bimah. For that, I have to thank Divvy for training me. She did a great job, eh?

I was going to say, "As if my attitude weren't enough to bar me from this occasion, did you hear me singing? Would you let me do that at your kid's ceremony?"

Yet here I am, and I have to say, Child Two, that in my own little way, I'm proud of you.

I'm also proud of my wife Elvi, whose superhuman effort made this weekend all it's turning out to be. Without her, not only would we not have Ilana and her siblings to bring us so much joy, but personally I myself might instead be living in a large cardboard box.

There are many more people to thank, and I'll let Elvi have the microphone and continue on our behalves.
I received many compliments on the speech but no jobs. Maybe I should try to get DJ work.