The fourth from last line in my last post was "In the meantime, my dad has stabilized and appears to be out of the woods for now."
Not so much, it turns out. He died Monday, December 5 at 6:05 a.m.
Marion, my dad's wife, transferred him to the hospital. He was placed in isolation in the emergency ward, but the folks there didn't mind allowing as many visitors as wanted to go in.
I showed up to relieve Marion around 9 p.m. Sunday night. My dad had double pneumonia and kidney failure. The doctor wasn't sure my dad would make it through the night.
I offered to stay overnight. Everyone else left to get some much needed sleep. I stretched out on three plastic chairs and drifted off for about a half hour. My dad's heart rate was about 125 bpm, his breathing rate about 25 per minute, and his blood pressure was too low to be recorded. Metabolically, his blood potassium was high – his kidneys weren't clearing it.
Now, I wrote "my dad" and I'll continue to do so, but since I'd left him Thursday afternoon, he was only a body that gasped rattly breaths while being fed 100% oxygen.
The night shift doctor came to visit around 2:30 a.m. He was careful in introducing the subject of morphine, which my dad might not handle well, he explained. I told him that if it had been up to me, I would have stopped my dad's feeding 13 months ago. The doctor quickly pointed out that he wasn't advocating euthanasia; he was only hoping to make my dad more comfortable. I was pretty sure my dad wasn't feeling anything, but the morphine couldn't hurt, so I approved it. Shortly thereafter, Marion responded by phone and approved it, too. It was legally her decision. So sue me.
At 3:20, my dad's heart rate took a tumble. It fluctuated between 28 and 70 bpm. Whenever it dropped below 33 bpm, the monitor alarm would beep loudly. The nurses came in to turn it off – apparently it has no volume control – and told me to use the call button if I needed anything.
I no longer had the monitor to calculate for me, but I could tell my dad's breathing rate was slowing.
The nurses administered a second dose of morphine and a dose of something else that was meant to relax his breathing. I was in the middle of a wicked game of iBubble Shooter when I realized I was no longer hearing breathing. My dad's face had turned… – what's that colour? Pallor? I checked the clock and it said 6:06, so I pulled my estimate of his time of death back a minute to compensate for my inattention.
I pressed the call button twice but no one came. I stepped into the hallway and spotted the kind doctor at the main desk he looked up at me and I did that signal for "cut", swing my hand in front of my neck. he understood and came to confirm that my father had died. He said he was glad my dad had gone on his watch and in comfort.
We had the funeral on Wednesday. The day went perfectly, even with my brothers cracking into laughter at the cemetery, first at my sister's attempts to shovel dirt and then at my dad's friend Allen's near tumble into the grave.
I have a few things I want to blog about, but this had priority. I hope I remember what they are. Regardless, I have a pile of grading and freelance to get through now.
I made a quick Facebook status update that I was spending too much time in hospitals and here's my explanation.
Child Two has been suffering repeated bouts of cold-like illness over the last three weeks so Monday I took her to the clinic. The resident thought he heard some slight crackle in her lungs, so we crossed the street for an X-ray, then returned to the clinic to await the results.
There was some sort of technical-communications glitch that left us waiting for a while. Finally, the doctor who was waiting for the results told us to go home and he'd call if there were any signs of pneumonia.
I had been planning to get a follow-up on my broken finger. I've discarded the splint and there's no pain, but it remains swollen and stiff and it tingles a bit. I was a bit paranoid I had compartment syndrome because the original doctor had told me my finger would heal in four weeks. Monday was four weeks and one day.
I had wanted to visit my GP but the hospital had not forwarded the records regarding my broken to his office, so that meant revisiting Emergency to get either a follow-up or the records which I could then relay to my GP with whom I could book an appointment in January. I Was at the hospital already with Child Two so I popped in to check on my options. The triage nurse told me that there wouldn't be a long wait so I decided to stay.
Two hours later, I had to leave to do carpool for Child Three.
The staff told me to come back and they'd see me right away. Child Two was testy that she'd had to wait with me and now would have to tag along for carpool. Ingrate.
I returned to Emergency after carpool and, sure enough, a resident saw me right away. He suspected an infection, but there was no sign of one other than the swelling. The physician in charge explained to both of us that my finger was swollen because my body was resorbing the many fragments of pulverized bone. Once that was gone, the swelling and stiffness would decrease. So that's where my finger is.
My next visit to a hospital was Thursday. OK, it's not really a hospital but the long-term-care center that is hosting my father. Thursday is his physiotherapy day and I went to encourage him. Upon arriving, I learned that he had thrown up in the morning so the staff decided to keep him in bed.
He looked sick. He had facial twitches and a wet cough. He was on supplemental oxygen. He would open his eyes every once in a while but there was no indication he was looking at anything. He certainly didn't acknowledge me. I stayed 90 minutes then left to do carpool again.
Elvi and I returned that night. My dad was feverish and diagnosed with a lung infection and a urinary tract infection. He seemed worse. Around 11:00 p.m., Child Two called us because she was in great pain around her eye. We left my dad and headed home.
What Child Two described sounded to me to be a migraine. I gave her one of my Maxalt – that would cure a migraine but not another sort of head pain. It helped her a bit and she was able to get to sleep. The next morning, yesterday, she had more pain. This time a Maxalt did not help. Neither was the acetaminophen or ibuprofen. I pulled out the heavy artillery and gave her one of my 1-mg Dilaudids, that got rid of her pain and knocked her out for the afternoon. Victory – or so I thought.
Elvi reached my toward the end of a hockey practice last night. She was taking Child Two to the emergency room at Montreal Children's Hospital. I dropped Child Three off at his friend's for a sleep-over then went to join them.
I was almost there when Elvi called to tell me that she had forgotten Child Two's health insurance card, so I drove home, changed clothes, and picked up the card. I got to the hospital at 8:30 p.m. At 2:30 a.m., we got the diagnosis: Child Two probably has a sinus infection. We picked up anti-biotics at an all-night pharmacy and came home.
In the meantime, my dad has stabilized and appears to be out of the woods for now.
So, yeah – too much time in hospitals.
Bonus peace and quiet:
At least the dog has stopped his barking/moaning sessions.
Actually, hockey starts in September when we're still in sandals. I am, at least.
Here are some video highlights from Child Three's attendance at NDG goalie clinic this week.
[youtube]https://www.youtube.com/watch?v=SWFXeZADUVc[/youtube]
He's having a good year so far, having given up only eight goals in his five games. Our Peewee A team is improving and I really feel we can beat nearly every team in the league, although we currently have a 3-3-4 record that includes two ties and a loss against teams we should have beaten.
Ah, yes, November 1987. New Coke. Iran Contra. The Yeastie Boys.
The Yeastie Boys was what we called our intramural College Bowl team at Rice University: David Nathan, me, Brian Tagtmeier, George Webb, and our captain, Mike Yanochik. We five Weissmen sliced through our competition on the way to the intramural finals. At stake was the honour of representing Rice in the regional championship.
The late Dr. Bill Wilson was a long-time resident associate at Wiess, and his family is still going through his archives. One of the treasures that recently turned up was video of the Rice championship game in November 1987. Here it is.
Spectators and celebrants include Kyle Giacco, Tania Min, Bill Davis, and Joan Rea, Wiess College master at the time. Dr. Bill is behind the camera.
You'll note that I was riding the pine for this match.
Doug Elliott, the star of our opponents, would join the Yeastie Boys as we scorched all opposition in the spring and earned a date at the national championships in Chicago in May or June 1988. The details are fuzzy. We were eliminated quickly and spent the rest of the weekend on alcohol, pizza, and Astros baseball in Wrigley.
The video brought some things to mind. Did I really have a mullet? Why was I wearing glasses instead of my contact lenses? Gordon Sumner, anyone? C'mon! (I bet I knew that one even then.) Speaking of then – holy crap, we were once smart and fast and thin and sported much more hair.
Today, it's out-and-out barking. [audio:https://101squadron.com/blog/wp-content/uploads/2011/11/DogNov18.mp3|titles=DogNov18]
One of the Others left the dog outside yesterday morning while I slept. Crash wouldn't shut up, apparently. Our octogenarian neighbour called but I didn't hear the phone. Sometime after that, she crept into our backyard and put the dog in our house.
Can you blame her?
I just gave Crash another 1 mg of Dilaudid. Let's see if I can salvage the afternoon.
Our 13-year-old dog, Crash, while neurotic, has always been quiet except when greeting visitors.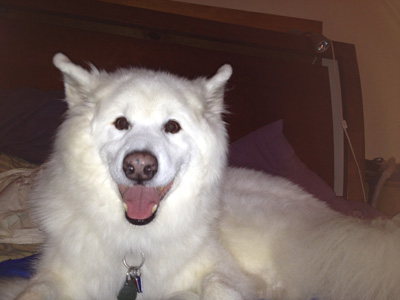 About two weeks ago, that changed. He's been moan/howl/bark/crying about one quarter of the time. That's one sound. He sits or stands around and emits it.
[audio:https://101squadron.com/blog/wp-content/uploads/2011/11/crashwhine.mp3|titles=crashwhine]
It sounds like some sort of longing, but the only time he stops is when he's lying in bed with me. There's no pattern, though. If he's downstairs with me, he whines. If he's in bed without me, he whines.
It makes it really hard to get any work done.
Now, he's not crying. That sounds different. He doesn't appear to be in physical pain: he doesn't limp or worry at a spot on his body. We let him out when he's by the back door. He always has food and water. He gets his fair share of attention. We just can't figure it out.
I called the vet, and they told me I could bring him in but it doesn't sound like they could do anything. They advised waiting a few more days.
I tried waiting a few more days, but I couldn't get anything done yesterday. I had to take action. A Google search revealed that it's safe for dogs to take hydromorphone, a.k.a. Dilaudid, which I have a surplus of because they don't work on my migraines. Safe dosage is 0.1-0.2 mg per kg of body mass, and that link leads to a PDF that recommends using hydromorphone for "fractious dogs". Bingo!
Crash weighs about 20 kg and my Dilaudid comes in 1 mg (migraine prescription) and 2 mg (finger painkiller) strengths. Perfect! I wrapped a 1-mg pill in some smelly pill pockets and he downed it.
You know, it worked. I had a quiet Friday afternoon while Crash crashed on the couch. He didn't pass out or anything, he was just his normal quiet self.
The issue remains, though. Why is he making that noise? The Dilaudid would have taken care of physical or mental issues, so I'm not sure which it soothed.
I started watching "Saxondale". Despite stumbling into British comedy gems of the latter aughts like "The IT Crowd" and "The Inbetweeners", I hadn't heard of it before. That's doubly surprising considering how much I enjoy Steve Coogan's work.
The show lasts only 13 episodes, but it's a hearty meal. The enjoyed the first season more than the second, although the second was funnier. Maybe it was the change in Tommy Saxondale's hair.
Coogan is a master in the role. It may have helped that he was a co-writer of the series, but he creates a fantastic character, with body language and every nuance organic to the man. It's quite something to watch. I could write an essay on the use of his lips alone.
The marketing of the show is odd. It focuses on the fact that Tommy was a roadie and is in anger management counseling. That's true, but almost incidental to the show. Saxondale is an incredibly intelligent and principled man. Is there another ex-drunk/drug addict exterminator on TV who could give a speech like this?
[youtube]https://www.youtube.com/watch?v=WQogTpXAf7k[/youtube]
OK, so there probably isn't another exterminator on TV, but that's beside the point. And so is the aviation-related rant.
(The large-figured lass in purple is Tommy's girlfriend, the other woman is her friend, and the younger man is Tommy's live-in employee.)
My finger – the digit. Digit-al journalism? News about my finger? Oh, forget it….
I unraveled the huge bandage, figuring that all wounds would have healed in the ten days since my finger broke. I was right. There's still a big clot of dried blood over the split, but I washed off what I could before snapping a few photos. The yellow coloration is the remains of a bruise.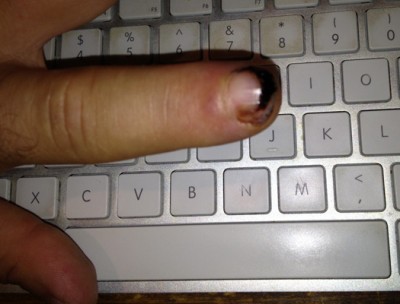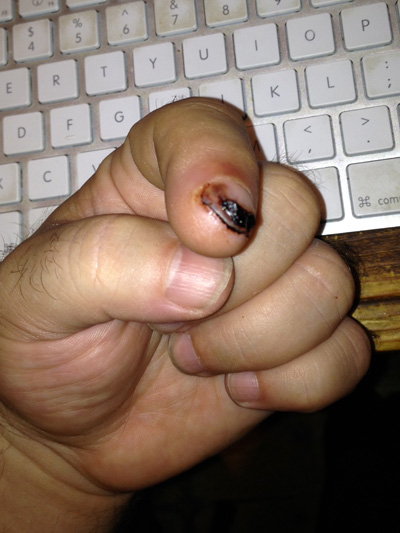 Please pardon my dirty keyboard. I'm sorry the first photo is out of focus. I didn't realize that until I had rewrapped my finger with fresh gauze and splinted it. I'm not going to undo that for a photo.
The bottom of my finger is still swollen. The skin is tight an unyielding and the finger is about half again as deep as it should be. There's not much lateral swelling, though. And, as it turns out, the softball didn't rip my fingernail all the way across. The right side is intact.
The pain has mostly subsided. Every once in a while, I'll get a sharp pain inside, and the fingernail always feels like it was cut too short. The finger tingles, as if it were in low-grade sleep.
I gotta say, it felt amazing to wash my hand this afternoon.
Yes, my finger is broken. The softball shattered the bone in my fingertip; the technical name for it is a distal phalanx tuft fracture. You can see the main splinter and some pulverized bone in the x-ray.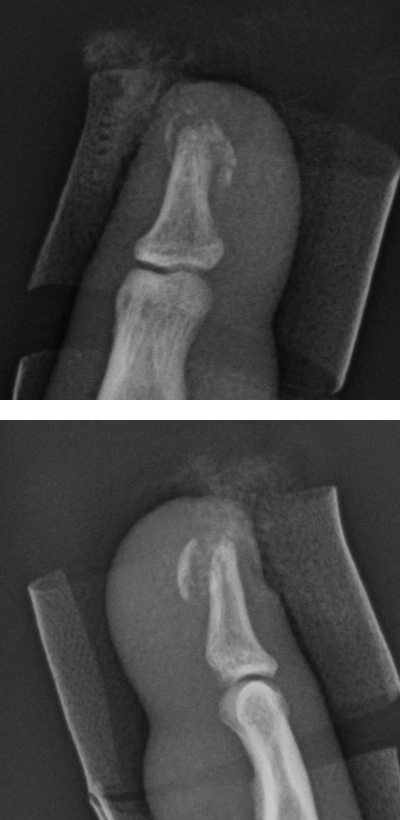 The nail was not bent but completely split and is indeed responsible for all the blood.
I have a bandage the size of a sake cup on my finger. When that comes off, I have a splint to put on. (The splint won't fit over the bandage.) I received a tetanus shot and I'm taking cephalexin to ward off other infections. I have Dilaudid for the pain, but it's not working yet. It doesn't work on my migraines either.
I must have jinxed myself, eh?