Lost in the news blitz of Tuesday's American elections was the establishment of the copyright provisions of Bill C-11 as active law.
For several years, the combination of phrases "copyright law" and "Conservative government" in an article have provoked anxiety and confusion, and that stems from a series of bills the Conservative Party introduced to Parliament in 2005-2007. The foundation of the government's approach was the American DMCA, which Canadians generally found abhorrent.
After public consultation and further thought, the Harper government introduced Bill C-11 and passed it this past summer. It is a direct descendant of its ancestor bills, including the almost reasonable Bill C-61.
Canadian copyright guru Michael Geist explains the evolution and bullet-points the features of the Bill C-11.
There are major changes from previous bills. One of the most notable is the establishment of parody and satire as legal uses of copyrighted material. This was the case in the US, but not previously in Canada.
You may now use any material that is public and online for educational purposes. This is an expansion of previous fair-use provisions and, boy, is it broad.
One contentious remnant of the old bills has been effectively neutered if not eliminated. It remains illegal to break a digital lock in order to make copies of media (although you are allowed to possess the tools to do so). Although restrictive, this provision is tempered by the cap on statutory damages for breaking a digital lock for non-commercial reasons. The most a guilty individual can be forced to pay is $5,000. That's not even going to cover a company's legal fee for a case, so unless a company is driven by revenge or example-making rather than profit, the cap is essentially permission to copy for non-commercial purposes.
All in all, Bill C-11 is an enlightened approach. It's not perfect, but what is?
When I'm not being paid to write, edit, or research, I do home/small-office IT support for Macs. I love doing it. It's the puzzles that intrigue me. This week, I had a doozy.
A client bought a new Mac Pro to replace her old one. The migration of her old account to the new Mac went pretty well, with only a few wobbly moments – for some reason, her old iPhoto 6 replaced the new version that came on the new Mac.
Once that was done, she had me install a (legal) copy of Microsoft Office 2011 on the new machine to replace the Office 2008 she'd been using on her older Mac Pro.
The first installation (and subsequent updates) seemed to go flawlessly, until it was time to open the Office applications. The splash screen would come on but before any document or blank template would load, the application would crash, with this error (in this example, for Word):
Microsoft Error Reporting log version: 2.0

Error Signature:
Exception: EXC_BAD_ACCESS
Date/Time: 2012-10-26 01:40:50 +0000
Application Name: Microsoft Word
Application Bundle ID: com.microsoft.Word
Application Signature: MSWD
Application Version: 14.2.4.120824
Crashed Module Name: CoreFoundation
Crashed Module Version: 744.12
Crashed Module Offset: 0x0000b849
Blame Module Name: MicrosoftMenuLibrary
Blame Module Version: 14.2.4.120824
Blame Module Offset: 0x000133ec
Application LCID: 1033
Extra app info: Reg=en Loc=0x0409
Crashed thread: 0
And that would be followed by a dump of incomprehensible codes and threads.
I did a bit of research and learned that this was a known problem. The primary recommended step is to delete all Microsoft Office preference files. I did, but it didn't help.
Next, I deleted every trace of Microsoft software – including preferences, receipts, and fonts typefaces – from the new Mac and reinstalled Office. No dice.
I spent nearly two hours on the phone with Microsoft tech support. The nice lady, via a customized LogMeIn client, also wiped everything clean and reinstalled Office, with as little success as I had. We did learn, though, that Office worked fine for a pristine new user on the Mac Pro. There was obviously some conflict with something in the migrated user account. With that information, Microsoft told me to call Apple tech support.
Apple found a few cache files that Microsoft tech support hadn't dealt with, but it didn't help. While on hold while my call was being bumped up a support level, something occurred to me. My client is a graphic designer and has nearly 1,000 fonts typefaces, some of which she's had for decades. I disabled her migrated fonts typefaces, leaving only the system fonts typefaces and the fonts typefaces Microsoft installs for Office.
Ta-dah! The Office applications worked!
There is nothing more tedious than going through fonts typefaces looking for a problem – but it's a puzzle and I love it. Especially when I solve that puzzle.
The problem is that there was a an old version of Georgia font typeface in her ~/Library/Fonts directory. That was in conflict with the native OS X version of Georgia and and version Microsoft may have installed itself.
I deleted several duplicate fonts typefaces, but it was the removal of Georgia that fixed the problem. Well, either that or GillSans.
Take that, megacorporations what can't figure out what I did.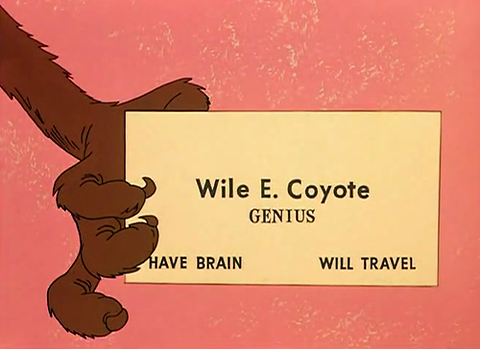 It hasn't been a great two weeks, overall.
Bad:
Old man without driver's licence opens the door of the cab he's riding in. The cab is in the left lane and Nibbler (with me) is in the right, waiting to make a right turn. Nibbler's driver door has a small but perceptible dent and scrape. While waiting for the cops to show up to make a report to force the old man to pay for the damage, I hold my wallet and iPhone in the same hand and the wallet's money clip gouges a scratch in the iPhone screen. Two hours later, the nice police officer convinces me not to write a report and wait for the cabbie to come back.
I receive a vinyl badge I ordered for Nibbler's flank. The postman bends the envelope to put it in my mail slot despite the large "DO NOT BEND" warning on the mailing label. I now have an irreparably creased vinyl sticker. Canada Post may or may not reimburse me.
Someone broke into Nibbler and rifled through the car's contents. My sunglasses and softball bat are missing.
A blue minivan with Ontario plates BMLN 401 (or close to that) drifts into my inside lane on Cote-Saint-Luc Rd. just before Wilson. I avoid being hit by the van, but my passenger side window explodes into a dozen fragments as it connects with a parked car. The parked car suffers nothing but a few scratches on its mirror. The van drives away. I leave a note on the parked car.
My Irrational League baseball team finishes in sixth place. I estimated .275, 225 HR, 910 R, 900 RBI, and 140 SB for 46 points. I finished with .280, 228 HR, 908 R, 865 RBI, and 130 SB but that was only worth 37 points. Another 40 RBI would have gained me only one point. The big blow in hitting was Jason Bartlett, who I thought would get me 20 SB but got me none. While my ERA and WHIP were as good as predicted, losing six starters was too big a hole to climb out of with respect to wins and strikeouts.
Good:
I had forgotten my softball bat at a game. It wasn't stolen from the car. I have it back.
What can you write when everyone already knows your lead? Let me think about this a moment….
Screw it.
You've doubtless heard that Apple dumped Google Maps from the iOS line-up. Whole Web sites have been set up to display the flaws in the Maps app with which Apple replaced it.
I did my own little exploration of my navigation apps. I never used Google Maps. I use Navigon (now part of the Garmin family) and the free Waze app. Waze is great if it can find your address or destination in a search. It's a bit finicky, sometimes without reason. Navigon is better able to help you pinpoint your destination, but Waze is better at the navigation, as it takes into account traffic and anticipated road speeds when it calculates your route.
I decided to look at a tricky section of the map near home. Girouard Avenue south of Sherbrooke used to be one-way southbound and had an entrance ramp onto Autoroute 15. That ramp was closed in December 2010 and that section of Girouard was turned into a two-way street. Around the same time, Crowley was extended to intersect Upper Lachine.
Here's how the three apps map these major changes, some of which are nearly two years old. Apple's Maps is on the left, Navigon in the middle, and Waze on the right. I recommend you click to open the full-sized image.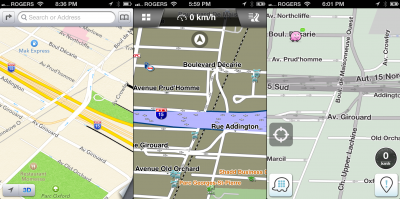 (Ignore the black infestation of the right-side roads on Maps. That's my fault, the result of a poor fill operation in Photoshop.)
Neither Navigon nor Maps has the Crowley extension. Both have Girouard as continuing to be a one-way street. The ramp may or may not be active; it's tough to tell. Waze has it correct. It may look at first like Girouard maintains its one-way status, but those arrows are indicating the ramp only. The ramp, you can tell, is not connected to Girouard and Waze will never route you onto it. You can see the extension in place between Crowley and Upper Lachine.
Also note that Waze is the only one of these apps to correctly show that Decarie no longer intersects de Maisonneuve from the south (which is to the right on these maps).
What does Google maps show?
Google has Decarie and Crowley correct, but fails with Girouard.
I didn't expect this result, but Waze wins. Did I mention it's free?
It's been a while.
With the beginning of school, peewee hockey, and lots of other stuff to keep me busy and/or exhausted, I haven't had time to blog. I might as well do it now while iOS 6 is downloading in iTunes.
As promised, here is a small album of animal photos I took while in Maine nearly a month ago.
Here's a much better look at the white-marked tussock moth.
[youtube]https://www.youtube.com/watch?v=ohipCTRBQGU[/youtube]
What belated event will I write about next? Stay tuned!
Bonus iOS 6 aggravation:
When you move apps more than one screen, the iOS dims the screen and refuses to comply. Just move apps one screen at a time.
I was flying high three weeks ago, touching third place. Then my pitching took a vacation for a week, losing seven points and sending me plummeting to ninth.
On the bright side, I almost got to pick up Adrian Gonzalez. I had second pick, though, and opted for yet another pitcher, Tyler Skaggs. That was fortunate as I lost another starter this week when Pittsburgh dumped Erik Bedard. All is not quite lost, though, as I've regained four of those lost points in the last four days.
I have a headache. Please excuse me for not posting the list of stats. I'm sure one or two of you are disappointed.
Elvi and the girls are on the road to Chicago where they will attend Chicon 7, the 70th Worldcon. The boys are staying home to go to high school, sit around in underwear, and pee in the dining room.

My hand is healing nicely. The infection is down to resembling a pimple about a centimetre in diameter. The wound is still there but healing. I should be OK for the flag-football championship game tonight if my knees hold up. I've lost four pounds this summer, whcih is a nice change from the year on the gimpy ACL.
I've been meaning to put up a post of all the animals I took photos of in Maine. Unfortunately, I didn't think to take a pic of the squid or mackerel.
Bonus name-dropping:

Students to whom I lectured about Wikipedia may remember this story (scroll down to the changes in 2007).
I'm in bed and not feeling so hot. By bed, I mean between two sleeping bags on top of an air mattress.
Crash and I woke up first this morning, around 9:30. I let him out of the tent so he could pee on our campsite rather than in our tent. I followed him out but didn't leash him since he nearly always sticks close by and he can no longer run. He instead chose to wander to the next campsite.
He walked over there and he tried to crawl under a picnic table stocked with food. I ordered him to stop, which usually works but didn't. I bent to gently guide him backward and and he snapped, literally.
His canine punctured the palm of my hand. It bled for 15 minutes and I put Ozonol on it. It was no big deal.
After breakfast, we went to buy some cheap fishing gear and two fishing licences. Child Three and I spent the afternoon fishing from the pier in Searsport where we acquired three mackerel from the waters of Penobscot Bay. We traded them to another angler for three cleaned squid. No cleaning? Definitely worth the trade. The squid had mantles about eight to ten centimeters long and – I just had a taste – are delicious. It's much better than frozen. I guess $30 mackerel/squid is the fishing tourists equivalent of the private pilot's $100 hamburger.
I noticed during the afternoon that my hand was hurting up by the knuckles and that worried me a bit. While the family set up for supper, I headed off to Waldo County Hospital. Elvi's insurance covers travel medical care.
After a bit of difficulty registering my foreign address, I saw a nurse.
"What happened?" she asked.
"My asshole dog bit me."
"I can't put that on the form."
"Sure you can. I'll spell it for you."
I explained why he'd bit me and over the course of my visit I must have told five people that the dog had all his shots so we unfortunately didn't have to cleave open his head (standard procedure for a rabies test).
"Can you describe your injury, please?" the nurse continued.
I lifted up my palm. "Stigmata!" I was feeling punchy, I guess. She laughed.
The exam showed I had a fever and an infection. They debrided the wound (ouch), washed it with iodine, and gave me amoxicillin. I also got a DTP shot because I couldn't recall the date of my last tetanus shot. Five minutes later, I remembered that I'd gotten one when the softball obliterated my finger last October.
By the time I got back to the campsite, I was feeling chilly, headachy, and nauseated. It may have been psychosomatic but I felt like crap. I've been in bed since (it's 9:00 p.m. now). I have a large bandage on my hand and I'm under doctor's orders not to lift anything or otherwise exercise my right arm.
Bonus excuse:
I put no links or photos in this post for now because I have better things to do than wrestle with the WordPress app on my phone.
No, that isn't a baseball-related title.
Elvi and I have been travelling a lot lately. We drove to Boston on Thursday, Aug. 2 so she could see Amanda Palmer in concert while I played on Child 2's laptop and fended off blondes on the terrace outside.
As you know by last post, we stopped Saturday night in New Hampshire.
I've had a lot of work this summer and I used the subsequent week to catch up before heading to Cornwall for our friends' annual pieces-of-pig-and-lamb roast last Saturday. I DJed the party after dinner, per usual. Up until that night, I'd been bitten by mosquitos only once or twice all year, which is a rarity for me. Those bastards love my blood.
By Sunday morning, I had 44 more bites. I counted them. They were mostly on my feet and ankles with a few up my shins to behind my knees. You in Texas, in California, in Florida – you might think you know mosquito bites. They swell up a bit, itch for a day or so, then go away. The mosquitos in the northeast aren't so kind. They bite and it itches like crazy for days. I can still feel these four days later.
These were incredibly itchy. Normally I use Gold Bond ointment to relieve the itching of bites, but it did nothing this time. Nothing did until I read that Orajel and its benzocaine could numb the skin. That worked for about two hours at a pop. Once I ran out, I switched to Ozonol and its lidocaine. That worked for three hours per slather.
I have not slept well. I haven't slept through the night since Saturday, and that was helped by a nice dose of coconut rum.
I'm hoping to get decent rest tonight because tomorrow we are driving to the Maine coast to camp in some woods. I'll be sure to bring the Deep Woods Off.
Bonus maternal exclamation after reading the previous blog post:
"Since when are you an atheist?!"
I'm a week late on this, but things have been happening (see previous post) and Elvi and I spent three days in Boston so that she could attend an Amanda Palmer concert. Subsequently, we toured Beacon Hill, Harvard Square, and met my old WarBirds crony Tone to take the Rangefinder Challenge.
Currently, I'm on a porch on Lake Winnipesaukee while a Christian faith retreat goes on around me. I suspect I am the only atheist Jew here.
A week late on what? On a fantasy baseball update. Don't you read headlines?
One week ago, I had fallen to eighth place, which sounds worse than it is. The spread between third and tenth is less than ten points, and the standings are dynamic day to day. I was able to grab young phenom Starling Marte with my pic. I don't care what batting average he puts up so long as he keeps playing and adding to the counting stats.
I'm in a good position to move up if my team merely does what it should. We'll see.
.286 batting average (in first by 0.11)
160 HR (3rd and nine out of 2nd)
622 runs (3rd, two out of 2nd)
605 RBI (3rd by nine)
86 SB (8th by two, five out of 7th)
3.78 ERA (6th, 0.10 out of 4th)
1.27 WHIP (8th, 0.16 out of 6th)
679 K (10th, 28 out of 9th)
46 wins (tied in 7th, four out of 6th)
12 saves (8th)
I'm in fifth, only four points out of the money with two months to go.
Bonus whine:
Why, when I'm retreating and hiding around Wi-Fi-enabled corners, do people keep seeking me out to chat?