Not long after I cracked my own tooth, Nibbler suffered his own damage. (Nibbler is my Mazda 3, remember?)
Wife One took Nibbler out of the driveway so she could take the minivan. She parked him across the street. What she didn't see was the large ice boulder on top of which she parked. You can see the imprint of Nibbler's fron left tire on it.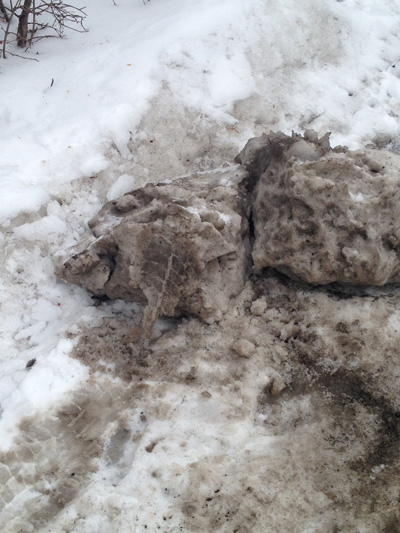 This method of parking not only served to keep Nibbler from rolling forward, it cracked his poor plastic jaw.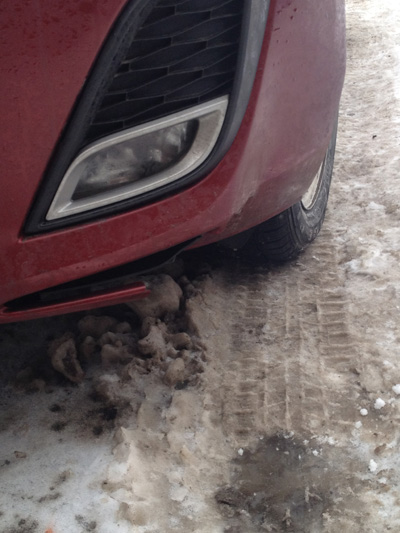 Like any anyone with a broken jaw, Nibbler suffered some swelling in his cheek.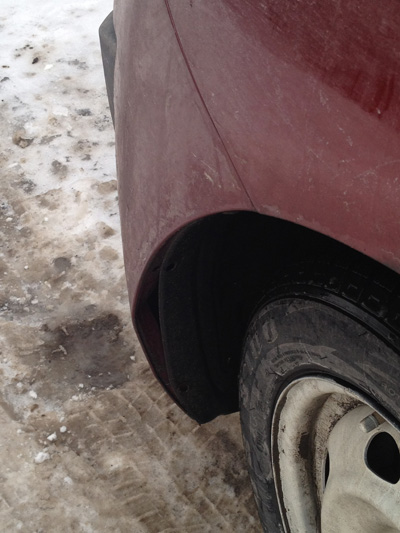 Nibbler is a trooper and still drivable, but I can't stand him suffering so. I plan to get him a new jaw soon. It should be $600-$800.
Speaking of cars, even if we do tend to anthropomorphize, there's news in the lummox category. Our 1999 Grand Voyager finally choked and died. It had been running with a crack and drip in the transmission case, forcing us – OK, Wife One – to keep it topped up with transmission fluid. The key would often refuse to turn until whacked on end with a hammer. Still, it soldiered on. Something has gone wrong with the electrical system, forcing us – yes, really both of us – to boost it every time it had to start.
A week and a half of research into Toyota Siennas and Honda Odysseys let us to a 2006 Odyssey EX-L with a scant 96,000 kilometres on the odometer and a tip-to-tail warranty to 160,000 kilometres. We're quite happy with the purchase, which also came with summer tires on alloy wheels, although it did not come with the cute Honda hat on the roof rack.
Yes, those are leather, heated seats.
Wife One has no plans to name the van.