I come from a long line of antagonists.
My dad's mother died a few months before I was born and my grandfather was not a capable bachelor. He met a slightly older woman on a cruise and they got married. Then they got divorced. Then, on her terms, they got married again.
My grandfather needed someone to take care of him. His wife was willing to do that, for a price. It was a marriage of convenience. It was certainly not love.
This woman was the only grandmother we knew on my dad's side and, as kids, we knew none of this. Nor did we know that this grandmother and my dad shared a white-hot hatred for each other. They hid it well. But this isn't about my dad, yet. This is about my grandfather.
There was a certain amount of resentment mixed into the convenience. My dad rarely told us much, so I only heard this story from his Wife Two. My grandfather had somehow discovered that his wife detested the phrase "bum wad" as a synonym for toilet paper. Every chance he got, he'd use "bum wad". "Frances, when you go to the store, pick up some bum wad." Oh, that must have been a jolly household.
You know what just occurred to me? This was my step-grandmother's first marriage. She had short hair. She always wore pants. I can't recall ever seeing her in a skirt or dress. Maybe she was gay.
Anyway, that was my grandfather. My dad's attitude can best be explained by the following printout I discovered while cleaning up his office in March.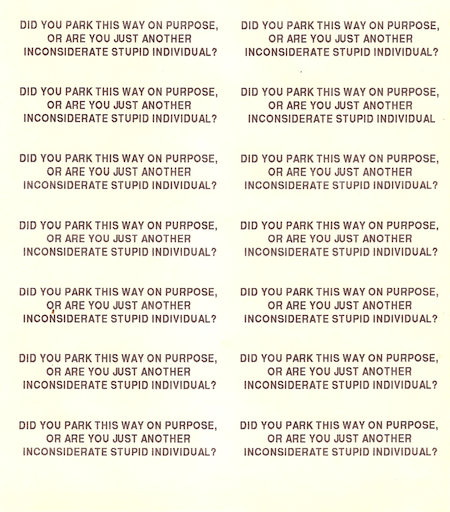 Note the dot-matrix quality of the text. The printout had been laying around a while.
The sheet speaks for itself. I don't have to make any more comment – well, except to point out that it makes more sense if you replace "on purpose" with "by accident". The red cloud of vendetta can muddle one's editing ability.
So that's my genetic heritage, which sort of explains this, although a) my vendetta is more passive; b) my vendetta was actually carried out until it overwhelmed me; and c) I never bought a paint gun with which to peg speeding jet-skiers in the canal behind my house.
I was going to go on and explain the Waze bit, but I think I'd rather take a nap now. Stay tuned for part two.