Child Two and I took I took Child Three and some of his friends to paintball today. A grand time was had by all, especially by those of us who escaped without wounds.
I was shot once in the neck (by Child Three!) but recovered quickly. I was shot once in my bad knee by a paintball that didn't burst and that hurt for a minute.
Child Two and I formed an effective fire team in the latter games. We got ourselves into enfilade positions and ripped through the opposition like the killers we are.
My favourite moment of the day came when one kid crept up to the corner of a building to get a shot at Child Two. I let loose a volley of five shots and all landed. I saw my target dance a little and disappear behind the wall. I learned afterward that four of my shots had hit his hand and made him drop his gun – uh, drop his marker. My trophy: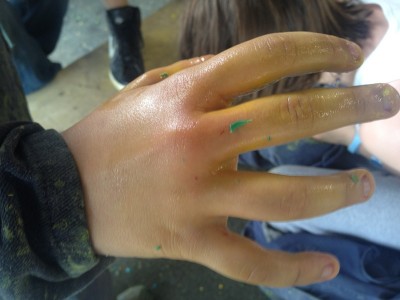 Child Three got hit three times on the bicep in the last fight: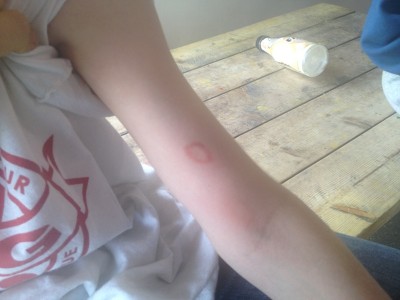 It look like two hits, but the top welt is two hits stacked. The lower, fainter welt shows up much better this evening than it did when I took the photo.
Here's a masked "before" photo and one from a break in the action.