What can you write when everyone already knows your lead? Let me think about this a moment….
Screw it.
You've doubtless heard that Apple dumped Google Maps from the iOS line-up. Whole Web sites have been set up to display the flaws in the Maps app with which Apple replaced it.
I did my own little exploration of my navigation apps. I never used Google Maps. I use Navigon (now part of the Garmin family) and the free Waze app. Waze is great if it can find your address or destination in a search. It's a bit finicky, sometimes without reason. Navigon is better able to help you pinpoint your destination, but Waze is better at the navigation, as it takes into account traffic and anticipated road speeds when it calculates your route.
I decided to look at a tricky section of the map near home. Girouard Avenue south of Sherbrooke used to be one-way southbound and had an entrance ramp onto Autoroute 15. That ramp was closed in December 2010 and that section of Girouard was turned into a two-way street. Around the same time, Crowley was extended to intersect Upper Lachine.
Here's how the three apps map these major changes, some of which are nearly two years old. Apple's Maps is on the left, Navigon in the middle, and Waze on the right. I recommend you click to open the full-sized image.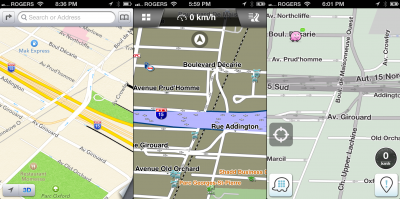 (Ignore the black infestation of the right-side roads on Maps. That's my fault, the result of a poor fill operation in Photoshop.)
Neither Navigon nor Maps has the Crowley extension. Both have Girouard as continuing to be a one-way street. The ramp may or may not be active; it's tough to tell. Waze has it correct. It may look at first like Girouard maintains its one-way status, but those arrows are indicating the ramp only. The ramp, you can tell, is not connected to Girouard and Waze will never route you onto it. You can see the extension in place between Crowley and Upper Lachine.
Also note that Waze is the only one of these apps to correctly show that Decarie no longer intersects de Maisonneuve from the south (which is to the right on these maps).
What does Google maps show?
Google has Decarie and Crowley correct, but fails with Girouard.
I didn't expect this result, but Waze wins. Did I mention it's free?