Having been prompted by the wife to investigate how to access the American version of Netflix and by Child 2's usage of the same, I did a little digging.
There are many options out there. Unblockus is popular and convenient and it costs $5 a month. The advantage of Unblockus for me is the ability to install its DNS addresses right on the router, thus allowing every device on our network – including the PS3 – to access geo-blocked American media. When you access one of the chosen services, your browser would ask you which geographic location you would like to use. I'm not sure we would get that choice with Netflix on the PS3.
Child 2 was using Hola, which comes in ad-supported free and pay versions. Hola is actually peer-to-peer software and I suspect it of driving up our bandwidth using Child 2's laptop. Regardless, it is browser-based software and as such may not always work with browser updates or even your browser of choice, like my preference to use Safari.
I settled on a free alternative, Media Hint. There's another hobby-project called Tunlr that works with DNS redirection, the same approach that Unblockus uses.
Media Hint works in the browser, but also at the system level in OS X, which is how I have set mine up. Here's how:
Open System Preferences. Open the Network settings pane.
Click on the connection you are using, which will almost certainly be either Wi-Fi or Ethernet.
Click on the Location drop-down menu and choose Edit Locations…
Select your default location (Automatic, unless you've renamed it). Click on the gear icon and choose "Duplicate Location".
Rename the location you just created to something more obvious, like "US TV". Choose it to activate it and click the Done button.
Click the Advanced button. Click on Proxies in the header.
Activate the checkbox for Automatic Proxy Configuration. In the URL field for Automatic Proxy Configuration and paste this URL: https://mediahint.com/default.pac
Click the OK button. Exit System Preferences, saving changes if it asks you to.
Now, to switch between being local and appearing to be in the US, click on the Apple menu and then click on the Location menu. Switch between them whenever you want this way.
I haven't checked, but there should be a way to use Media Hint this way in Windows, too. Or you could opt for Tunlr.
Bonus whine:
Who at WordPress decided that Goth was a good look for version 3.8? Blecch.
When once upon a time I was a DM for the game we then called AD&D, I invented in my campaign a magic item called the pants of sloth (and I italicize according to Wizards of the Coast style). These magical pants were a tartan pair of what are now commonly called pyjama pants and they increased the natural healing rate of a character as long as this person did nothing but veg out.
Because I was (am?) an anal-retentive DM, I kept track of things like long-term healing and these pants came in handy in my campaign, even though when I submitted them for inclusion in Dungeon magazine, the editor I was working with (Dave Gross) replied with "Oh, I don't think so…." It may have been the name.
They say that truth is stranger than fiction, and I would have loved to see Dave's comment were I to submit for consideration a real pair of magical pants I just learned about.
The Icelandic nábrók, or necropants, will grant you everlasting wealth as long as you don't mind digging around in a(nother) man's scrotum for coins. Here's the transliteration of the audio track available at the Strandagaldur Museum of Icelandic Sorcery and Witchcraft.
One of the most difficult feats mentioned in Icelandic grimoires and folk tales is undoubtedly the nábrók, literally "necropants". This is another tool to gather wealth by supernatural means.

To begin with, the sorcerer has to make a pact with a living man and get his permission to dig up his dead body and skin it from the waist down. The skin must be completely intact with no holes or scratches. The sorcerer then steps into the skin, which will immediately become one with his own.

A coin must be stolen from a poor widow either at Christmas, Easter, or Whitsun and kept in the scrotum. It will then draw money from living persons and the scrotum will never be empty when the sorcerer checks.

However, his spiritual well-being is at risk unless he gets rid of the necropants before he dies. If he dies with the pants on, his body will become infested with lice as soon as he passes away. The sorcerer must therefore find somebody that is willing to take the pants, and put his leg into the right leg before the sorcerer steps out of the left one.

The pants will keep on drawing money for generations of owners.
The audio does not mention that in addition to the coin, the sorcerer must place the nábrókarstafur sigil in the scrotum.
The museum has a pair of the pants on display and the Web site has the sigil.
I found this display in a local Michael's.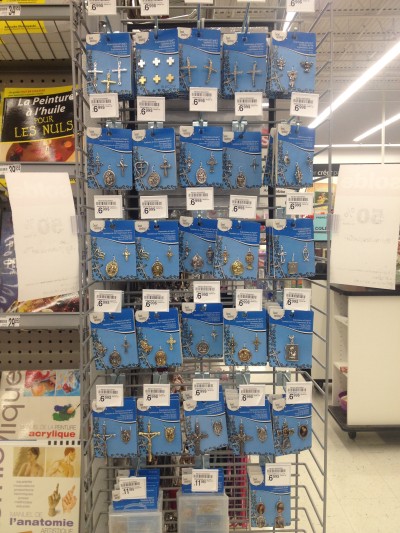 Hopefully, when the "Charte des valeurs québécoises" become law (ha!), the store will post a guide to tell us which of these symbols is too ostentatious for government work so we can know which will keep us (university professors count!) out of jail.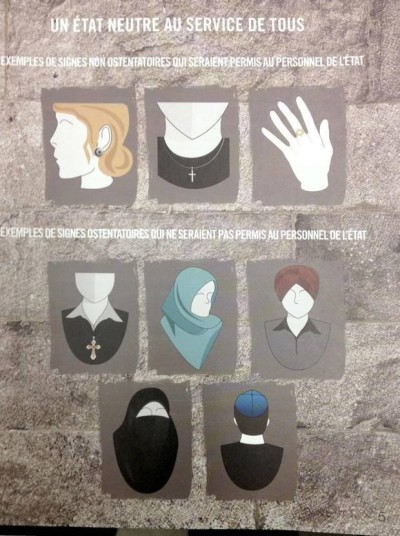 Bonus iOS 7 bug:
Apparently, if you alter a playlist in iTunes, the changes will not propagate to your synced iPhone/iPad in iOS 7. You have to create a new playlist in iTunes, copy everything from the old into the new, then make your changes.
I had to rename my Top Tunes playlist to Favourites because Siri kept insisting I was asking to shuffle my non-existent Pop Tunes playlist.
We don't own a dedicated TV streaming device. We do have both a Wii and a PlayStation 3, and we get Netflix through those. We subscribe to Videotron's Illico digital cable TV and also have a grey-market DirecTV dish and PVR, with the Showtime package and no broadcast networks.
We're well-served in content, even if we still haven't made the leap to a flat-screen television – yeah, we still have a massive CRT set.
The kids monopolize the TV but I don't mind. I've become accustomed to time shifting. The kids have filled up the PVR with Adventure Time and other Cartoon Network staples, though, so most of my time-shifting involves downloading TV-show torrents.
Boy, this is long-winded.
I usually watch video on my computer but sometimes a subset of the family will also want to watch what I download, either together or at separate times. Until this past summer, I'd transfer shows to a USB memory stick and plug that into the PS3.
I knew there had to be a better way to move video from my hard drive to our TV, but I figured we needed a streaming device like a Roku, AppleTV, or the new Google Chromecast. I had it completely backward.
I searched for ways to get this done, and the consensus choice is Plex, a media server you load on your computer. It's absolutely free. Plex is fairly easy to install; once I had the courage to ignore some error warnings, it went seamlessly.
You find your video files through Plex's Web-browser-based interface. Plex handles TV series and movies differently so you'll want to separate those into different folders if you don't already. Once it's set up on your computer, Plex will search the Internet for covers and background info for all of your titles so that the end result looks darned professional. The only issue I had was that Plex misrecognized an old TV documentary and so downloaded the wrong information. I had to manually override that.
But once my set up is done, all I had to do was choose my new media server on the PS3, and boom – all my files are available in a pretty menu. I've had rare network hiccups that make me reload a file I'm watching, but that's barely worth mentioning. I haven't looked for the server on our Wii but I assume it would be easy to access there.
I was so pleased with my success that I tried to set up Plex for someone with an AppleTV. Oh, Apple…. True to form, Apple maintains a closed ecosystem on its AppleTVs. You can only get what they want you to get and that doesn't include media files on your computer – unless they are in iTunes. Previously, I had advised the AppleTV user to convert all her downloaded video to MP4 format and then to drag it into iTunes. It works, but not for all video files and it's kludgy. Plex is more elegant and easier since it will play anything your computer can, from .aac to .wmv.
Apple left a loophole in the AppleTV software, however. The device's data streams are encrypted – with the exception of its Trailers channel. Some clever coders exploited this to force AppleTVs to access Plex through that Trailers channel. It seemed to work great…until Apple closed the hole with its most recent AppleTV software update.
Now, there are still workarounds and I found the appropriate code and files and followed the instructions to what I could best discern was a T, but I spent four hours trying to get this AppleTV to see Plex without success.
So I can't recommend an AppleTV. Roku comes with Plex access by default but you still have to install your own media server for it to work. I've read that Roku boxes are not the most stable, although perhaps the company's new line-up will fix that. If you have a newer TV with Google Play, a LG Smart TV, or a Samsung TV that can use that app store, you can also get the Plex client directly.
The Google Chromecast dongle is HDMI only and has a Plex client in development. It's a $35 device, only available in the US for now.
If I had to design an home media-server installation from scratch today, I'd start with a used Wii. It's less expensive and more reliable than a dedicated streaming device. And it plays games. By the end of the year, I might opt for a Chromecast if the TV has a spare HDMI input.
As summer began I had never seen a live moose. It was somewhat embarrassing for a Canadian, so seeing a living moose was on my bucket list.
The easiest way to find a moose to look at is to find a zoo that harbours one, you'd think – but there are few zoos within driving range of Montreal and the two I know of (the Biodome and Granby Zoo) don't have moose. Parc Safari has deer but otherwise focuses on African mammals.
To Google I went, where I discovered Parc Omega, located roughly across the Ottawa River from Hawkesbury. It's a drive-through circuit, like Parc Safari and although it's been around for two decades, I'd never heard of it before. It focuses on local and European fauna: a bunch of deer species; black bears; boars; wolves and foxes; etc. The park also offers overnight accommodations which are hardly necessary but which we decided to try out.
What a fantastic destination this place is. The deer and elk come right up to your car for food. Conveniently, the park's main building sells bags of carrots for $2.50. The park warns you to keep your car windows half closed, but we preferred having the deer stick their heads in our van. The boars are also friendly, although too short to reach the windows. The ibex are a bit shyer.
The herd of bison ignores the cars but you're not supposed to feed them anyway. I'm sure there's a link there. Musk oxen, bears, and the wolves and foxes are penned in. You can look, but you can't touch, or feed.
You can get very close to black bears and timber wolves on the park's boardwalk. I'm sure they have gauged the animals' leaping ability with some precision. Again, you are not supposed to feed them, but wild blackberry bushes grow around the base of the boardwalk supports. The bears had eaten all theirs, but we could reach some ripe berries on the wolf side. The bears would sit up and are extraordinarily good at snatching berries out of midair.
And in one pocket of the park, nearly smack dab in the middle, I saw these:
Bucket filled.
Five of us spent the night in what the park calls a prospector tent, which is really more like half a log cabin with a tent perched on top. It had real beds and a Keurig. Unfortunately, the shower is only cold and you are not allowed a fire. The tent suffered from a lack of ventilation and a clammy feel, but that's made up for by the fallow deer in the forest around you and free access to the back side of the wolf/bear boardwalk. You'd have to pay again to get your car back in the park, though. That's a policy the management should rethink.
Here are four dozen or so of my pics. As it turns out, everything we thought was a whitetail deer is actually an elk.
(Click to enlarge any photo.)
I don't have cool X-rays like last time – yet – but I did break another finger. I have two small fractures, one in the finger tip and one at the proximal end of the intermediate phalanx (middle finger bone).
There's no pain anymore. Most of the pain was emotional. I walked into Emergency at 9:55 p.m. and walked out just short of nine hours later. It had been a busy night, mostly with gastro patients who tended to vomit in the waiting room. I and my finger were low priority.
The mild pain I posted about from the waiting room had by midnight grown into real pain. The triage nurse could not give me any ibuprofen without a doctor's permission and I was waiting to see the doctor, so I had to grin and bear it.
Once I saw the doctor, he was kind enough to get me some ibuprofen. I got the X-ray, the news, and a small splint.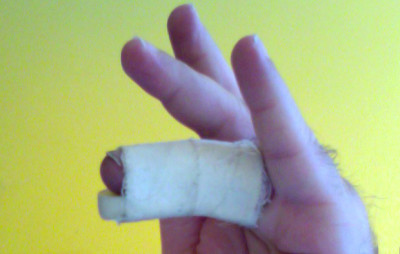 What was worst about my experience was leaving the hospital to find that someone had rubbed Nibbler the wrong way.
Bonus animal:
Somehow, my allergic self has agreed to let this thing live with us permanently.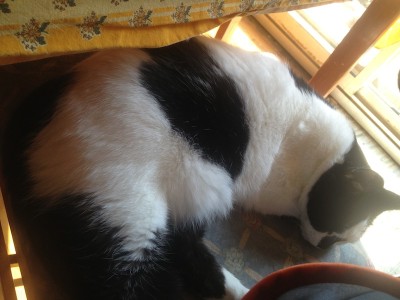 Does anybody have an in on inexpensive loratadine?
Yup, I took another softball in a fingertip.
This time, the nail didn't split and blood didn't spill.
It happened in the first inning of a doubleheader and had I left the game, we would have had to forfeit both games. So I moved to first base and did what I could.
Batting, I had even less power than I normally do and my finger would occasionally hurt like hell. It's bearable otherwise, like a mild headache.
Nevertheless, I feel I should get it checked out so I'm sitting in Emergency, waiting for an X-ray at least.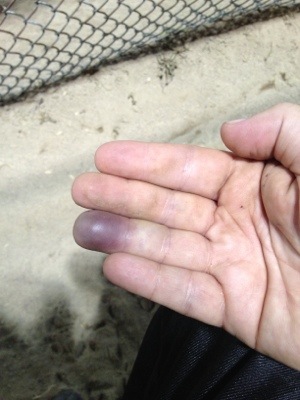 I recently dealt with an quirk of Apple's Mail application for a client. I found a workaround, but I have no idea exactly why it's happening, or how to prevent it from happening. That bugs me.
My client receives an e-mail newsletter from an industry group. What he gets shows up like this: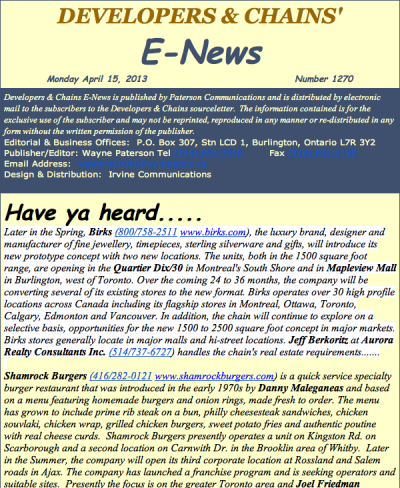 It's a standard formatted e-mail. The raw e-mail comes in two parts. The first is simple text, and the second is HTML. It's ugly, inelegant HTML, with layout driven by nested tables, but it works.
A problem arises when my client forwards this e-mail to others. It shows up like this: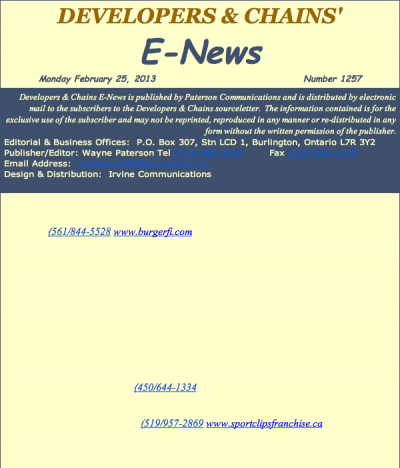 The text is there. It's just the same colour as the background. Notice that the justification of some of the paragraphs has also changed.
When asked to forward this e-mail, Mail does so, but it adds this before the HTML of the newsletter proper:

Mail adds that little text through some, yes, HTML. And that HTML is what (I assume) screws up the styles of the newsletter.
As far as I can tell, there's no way to get around this while using the "Forward" function. My workaround takes advantage of Mail's "Send Again" command. That doesn't add anything to the message and conveniently can be applied to messages that you yourself didn't send the first time.
Bonus funny:
I've been freelancing for a company that adds subtitles to movies, which is more complicated than you think it is because of competing standards. There's also a procedure to verify foreign dialogue.
The other day, I was working on Darren Aronofsky's "Pi" along with two goyim. Each of us covered a third of the movie, which contains a bit of Hebrew and Yiddish, but I was responsible for knitting all three reports together. One of the foreign-dialogue notes one of the other titlers left for me concerned a Hebrew word. His remark cracked me up, and it will amuse anyone who is familiar with Chabad and its tactics:
Teffillin. A type of Jewish phylactery? Appears to be used in the context of a drug.
Saturday was Child Three's bar mitzvah. He performed well, after what was frankly a poor rehearsal the week before. Let's hear it for misguided life lessons!
Our last out-of-town guests leave today and while it is a nice change to spend time with them, my freelance schedule is piling up. I have a deadline of the end of the week to subtitle a 50-minute documentary on spontaneous human combustion (cough, bullshit, cough), copy-edit a 36-page e-zine on NoSQL, copy-edit two shorter tech articles, apply to teach courses next year, and iFigure out why a client's iCal won't sync with his iPad or iPhone. Is it just me or has Apple gone downhill since Steve Jobs died? The new iTunes is crap, interface-wise.
So I'm blogging. And not about my pretend baseball team, which is riding Roy Halladay, Jason Motte, Matt Kemp, and Jay Bruce to ninth place.
Enough about me. Let me now discuss my speech, the one I gave at the bar mitzvah. Some people asked to see it, so here it is. It's not a direct transcription, since I ad lib and some of this is from memory.
I'd like to start by pointing out that Child Three's bar mitzvah is not the only special occasion today. As Elvi implied earlier, it is Star Wars day. May the Fourth be with you. And purely by coincidence, it's Free Comic Book Day. If you go to a comic-book store today and ask, they'll give you a free comic book. We didn't know that until this week.

I learned on Facebook just a few days ago that today is also International Naked Gardening Day, and the weather's beautiful, so go for it.

Here we are again, for what's probably the last time in terms of my offspring.

I'd like to thank everybody for being here, especially those who travelled from all over North America. It is the NHL playoffs, so I'd like to thank them by team. We have people from the home territories of the San Jose Sharks, my sister from the land of the Vancouver Canucks, my brother from the Washington Capitals, and my brother, mother and Grandpa Marty from the AHL's Houston Aeros, at least for a few more weeks.

There's a huge contingent of family from the home of the Toronto Maple Leafs. Congrats on scoring a playoff goal this decade. Start planning your parade.

I don't want to make this a downer, but there is something I have to acknowledge. I'm almost certain that everybody here who was at our girls' earlier bat-mitzvah celebrations has, at one point or another this week, thought about someone who was around for those earlier occasions but isn't with us now.

You know who I mean. He had white hair, was basically friendly but had his grumpy moments, and if we can be honest, he went through a lot of pain near the end of his life.

He even bit me when I was trying to help him. I still have a scar on the palm of my hand.

I speak, of course, of our late dog, Crash.

All the same could be said for my dad, except about the scar. He wasn't strong enough to bite hard enough to leave a scar.

I wanted to honour my father in some way during this morning's service without bringing down the mood too much, so what I decided to do was to wear this suit, which belonged to him. These are his pants. This is his coat.

(GET CLUMP OF DOG HAIR FROM POCKET)

And this is Crash's coat.

Thank you all for coming.

Child Three, you drive me crazy sometimes, but we got there and passed with flying colours, mostly shades of purple. And if you think what you've done up to this point was hard, just wait until you have to sit down and write 200 thank-you notes.