Thanks to "Blackadder the Third" for the influence of title alliteration. Thanks to me for the crappy execution.
Yesterday, I did something to a Mac I've never done before and it left me with a sick feeling in my stomach. Behold: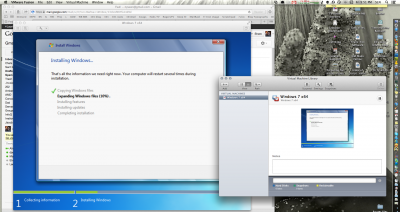 I have some work that requires me to use proprietary software that's Windows-only, so I had to. I chose VMware over other options because I have a friend who works there, so I figure high-quality tech support will be easy to access.
I had a bad experience with tech support recently. Our old router was dropping connections and somebody on our wireless LAN has been occasionally uploading way more data than normal. I installed DD-WRT on the old router, a Cisco/Linksys WRT54G v.6. Version 6 of that router is crippled with minimal RAM compared to earlier models so the installation left no room for the tools I'd need to install to monitor bandwidth by user. Plus, it kept dropping connections.
By the way, yes, Wi-Fi routers can wear out despite a lack of any moving parts. Probably.
So I bought a new Netgear router and put DD-WRT on that. I tried and failed to install a Linux bandwidth monitor program on it and I felt the best thing to do would be to start anew, with factory settings. I tried to reset the router according to the manual, but it just wouldn't reset. It did, however, stop working.
I called Netgear tech support and spent an hour with a clueless person. He was trained to follow the script he was given, which was to test the router and repair its Internet connection. He wouldn't comprehend that I was asking him to help me reset the router. He also wasn't comfortable with using Macs, so he made me dig out Elvi's Windows laptop and use the unintuitive networking tools on that. My post-call assessment was not kind – although at some point in the process, the router came back to life, although with DD-WRT and not the native Netgear firmware. I said thanks and goodbye.
Oh, yeah. I've also moved up to Mac OS 10.8 Mountain Lion. I forget why.
Anyway, in the upgrade I discovered that my favourite text-editing program, Tex-Edit Plus no longer worked. I've been using it for close to 20 years, and I lamented its loss – until I visited the site to learn that an updated version will work on Mountain Lion. Huzzah! It's shareware, and recommends you pay $15. I paid $50 a long time ago. It's that good.
I started this post with the intention of noting some apps. I suppose it's time to get around to that.
I continue to have a torrid love affair with Waze. I'm obsessed with mapping for it. I pretty much singlehandedly filled in everything between St-Jean-sur-Richelieu and Drummondville. On to Trois-Rivières! It's not healthy.
I'm also using Lose It, which is an app that lets you record what you eat and exercise you perform. I got on a scale in late December and saw 178 on the readout. That's too much. I set a goal of getting down to 155 lbs by May, roughly a pound a week. Lose It set my daily caloric budget at 1,752. Right now, I'm bouncing between 172 and 174 so it seems to be working.
What I like about Lose It is its bar-code scanner. Scan what you eat and it tells you what it costs in calories. What I don't like about Lose It is that it is aimed at people who eat prepackaged foods. It's sometimes difficult to find home-made foodstuffs in its list and of course food made from scratch doesn't have a bar code. Nevertheless, I'm sticking with it, and to my budget.
Another I want to praise is actually kind of boring. Battleship Destroyer HMS turns you into a gunner on a Royal Navy frigate in World War II. It's simple and it gets dull after a while, particularly if you stick to the free version. The amazing thing about the game, and this is not unique, is that you can play in gyroscope mode. Instead of using screen swipes or buttons to move, you move the smart phone to view the world around you. Want to swivel your gun turret? Turn around. Want to aim high? Lift the phone toward the sky. It's surprisingly immersive.
The final app I want to mention is Spaceteam (iOS only). Developer Henry Smith knocked this off to train himself to code iOS apps and has an unexpected hit in his hands. You can only play it face to face, and multiplayer is mandatory. Every player has a control panel and is sent a list of commands. If they cannot use their own control panel to fulfil the command, they must ask/shout at the other players to do so. That's the whole game. It gets hard, especially when you lose the labels on the controls.
We have a game night scheduled with friends tonight. I wonder if I can use Richard III to whip up some enthusiasm for Kingmaker.