As summer began I had never seen a live moose. It was somewhat embarrassing for a Canadian, so seeing a living moose was on my bucket list.
The easiest way to find a moose to look at is to find a zoo that harbours one, you'd think – but there are few zoos within driving range of Montreal and the two I know of (the Biodome and Granby Zoo) don't have moose. Parc Safari has deer but otherwise focuses on African mammals.
To Google I went, where I discovered Parc Omega, located roughly across the Ottawa River from Hawkesbury. It's a drive-through circuit, like Parc Safari and although it's been around for two decades, I'd never heard of it before. It focuses on local and European fauna: a bunch of deer species; black bears; boars; wolves and foxes; etc. The park also offers overnight accommodations which are hardly necessary but which we decided to try out.
What a fantastic destination this place is. The deer and elk come right up to your car for food. Conveniently, the park's main building sells bags of carrots for $2.50. The park warns you to keep your car windows half closed, but we preferred having the deer stick their heads in our van. The boars are also friendly, although too short to reach the windows. The ibex are a bit shyer.
The herd of bison ignores the cars but you're not supposed to feed them anyway. I'm sure there's a link there. Musk oxen, bears, and the wolves and foxes are penned in. You can look, but you can't touch, or feed.
You can get very close to black bears and timber wolves on the park's boardwalk. I'm sure they have gauged the animals' leaping ability with some precision. Again, you are not supposed to feed them, but wild blackberry bushes grow around the base of the boardwalk supports. The bears had eaten all theirs, but we could reach some ripe berries on the wolf side. The bears would sit up and are extraordinarily good at snatching berries out of midair.
And in one pocket of the park, nearly smack dab in the middle, I saw these: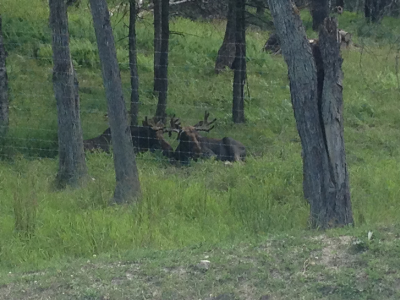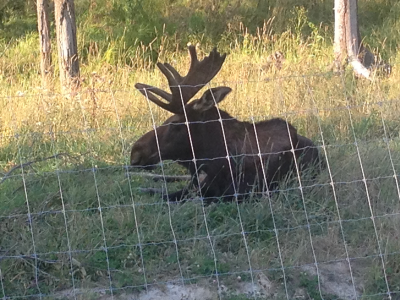 Bucket filled.
Five of us spent the night in what the park calls a prospector tent, which is really more like half a log cabin with a tent perched on top. It had real beds and a Keurig. Unfortunately, the shower is only cold and you are not allowed a fire. The tent suffered from a lack of ventilation and a clammy feel, but that's made up for by the fallow deer in the forest around you and free access to the back side of the wolf/bear boardwalk. You'd have to pay again to get your car back in the park, though. That's a policy the management should rethink.
Here are four dozen or so of my pics. As it turns out, everything we thought was a whitetail deer is actually an elk.
(Click to enlarge any photo.)