Don't listen to the columnists and sportswriters who say the US women dominated the gold-medal game for 57 or whatever minutes. It's simply not true. Canada dominated that game but didn't have the same puck luck until the end.
Corsi is an advanced stat that counts shot attempts, shots, missed shots, and blocked shots are all Corsi events. Corsi has proven to be the best predictor of hockey success, probably because it smooths out the luck factor.
Now, power plays obviously give any team an advantage in shots and Corsi, so using only even-strength Corsi numbers is the best analysis. Mainstream reporters and organizations like the NHL or the IOC don't supply those numbers. You either have to calculate them yourself or take advantage of someone else who does, like Darryl Metcalf at Extra Skater.
Darryl isn't closely following Olympic hockey games, so I am indebted to Jen LC, who posted her calculations on Twitter.
Here's the money shot: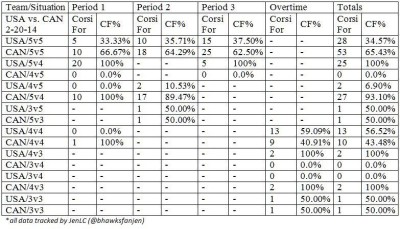 Canada out-Corsied the US at even strength by 53-28.
Traditionally – a weird word for how new the stat is – Corsi is measured as a percentage of a game's events. Canada's 65% is phenomenally dominating.
Canada deserved that game. As Jen put it, "Not that I loved the penalties or anything but at 5v5 Canada owned the puck."
Update:
And here are Jen's numbers for the men's US vs. Canada game.