Robert Kovacik, a reporter with KNBC in Los Angeles, is in London for this year's Olympics. Yesterday, the station aired his report on Mitchell Flint, who used the 1948 Olympics in London as a ruse to cover his volunteer service as a pilot in Israel during the War of Independence. For much more on his experiences, visit the link on his name, which takes you to my historical 101 Squadron Web site.
The NBC report has been posted online at Bing. No, I don't know why. Bing video cannot be embedded in Web pages. No, I don't know why that is, either. Regardless, you can click on the following screenshot to watch the video.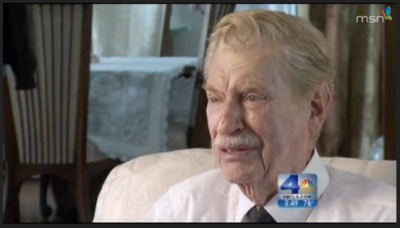 Enjoy!
Bonus nostalgia:
Attendees of the 1999 WarBirds convention in Palm Springs, Calif. may remember Flint as one of the three 101 Squadron veterans who came to speak and experience our fanaticism, along with the late Rudy Augarten and the late Aaron Finkel.