Archive for the 'Hockey' Category
Morgan Rielly's temporarily tying goal lies on the shoulders of Lars Eller, but not because it bounced off his torso and trickled through Carey Price's five hole.
Eller had two decisions to make before Rielly got near the puck, and chose unwisely both times.
(Pardon the screenshots with the faded play button in the middle. I'm not patient enough to wait for this to appear on YouTube so I used the NHL highlight.)
Fifteen seconds before deflecting the puck into the net, Eller took control of loose puck along the left boards in the defensive zone.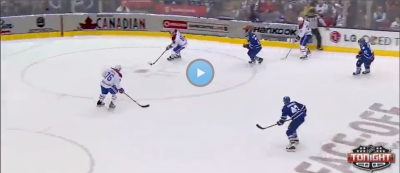 He makes his first poor decision in choosing to swing in front of his own net instead of taking the puck behind it. Taking the puck behind the net, he has a potential outlet pass on either side or can run a set play. By taking the puck through the slot, he boxes himself in between the two forecheckers and his net. The Maple Leaf players can predict his path in the short term because he can only keep skating left.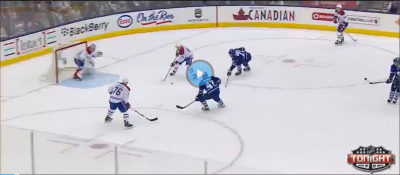 The Leafs see this and block Eller's further movement right and can intercept any pass to PK Subban. Eller must take the puck behind the net now, but the pursuit is much closer than it was when he first picked up the puck.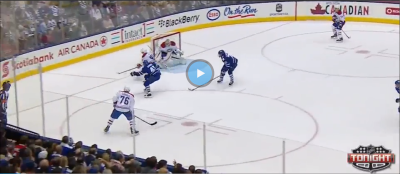 Ever since both Leafs followed Eller, Alexei Emelin has been standing all alone. He sees Eller swing around the net and prepares to accept a pass they will lead to an easy breakout along the left with three Leafs in on the right side. Eller, though, is fixated on Subban and looking back at him. Eller never sees Emelin. Eller instead dishes the puck backwards along the boards to Subban, his second major error. It's not a strong pass given that he's skating hard in the opposite direction.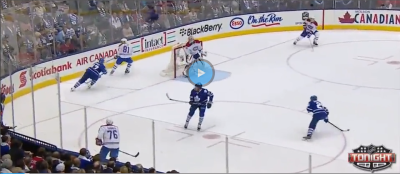 By the time Subban gets the puck, a Leaf is on him and another is about to join the scrum.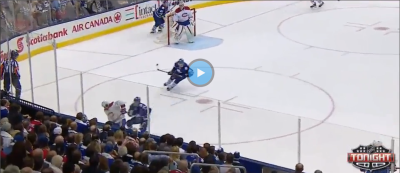 The Habs lose possession of the puck, which will eventually lead to the tying goal.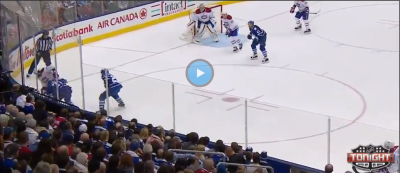 I have been retired from coaching the kids so you'll have to put up with me doing this. Sorry.
Bonus update:
Here's the video.
[youtube]https://www.youtube.com/watch?v=gpYEYHdgI30[/youtube]
Don't listen to the columnists and sportswriters who say the US women dominated the gold-medal game for 57 or whatever minutes. It's simply not true. Canada dominated that game but didn't have the same puck luck until the end.
Corsi is an advanced stat that counts shot attempts, shots, missed shots, and blocked shots are all Corsi events. Corsi has proven to be the best predictor of hockey success, probably because it smooths out the luck factor.
Now, power plays obviously give any team an advantage in shots and Corsi, so using only even-strength Corsi numbers is the best analysis. Mainstream reporters and organizations like the NHL or the IOC don't supply those numbers. You either have to calculate them yourself or take advantage of someone else who does, like Darryl Metcalf at Extra Skater.
Darryl isn't closely following Olympic hockey games, so I am indebted to Jen LC, who posted her calculations on Twitter.
Here's the money shot: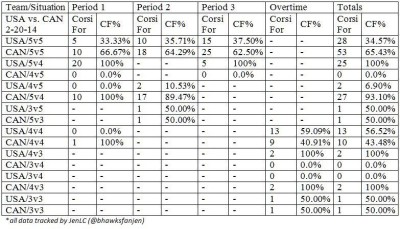 Canada out-Corsied the US at even strength by 53-28.
Traditionally – a weird word for how new the stat is – Corsi is measured as a percentage of a game's events. Canada's 65% is phenomenally dominating.
Canada deserved that game. As Jen put it, "Not that I loved the penalties or anything but at 5v5 Canada owned the puck."
Update:
And here are Jen's numbers for the men's US vs. Canada game.

Actually, hockey starts in September when we're still in sandals. I am, at least.
Here are some video highlights from Child Three's attendance at NDG goalie clinic this week.
[youtube]https://www.youtube.com/watch?v=SWFXeZADUVc[/youtube]
He's having a good year so far, having given up only eight goals in his five games. Our Peewee A team is improving and I really feel we can beat nearly every team in the league, although we currently have a 3-3-4 record that includes two ties and a loss against teams we should have beaten.
The Montreal Gazette's Habs Inside/Out site has grown over a few short years into the de facto destination for English-speaking fans of the Montreal Canadiens. The word "Habs", of course, is short for "habitants", which is what the early French-Canadians – the Canadiens – were called in the 17th century.
The Club de Hockey Canadien Inc. asked the Gazette to stop using the word "Habs" in reference to its Web site. It's arguable whether or not the Canadiens can uphold a trademark on the nickname, but the Gazette capitulated and renamed the site Hockey Inside/Out.
Notwithstanding some grumbling from the hoi polloi, such a change is easily accomplished. You register the new domain name, hockeyinsideout.com, and transfer the content of your habsinsideout.com site to the new domain. Sure, you may have to change a few links here or there with a global find and replace, but the site will remain robust.
Instead, the Gazette took the opportunity to move the entire site to WordPress. What a hellacious mistake. The site has lost all reader comments and much of contributor Mike Boone's post-game analyses. I can't even show you what the old site looked like because the Web team has trashed the CSS code it used to use. Even links to old stories no longer work.
Audiences are conservative. They don't like change. In this case, the audience is right. Take a look at this malfunctioning page of crap. It used to have dozens of comments. Go ahead and try the link to Boone's "Quick Hits/About Saturday afternoon…". Or try the link to the unhappily formatted "Afternoon delight".
I've just spent two weeks at my dad's apartment while his wife was back home in the Bahamas taking care of affairs. I did pretty darned well without a newspaper. Missteps like this make it easier.
Bonus knee news:
I can walk at about 90% efficiency thanks to physio. I can't run, skate, jump, etc. yet. I do know that jumping off a bench hurts.
I was sleeping, and dreaming of playing hockey. I was a winger, battling for position in front of the net with a defenseman. The guy grabbed my stick and pulled it out of my hands, so I reared back to punch him.
Before my anti-depressants, I might have actually done that, by the way.
I let loose with the punch. Outside the dream, in real life, I also let loose with a punch. I hit Elvi in her left shoulder. She woke and woke me to ask, "Why did you hit me?" I told her it wasn't her but this guy who wouldn't let go of my stick.
When we woke up in the morning, I asked Elvi whether I had dreamed that I hit her or I really did. She told me I did.
Christmas and especially Hanukah are right around the corner. Does anybody know where I can find Kackel Dackel in North America?
Or perhaps a cat-hating evil crow that finds pleasure in the predicaments of others?
Or a forward who can score?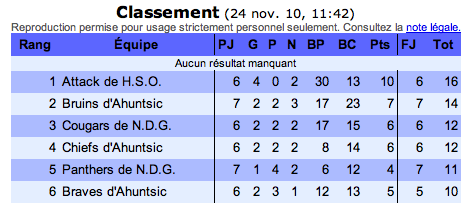 (We're the Panthers, BC is goals against, and BP is goals scored. Three of those goals have been scored by defencemen.)
And then there's "Your Highness" on the horizon. How soon can we buy tickets?
I haven't told much about Child Three's baseball team, for which I was an assistant coach. The team hobbled to a last-place finish in the regular season but incredible pitching got us to the penultimate game, which we lost for a third-place finish. Child Three had a marvelous season at the plate. The power isn't there, but the batting eye is, as is the swing. The little on-base machine takes after his dad.
But now is hockey season. Child Three and I were ready to make and coach NDG's Atom CC team this year until the city BB team cut an NDG goalie, bumping both of us down to Atom A, on a team with two goalies.
Our team was shut out in our first two games and have scored two goals in each of the next two, good for a 1-2-1 record. I love this team, though. Nearly every kid applies himself and, in one case, herself, and we may be the best skating team in the league. It's beautiful to watch. We've been working on offense lately in recent practices….
I feel bad about today's 2-2 tie, however. The kids worked hard, outshooting the opposition 18-6. I can't fault our goalie for the two goals given up, both were great shots. My job as a coach is to put my team in a position to succeed, but today I put them in a position to fail.
One of our defensemen is new to the position. The basics of the position are just not sinking in, though. I teach and I teach, and he just doesn't get it. Today, the entire team played poorly in the first five minutes, but the goal we gave up was on a rebound that went to a player that our out-of-position defenseman should have been covering. He had not been playing well or skating hard, and you can't have a kid like that on defense. I decided to give him another chance before I would switch him with a wing who I know can play D.
By the time the first period ended, we had taken a 2-1 lead, and my troublesome defender played OK. I decided to leave him alone. The second period saw few shots from either team, but at the start of the third, that same defenseman had reverted. I figured I would let him finish the game at defense since we were dominating play.
That was my mistake. I put him in a position to fail. I should have switched him out and put a better defender back there to protect the lead. His poor positioning allowed two breakaways in the last minute of play, one of which turned into a goal in the last minute of play. Those breakaways led to the only two shots we gave up in the third period.
I really blame myself. Kids play like kids play, and it's my job to maximize their potential. I failed at that today, but it's a lesson for the future.
I finally bought a Firewire 400 to 800 adapter so I can start to move my videotape to digital media. I started with my oldest unconverted tape because were I to begin with the most recent, I probably would neglect the older footage forever.
The following clips show the last period of last year's Hockey Montreal Western Division final. Every player you see in that game is a lot better now. It's amazing to watch these kids improve by leaps and bounds year after year.





Bonus video:
OK, I couldn't let that last comment go by without evidence. Here's a video almost exactly a year later of mostly the same kids, now in Atom, playing an informal scrimmage after the season ended this past March.


Our NDG Novice B team is playing in the tournament we host over the holidays. (We're the Cougars in the results page I linked to.)
Having won our division in a tough game yesterday that pitted the two unbeaten teams against one another, we played a Boisbriand team today that had lost one game all year. That one loss, by the score of 4-3, was to our fellow NDG team, the Panthers, in this tournament last weekend.
Going into the third period, we were down 3-1. Boisbriand scored all their goals on rebounds or goalmouth scrambles. We had our rebounds, but often didn't have players in place to cash in. They did, and our defence wasn't used to playing against a team this solid in its hockey sense and capability.
The third period was fantastic hockey. Child Three's pads flashed out left and right to stop good opportunities, and we scored a goal on a breakaway. We tied it with only a few minutes to go.
We played a five-minute overtime that settled nothing.
Both goalies played marvelous games, although they had a huge gulf in styles. The Boisbriand goalie was a big kid who always tried a butterfly style, the kind that slides backward and ends up with the goalie sprawled belly down on the ice. Child Three is more upright and mobile, relying on angles and speed to get in the way of the puck.
Still tied, off to a shootout we went. The head coach sent me to counsel Child Three. He skated toward me at the bench, and I could see that his eyes were as big as saucers. "I can really feel the adrenaline," he said. I asked him if he felt shaky, and he told me he did. So did I.
As home team, we decided to shoot first.
Our first shooter, who'd scored our second goal, deked the goalie and had half a net to shoot at: 1-0.
Their first shooter came straight and let go a good glove-side shot. Child Three didn't catch it, but did get his elbow in the way: 1-0.
Our second shooter also tried a deke, but was stopped with a beautiful butterfly slide across the crease: 1-0.
Their second shooter swung wide and came across the slot. Child Three, on the ice to make a save, lunged for it but there was little doubt: 1-1.
Our third shooter – hmmm. I don't remember what our third shooter did, but it didn't go in: 1-1.
I had explained to Child Three after the goal that if a skater swings wide like the shootout scorer had, it's going to be a deke. If the shooter comes straight in, it's usually going to be a shot. Their third shooter came straight in and launched a hard shot about knee high. Child Three sprawled on his side and took it in the head to keep the shootout going.
Our fourth shooter challenged the butterfly with a shot at the five hole, which squeaked in: 2-1.
Boisbriand's fourth shooter came in and took another good shot about hip-high to the glove side. Child Three again leapt to get in the way and the puck disappeared. The referee skated over and signaled no goal. Child Three got up and the puck was underneath him. He'd made another head save, he explained later, although he didn't know where the puck had gone to.
Victory was ours today. We play our fellow NDGers tomorrow in the championship game. If this keeps up, I'm not going to live to 50.
The videos of Child Three's all-star game are up.
This took a bit longer than I planned, as I experimented with video formats and sizes. I'm not 100% pleased with the result, but I'll follow the "80% is good enough" principle on this one and call it done.
I had a little panic attack Monday when halfway through the editing process iMovie refused to accept clips from the camera. There was space on the drive I was using, but I transferred some large files off to make more room. That didn't help, so I tried to move them back and got a Mac OS X error message, error -36. A panicky half hour of research later, I opened up Disk Utility and repaired some errors in the directory. That was the problem, and it was smooth sailing – and editing – from that point on.
First period (Child Three rides the bench for this one):
Second period:
Third period:
If you want higher resolution versions of this, ask me for a DVD. It looks much better. Why do I use Google Video instead of YouTube? Because YouTube restricts uploads to videos up to ten minutes long and the hockey periods run longer than that.
Bonus video:
Two great tastes that taste great together:
[youtube=https://www.youtube.com/watch?v=SWXcDZNgOWs]