Morgan Rielly's temporarily tying goal lies on the shoulders of Lars Eller, but not because it bounced off his torso and trickled through Carey Price's five hole.
Eller had two decisions to make before Rielly got near the puck, and chose unwisely both times.
(Pardon the screenshots with the faded play button in the middle. I'm not patient enough to wait for this to appear on YouTube so I used the NHL highlight.)
Fifteen seconds before deflecting the puck into the net, Eller took control of loose puck along the left boards in the defensive zone.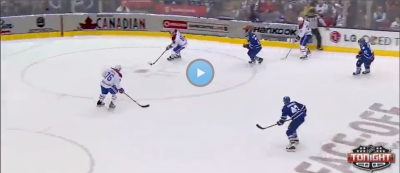 He makes his first poor decision in choosing to swing in front of his own net instead of taking the puck behind it. Taking the puck behind the net, he has a potential outlet pass on either side or can run a set play. By taking the puck through the slot, he boxes himself in between the two forecheckers and his net. The Maple Leaf players can predict his path in the short term because he can only keep skating left.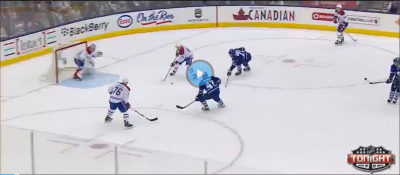 The Leafs see this and block Eller's further movement right and can intercept any pass to PK Subban. Eller must take the puck behind the net now, but the pursuit is much closer than it was when he first picked up the puck.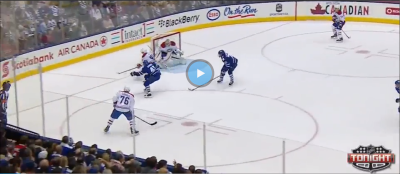 Ever since both Leafs followed Eller, Alexei Emelin has been standing all alone. He sees Eller swing around the net and prepares to accept a pass they will lead to an easy breakout along the left with three Leafs in on the right side. Eller, though, is fixated on Subban and looking back at him. Eller never sees Emelin. Eller instead dishes the puck backwards along the boards to Subban, his second major error. It's not a strong pass given that he's skating hard in the opposite direction.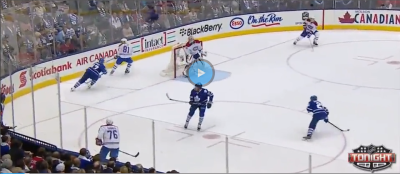 By the time Subban gets the puck, a Leaf is on him and another is about to join the scrum.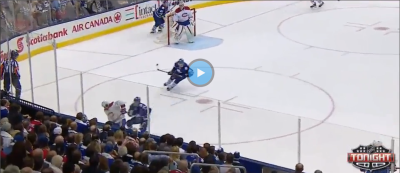 The Habs lose possession of the puck, which will eventually lead to the tying goal.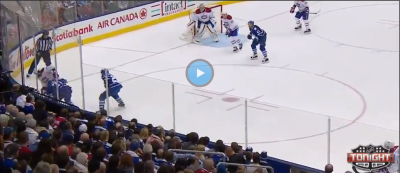 I have been retired from coaching the kids so you'll have to put up with me doing this. Sorry.
Bonus update:
Here's the video.