Archive for the 'Journalism' Category
When it comes to journalism, I'm not not much of an academic. I teach it in university from a strictly practical perspective.
When faced with the question "What is journalism?", I don't have an academic definitions to fall back on. I consider the act of journalism to be a black box. Facts go in one end and interpretation comes out the other. Journalism takes a complicated stew of facts and opinions and turns them into summaries that are more easily understood.
It is with that definition in mind that I looked at Rookie, a new Web site for sports stories. I intentionally avoided the word "journalism" there because the site doesn't mention it on its About page:
Rookie is a sports site. But it's not like any sports site you've read before. Instead of regurgitating the same scores and boring articles as everyone else, we're working behind the scenes, hand-selecting the storylines that are important, and using quotes and comments from people that matter to tell them (players, coaches, and insiders). Accompanying the stories are the best sports photos you'll find this side of an art gallery.
And that's what it does. Each "storyline" is a collation of quotes from other journalistic enterprises and Twitter. Rookie doesn't even try to write articles, boring or fresh.
Each storyline does have an introductory paragraph. It's something. Is it enough to pass as journalism according to my definition? I think so, but only because of that paragraph. Blurbs count.
Does that make this good journalism, though? I doubt it. Good journalism would incorporate those quotes in an article instead of leaving them in list layout. Am I being to old-fashioned?
One thing unquestionably positive about Rookie is it's pretty. The layout is stunning.
I think newspapers need to focus locally to survive. I've said it before and I'll say it again, here. Newspapers need to focus locally to survive. See? I just said it again.
On June 2, Postmedia papers announced that Christie Blatchford had joined the company and would publish a column. Here is a selection of Postmedia papers' announcements:
Columnist, feature writer and award-winning author Christie Blatchford is coming to The Gazette and Postmedia.

Blatchford was named National Columnist on Wednesday. She will bring her inimitable style of news reporting and opinion writing to the Postmedia chain of papers as of June 13. She will write on issues ranging from crime and courts to politics, from native affairs to Olympic sports, and whatever else catches her fancy.
Columnist, feature writer and award-winning author Christie Blatchford is coming to The StarPhoenix and Postmedia.

Blatchford was named National Columnist on Wednesday. She will bring her inimitable style of news reporting and opinion writing to the Postmedia chain of papers as of June 13. She will write on issues ranging from crime and courts to politics, from Native affairs to Olympic sports, and whatever else catches her fancy.
Columnist, feature writer and award-winning author Christie Blatchford is coming to the Calgary Herald and Postmedia.

Blatchford was named national columnist on Wednesday. She will bring her inimitable style of news reporting and opinion writing to the Postmedia chain of papers as of June 13. She will write on issues ranging from crime and courts to politics, from native affairs to Olympic sports, and whatever else catches her fancy.
Although I could, I need not go on.
OK, so Blatchford is a national columnist writing on supposedly national issues. So what does Postmedia's Canada get today? Blatchford wrote about a murder trial in Toronto that is of practically zero interest outside of Toronto.
It's a trial for second-degree murder. It's not even first-degree murder! Seriously, though, Blatchford's column is simple court reporting. She puts forward no lessons, draws no parallels, and starts with a cheesy lead: "After lunch at a Toronto McDonald's on a sunny spring Saturday last year, a six-year-old girl was tucked safely into her booster seat in the family car, pink knapsack at the ready, when her parents began quarrelling."
You'd think that a lead like that would start an article talking about the effect on a child of her mother killing her father, but no. Like I said, this is a straightforward piece of court reporting.
My lead above? My lead states that newspapers need to get local to survive. None of this is local, except to Toronto. It's just another cost-saving measure gone wrong. It's cheaper to pay one occasionally irrelevant columnist than to hire an eager reporter in each client city.
Can someone at Postmedia please chime in and tell Montrealers and other non-Torontonians why we should continue to pay for content like this? Me? I'll be grading the work of journalism students who I hope can get work some day.
The Montreal Gazette's Habs Inside/Out site has grown over a few short years into the de facto destination for English-speaking fans of the Montreal Canadiens. The word "Habs", of course, is short for "habitants", which is what the early French-Canadians – the Canadiens – were called in the 17th century.
The Club de Hockey Canadien Inc. asked the Gazette to stop using the word "Habs" in reference to its Web site. It's arguable whether or not the Canadiens can uphold a trademark on the nickname, but the Gazette capitulated and renamed the site Hockey Inside/Out.
Notwithstanding some grumbling from the hoi polloi, such a change is easily accomplished. You register the new domain name, hockeyinsideout.com, and transfer the content of your habsinsideout.com site to the new domain. Sure, you may have to change a few links here or there with a global find and replace, but the site will remain robust.
Instead, the Gazette took the opportunity to move the entire site to WordPress. What a hellacious mistake. The site has lost all reader comments and much of contributor Mike Boone's post-game analyses. I can't even show you what the old site looked like because the Web team has trashed the CSS code it used to use. Even links to old stories no longer work.
Audiences are conservative. They don't like change. In this case, the audience is right. Take a look at this malfunctioning page of crap. It used to have dozens of comments. Go ahead and try the link to Boone's "Quick Hits/About Saturday afternoon…". Or try the link to the unhappily formatted "Afternoon delight".
I've just spent two weeks at my dad's apartment while his wife was back home in the Bahamas taking care of affairs. I did pretty darned well without a newspaper. Missteps like this make it easier.
Bonus knee news:
I can walk at about 90% efficiency thanks to physio. I can't run, skate, jump, etc. yet. I do know that jumping off a bench hurts.
Jen writes the Buried with Children blog.
Jen relies on the automatic spell-check function of her software.
Jen doesn't re-read what she's written.
Jen makes pumpkin Nutella cupcakes and folds in the Nutella neither with her hands nor with a utensil.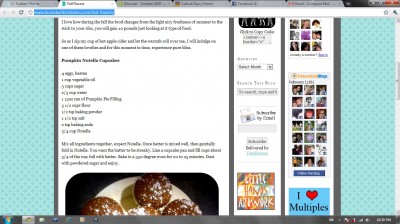 Jen, having been alerted to her error, has since corrected it.
Always read your work, kids!
(I'm proud of the pseudo-Regency Blackadderesque title.)
Last Monday, the Gazette had on page A3 a story that featured Child Three, and the large photo that accompanied the story also featured Child Three.
That's great and all, but something occurred me. No one asked us to sign a release for his picture.
We in the journalism department are keenly aware of Aubry v. Éditions Vice-Versa inc., in which the Supreme Court of Canada ruled that a person's right to privacy outweighs a photographer's freedom of expression.
What brought the case to court was a photographer who took a photo of a 17-year-old girl sitting on the street. The paper published the photo and the girl sued.
The Supreme Court decided that no one can publish a photo featuring a person unless you get the subject's permission.
There are some exceptions. You may freely publish photos: of a subject who attend a public event such as a parade, demonstration, or sporting event where there is no expectation of privacy; of a subject who appears as incidental background; of a subject who is unidentifiable; of if the photograph is of the public interest.
How do I know all this? I said we in the journalism department are keen. We tell our students to always obtain permission to use a subject's photo. We provide them with a boilerplate release form they can and should use.
None of these aforementioned exceptions apply to the photo of my son and the other children. I e-mailed Bryanna Bradley, the photographer, to ask whether she obtained permission to use the kids' image from the camp. I asked if there was even a release signed at all.
Bryanna ducked my questions and told me to write Marcos Townsend, the Gazette's acting photo editor, so I did. Here's his informative reply, reprinted with permission (the barely visible bold highlights are mine):
Thank you for your the opportunity to answer your questions. Newspapers operate a little differently than commercial photographers who do require written consent in the form of a model release. Having a person tell us their name is considered sufficient consent for their photo to be published. In the case of a minor, we seek out the parent or if they are part of a group/school – as was the case with your son – we leave it to that group/school to sort out permission (as they would get permission for any other activity the child might be involved with while in their care). I am told the children had been asked beforehand to ask their parents if there would be any problem with their photos being published and there were no objections.

If you have the opportunity, please do pass on to your students that the courts do not require us to have a written release – circumstance or the person's name usually indicates that we had publication permission. As a matter of courtesy, we always try to let people know why we are photographing them, but please understand why we rely on organizers to sort out permission for groups.

I hope I've been able to answer the crux of your question.
Interesting, and sensible. Maybe we journalism keeners are acting on the side of caution, and I wonder if that is a service to our students.
Every once in a while, one of my former students will update me on his or life after journalism school.
I received one this week from a student who passed through our department's graduate diploma program.
With permission, here it is.
Hey, how you been? I'm working here in sweltering Toronto. I have a job for now… at this contest show. I'm also doing a bit of producing work for radio which means I can die a happy lady.

Part of this my work for the contest show is using a crapload of Excel. Your tip sheets for this program are so useful.

On the contest show, we totally use basic HTML in the blogging software we use. Because it's such a shitty, not user-friendly program, we often have to go in and look at the HTML to figure out what's wrong.

Cheers
Letters like that make the struggle to engage my students in what at the time can seem tedious, pointless work worth getting through.
Bonus travels:
I spent four hours in the Bahamas yesterday. I arrived from Montreal, bought something to make for supper, booked a ticket for West Palm Beach, and left without my supper.
I took with a bag of spekulaas cookies, my only food of the day.
Why? That's still a tale in the making.
No, not my thoughts. I'm on vacation in mosquito-infested western PEI. But I have run across some tidbits to interest those of us contemplating journalism as a living or hobby.
MarketWatch reveals that although newspapers' online readership is growing, ad revenue is dropping, at least for the major publishers. Part of the reason, MarketWatch notes, is the current economy, which is a buyer's market in ad sales.
I love this quote from Matt Wise, CEO of a Chicago-based ad network and someone who does indeed want to drive down ad prices. Nevertheless:
There's an erroneous expectation that newspapers should be able to take their print product, place it online, and once again command those huge CPMs…. They still complain that, "The stuff we put online isn't worth as much as what we put out offline." And the reality is, the offline stuff isn't worth that much either. It was just overpriced before.
More practically, the article discusses advertisers who want to target their ads not willy-nilly, but to select audiences. If you wanted to charge advertisers more than they would spend for Google Ads, you'd better provide better results.
Bonus video:
So to help you polish your fiction career, watch this on creativity. Yeah, it's a TED talk:
Here's what happened. I forget the exact dates, but trust me on the sequence of events.
I knew that around February/March, the Department of Journalism releases the list of summer courses that part-timers may apply to teach. (It used to be the Journalism Department, but its official name has changed. I'm not sure when.)
I hadn't heard anything and something prompted me to e-mail the department. "Oh," replied the assistant, "the application deadline was last Friday. I e-mailed everyone the course list weeks ago."
I complained that I didn't receive that e-mail, but the assistant insisted she had sent it to me. I was pissed – still am. See, these courses aren't posted anywhere, neither in the department nor online. The only way to learn about them is to be on the mailing list.
I sent off a complaint to the head of the department. Here's the reply I got:
I asked S. to look into this, as we followed the procedure we always do – i.e., e-mailing the postings to all part-timers and those who have expressed interest in teaching a course. S. confirmed for me that, for some reason, the postings were not sent to you, but your name and e-mail address are in the directory that she drew those addresses from. She doesn't understand what happened, but obviously it was some kind of error.

S. also checked with our HR people to see if anything can be done. Given that the contracts have already been awarded, we were told it was too late to correct the error.

I don't know what to tell you, other than sorry.
That little mistake cost me two courses and about $14,000 in income. To quote "Idiocracy": Ow, my balls! But this gets better.
The department furthermore decided that it need to hire a Limited Term Appointment (LTA) for the coming year but instead of opening that to an application process, it appointed someone. Someone who was not me. That may have cost me a chance at a section of JOUR 202 in the fall. To quote Brian Collins: Boom goes the dynamite!
Once all this was said and done, the department decided to cancel JOUR 319 for next year. JOUR 319 is the computer-assisted-reporting course I've taught for a decade. I've run out of pithy ways to plaster over my rage and disappointment.
At least I managed to snag one graduate course to teach next year in the winter term (January to April), so we'll still be able to afford to eat Kraft Dinner.
But I'm looking for work. The freelance market sucks, at least it does for me. My clips are stale and I don't have new ones. Things are so bad, I applied to a distributor of online articles: the sorts of pieces you see at eHow and elsewhere.
I sent in my application Sunday and Monday afternoon they wrote back: "After careful review of your resume and writing sample, we are unable to offer you writing assignments at this time."
Great. I wanted to know what they felt was so unsatisfactory so I looked on the site for an e-mail address but only found a contact form. I went ahead and used that and to my surprise I got an e-mail reply today.
Thank you for your inquiry. It appears that your writing sample was in .txt format, making it impossible for us to read. Please send another sample in PDF or Word Doc format.
You have to laugh, if only to keep from crying.
I sent them a Word version of my clip. We'll see what happens, there and everywhere else I've applied.
Followers of 101 know what I think newspapers have to do to succeed, never mind survive. It boils down to one word: local.
Newswire filler, sports scores, general interest – all that is available on the Web earlier, in larger amounts, and often plain old better. Newspapers need to focus on the local issues. They need to use the paid resources – researchers and reporters – to dig and do some work instead of producing pap like syndicated veterinary advice or – in Montreal's case – baseball.
Bill Wyman, in "Five Key Reasons Why Newspapers Are Failing" on Splicetoday, has a far more detailed look at the thesis. Read it all, but I want to point out two of his nine conclusions, the first because it agrees with me and the second (his sixth) because one of my former students is sort of doing that in a blog.
1) Go hyper local; devote all resources, from reporting to front-page space, to local news. No one cares what the Pittsburgh Post-Dispatch has to say about Iraq.

[snip]

6) Create local listings second to none. Create them from the users' point of view. Don't use abbreviations. Overwhelm users with insider information that only locals know; where to park, where to sit, when to go, etc. Get rid of all the site navigation levels no one cares about. Put the information people want front and center.
Fiona O'Connor's work on her Montreal for Insiders blog isn't detailed enough to please Wyman, and the layout could use some tweaks, but it's a good start. I'm not sure if one person could do all that work as a sideline endeavour.
Bonus health report:
I seem to be over my latest bout with exhaustion.
I read this story at the BBC site, a story about a Palestinian Arab family that is now homeless after being evicted from their home in East Jerusalem.
Look at the lead, and subsequent paragraphs:
Fawzia al-Kurd, 52, raises her black cloak to show the bottoms of the pyjamas she is still wearing several days after she and her wheelchair-bound husband were forced from the home he had lived in for five decades.

She had no time to change or gather her possessions when the Israeli police arrived in the early hours of Sunday morning.

In borrowed shoes, she shows us around the tent that she now calls home near the single-storey, two room house in East Jerusalem.
That certainly pounds home the desperate nature of these victims and arouses sympathy.
Now, let's examine the facts.
The article states the Kurds have lived in the home for five decades, but both husband and wife are 55 years old, so it was probably the parents of one of them that originally moved in in 1956 (give or take a year). When Israel took control of East Jerusalem in 1967, A Jewish agency petitioned to regain ownership of this land based on historical property documents. The Israeli court – a non-partisan entity that does not automatically side with Israeli interests on these issues – ruled in favour of the agency.
In other words, from the Ottoman Empire to now, this plot of land was legally in Jewish hands, but the family moved onto the land while Jordan controlled it during a brief 19-year window between 1948 and 1967. The Kurds are now living there illegally. This situation falls outside the standard issue of Israeli settlement on the West Bank, which normally takes place on land that belonged to Palestinian Arabs. In this particular case, the family has been found to be illegally living on this land, which belongs to someone else.
Over years, Israel has tried to reach agreements with the family. The family rejected protected tenancy in exchange for dropping their claim to the land. The family refused to pay rent in trust pending ultimate resolution of the conflict.
The article buries the fact most of the Palestinian Arabs in East Jerusalem sell their properties at inflated prices, then move. It's not a mass eviction. The Kurds admit they have turned down an offer of $10 million to move. Read that again.
Last July, an Israeli court handed down an eviction notice. Last Sunday, four months after the notice, police came to enforce the eviction. Apparently, the Kurd family did not take the eviction notice seriously – and that's whence the lead of this story springs. It's not a tale of pity or sympathy, but a tale of stupidity.
This is a more accurate lead:
Fawzia al-Kurd, 52, refused a $10 million settlement for the single-storey, two room house in East Jerusalem she used to share with her wheelchair-bound husband.

Four months ago, at the end of a decades-long legal battle, the Israeli Supreme Court served her an eviction notice, which she ignored.

As a result, she had no time to change or gather her possessions when the Israeli police arrived in the early hours of Sunday morning. Now, in borrowed shoes, she shows us around the tent that she calls home.
Why do you suppose the BBC went the way it did?
Bonus money:
The Concordia University Part-time Faculty Association (CUPFA) has reached a contract agreement with the university. CUPFA members, including me, have worked without a contract since 2002. The new agreement includes retroactive pay for courses taught since the 2003-2004 school year.
If I figured correctly, I'm going to get a check for $12,542.39 (pay plus 8% vacation pay) out of this, probably in the spring. Another bonus is that my family and I will now eligible for tuition waivers at Concordia.