Archive for the 'Uncategorized' Category
Why, hello again.
Most of my personal online writing has moved to social media, but this recipe is too good to hide from the search engines, so I figured this is the right place to park it.
For years, I'd been searching for the best sweet Jewish brisket – a style that my kids used to call "candy meat". After much experimentation, I have combined ingredients and techniques from three recipes into this masterpiece.
I hope you enjoy it as much as I do.
Ingredients
• 5 lbs brisket (first cut or second cut are both fine)
• 3 tablespoons olive oil
• 2 tablespoons red wine vinegar
• Two or three onions
• 1 cup honey-garlic sauce (I use VH brand)
• 1 cup barbecue sauce (I like a half cup of Diana original and a half cup of Diana spicy but for a more traditional taste, use no spicy)
• 0.5 cup brown sugar
Directions
Preheat the oven to 325°F.
Lay out a piece of aluminium foil that will be large enough to wrap all the way around the brisket and have extra foil available for crimping. Heavy-duty foil works best. You may have to use a second piece of foil as a cover over the top of the meat.
Slice the onions and lay them out on the foil as a bed for your meat. Fold up the sides of the foil so that liquid from the meat will not run off.
Heat the olive oil over medium-high heat in a heavy pan large enough to accommodate the meat. Use two burners and a roasting pan, if necessary. Add the brisket and brown well on both sides, about 10 minutes in total. Transfer the meat to the bed on onion slices and fold up the foil alongside the meat. The goal is to leave as little space as possible but be reasonable about it.
Add the vinegar to the pan and deglaze it, scraping all the browned bits from the bottom with a wooden spoon. Turn off the heat.
Pour the honey-garlic sauce, barbecue sauce, and brown sugar into a large bowl (larger than you think you need). Pour in the vinegar and bits from the pan and stir to mix. Pour this mixture over the brisket in the foil.
Crimp the foil over the meat and sauce and crimp it tightly. The goal is to create an airtight seal so the meat braises as it cooks. If your foil does not reach all the way over the meat, use a second piece of foil as a lid and crimp that to the bottom piece of foil. Make sure the seam is as close to the top as possible to avoid leaks.
Transfer the foil package to a roasting pan (to catch any potential leaks). Heavy-duty foil handles this transfer much better than standard foil.
Cook the brisket for three hours (for five pounds of meat).
When the meat is done, hold the foil package over the large bowl in which you mixed the sauce and cut the foil so that all the liquid runs out of the foil and into the bowl. There will be more liquid than you started with and some onions may fall out. It's okay. I told you to use a big bowl.
While the meat rests, skim any fat out of the sauce.
Transfer the meat to a cutting board, leaving the onions in the foil, and cut the meat against the grain into slices a quarter-inch thick. Put the slices on a platter, cover them with the onions, and pour a little sauce over that.
Serve, with the rest of the sauce in a gravy boat or sauce pitcher.
Dear Conservative Party,
We want an adult to lead our country, but not a paranoid, neurotic adult who refuses to recognize the consequences of his actions.
Dear National Democratic Party,
Yes, you were the official opposition, but that one ad that claimed you were a better choice because you had less ground to make up made you sound like a petulant seven year old. And desperate. Your whole campaign was immature.
Dear fans of proportional representation,
You should start posting of Facebook about how unfair this election is. Some 60% of the country voted against the Liberal Party. The Liberals should receive only a minority government of 134 seats (they expect 184 as I wrote this), the Conservatives should get 108 seats (instead of 102), the NDP should have 66 (41), the Bloc Quebecois 16 (10), and the Green 11 (1). Additionally, there could be an independent and maybe a Libertarian.
Dear Liberal Party,
Here's your ball. Run with it until you trip.
I have a client I set up with an e-mail workaround. His domain service provider provided only POP e-mail while he, like most people with multiple devices, needed IMAP (which these days you'd call cloud e-mail).
I kept his work domain but routed everything through Gmail, which had the added benefit of the best spam filters in the world. His e-mail looked like it came from his-domain.ca, and all replies to him went to his-domain.ca, but Gmail was the way station between his-domain.ca and all his desktop and mobile devices.
Everything worked great for years until yesterday. His Mail application (I dislike that name even more than I dislike the application itself) stopped sending and retrieving his e-mail. I thought it was a problem at his domain provider and told him to hold tight while they no doubt fixed it overnight. This morning, things were still awry.
His other devices could access and send mail just fine. He called his domain provider and they recommended he access their IMAP server directly. Then he called me in.
It sounds like it was an authentication issue, right? I could log in to his Gmail page in a browser without a problem, so I knew I had the correct password and account name, but using them in Mail did not help. A quick look at Mail's Connection Doctor showed that we could not access Gmail to get mail or its SMTP server to send mail.
While waiting for his domain provider to call me to help work this out, I had an idea. The browser passwords are stored separately from the system passwords. What would happen if I deleted all traces of his Google account from Mac OS X?
I opened the Keychain Access utility and looked at all the Google entries. There were four. I forget exactly what they were, but one was an authentication expiry, one was a new deadline, etc. I looked at the entries and nothing seemed particularly troublesome, but since I knew how to log in, deleting them would do no lasting harm.
I tried deleting the youngest first, but the entry would immediately be rebuilt – no good. So I deleted them starting from the oldest. In doing so, I got a system notification that I would have to log in again, which heartened me.
I closed Keychain Access and went back to Mail. I put in the requested password and poof – everything was working perfectly.
I didn't find this solution when I looked, so I decided to write this to advance such obscure human knowledge through Google searches.
[youtube width="200″ height="150″]https://www.youtube.com/watch?v=6uU9ikIg8FU[/youtube] + [youtube width="200″ height="150″]https://www.youtube.com/watch?v=79Qb1tsoYZg[/youtube] +
[youtube width="200″ height="150″]https://www.youtube.com/watch?v=s5iqfk4CPQ8[/youtube] + [youtube width="200″ height="150″]https://www.youtube.com/watch?v=ePW52C5YBbA[/youtube] +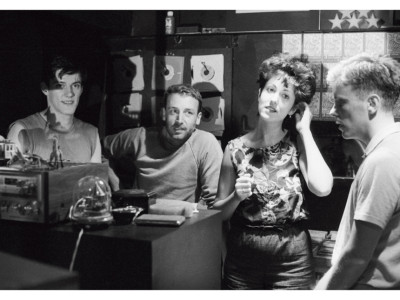 =
[youtube]https://www.youtube.com/watch?v=9Bul0dJVfFQ[/youtube]
Some arch-villain in my family brought this home.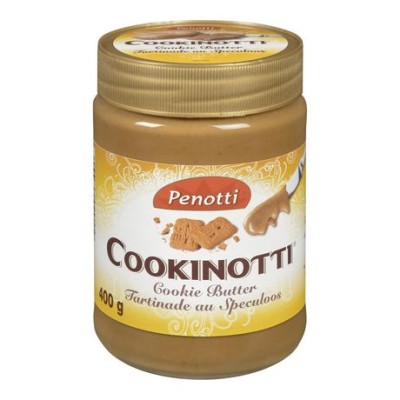 There are a few different brands of speculoos spread on the market. Go ahead. Try some.
If Costco set up a tasting booth for this, they would sell this by the barrel. The first hit is free.
"Speculoos" is Belgian. I've know the Dutch equivalent, speculaas, because my Dutch grandfather used to buy the cookies for us and my dad used to snarf them.
Seriously, this spread is dangerous. It will strip you of any shreds of civilization and make you claw the jar with your fingers. Child 1 couldn't find bread so used old hot-dog buns on which to spread this. I scrape icing off cupcakes and replace it with this spread.
I've been slowly and steadily losing weight for a year and a half. I have a few setbacks: when my mother comes to town, when I visit friends in Oregon and have little to do but eat, and when this infernal, tasty cookie spread entered my home.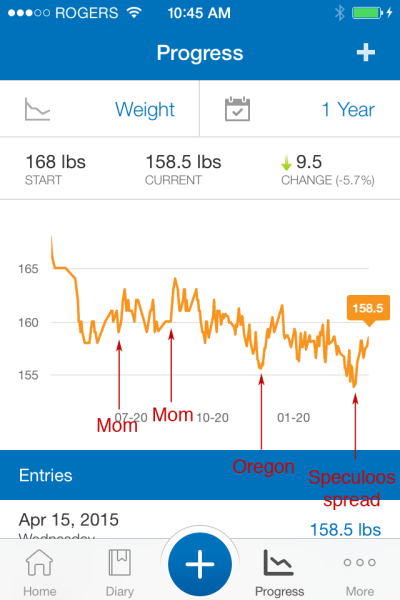 Since my finger has sort of healed (it's still a bit sensitive), I have lived an uneventful life, and that includes a week in Oregon.
Here are the salient points of my life in photos since December 1.
The removal of the stitches was the most painful part of the whole ordeal. I assume the physician did not use dissolving stitches because he wanted the cut sealed for ten days.
If you're squeamish, do not scroll down or read further.
The Bantam A team I'm helping out this season had a full-ice practice last night but only one goalie, so I threw on my pads and took a net.
Aside from the incredibly tiring effort that it takes to face shot after shot after shot (repeat 150 times), it went well. I was too tired to drag my gigantic goalie bag into the house when I got home so I left it for this morning.
This morning, around 9;45, as I was hauling my bag over the raised threshold of our front door, the plastic handle of the bag snapped. One sharp edge sliced a joint of my poor left forefinger. I dripped a considerable amount of blood into the sink while Elvi bandaged my finger with gauze and tape. That seemed to stop the bleeding, so we went to to brunch with my mom, who's visiting this week.
We got home before noon and I decided to check out the wound. Upon removing the tape and gauze, my finger started pouring blood again. I got Elvi to patch it back up and off to the emergency room I went.
In triage, the nurse wanted to look at the cut. I told her to bring over a garbage can because I was going to bleed all over her office otherwise. Good thing she listened to me.
A doctor finally saw me around 4:45. He took the triage nurse's bandage off and, yes, blood started pouring out of my finger again. There was no way he could see inside the wound to check for damage or sew it up without stopping the flow of blood. The first thing he tried was to put my hand in a rubber glove and roll back the glove finger of my wounded finger so that the tight roll would form a sort of tourniquet. As you can see below, that didn't work.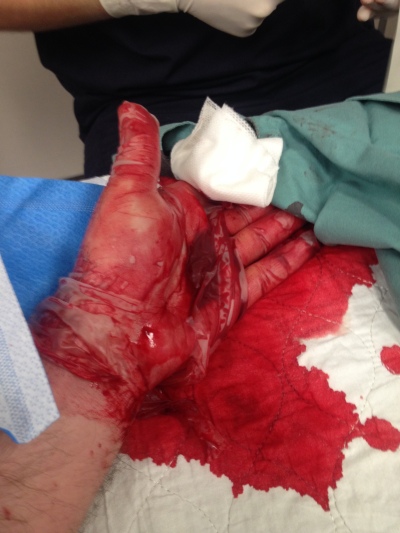 What did work, finally, was using a strip of the rubber band normally used on the bicep for IVs. I would have a pic of that, but my phone ran out of battery. In all, I lost about half a cup of blood. That pool of blood in my palm inside the glove clotted into a cool jelly-like mass.
I have no tendon or nerve damage, but I do have four new stitches. I did almost throw up, but only after the doctor had finished all the sewing. There's been surprisingly little pain after the original slice.
Bonus pic: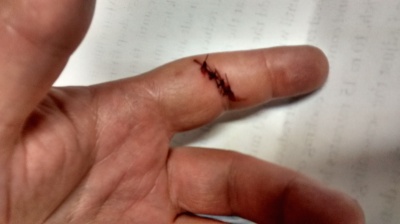 1. A few weeks ago, I spoke with my co-author Alex Yofe. He's working on books on the P-51 Mustang and Mosquito in the Israeli Air Force and hope to have them out by the end of the year.
After that, we are going to – drumroll, please – work on a second edition of the S-199 book. He has some new material that we will incorporate.
10. I hope to convince him to put out our book, and possibly some of his other work, in an e-book format. He said we should look at that after the second edition comes out in paper. I'm skeptical. He's sensitive to people stealing his artwork.

11. I think I have tracked down one of the "lost" pilots of 101 Squadron. No one has been able to pinpoint who Al Wolfe was. He didn't stay long with 101 Squadron, and maybe he didn't spend much time in Israel. His name appears on one or two of the squadron's mission debriefs. That's all anybody has ever figured out.
But, to quote from the Facebook page of the 359th Fighter Group: "Capt. Albert E. Wolfe of Nanticoke, Penn., flew with the 370th Fighter Squadron, 359th Fighter Group, from August 1944 through May 1, 1945, when he ended his tour of duty."
That's him to the left. He flew P-51D CS-H 44-14979.
100. After years of rumours, Spielberg has finally produced a film on 101 Squadron – but it's Nancy Spielberg. Her documentary, "Above and Beyond", is making its premier this week or two ago and is making the rounds of film festivals this summer. Click the link for a trailer.
Nice job, Nancy. I wish you would have taken me up on my offer to help. Alex is also a bit perplexed about not being contacted.
101. There are no flying S-199s and even if one could fly I doubt anyone would try. Spielberg rented a Hispano Buchon from the Imperial War Museum at Duxford and filmed there, as you can see from these production stills. As the page states, "After scouring the globe for a flying Avia, we came up empty handed. An almost identical cousin is the Bouchon which, as you can see below, we painted with period IAF markings."
If they painted the freaking thing, WHY DIDN'T THEY DO IT ACCURATELY? It's not hard to find out what the Avia S-199's looked like. The one at the Israeli Air Force Museum is painted more or less properly – and the documentary uses it as background. You can see it in the trailer.
I just don't understand. If you're going to be allowed to paint somebody else's airplane, why not do it the way you want?
Even better, why use a real airplane at all? From further down on the page comes this gem: "Thanks to an incredibly generous in-kind donation of services from George Lucas' special effects company, Industrial Light and Magic, we will be combining our live footage with computer generated imagery of flying planes."
Why not do it all in CG and use a mock-up on the ground? This photo drives me nuts: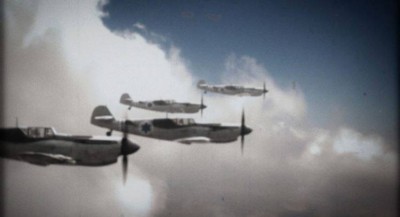 That's four Buchons with Israeli markings. It could have been four Avias…. Nancy, Nancy, Nancy, renting that Buchon was a waste of money.
Last Friday, my physiotherapist told me I could get up to half-speed 50-metre sprints as I work my hamstring back into shape.
I figured that I could run to first at half speed while hitting in softball. I was good for two at-bats.
On the third, I hit a grounder to second with a runner on first. My instincts kicked in to avoid a double play. I was safe at first, but about ten feet from the bag, I felt the telltale pop.
I had some velcro straps in my bag so I wrapped my thigh with those. The drive home was uncomfortable as my bad leg had to work the clutch.
I could't find my compression bandage anywhere at home and the velcro was starting to cut off my circulation so I went to bed unwrapped. It just wasn't anywhere I would have put it for future use.
This morning, I remembered that I had stored it in my trunk in case I would re-injure my leg during ball. Elvi says I am too smart for my own good.
Back to square one with the leg….
I had an inexplicably weird evening/night Saturday.
Elvi, Child 1, and I went to see "The Lego Movie" out our local second-run dollar theatre (really $2.50).
It was amazing. Really. I think it's one of the best movies I've seen in the last, oh, 10 years or so. It is a deep story, profound yet funny around the edges. It could just be me.
The movie touched me. I'm not exactly sure why. I was in the dark next to my daughter with tears runinng down my face.
So I'm tearing up in the theatre and I'm not sure why this movie is having such an effect on me.
I'm not really a crier. It's unusual.
We're in the minivan on the way home and I'm really sad.
And I think of something to make me happy and I think of people I enjoy talking to (Yes, they exist.)
And I think of the dumb luck that throws people together. Dumb, stupid luck.
And then my terrible brain starts to think that the same agent of stupid, dumb luck could cleave friendships just as easily and it depresses me. I go from sad to depressed.
That's what my brain does to me sometimes. It can be a lot more pessimistic than I am.
We get home and the plan is to make pizza for supper. Elvi asks me to make my pizza sauce.
I get out the tomato sauce, garlic, pepper, and basil (my secret ingredient) and look for the oregano. I find the container. There's only half a teaspoon left and I need two tablespoons.
At this point, this is feeling like a disaster all out of proportion to what it is, but Elvi tells me that there's fresh oregano in the garden.
She can tell something isn't right with me. She gets a handful of fresh oregano and chops it up. I throw it in the sauce, mix it up, and I can't take anymore.
I go upstairs. I cry for half an hour. It just comes out. I think the last time I cried like this was when Elvi's father John died 12 years ago.
John died suddenly, of an embolism in his garden. He and Child 3 (two years old at the time) had grown such a special bond in thos etwo years. John and Marjory provided grandparently day care for Children 2 and 3. John was really the only grandfatherly influence Child 3 knew since my father lived in the Bahamas and we saw him only twice a year or so.
My dad had an undetectable stroke in 2009 or 2010. We knew something was wrong when he was in town for Child 2's bat-mitzvah but his was a slow decline. I saw it, though, and I made the effort to say a special goodbye to him when he left Montreal for the Bahamas. I had a hunch.
Sure enough, he was in the hospital by the end of the July, and his life tapered off until it finally ended with him dying in a vegetative state here in Montreal 17 months later.
But the thing is, I had already said goodbye when he was well. I had the closure. I always felt like it was a merciful end when he finally succumbed. I was the only one in the room when he died at 4 a.m.
So I had the closure and no real grief. He hadn't been concious for days. He hadn't been a human being for a year.
I don't want to ruin the movie for anyone who hasn't seen it but there's a father-son theme to it that I think has hit me like a ton of bricks.
I'm finally crying for my dad.
I think. I could just be a maudlin idiot.
I didn't figure out why until today.