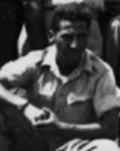 Coleman Goldstein
Philadelphia, USA
Combat Record
No kills.
Story
During World War II, Coleman Goldstein was a B-17 pilot with the 327th Bomb Squadron, 92nd Bomb Group. On the last day of 1943, he and his crew took off from Podington Airfield (near Rushden, England) to bomb the Bordeaux-Merignac Airfield near Bordeaux, France. Just after the bomber (serial #42-3186) dropped its bombs, it came under attack by German fighters. The fighters took out all four engines. Goldstein controlled the plane into a belly landing in a farm field near Bordeaux. All crew survived, but four were captured. The other six, including Goldstein, made it back to England with the help of French partisans.
After the war, Goldstein was flight school instructor in Philadelphia and a friend of fellow instructor Phil Marmelstein. In early 1948, he had read of the Haganah's attempts to resupply besieged settlements with convoys and of the ambushes that the convoys faced. Goldstein felt his experience could help establish a safer air cargo operation, so he sought out a Haganah recruiter and volunteered his services. He told his plan to Marmelstein, who decided to accompany him.
He flew aircraft for Israel before joining the fighter squadron, and ferried a Norseman with co-pilot Eddie Cohen from Italy to Sde Dov on May 3. Another Norseman on that mission was flown by Lou Lenart and Milt Rubenfeld. By the next day, he was flying air resupply missions to the Etzion Block settlements. Goldstein was awed by the scale of the land - he was used to flying hours to a target over Europe - and by the realization that he as a single individual mattered. In Europe, he was but one of a seemingly infinite pool of airmen.
Goldstein transferred out of 101 Squadron to the Operations Department at Air HQ before the end of June.
In the afternoon of October 14, Lou Lenart and a crew of gunners and radio operators were about to leave for the Negev when he decided he had better take along spare tires.
Lenart and Goldstein went to a supply clerk and Lenart asked the clerk for two tires. The clerk told Lenart that he needed a written request from a higher officer, which because of the time (after 5 p.m.) could not readied until the next day. Lenart could see stacks of tires in the storage area behind the clerk and the two of them argued increasingly forcefully.
Frustrated that the bureaucracy might fatally delay his project, Lenart chambered a round in a rifle, aimed the gun between the clerk's eyes, and told him, "OK, you son of a bitch. You've got ten seconds to give me the tires or I'm going to blow your fucking brains out." (Weiss and Weiss, 1998) Goldstein paled, but the clerk, not waiting for the countdown, fetched a pair of tires.
Later in the war, Goldstein was a liason in Jerusalem area, crashed a plane, and spent months in hospital. After the war, he worked for El Al as a pilot and flew with them for 35 years.

Click the badge to return to the squadron roster