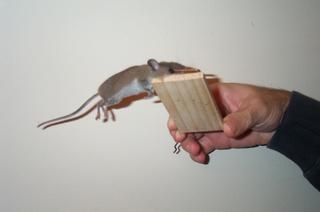 Today is Canadian Thanksgiving. It's never been a big deal in my family, and in general is less of a celebration compared to Americans and their Thanksgiving holiday.
But tonight, oh, tonight, my young will be feasting on the fruit of my victory.
It's a male Mus musculus. It preferred the peanut butter to the unbaited trap. And it took the trap right in the eye. This one died behind the TV cabinet downstairs. It's a male, so it didn't have kids. On the other hand, killing males does nothing to control a breeding population. We'll see if we catch more....